This post may contain affiliate links. As an Amazon Associate I earn from qualifying purchases.
* * *
Now that I bought a house and intend to be here for the long haul, it's time to share my thoughts on the ultimate Richmond itinerary. If you're visiting for a weekend, these are the things to do in Richmond VA that I recommend to all first-time visitors.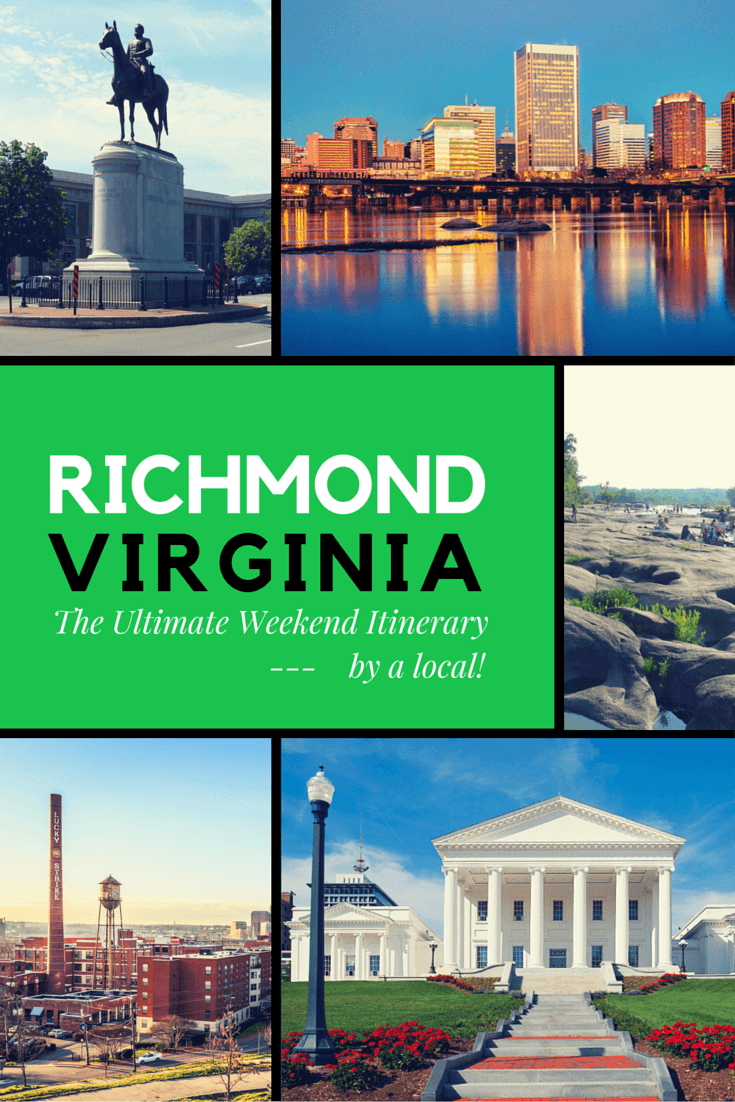 The Richmond Basics for Your Trip
Flying into RIC is a breeze since it's a small airport, yet you'll still find service on American, Delta, United, JetBlue, Southwest, and Allegiant. Car rental counters are right in the terminal — and yes, I recommend a rental car although I suppose you could depend on Uber if you really need to — so you should be on your way in no time.
Where to Stay in Richmond

Richmond has a lot of neighborhoods, each with a distinct personality. Choose a hotel in city limits and stay away from chain hotels in the suburbs. They're boring, I promise.

My picks:

Inn at Patrick Henry's: Church Hill is my absolute favorite part of the city, and this small B&B is perfectly located for some delicious restaurants and bakeries + a quaint neighborhood setting. It's run like a traditional B&B, but you can book via Airbnb and get $20 off your first stay. (Read more about Airbnb, opens in a new window)
The Jefferson Hotel: My mother-in-law raved about this Richmond landmark, which is gorgeous, over-the-top, and holds tons of historical significance. Even if you don't stay here, it's worth a peek inside (come for Friday's happy hour at their restaurant Lemaire if you have time).
The Berkeley Hotel: The Shockoe Bottom area is a great part of the city to stay in. Stay here if you're taking the train in and using Uber/walking throughout the city so you're close to museums, restaurants, and more.
Friday Evening in Downtown Richmond
If you really want to act like a local, your Friday night will be focused on events rather than generic things to do. Fridays are busy, with things like Friday Cheers (live music on Brown's Island in May/June), First Fridays (art galleries open late, often with food/drink specials at nearby restaurants), and visiting entertainers. The Visit Richmond calendar is a great place to start!
Hint: Not to be a Debbie Downer, but I'm consistently underwhelmed by Richmond's festivals. Recurring events, like the ones listed above, are good but one-weekend festivals are often overrated. I wouldn't plan my whole trip around a specific festival and instead pop in if something happens to line up.
If no events appeal to you, the vibe in Shockoe Bottom and Shockoe Slip is a fun one. Wander along the cobblestone streets and head inside a bar for happy hour or duck into the independent shops before they close up for the night.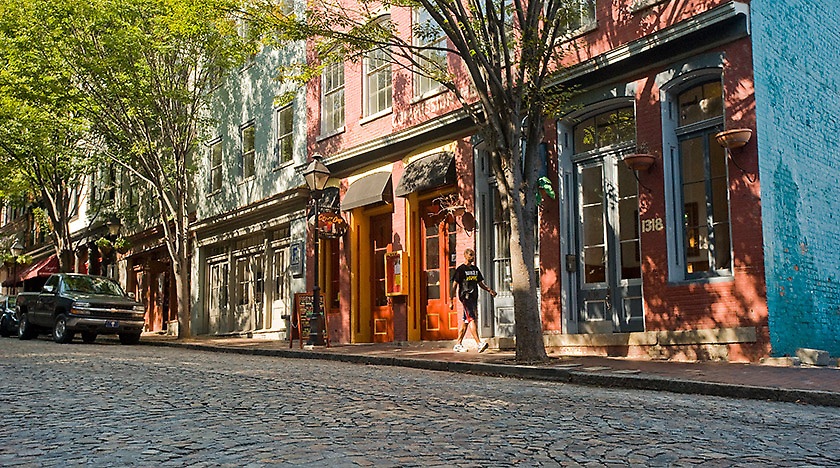 For dinner, I recommend heading about a mile away, still a convenient area. Try Rappahannock for seafood or Mama J's for soul food. Either way, you'll want to save plenty of room for dessert.
Saturday Morning: Head Down to the River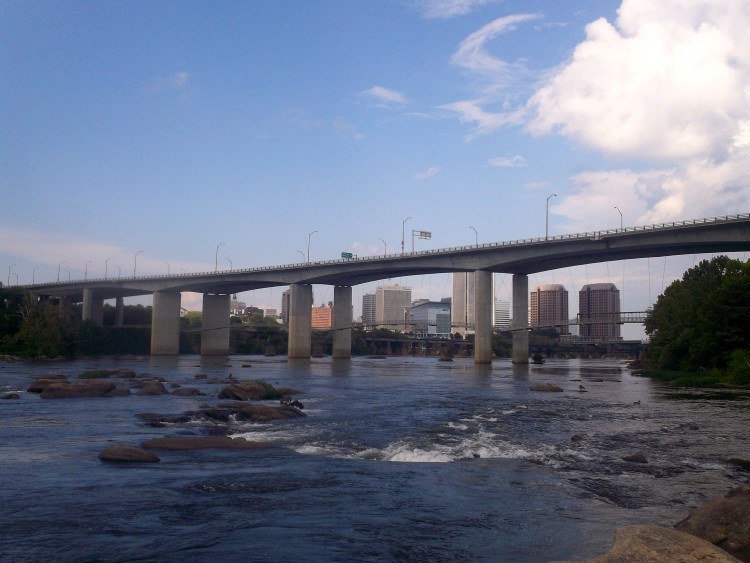 One of the best things to do in Richmond VA is to go tubing down the James River. The half-day trip usually includes a few rapids (depending on water levels) and some leisurely float sections, making it the perfect balance. Load up on sunscreen and head down the river…if you've got time at the end, hanging out with the locals sunbathing at Belle Isle can be fun, too!
If it's too cold for a swim, hiking in the James River Park System is great year-round.
RELATED: Want more adventure than a leisurely float trip? Whitewater rafting through urban Richmond is a unique and fun way to spend the afternoon! Read more about my experience.
Saturday Afternoon in the Fan
If money wasn't an issue, the house I bought in Richmond would have been on Monument Avenue. Alas, my day job doesn't quite support a million dollar home, so I'm stuck outside of town.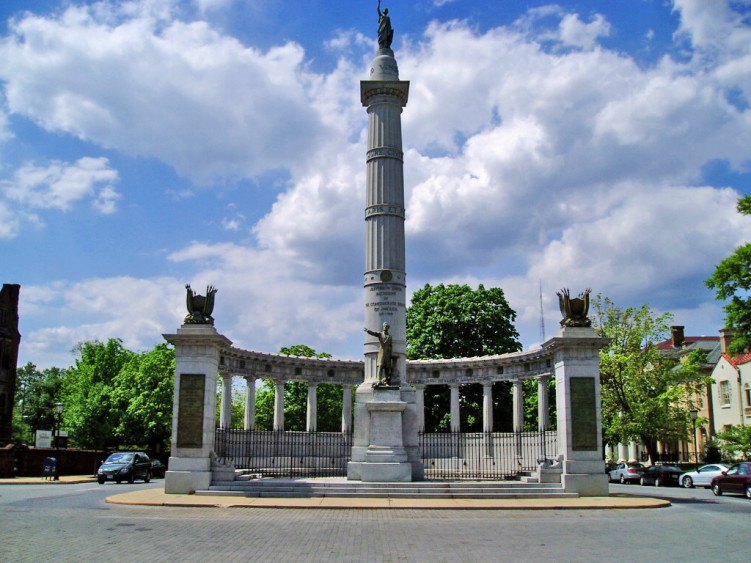 Still, a stroll down this wide street is one of my favorite things to do in Richmond. It's lined with historical homes and dotted with humongous statues. Park the car somewhere around the intersection of Monument & Boulevard and walk about eight blocks down to Lombardy Circle before heading back. You'll stroll past monuments to historical figures, such as Jefferson Davis and Stonewall Jackson, both important in Richmond's history. I'm more of a snoop than a historian, so I spend my walks peeking into backyard gardens and wondering what it would be like to live in one of these mansions 200 years ago.
Round out your afternoon with a visit to the Virginia Museum of Fine Arts. I'm not an art aficionado by any means, but this place is so large and so well done that just about everyone enjoys it. Admission is free and you can usually find free on-street parking reasonably close, so you have no reason not to stop in, even if it's just for an hour (art lovers could spend all day). My favorite exhibits are the Faberge gallery and then the Art Deco gallery on the top level.
Saturday Dinner at Stella's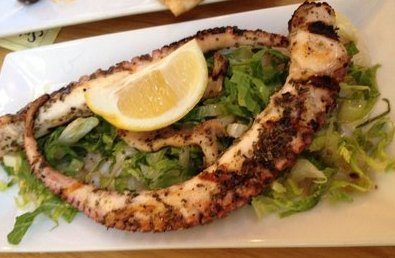 Want a neighborhood restaurant that is a little offset from the main tourist areas? In the museum district is one of Richmond's top 3 restaurants (in my professional opinion, of course!). Stella's is Greek food done up a notch. You'll definitely need a reservation and I guarantee you'll have trouble deciding what to order. The daily specials are usually fabulous, but stand-outs from their daily menu are the grilled octopus or artichoke moussaka.
A Laidback Saturday Night
Rumor has it that you can go partying in Richmond on Saturday nights. That's not my style.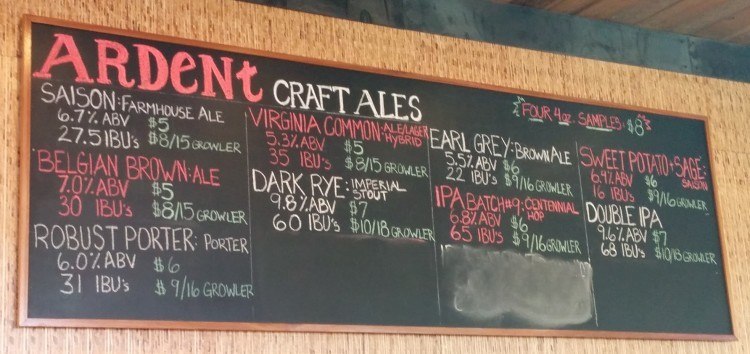 I highly recommend heading to Ardent Craft Ales in the Scott's Addition part of town, Richmond's booziest neighborhood. Although there are a number of breweries, cideries, and even a meadery around this part of town, Ardent is the best. The beers are just unusual enough to be interesting but not so weird that they're not drinkable. Get a flight to sample and if you're lucky, you might even see fireworks from their outdoor beer garden from the nearby Flying Squirrels Baseball game.
RELATED: The best fireworks in Richmond are during the Fourth of July at Dogwood Dell, near Byrd Park (another of my favorite places in the city). Read more about what makes these fireworks special and why the 4th of July is my favorite day of the year in Richmond.
Sunday – Hanging Out in Church Hill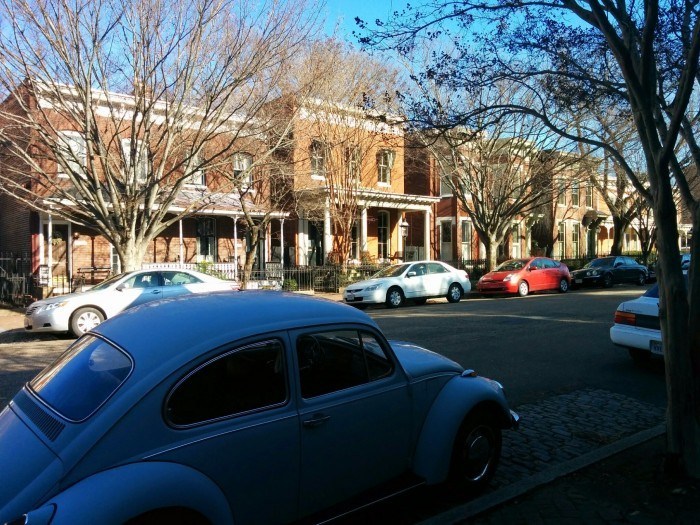 It wouldn't be a trip to Richmond without a visit to Church Hill. Start your morning by grabbing an egg and cheese biscuit (or a homemade donut!) and coffee from WPA Bakery, my favorite bakery in all of Richmond (and trust me, I've tried a lot). It's less than a 10-minute walk from there to Libby Hall park, perfect for a picnic and a great view of Richmond's skyline.
There are a lot of ways to tour Church Hill, including a self-guided scavenger hunt, segway tours, and more. The Sunday morning bike tour is long enough to give you a decent overview without working you to death. It's also perfectly timed to finish with just enough padding for brunch (lunch) at The Roosevelt, another of Richmond's best restaurants. This is another restaurant where a reservation is highly recommended, especially so you can finish on time for the next Church Hill event.
Sunday afternoons, St. John's Church reenacts Patrick Henry's famous "Give me liberty or give me death!" speech, which was originally delivered in 1775. The event makes Richmond's long history come alive, but even if you're not visiting in the summer, the standard tours of the church are also worthwhile.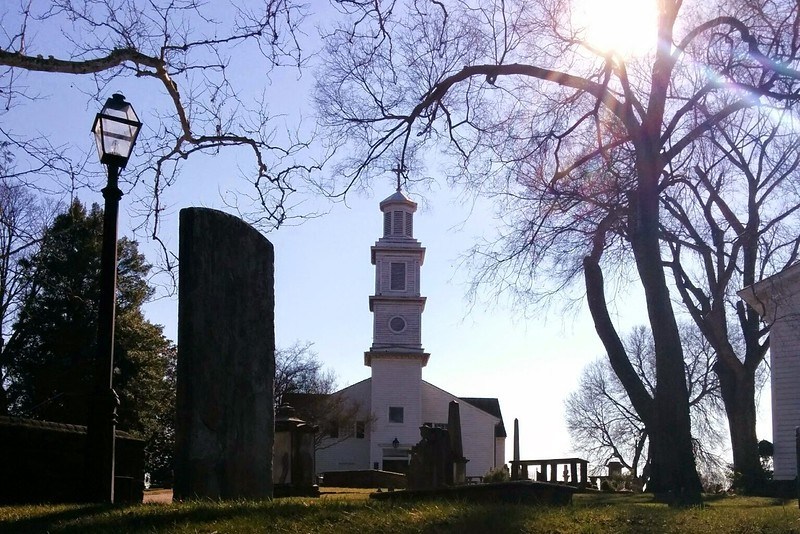 Chances are, if you have to be back at work on Monday, your time in Richmond is drawing to a close. If you have just a tad more time, head down to 12th & Byrd Streets to enjoy Richmond's "secret" pipeline. A lot of residents have never been here, but it's a cool place to hang out and watch the river rapids (sometimes there are kayakers and/or rafters), look for herons, or just walk along the catwalk and pipeline next to the river. If you've got a fishing license, it's also a great place to cross your fingers for catfish.
Have longer than a weekend for things to do in Richmond?
While history lovers could spend a week in Richmond alone, a weekend makes a great introduction. I've got more recommendations on things to do in Richmond VA and more great Richmond restaurants if you'll be joining us for a longer trip.
If you have a whole week to spare, see more of Virginia.
* * *
Have you visited Richmond? How long did you stay and what was the highlight of your visit?
* * *
This post contains affiliate links.