This post may contain affiliate links. As an Amazon Associate I earn from qualifying purchases.
* * *
Old Rag Mountain is one of the most popular hikes at Shenandoah National Park, if not #1. It's a well-deserved ranking and in fact, it's so much fun I named it one of the top 5 hikes in Virginia.
Despite being one of my favorite trails, I had never made the circuit in winter. With my time in Virginia drawing to a close, it seemed like time to make a special effort to return to Shenandoah and a final trip up Old Rag.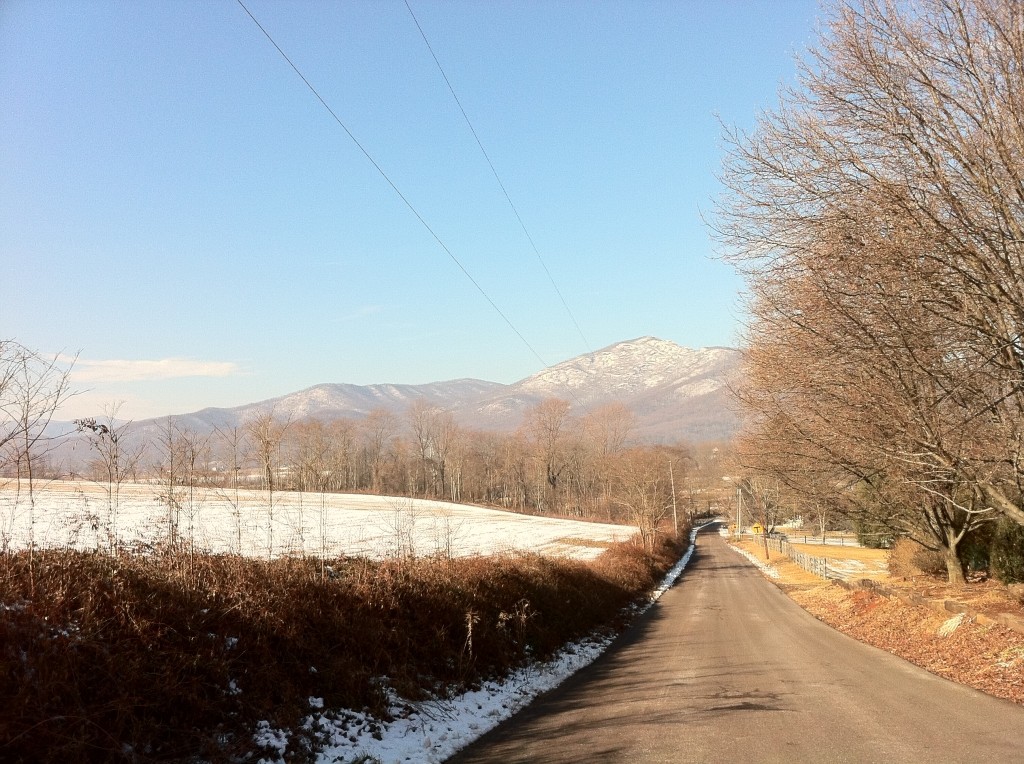 Old Rag Mountain
The hike itself is an 8-mile loop with a somewhat strenuous rock scrambling section leading to the summit. The scrambling makes the hike most enjoyable; otherwise the trail isn't much different from other options in the area.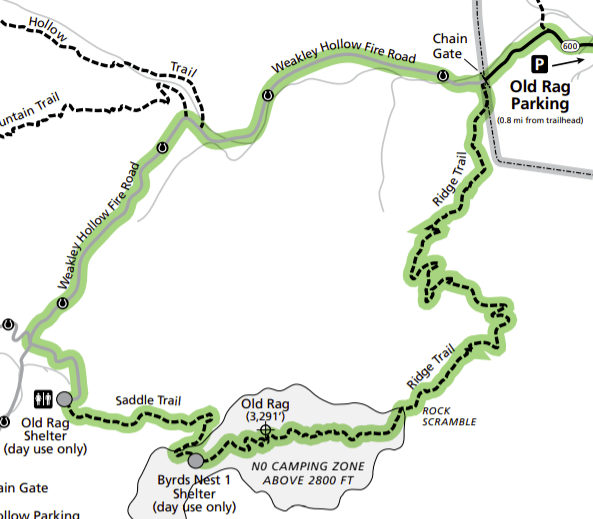 The first few miles are relatively easy. The trail heads steadily uphill, but the terrain is easy and you can avoid the ice even in winter. The mud, on the other hand, was everywhere.
One upside to hiking in March is peeking through bare trees to see views in the distance.
One of the reasons Old Rag is popular is because there are several overlooks along the way (and a few false summits as well). I've always preferred Virginia's southern Blue Ridge Mountains over Shenandoah Valley, but I still appreciate the chance to catch my breath under the guise of taking a photograph.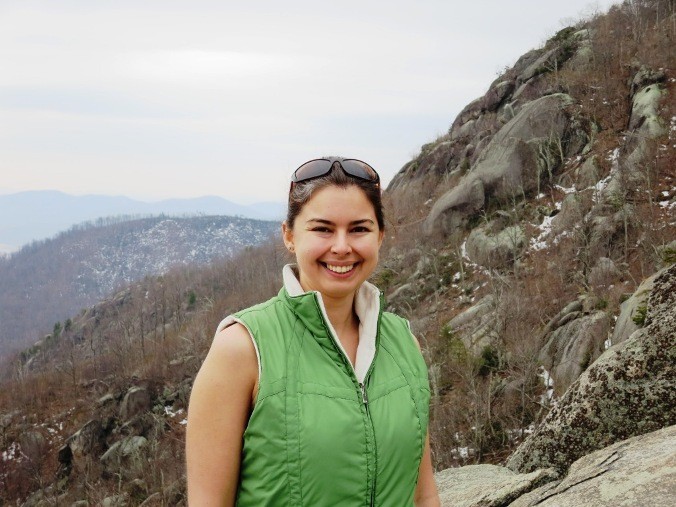 It's at this point that the fun begins. The trail meanders over granite boulders without a care in the world that you'll be jumping, climbing, and crawling to head toward the summit. Doing this in winter, where there are slick, icy patches in some sections adds an element of challenge.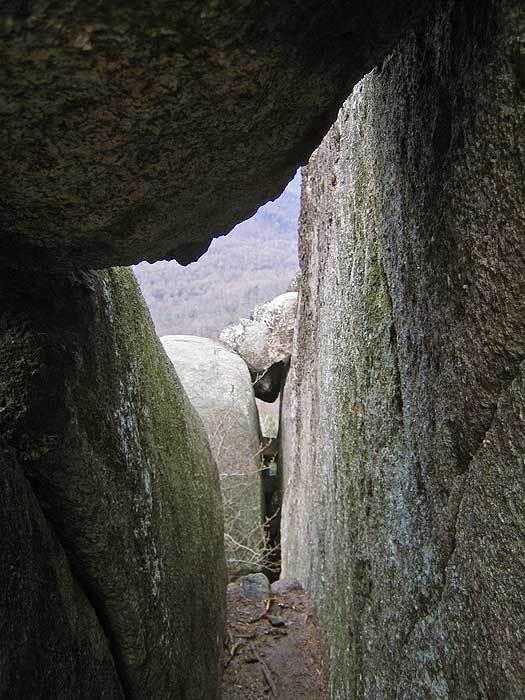 To be fair, the most precarious part of the scramble is the fact that many hikers don't realize the trail is intended to be a one-way hike. The path is definitely not wide enough for two-directional traffic, causing huge back-ups as scramblers wait for others to pass by. In some cases, we decided to create our own shortcuts instead.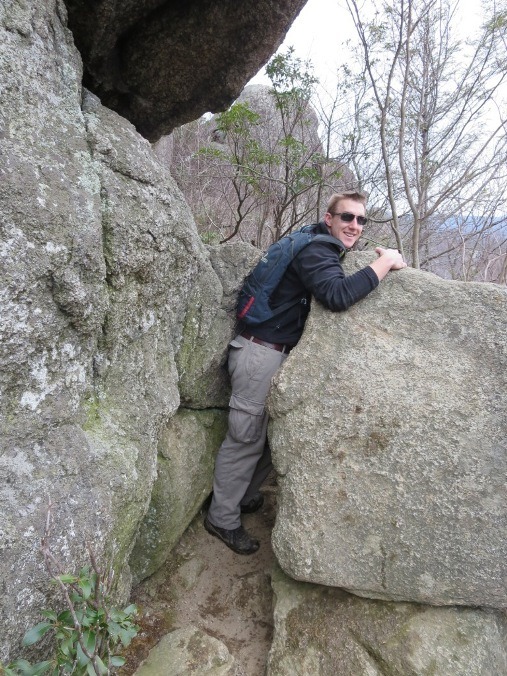 Eventually, the hard work is over and you're rewarded with a 360 degree view, at least on a clear day.
Rain cut our time at the summit short. Our mild 45-degree day instantly cooled off by about 10 degrees and felt even chillier as we started to get wet. Luckily (or so I'd thought), we'd be heading down via the Saddle Trail rather than scrambling back over the rocks.
Unfortunately, the back side of the mountain was a whole different scenario than our nice hike up the mountain. This side remained covered in ice and snow.
Soaking wet and chilled to the bone, we found ourselves slowly making our way down in hopes of not slipping and falling as we went.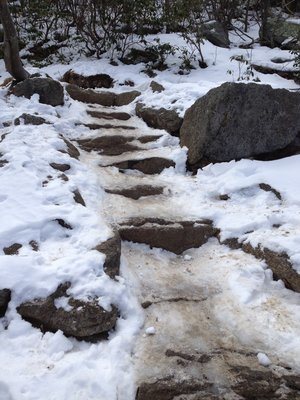 Casual hikers we are not, but stupidly any gear that would have been helpful was back at home. Spikes or Yak-trax for our shoes would have been a lifesaver and trekking poles would've helped with balance.
Too stubborn to turn around and take the long way back, we persevered. When we made it to the muddy Weakley Hollow Fire Road, we picked up the pace. Jogging it out to the finish on a slippery trail, we made it back to the Old Rag parking lot in record time so that we could change into dry clothes.
Regardless of our shortsightedness, Old Rag was a fun hike even in winter. We managed to laugh through the freezing rain and smile during our farewell to Shenandoah National Park.
Tips for Hiking Old Rag
Even though Old Rag is part of Shenandoah National Park, the traditional circuit hike is not accessible from Skyline Drive and you'll need to leave the park to drive to this boundary entrance. Entrance fees are still collected.
Casual hikers should wait for spring or fall to hike Old Rag, when weather is more likely favorable. Allow 5 or 6 hours for the 8-mile hike; we've done it much quicker (even with our icy descent) but crowds and traffic jams on the scramble can slow you down. Weekday mornings, unsurprisingly, are the least crowded.
Stronger hikers can start their hike from Skyline Drive, though this roughly doubles the trail length. It's a great hike if you have the time and makes a nice overnight backpack route, with plenty of spots to set up a tent before starting your summit. Pack a headlamp so you can enjoy sunset from the top before making the trek back down in the dark (it's not hard if there's no ice!).
Keep Reading on sightDOING:
Virginia Bucket List — sightDOING Style
Unlimited Entry to National Parks with the America the Beautiful Pass
Biking the Virginia Creeper Trail
Top Tips for Visiting National Parks