This post may contain affiliate links. As an Amazon Associate I earn from qualifying purchases.
* * *
"Hikers adore Anton Valley," the guidebook stated. Sounded good to me: I wasn't ready to deal with the hustle of Panama City and I love the outdoors. That's why I boarded a bus to El Valle de Anton Panama, or "El Valle" as the Panamanians call it. As a bonus, it would be cooler there, due partly to the strong trade winds that blow in from the ocean.
Not knowing exactly what to expect (but armed with sneakers, a bathing suit, and a Kindle), I assumed it would at least be a decent retreat.
And retreat is precisely the right word. Even though this is the world's largest inhabited volcanic crater (obviously it's no longer active), the main town is still pretty small.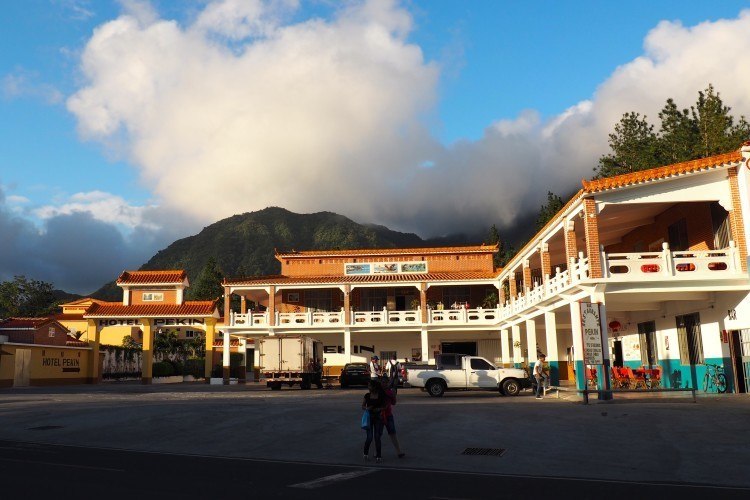 Along "Millionaire's Row", where many expats have made a comfortable life for themselves.

Gorgeous views from town (on a clear day).

Random pathways through town leading to shrines.

Gorgeous flowers in this mountain valley.

Walking along the streets of Anton Valley
There's a slew of tiny tourist attractions in town — a butterfly exhibit, an orchid garden, a serpentarium — but anyone who spends the night is there to hike.
Hiking La India Dormida
My hostel gave me a brief synopsis on a half dozen hikes and handed me a crude map, but I had my mind set on the most famous one.
La India Dormida, or the sleeping Indian, is named for its mountainous silhouette that sort of resembles a woman lying on her back. It's a stretch to see a woman's shape, but whatever. The hike was supposed to be good.
Since it's relatively short and has waterfalls and swimming holes along the way, it's a great option for anyone short on time.
Along the start of the hike.

Petroglyphs along the trail

Well-marked route.

The waterfall was so inviting, I had to swim!

Made it to the top!

Peering down off the edge, which drops steeply and abruptly.

Clouds rolling in.

A long, winding trail.

Wind blowing strongly across the grasses.

Gorgeous views and colors.
The 2 hour roundtrip hike to India Dormida has 4 routes up, but the main path is by far the best marked. Of course, that's also the one that requires an entrance fee ($3). From town, there are a few road signs pointing the way to the trailhead (hint: you can also follow signs to piedra pintado). To avoid crowds, start hiking in the morning; it starts getting busy around 10:30am on weekends.
There are a few unmarked intersections along the trail, but when in doubt I always chose uphill and it always worked.
Still concerned about making your way? There are some teenage boys at the bottom who will offer to guide you, and I'm sure prices vary significantly based on your negotiating skills. I'd expect $5-10 but didn't ask.
I can't say that the hike was strenuous enough to justify a spa day afterward, but I planned one anyway.
(Sort-of).
Hot Mineral Springs in El Valle de Anton
The pozos termales are a set of warm mineral pools that are great for your skin. Panama City residents drive in on the weekends to apply mud masks, soak in the mineral water, and leave rejuvenated. And some goofballs, like the 3 guys I hung out with, use the mud to paint tribal patterns on each other's faces.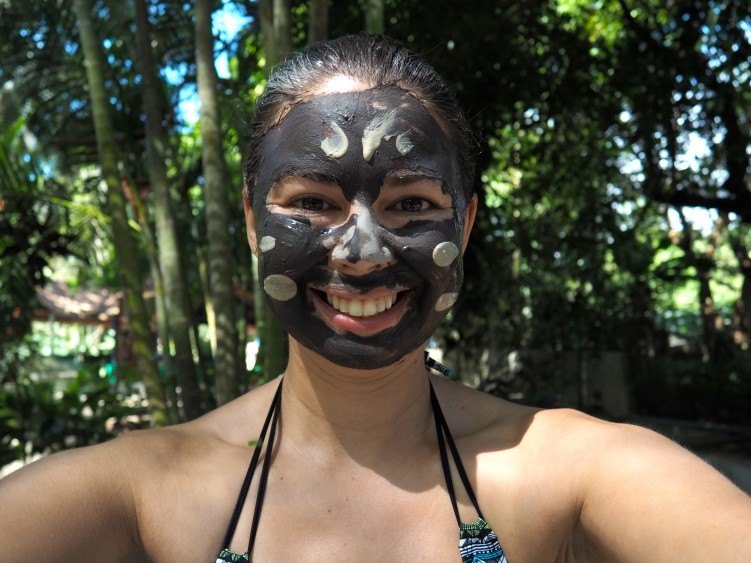 The mineral springs also have signs throughout town so you can find your way. Entrance is $3, which includes a do it yourself mud facial. Extra cups of mud, if you want to cover your whole body, are $2. You have to do the mud first, then shower off, and then the mineral springs. If you go out of order, tough luck: you can't go back to what you missed.
Minerals are great for your skin.

Two types of mud: one for normal skin, one for sensitive.

Showers, tubs, and in the background, a large communal mineral pool
How to Get to El Valle de Anton from Panama City…
Skip the expensive day trips from Panama City. The bus from Albrook station is easy and once you're in town, you can either walk everywhere or rent a bike ($10/day) to get around.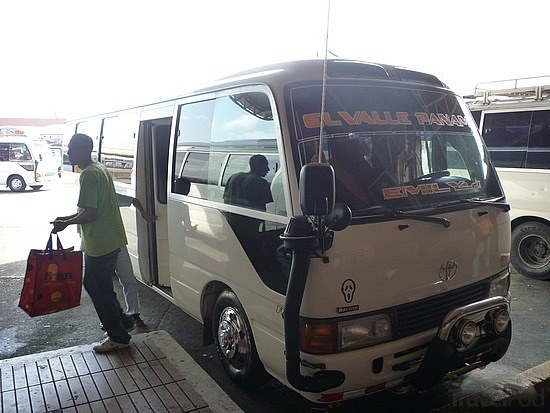 One thing to note if you take the bus: not only will you need a ticket ($4.25 each way, with ticket counters and bus platforms well signed), but you'll also need a MetroCard loaded with 10 cents just to pass through the turnstiles and access the buses.

If you won't be taking the metrobus or metro through the city and don't want to buy a reloadable card ($2), ask a local to swipe you through and reimburse them with a few coins. On the return to Panama City, buses depart from El Valle's market.
Where to Stay in El Valle de Anton Panama
I spent the night in a private room at Bodhi Hostel, which I do not recommend. For $35, I got a tiny and very hot room (no a/c or window). I heard there was no hot water in the outdoor showers, so I skipped my shower altogether. Yup, just the honest truth here.
That said, the coffeehouse upfront had great drinks and super strong WiFi, and you don't need to stay there to take advantage of it.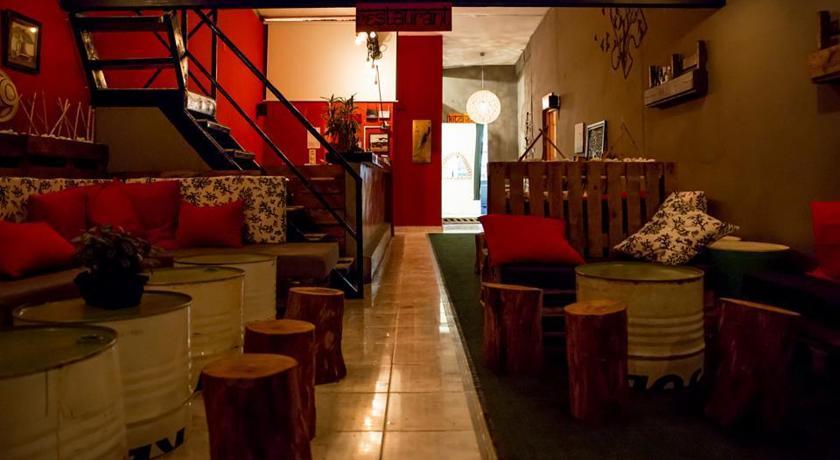 The Windmill Hostel, also walking distance to everything, had similar prices but with the addition of a swimming pool. I'd check there first. If basic accommodations aren't your style, all the nicer hotels seemed to be a few miles uphill from the center and thus require a rental car.
I only spent ~24 hours in Valle de Anton, but that was the right amount of time for me. It's an interesting side trip from the capital, but far from a "must do" and one that I probably won't repeat.
Read More About Panama