This post may contain affiliate links. As an Amazon Associate I earn from qualifying purchases.
* * *
They say the way to man's stomach is through his stomach but I'm pretty sure the same thing can be said about travelers. Food is a defining part of culture and a great way to bring people together, which is one of the reasons why meals are such a memorable part of the travel experience.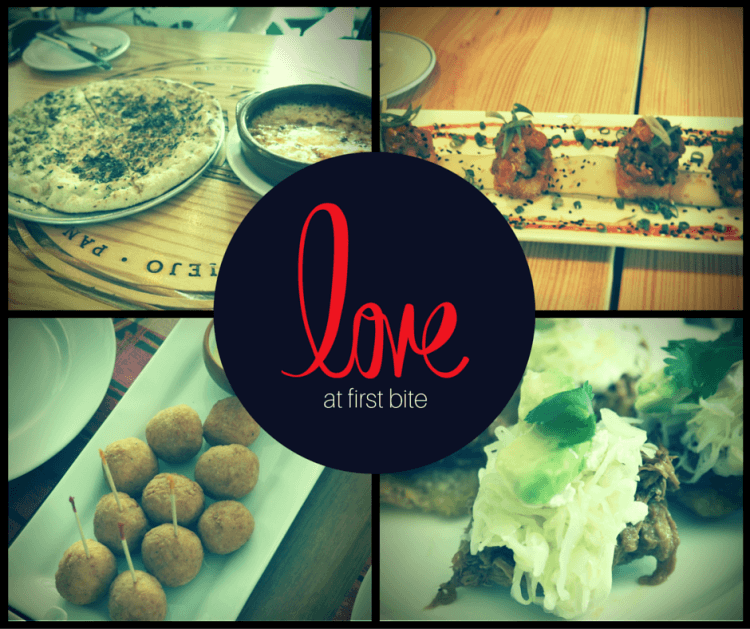 When I first showed up in Panama City, I didn't have a clue what to do, but I knew that eating was a good place to start. Totally unprepared for my four-day visit, I went straight to Panama Food Tours for advice on where to eat.
Their walking food tours squeeze in a sampling of restaurants, take in the sights of the Casco Viejo district, and include insights on history and culture… all in 2.5 hours. It sounded too good to be true, but then again, I like to eat.
So with sweat dripping down my back — more from the embarrassment of being five minutes late than from the city's 90 degree weather — I met up with the owner (Ingrid) and our guide (Edgar) plus three other hungry participants. It took approximately 0.9 seconds to realize we'd all get along great and that it would be a fantastic tour.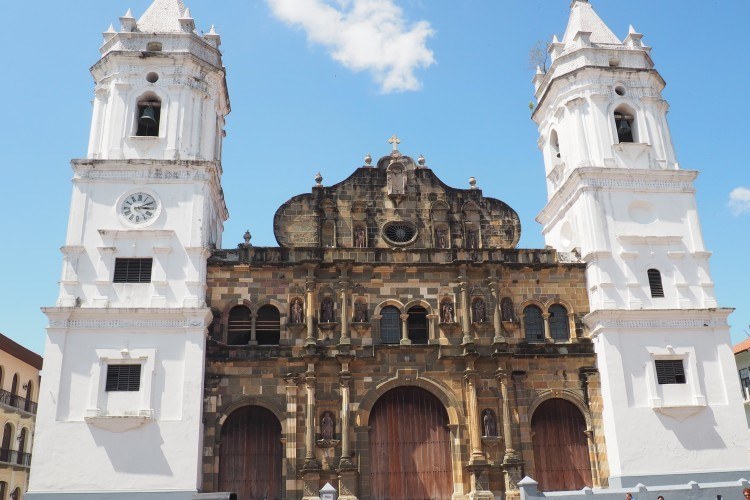 Edgar got us started with information on Panama as a country today. Since he's originally from Venezuela but has lived in Panama for 8 years, he brought both the perspective of an outsider and a local. As a traveler, that's something I always appreciate since it keep things real.
The tour got started with an icebreaker: alcohol. And not just any alcohol, but something uniquely Panamanian: a maracuya sake sangria. Panama has been a cultural melting pot for more than 100 years, and it shows in the local restaurants. The sweet tang of maracuya (like a passionfruit) provides the tropical influence you'd expect and the super fresh fish on top of crispy rice is proof that seafood is a big player in this oceanfront city.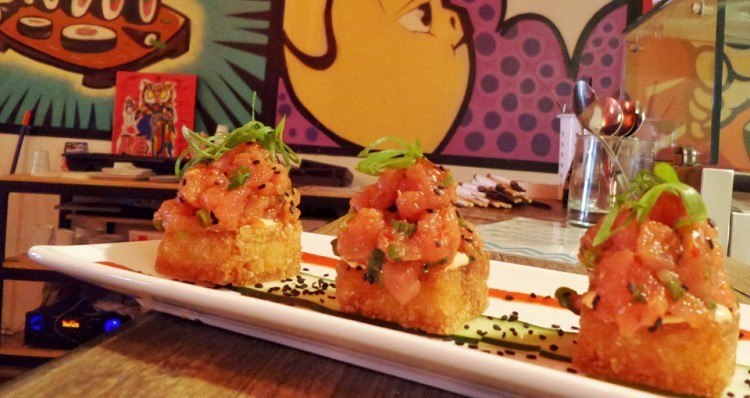 Almost as if to drive home the cultural fusion idea, our next stop didn't seem native to Panama at all. Apparently, I had flown thousands of miles away from home to eat…pizza?
But this pizza came with a story. Barrio Pizza is so named because everyone who works there lives in the surrounding barrio, or neighborhood. Casco Viejo has changed a lot in the past five years, with the government sponsoring tons of renovation work to bring tourists into the historic quarter. To see a part of the area that is still local made this stop special.
To be perfectly honest though, there was a part of me that was pretty disappointed that our first two stops didn't dive right into Panama's specialties. No, I didn't want to only eat Panamanian cuisine, but I wanted to make sure we didn't miss it, either. I pondered this while we took a break to let our stomach's settle and started touring the historical beauty of Casco Viejo.
Casco Viejo basically translates to the old quarter and was settled in 1673, just after the fall of Panama Viejo (a world heritage site now completely in ruins). Almost all travelers pass through for at least a half day because it's a safe, beautiful part of town to walk through.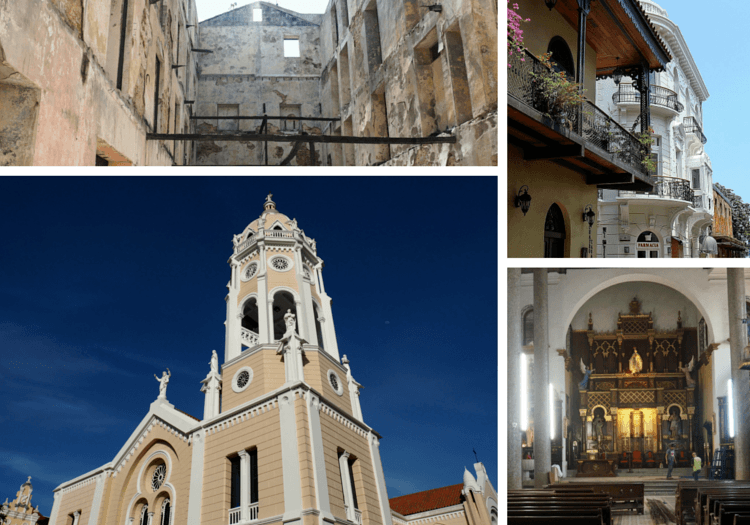 Our next stop was the American Trade Hotel, a property I can only hope to stay at someday. Walking in is like stepping back in time 100 years. The place has an old-school vibrance that makes you feel like the well-to-do of the 1920s and it is so easy to imagine yourself in Panama City's thriving glamour.
Not only did the the ambiance feel like a treat, but the food was the best of our five stops. Panama is known for it's patacones (fried green plantains, smashed and crispy like a chip) and these were topped with slow-cooked pulled pork, slaw, avocado, and a local cheese.
I wish I had carved out time to return for live jazz music, their historic cocktail recipes (vermouth, cognac, rum, and grenadine anyone?), and more of their delicious food. Instead, it was time to keep eating. That's the beauty of food tours: you're constantly surprised by new flavors.
Our fourth stop, and the final savory portion of our progressive meal, was all about Peruvian cuisines, one I'm utterly unfamiliar with. We sampled causas, a layered cold potato and meat starter. With chicken, tuna, octopus, and shrimp to choose from, there's something for everyone. The beauty here wasn't the toppings though: it was the smooth yellow potatoes that were richer than any I've tried anywhere in the world. Between those, the pisco sours and the fried yucca balls, this was a meal fit for a king.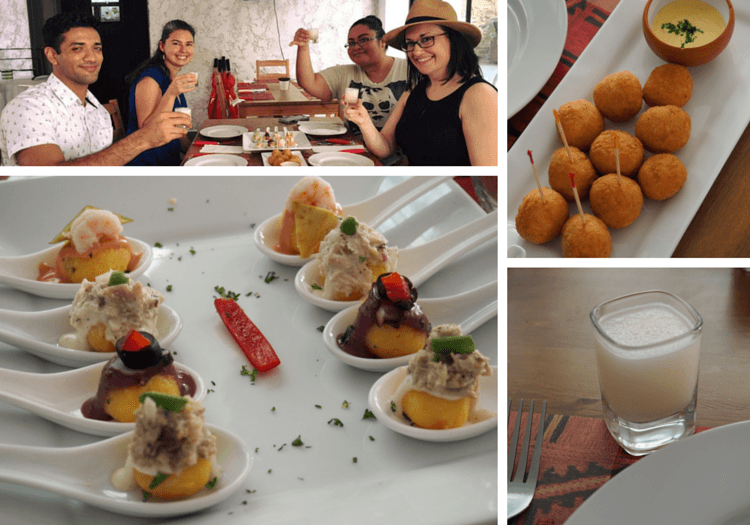 At this point, we needed one more Panamanian flavor to wash down the tour. Latinos love dessert — and so do I — plus ice cream is the perfect end for a hot day. Best of all, Granclent ice creams and sorbets includes a ton of fresh fruit flavors.
Anyone who's traveled with me knows I have a thing for guanabana (sometimes known as soursop or custard apples), but in the end I was tempted by other flavors. How are you supposed to decide between interesting new options like earl grey, creamy hierba buena (better than any spearmint we have at home), or fresh mango sorbet?
When it's impossible to decide, we did as any food tour would do: we ordered six different flavors for the six of us and as fast friends, dipped our spoons into everyone's cups. The winner, in case you were wondering, was basil. Despite that, on my next trip, I'll probably just keep sampling until I've tried them all.
The star of our food tour is more than just the meal itself. Anyone can walk from restaurant to restaurant and order a meal, but we learned about how cuisine has grown and changed in Panama. We learned about the history from centuries ago through more recent years and got insight into how locals expect Panama to change in the coming years.
The star of a food tour is whether or not it has the ability to bring people together, the way food often does. Panama Food Tours knew the perfect food and drinks to share in order to do just that, with great pacing and the right amount of time for learning from our guide versus sharing our own ideas and experiences over the meal itself. I made new friends with the other travelers in the group, people I clicked with so much that we continued our food tour on our own for geisha coffee and cold beers overlooking the canal.
2019 Update

Unfortunately, this particular tour group is no longer in business.

As an alternative, my recommendation is to check out this Panama food tour with Urban Adventures. Although I haven't been on this exact tour, I've used the company before with only great experiences and I've been to a few of their included stops so I can vouch for the food.
Read More :
All About Panama: Planning a trip to Panama? Find all my articles about Panama in one spot and then email me if you still have questions!