This post may contain affiliate links. As an Amazon Associate I earn from qualifying purchases.
* * *
Am I the only one who hates searching for restaurant recommendations and getting a hundred answers? For most travelers, you only have a few days to somehow squeeze in 100 best meals. It'll never happen, especially somewhere like Asheville NC where practically every restaurant is amazing. That's why I wanted to narrow down the best Asheville restaurants specifically for people like me, who only have a little time to check out the food scene.
After two trips there, these are the places I'd return to.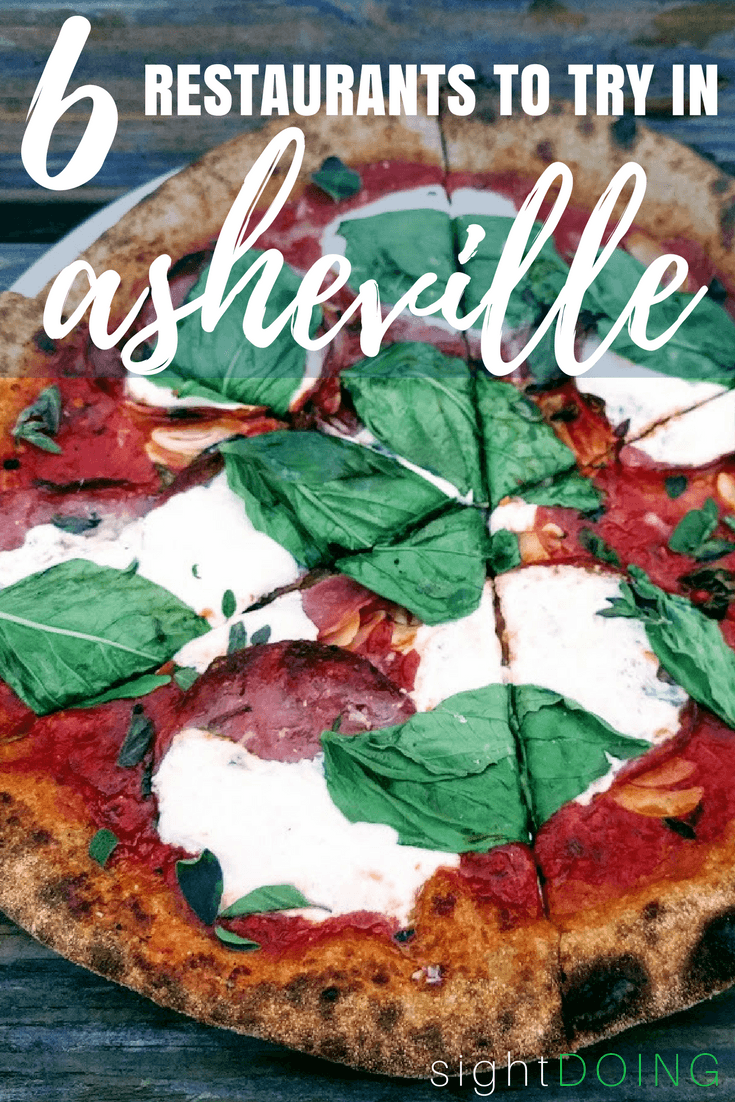 The Best Asheville Restaurants, as decided by a blogger who doesn't have time to waste on subpar meals
Cucina 24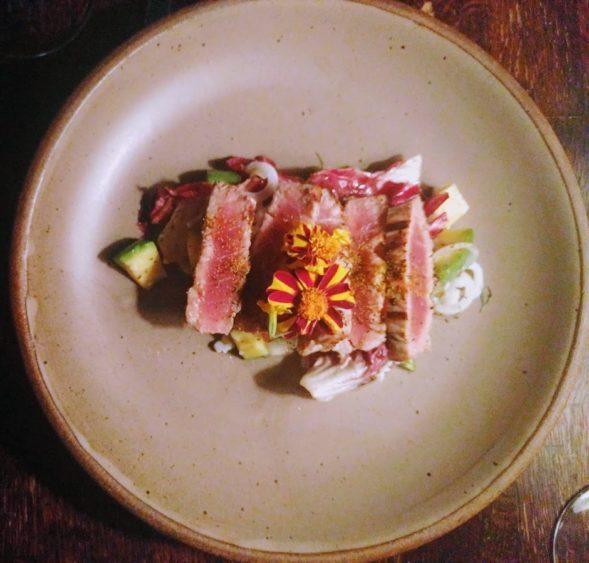 Let's start with the one restaurant you absolutely should not miss, no matter what. I've eaten there on both of my trips and I'll gladly eat there again next time I go.
Cucina 24 is "Italian" but far more creative than any other Italian restaurant I've ever been to. They make homemade pastas and ultra-fresh salads and woodfired pizzas that you'll love.
The real standout is their nightly tasting menu: 45 dollars buys you 4 tapas-sized antipasto, a pasta course, entree, and dessert. The menu changes nightly to take advantage of fresh ingredients (farm to table). On my last visit, standouts were a mortadella ravioli, rabbit tenderloin, and a bitter almond panna cotta with mint sorbet.
If you don't like your meal, just box it up and ship it to me, please.
Chai Pani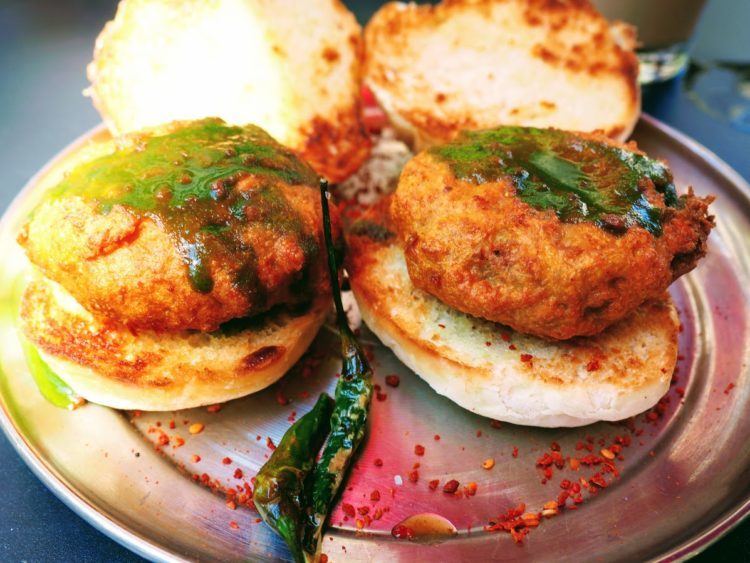 Indian food is quickly becoming my favorite international cuisine. Chai Pani makes it so much fun, by offering some of the best from each region of India.
So here's the scoop if you go: just stick to the top half of the menu, which features Indian street food. You can get traditional thali anywhere, so save that for a meal back home. Choose between Uttapam savory crepes, sensory-pleasing chaat, and more. And no matter what, don't get the okra fries unless you want to be addicted for life.
On a side note,it's also one of the best restaurants in Asheville if you're traveling with a dog. Their patio is delightfully dog-friendly and servers will provide waterbowls and a little bit of love.
Tupelo Honey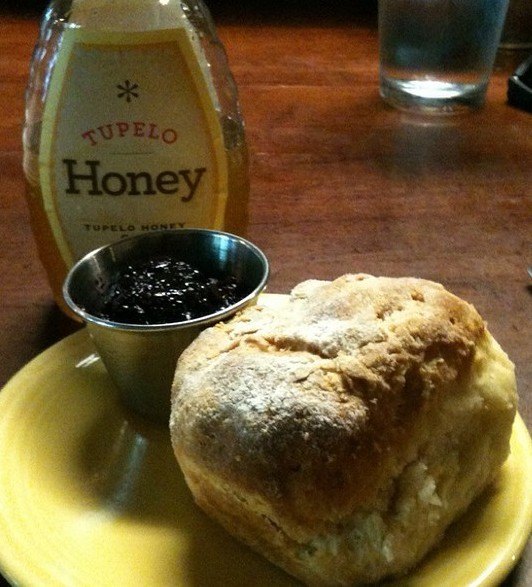 Yes, I know Tupelo Honey has expanded and is now in a couple of states. The original location is still one of the best breakfasts in Asheville, so you should still make an effort to go.
Order some sweet potato pancakes and apple cider bacon, plus one of their housemade lemonades. This is southern food the way it should be: simple, gluttonous, and with just enough of a twist to seem brand new. If they opened earlier than 9am, they'd win a blue ribbon from me. In the meantime, treat it as brunch and enjoy!
Bonus: if you sign up for their email newsletter, you'll get a coupon for some free pancakes.
Battery Park Book Exchange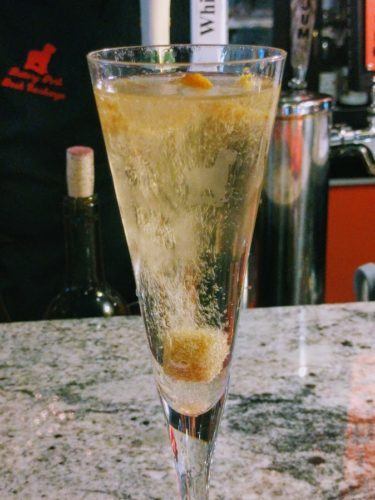 Part bookstore, part bar, part coffeehouse, the Battery Park Book Exchange is pure gold. You'll go in and be surrounded by books that you'll want to curl up and read in a cozy armchair. And you can!
Order a cappuccino (or a champagne cocktail, I won't judge) and stay for an hour or two. The first time I went, I cuddled up with other people's dogs, which are welcomed inside as long as they stay off the future. This time I brought my own puppy and convinced my husband it's okay to put a sugar cube in your champagne. Seriously, try it if you haven't already!
Although I think this is best just for drinks, you can grab charcuterie, cheeses, scones, chocolates, and more if you need a snack.
Gourmet Chip Company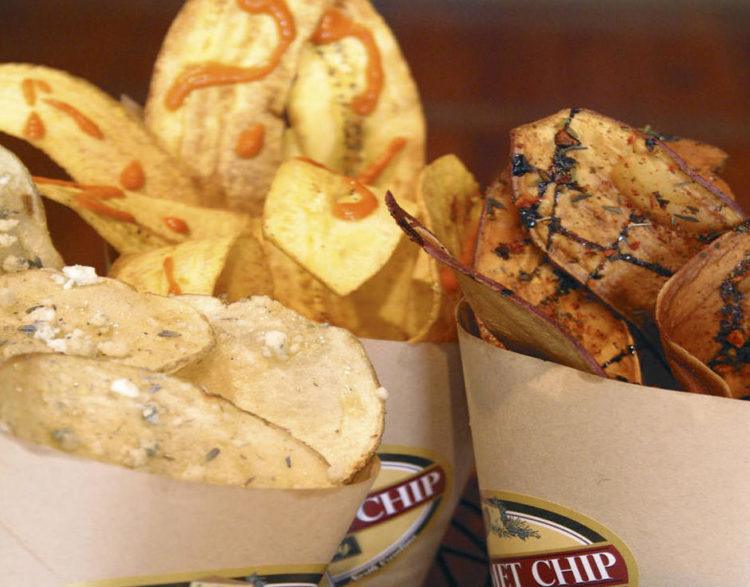 Sometimes the best places to visit are the ones where you can plan on having leftovers. That's certainly the case at Gourmet Chip Company.
When you walk in, your eyes will light up at the sight of so many freshly crisped potato chips there are. You'll want to sample them all, and maybe if you have as little self control as I do, you just might order more than you should. My personal favorite is the "Napa" chip, with lavender honey drizzle, bleu cheese crumbles, and sea salt. It's that perfect balance of sweet, salty, and savory.
This is one of those stops you should make even if you're not hungry because you can easily pick up a bag (or a case) to take home. Just be aware that they have different flavors served in-store vs. packaged, which will just make you want twice as many.
Notably absent from this list are a few places that are often recommended as the best Asheville restaurants. I've tried the following places and would rank them all as good rather than great. If time is short, skip them.

All Souls Pizza: Excellent service and a dog-friendly patio, but everyone raves about their dough and I thought it fell short. Better luck next time.
Wicked Weed Brew Pub: I was told that it's the best place for a meal if you specifically want to eat at a brewery. That may be true, but it's still a brewpub. Have a drink and eat somewhere else.
French Broad Chocolate Lounge: Last time I went to Asheville, the line for this place was around the block. Thankfully it's subsided now, but I think it's terribly overpriced.
The Hop Ice Cream Cafe: Creative flavors, including some vegan options, but overall I didn't think it was worth going out of my way for.
Red Stag Grill: I love the decor here, with hunting mounts and lots of wood paneling, and this was probably the best service I had in the city. Still, the food only hit 4 out of 5 stars. Perhaps still a good option near the Biltmore Estate.
Hi-Wire Brewing
I know, I know: a brewery that doesn't serve food hardly qualifies as a restaurant. But if you're a foodie, I figure there's a good chance you also like beer…especially in a city like Asheville that has so much craft beer to choose from.
I may or may not have made the rounds through area breweries (*wink wink*), and I think the best of the best was Hi-Wire Brewing. Here's why: a ton of Asheville breweries focus on IPAs or sour beers or outright weird beers. I'm happy to try all of those, but not exclusively. Hi-Wire has a well-rounded selection, so if you get a flight you really feel like you're trying a good cross-section of beers.
My personal pick was the Bed of Nails brown ale, but by all means, try them all. I think that's what my puppy did, since he seemed to pass out during our visit.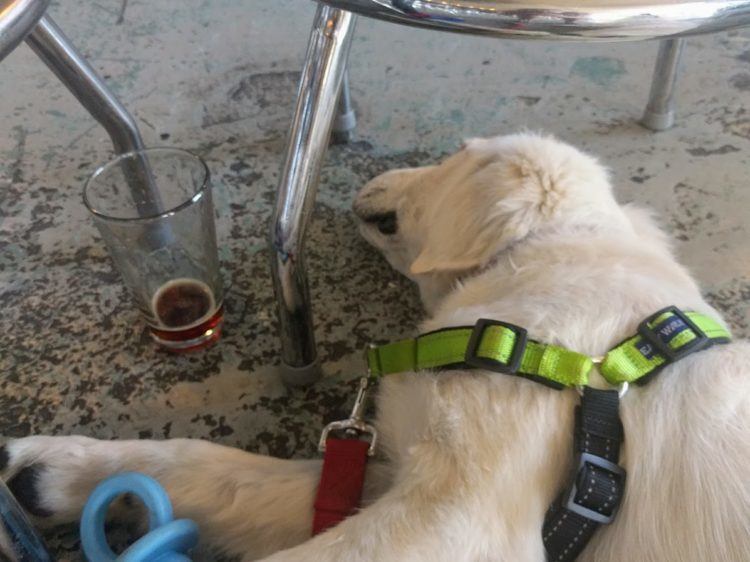 …and if you want to try ALL of the Best Restaurants in Asheville NC…
Try a food tour with Eating Asheville. I loved my experience on my first trip and they still get rave reviews. You'll stop at six restaurants for small plates at each, so you can try a lot in a "single meal". Check out my full review if you want to learn more.
Tips for Eating in Asheville
Carry a water bottle
Asheville is a drinking town, with microbrews and craft cocktails around every corner. Make sure you're staying hydrated during your visit if you plan on partaking. (P.S. My secret weapon are these electrolyte packets. Drink one at night before you go to bed and another when you wake up to ward off hangovers. Yes, it's an affiliate link, but you'll thank me when you wake up feeling great).
Stay downtown
If you stay in downtown Asheville, you'll be able to walk to many of these great restaurants, which is good for burning off some calories. Plus you can avoid the parking hassle, which is a real issue. We stayed at the Hilton Garden Inn and had a great time, but if I had money, next time I'd stay at The Windsor boutique hotel. On my last trip, I stayed in West Asheville — it's a quirky area that's fun to visit, but I definitely prefer downtown.
Plan a little time for two places I missed
I still haven't had sunset cocktails (or hit the spa!) at the infamous Grove Park Inn. Maybe my third visit is the charm. Also on my wishlist is breakfast at Biscuit Head, the ultimate comfort food. So do both and then tell me if you liked them in the comments!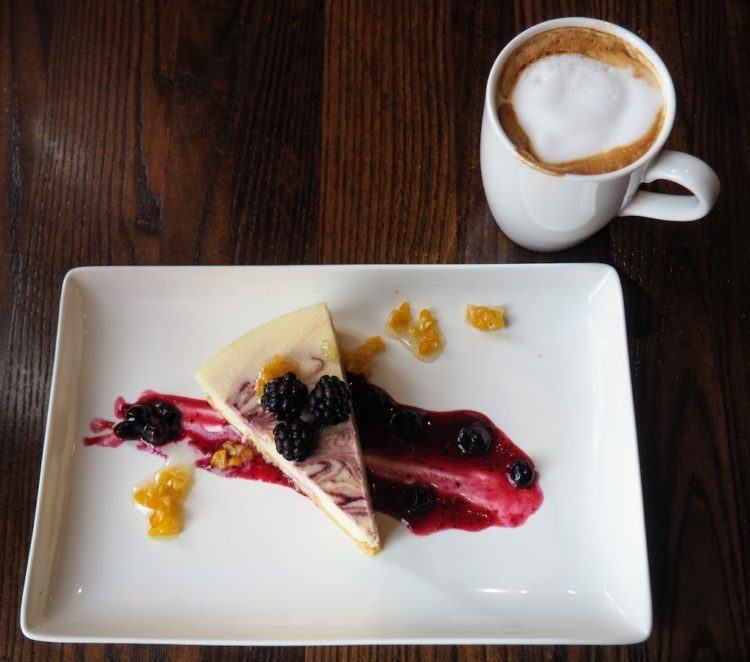 Read More About Asheville