This post may contain affiliate links. As an Amazon Associate I earn from qualifying purchases.
* * *
I used to plan out one or two restaurants to try on vacation based on suggestions from friends, but today it's all too easy to get more recommendations than you can possibly squeeze into a single trip. For a small city, Asheville had a lot of restaurants I wanted to try and it was impossible to narrow things down. In the end, I decided to not even try deciding which ones to include. Instead, I left my decisions to the pros at Eating Asheville.
Just about every major city in the US has a walking food tour these days, and some even have dozens of options. I had never been on one before, and to be honest, I was a little hesitant to join one in Asheville. In theory, food tours offer up that opportunity to try out several restaurants over a single meal period, completely solving my predicament. On the downside, you're limited to trying whichever dish a restaurant decides to feature rather than selecting from a full menu. Would that defeat the purpose of visiting the restaurant?
I ended up loving my Asheville food tour and now I am tempted to include them on all of my next trips! Here's why:
I Got Out of My Comfort Zone
Not surprisingly, I know the foods I tend to like and someone who knows me well can probably guess which entree I'm most likely to order at dinner (or at least, which ones I'm debating between).
On a food tour, you are presented with a surprise dish, and I'll admit that not a single place offered something I normally would have chosen on my own.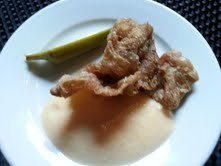 Fried chicken skins with a frothy buttermilk hot sauce, touch of honey, and side of pickled okra? Nope, not on my normal agenda, but still delicious. After all, the chefs want to make sure they give you something you enjoy enough that you return for dinner and/or spread the word, and the tour operator wants you to leave satisfied so that you tell your friends to try out their tour.
I Asked Chefs Questions
Since my tour — and most food tours in general — tend to go at off-peak times, the chefs have a few minutes to interact with their guests. At each stop, either the chef or restaurant manager came out to welcome us, tell us a bit about the restaurant's philosophy, and inspiration for the dish we sampled.
If you're the type of person who's interested in the restaurant industry or cooking in general, the opportunity to ask questions is a great way to get more insight. Additionally, with guides formerly from or close to the restaurant industry, you'll have even more chances to learn.
I Met Great People
There is something about food and drink that encourages conversation. By the end of this tour, I had met fifteen new people.
What started as small talk turned into restaurant recommendations, Asheville observations, and life stories. Everyone was great about sitting next to someone new at each stop. Having roughly thirty minutes at each location was just enough time to get to know someone and have a fun conversation. By the end of the afternoon, people were exchanging e-mail addresses and making plans to meet up for drinks later in the evening.
I Skipped the Line
When you come with a tour, there's no waiting for a table, no long delays waiting for your food because the kitchen is backed up, and when you're done with your meal, you don't have to pay! Everything is ready for you, which is exactly how you can visit half a dozen places in part of an afternoon: something you couldn't replicate on your own even if you knew exactly which restaurants to go to and what to order.
My truffle was waiting for me at the end of the day when later that evening I saw a line wrapped outside the same chocolate shop that was literally 30 patrons deep.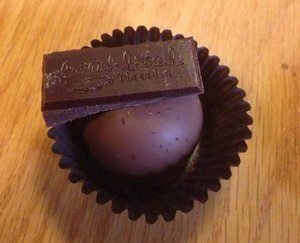 I Ate and Drank My Money's Worth
I was skeptical of the $47 price tag attached to this food tour when I signed up, since I definitely don't spend that kind of money for lunch on a normal occasion.
Each of our six stops offered a slightly different portion size, but overall it added up to about four tapas-sized portions, a bite-sized but rich dessert, and three full-sized pours of wine. Factoring in the quality of food and included server gratuity, this was a fair price for a nice "meal" even before you consider the additional perks of having a guided tour.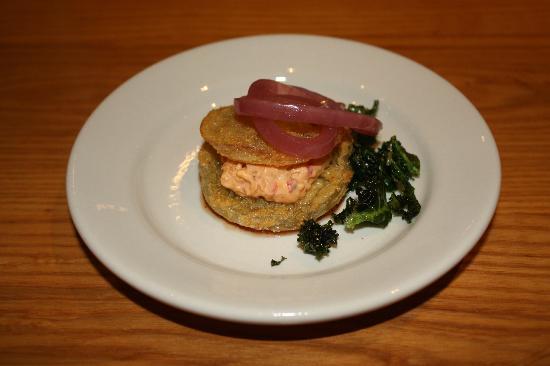 Although I can't specifically recommend any other food tours, the concept is brilliant. Many welcome families (or in my case, solo travelers) and several can accommodate special diets with advance notice.
Foodies will love the cross-section of cuisines and cooking styles, but I think travelers in general would enjoy trying one, especially in cities where food is such a big part of the neighborhood culture. Not only do you get to socialize with other guests, but you'll learn a little bit about the history and highlights of the area along the way.
It's a fun and entertaining way to spend a few hours of your vacation and you don't have to stress over logistics or making sure you find a delicious place to eat. Just show up and enjoy. Bon appetit!
* * *
Share your tips in the comments!
How do you decide which restaurants to eat at while traveling? Do you include food tours in your plans?
* * *
Read More on The Girl and Globe: