This post may contain affiliate links. As an Amazon Associate I earn from qualifying purchases.
* * *
When I was in town for the Charleston Sessions, I was invited by Charleston Culinary Tours to be a guest on their Farmer's Market Tour. Since I love sampling food (in general) and enjoy supporting local products (in particular) this seemed like the perfect way to spend a morning.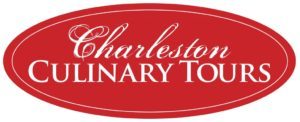 Although Charleston Culinary Tours offers five different tours, the Farmer's Market tour is what I would consider "culinary light" and interesting for the whole family. I've been on food tours before, and I absolutely love them, but let's face it: not all travel companions care about the intricacies of what goes on in a restaurant kitchen.
Unlike a traditional food tour which goes from restaurant to restaurant to sample the chef's choice of dishes,
…this tour allows guests to meet some of the local farmers at the market and pick out a variety of ingredients. After selecting ingredients, the guide leads guests on an approximately 45 minute walking tour, ending at one of our restaurant partners where the chef has incorporated the ingredients into a true farm-to-table meal!
Since farmer's markets and farm-to-table cooking is approachable for everyone, it can be a good way for foodies and non-foodies to compromise on how to spend their morning. After all, have you ever met someone who doesn't like to try free samples at the market?
Our group of 13 visitors met near the Visitor's Center at 9:30 on a Saturday morning. From there, it is a short walk to the Farmer's Market.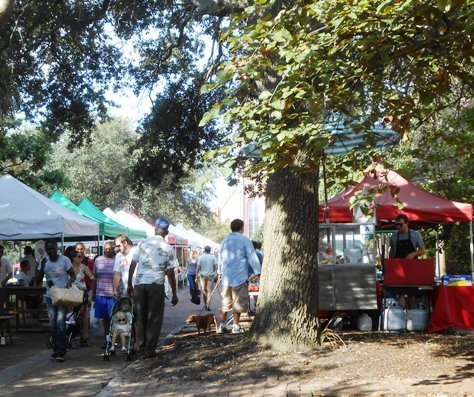 Our first stop at the market was to sample homemade pickles, including the traditional dill variety, a spicy and delicious version, and some pickled okra to show off Charleston's southern cuisine.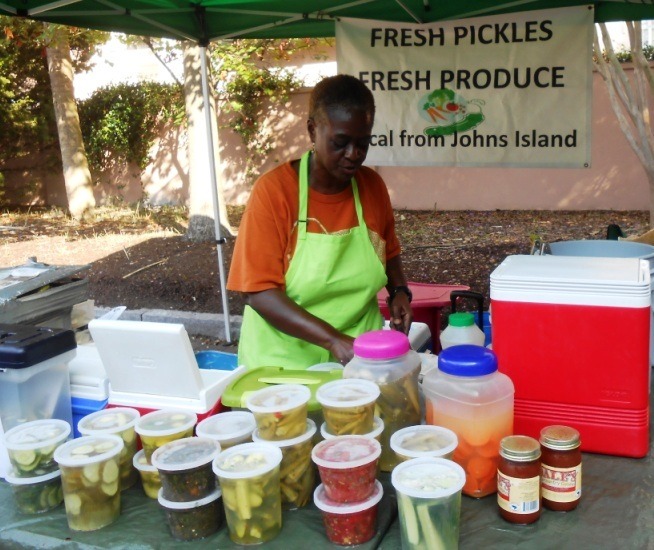 Afterwards, we made our main stop at the market: at Freeman Farm's fresh produce stand. Here, the group was encouraged to pick out anything that looked good for use in the morning's brunch. With an abundant summer harvest, we eventually settled on a variety of fresh fruits and vegetables that represented the group's favorites, essentially picking out one of everything. To be honest, I wasn't sure how a chef would be able to incorporate as many ingredients as we picked out, but I was looking forward to finding out.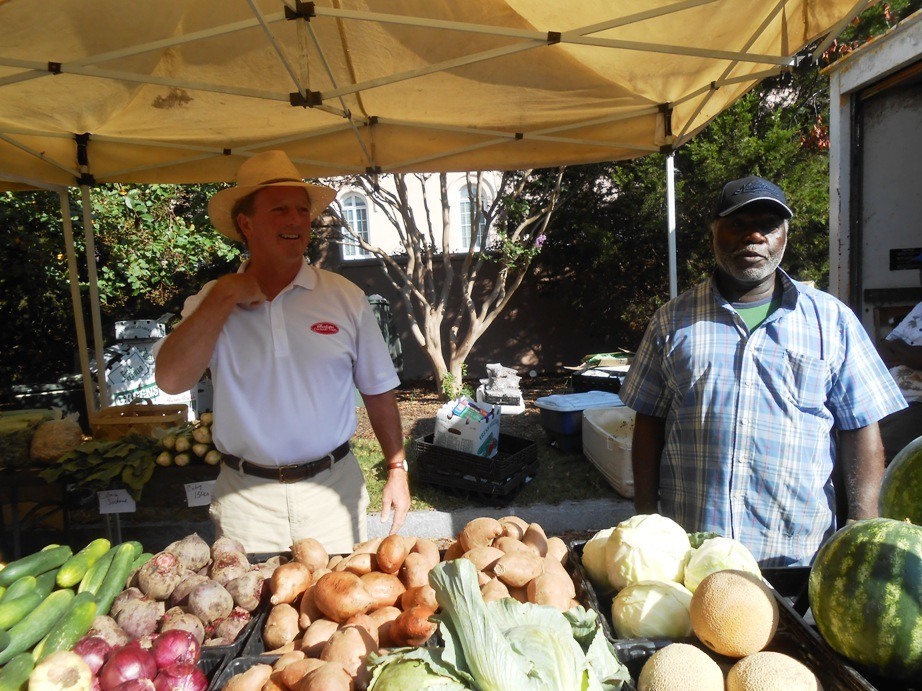 From here, the guide sent a runner back to the restaurant with all of these ingredients so the chef could get a head start on preparation. Meanwhile, the group was given about twenty minutes of free time to explore the market, try a few more samples, and perhaps make a purchase or two to take home.
Now, I love farmer's markets for the chance to try new foods, but I was quite surprised to be "let loose" on an escorted tour rather than being introduced to some of the vendors and their offerings. Since none of us were locals and we had only a limited time available, I would've appreciated some guidance on which stands may have the best or most unique products.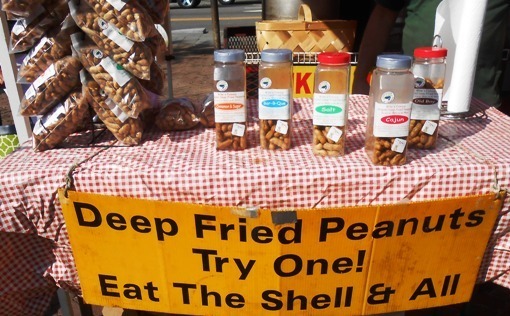 We gathered together again after our time at the market to take a stroll down Charleston's streets. For this portion of the tour, the focus was on Charleston's history. Our guide gave a brief history on Gullah cuisine and its contribution to Charleston's culinary style as well as a few anecdotal stories of growing up with lowcountry foods. However, 90% of the walking tour was a more generalized focus on the city of Charleston's history. In fact, the information provided was such a good introduction that I'd consider it a worthy substitution for other basic walking tours in the city.
Our tour ended at 39 Rue de Jean, a French cafe and brasserie, where sous chef Jason Dupree had prepared several courses for the group to enjoy.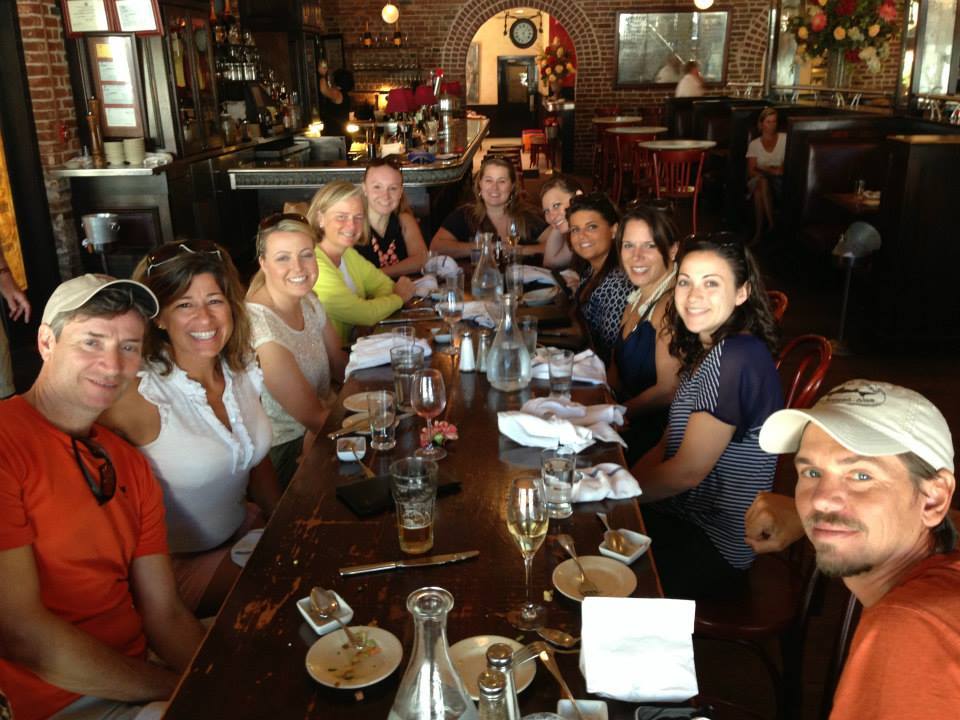 Being able to taste everything in a chef showcase was an interesting alternative to traditional food tours. Instead of sampling one dish from multiple chefs, we were able to try a range of the chef's foods. Each course featured several of the ingredients we had chosen earlier in the morning.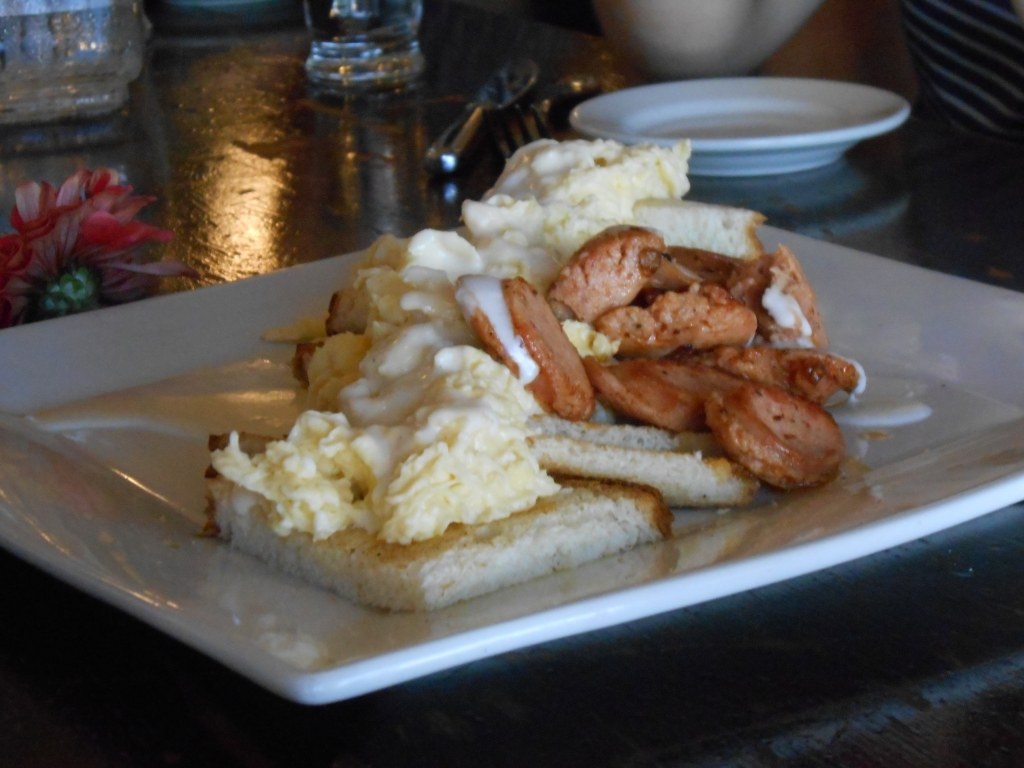 Among the offerings were:
A fresh vegetable plate, including butter-poached broccoli and heirloom tomatoes served with a homemade dipping sauce
A fruit and cheese plate with fresh watermelon, peaches, berries, and brie
Possibly the most amazing okra-corn soup I've ever tasted
Candied sweet potatoes and grilled asparagus
A farmer's salad of kale, field peas, squash, and smoked bacon dressed with a garlic aioli
Vegetable ratatouille, complete with some spicy pickles
A deconstructed croque monsieur
Vanilla ice cream with mascerated muscadines
Overall, it was an incredible meal and a lot of fun to see how the ingredients had been incorporated. The portion sizes were just enough to sum up to a large meal (but not so large you end up feeling like you ate too much). Kudos to Chef Jason for a delicious and balanced meal.
My time on the Farmer's Market tour was not what I expected, with an emphasis more on Charleston history and a chef showcase rather than a feature on the market. However, it was still an enjoyable time that ended with a fantastic meal and interesting conversation with the other guests. I'd recommend it to anyone looking for a more casual foodie experience than a traditional food tour.
Here's what to know if you're interested in going:
The Farmers Market tour is held on Saturday mornings when the market is in season for $50/person. It meets near the Visitor's Center (across from the Hampton Inn in downtown Charleston) and heads out rain or shine. While the tour is listed as taking 2.5 hours, my experience was closer to 3 hours long to fit in all that great history, so don't plan something directly afterwards.
I'd suggest bringing some cash to buy a few goodies from the market to take home. Unfortunately, we didn't purchase any of the delicious-looking meats, cheeses, breads, honeys, teas, or other items so you may want to sample those at home. You may also want to budget a little extra for drinks at the showcase meal, which are offered at an additional cost.
If the farmers market isn't our thing or if heading out early on a Saturday morning isn't your idea of vacation, Charleston Culinary Tours also offers four other tours, including two traditional experiences (each featuring different restaurants), a chef showcase (without the market visit), and a mixology tour.
I was a guest of Charleston Culinary Tours and received a complimentary Farmer's Market Experience, but all opinions remain my own.