This post may contain affiliate links. As an Amazon Associate I earn from qualifying purchases.
* * *
One of the ways I have changed the most as a traveler in the past year or two is that I have been looking for more social experiences. Meeting locals to share experiences and learn about what the culture is really like gives things a very different spin from simply seeing the sights.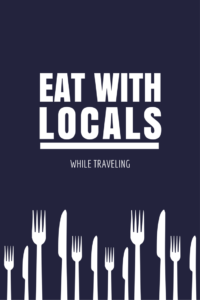 Generally speaking, I've had mixed success at starting conversations and finding hotspots. Luckily, things just got a little easier thanks to a new website called Eat With.
Eat With is a service connecting travelers with local hosts for a meal. The hosts will invite you to their home and provide a home-prepared meal – complete with comradery, conversation, and a chance to connect in your travel destination on a deeper level. There's something about food that makes it easy to relax and get to know a place!

Hosts will list their offering (such as a seafood dinner or tapas tasting) so you have an idea of what to expect along with a schedule of when they're available. Typically hosts also set a price to cover the cost of ingredients (and in some cases, it appears extra to compensate for their time). Guests can peruse these listings to see if something lines up with their interests and travel schedule.
Unfortunately, for the time being, this service is only available in select locations, so there might not be an offering anywhere near where you're headed. I can't vouch for it personally because of these limitations, but I can't wait to get a chance to try it!

Not only would I love to try Eat With as a guest, but I think hosting would be fun as well for the chance to meet people from all over the world and share your favorite parts of local culture and cuisine.
If this sounds interesting to you but isn't yet offered in your intended destination, Couchsurfing may be another option for you. Although Couchsurfing is usually a way to offer or accept a night of free accommodation in someone's home, there are a number of members who might be willing to invite you for a meal instead (or meet you at a restaurant for conversation). You'll need to contact each member individually with a personalized note, so it's not the same easy interface as Eat With.
However you go about it, I'd highly recommend doing what you can to meet locals. Sometimes it's easier than others, but it can lead to wonderful stories and great experiences.