This post may contain affiliate links. As an Amazon Associate I earn from qualifying purchases.
* * *
I was going stir crazy in February after a few weeks in a row of staying indoors, so I needed an opportunity for a getaway. Since I've seen almost everything I want to here in Virginia, it was time to venture further afield.
The perfect solution? A roadtrip to Asheville, complete with a great playlist to rock out to while driving solo. I wasn't quite sure what to expect from this small mountain city, but I ended up loving it and highly recommend a visit.

Asheville is a small city, with 85,000 residents according to Wikipedia, and yet it feels much larger, perhaps due to the fact that there is so much variety in town. Somehow, everything goes in Asheville, adding to the tourism slogan of "any way you like it". That's true as can be, and in a single day, you could go from a business meeting to a salt therapy treatment to mountain hiking without ever feeling out of place. That adds up to a buzzing atmosphere!
With only a weekend to spare, I had to pick and choose what to include in my visit, so I decided to spend one day exploring town and another day at the Biltmore Estate.
In a perfect world, you'd throw in a third day to spend outdoors, whether that's driving the Blue Ridge Parkway, climbing Chimney Rock, rafting the French Broad, or hiking in one of the many nearby state parks, but that particular set of activities got the ax this time around (after all, it was February).
Here's what you have to look forward to in the city of Asheville itself:
A Thriving Art Scene
I know absolutely nothing about art except that I like some of it and don't understand most of it. Say that in an art museum, and you'll get dirty looks. Say that in the River Arts District, and one of the artists at work in their studios or one of the shoppers perusing through the gallery will patiently and passionately explain a style or piece of work to you.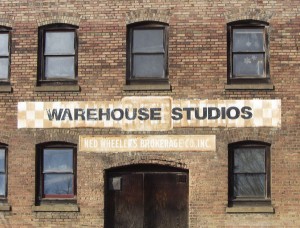 Not good enough? Tons of artists offer workshops, even in a single afternoon, if you prefer a more hands-on approach to anything from sculpture to glass-blowing.
Interesting Architecture
When I think art deco, my brain jumps to Miami, but Asheville has a ton of preserved buildings from the 1920s. If you have time to stop and smell the roses, it's worth checking out the different buildings.
While you're strolling through town, also check out the interior of the beautiful Basilica of St. Lawrence, home to the largest freestanding elliptical dome in North America.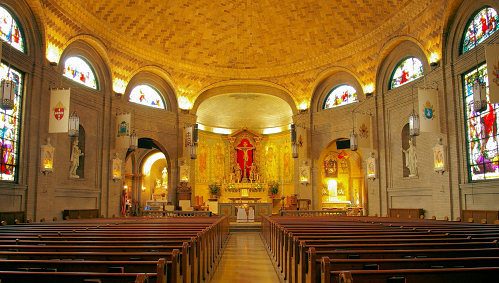 Unique Shopping
No, I'm not generally a shopper, but this is the city to visit if you need a unique gift for someone.
Traditional mountain crafts are offered in the Grove Arcade downtown, contrasting to today's contemporary art galleries. Music lovers can flip through old vinyls or talk to shop owners about new bands and foodies will be delighted with a large selection of spices, teas, or hand-crafted chocolates.
Clothing shops incorporate vintage, sustainably-produced, and today's trends for a complete wardrobe and outdoor hobbyists will find specialty gear for just about anything. And yes, still others will be amazed by the huge amounts of smoking accessories available. Funky West Asheville is often overlooked by tourists but is also home to unique shops.
Live Music
While most national shows head to bigger cities, some do make it into Asheville. However, the local music scene is where it's at. There are lounges and clubs featuring anything from rock to jazz to bluegrass and many don't even charge a cover.
If you're not into nightlife, you still won't be missing out because buskers are everywhere. Some of them downright suck, but many of them are actually really good and you can easily sit on a park bench with a cup of coffee and live entertainment for just the cost of an appreciative gratuity.
Good Food
The variety that's apparent in all other aspects of Asheville life carries over to the food as well. The downtown core is wonderfully void of chain restaurants, and instead features local spots.
Local, sustainable sourcing is a fairly common theme, as is eating organic, and vegetarian/vegan options. However, you'll also find darn good Southern cooking, Indian street food, and European specialties. Round it out with a local microbrew or craft cocktail to make it really feel like a vacation.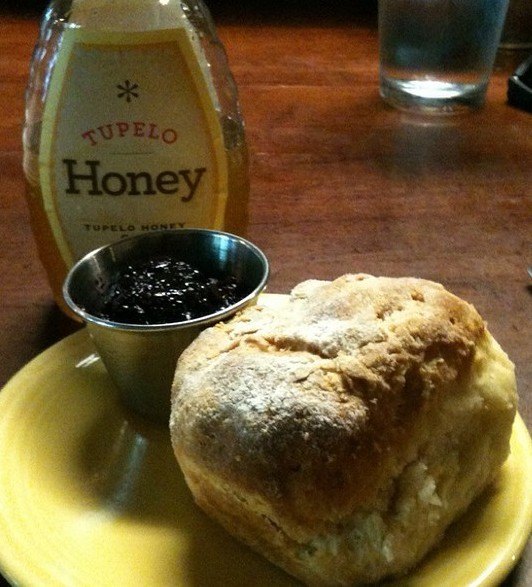 Friendly, Interesting People
Asheville shares a lot of common features with other cities nationwide, and you may have already drawn comparisons in your head.
Setting itself apart, Asheville maintains its small town roots and southern hospitality. Scoot on up to the counter for breakfast and the locals will make pleasant conversation with a solo traveler, without being prompted. Ask for directions and someone will likely walk with you to your next destination. Inquire about the daypack someone's using, and they'll gladly talk about their favorite hobby.
Honestly, this is utopia for a solo traveler because you can be friends with anyone by day's end…yet the community is respectful and observant of when you need time alone to think, meditate, or read even in a public place.
Plan Your Trip to Asheville
If you're thinking about heading to Asheville, be aware that lodging can get pretty expensive during peak season, which includes the many festival weekends during spring and summer, basically all of fall when the Blue Ridge Parkway is full of beautiful colors, and between Thanksgiving and New Year's, when the Biltmore is decorated for holiday festivities.
Staying downtown – like at the Four Points Sheraton, Aloft, or Hotel Indigo – will put you in walking distance of shopping, restaurants, and nightlife. However, hotels outside of town in the bland Tunnel Road suburbia or touristy Biltmore Village areas will likely be more affordable and you can still be downtown in ten minutes. Budget time and money for parking!
I'm lucky that Asheville is an easy drive away, but for the rest of you, Asheville does have a small airport. For better prices and/or more options, you can also consider Greenville, SC (1.5 hour drive), Knoxville, TN (2 hours), Charlotte, NC (2 hours), or even Atlanta (3.5 hours).
* * *
Share your thoughts!
Have you been to Asheville? Does it remind you of anywhere else you've been?
* * *
Read More on The Girl and Globe: