This post may contain affiliate links. As an Amazon Associate I earn from qualifying purchases.
* * *
I'm not a bike rider, and yet I got it in my head that cycling the Virginia Creeper Trail would be a fun way to spend a fall day. My biking experience involves awkward and unsteady rides from my childhood, a tandem ride in San Francisco where my husband graciously ensured the safety of my life, and spin class where thankfully my bike is bolted in place.
So I wasn't surprised when my husband gave me one of those sideways looks as I shared my intentions; you know, the one that says, "are you sure you want to do this?".
But I'll repeat: the Creeper Trail was entirely my idea.
What is the Virginia Creeper Trail?
The Creeper Trail is a 34-mile long bike ride in southwestern Virginia from the top of Whitetop Mountain to the town of Abingdon. The fact that it passes so close to two other states (North Carolina and Tennessee) is pretty cool in itself, but I was also intrigued by the trail's history.
Today's Creeper Bike Trail runs on an old rail path, belonging to the Abingdon Coal and Iron Railroad in the 1880s. The US Forest Service secured the land in 1977 and began work to remove the old railroad tracks and turn it into a recreational area.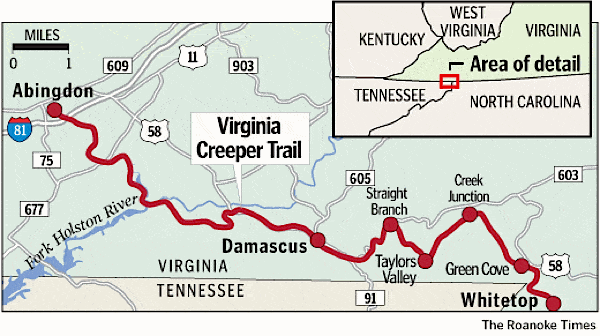 Although the route is a very popular outing, most visitors bike only half of the trail, from Whitetop to Damascus. Logistically, this is a simple option: you rent a bike from one of the dozen shops in Damascus, who will shuttle you to your starting point. Since it's (mostly) downhill, you make your way back to the shop in about 2.5 hours of no-sweat riding. Along the way, you enjoy the scenery, take plenty of photos, and potentially even make a pitstop for ice cream. It's fun for everyone!
Despite the fact that I'm not a bike rider, we decided to ride the entire length of the trail, more than double the normal route. While the first half is the same downhill portion, we'd continue from Damascus to Abingdon. The second half of the Virginia Creeper bike trail is flat, but does require *some* amount of physical exhertion.
How Long to Bike the Virginia Creeper Trail:
Allow 2.5 hours to bike the 17-mile section from Whitetop to Damascus (the most popular option)
Allow 5.5 hours to bike the full 34-mile section from Whitetop to Abingdon
What it's Like
The morning of our adventure, we showed up in Abingdon to pick up our rental bikes at 8am and shuttle up to Whitetop. I had really hoped that starting so early would mean we had the trails to ourselves, but there were at least 150 other bikers when we arrived at Whitetop Station. No worries, there's 34 miles to spread out on.
After doing a test ride on the road, I was ready to get started. I may not be a biker, but I'm always up for a challenge.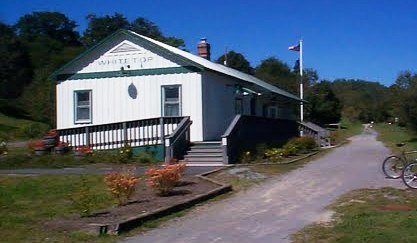 Then, within 100 yards of starting out, I fell off my bike.
No…I take that back. I didn't fall.
I flew off my bike, landing hard on my left side.
The bruises on my thigh resembled those of someone thrown from a bucking bronco, my elbow had split open, and both hands were scraped, bleeding, and interspersed with tiny, dirty gravel that had embedded into my skin. Meanwhile, six-year olds were passing me on my left and right, showing off that they were steadier on a bicycle than I am.
Not only was I hurt, but my pride was severely injured. And I still had 33.9 miles to go!
It never even crossed my mind that I wouldn't finish a 34-mile bike ride, but a challenge this would be.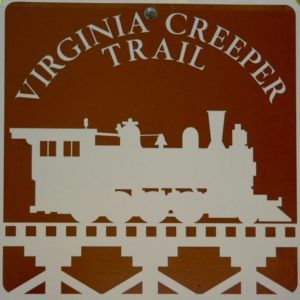 My sweet husband went to work performing skillful surgery on my bike, which was injured worse than I was. The front brake had broken entirely and the chain slipped off.
Did I fall because of a brake malfunction or did my brake snap because I fell off the bike? I have no idea.
Bloody and failing to hold tears back, I got back on the bike fifteen minutes later and didn't say a word for the next five or six miles. It was going to be a long day.
Thankfully, the scenery really is beautiful and was a good distraction from my personal embarrassment. The beginning of the trail heads steadily downhill in-between trees just starting to turn color. It passes along the Whitetop Laurel River, crossing a number of wooden bridges, conveniently numbered so you can track where you are along the trail. In late September, the crisp fall air even smelled good. I was actually beginning to enjoy myself!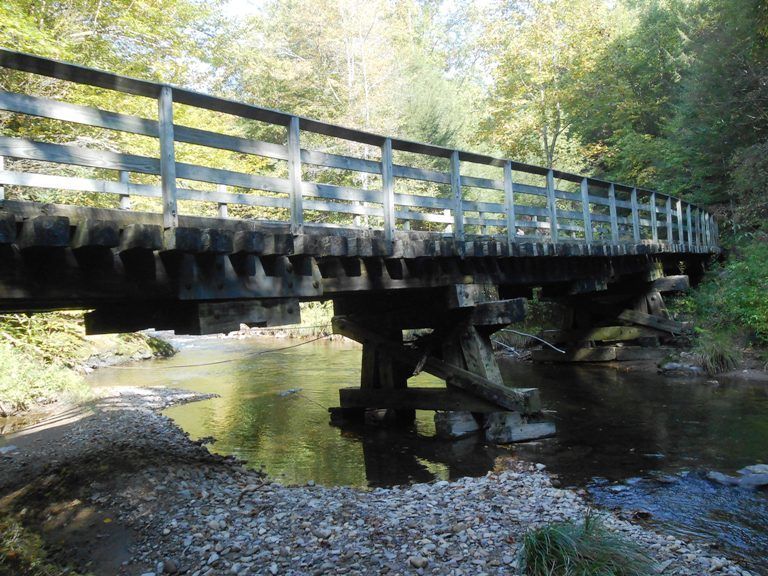 By ten miles into the trail, I had gotten the hang of this bike riding thing. The crowds had spread out based on different riding speeds and frequency of stopping, so we had the path to ourselves. Mike and I were able to ride next to each other, a romantic symbol equivalent to holding hands. We were even having a pleasant conversation, laughing the whole way downhill. That fall of my bike was just a fluke!
Before I knew it, we made it to Damascus, the ending point for most bikers and the halfway point for us. At this point, the trail starts to parallel the main roads in and out of town. For a few miles, you'll bike past houses, warehouses, and other private property. There weren't nearly as many scenic photo stops, but eventually we made it to rolling farm countryside.
Passing through pastures and hay fields required opening and closing private gates along the route. If you're the type of person who wants to break out on a long stretch of pathway, it's annoying. If you're the type of person who needs momentum just to make it through, it's annoying (yup, that was me).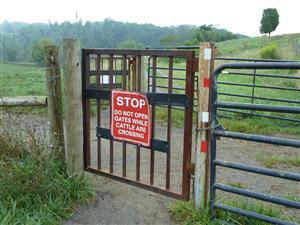 Still, everything was going okay and eventually we entered a fairly narrow valley near Laurel Creek. The trail became scenic again, and I was motivated to push on. That is, until milemarker eight when I hit a brick wall. No, not literally (although that's not a far-fetched assumption, given my biking skills).
My legs were burning, and I had had enough of my still-stinging palms wrapped around my handlebars. Not to mention, the trail itself was under construction at this point and instead of hard-packed gravel, it was relatively large loose stones on a hilly path too steep to bike. The sun seemed to burn down on me as I got off my bike and walked it uphill when in reality it was only sixty degrees.
The next five or so miles were brutal. I was physically wimping out and mentally done with this ride. The views off to the side were all of country clubs and mansions — no more natural beauty to capture my attention.
Did I press on? Yes, slowly. Somewhere there are angels singing of my husband's saintly patience.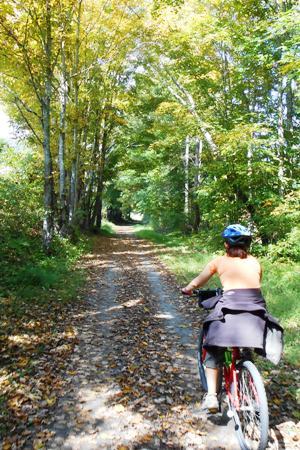 I can't tell you how excited I was when we passed mile marker 1: a literal sign that we were almost done.
With a new wave of energy, I pedaled hard (or so it seemed) for a strong finish. It's probably a good thing that I didn't know at the time that the mile marker signaled the distance to Abingdon Depot and not to the shop itself where we'd return our bikes, another half mile further.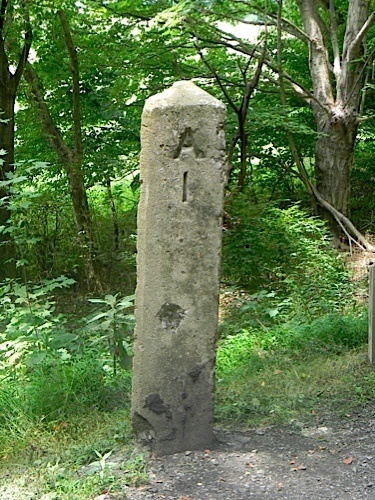 The sense of accomplishment at the end felt great. I made it! I finished all 34 miles of the Virginia Creeper Trail! And seriously, if I can do it, anyone can.
Virginia Creeper Trail Planning (Bike Rental and Logistics)
If you want to ride the popular (downhill) half of the Creeper Trail — which I enjoyed and highly recommend — you'll start in Damascus, VA. It's a small town without a whole lot going out, though it makes a pretty good base if you're also heading to Hungry Mother State Park and/or Grayson Highlands State Park, both of which I'd also recommend.
There are plenty of bike shops in Damascus, but reserving your rental and shuttle seat is advised, especially if you'll be riding on a weekend.
If you want to ride the entire Creeper Trail, from Whitetop to Abingdon, then kudos to you. Although I'm proud of myself for finishing, I won't be doing it again. My advice for you: make sure you know how to ride a bike ahead of time.
Even if you want to ride the whole route, I'd recommend dealing with the inconvenience of renting in Damascus and shuttling back and forth; the one and only outfitter in Abingdon was an absolute bear to deal with.
It's absolutely worth the experience on the Whitetop to Damascus section and a fun way to spend half a day. Get out there and enjoy the ride!
Read More About Virginia