This post may contain affiliate links. As an Amazon Associate I earn from qualifying purchases.
* * *
While I'm on vacation this week, I'm delighted to share travel tips and stories from a different point of view. Please welcome Deborah, from Fishing4Deals. She knows where to stay for the best deal in Paris.
Paris, Virginia, that is.
If you like hiking, but don't relish the thought of backpacking or camping out, you may be interested in the network of rustic cabins maintained by the Potomac Appalachian Trail Club (PATC).
The PATC is a volunteer organization charged with maintaining the section of the Appalachian Trail that runs through Virginia, Maryland, and parts of Pennsylvania. The Club maintains free shelters along the trail for thru-hikers and also owns rustic cabins in Virginia, West Virginia, southern Pennsylvania, and Maryland that it rents to the public and its members. Most of the cabins are in state parks or on club property adjacent to Shenandoah National Park.
I've stayed in half a dozen of the more than 35 rental cabins owned by the PATC, but Myron Glaser cabin, near Paris, Virginia, is my favorite! The cabin is located north of Ashby Gap, just off the Appalachian Trail in northern Virginia.
Myron Glaser is a beautiful stone structure, with a romantic front porch swing, just off the Appalachian Trail, on the western slope of the Blue Ridge.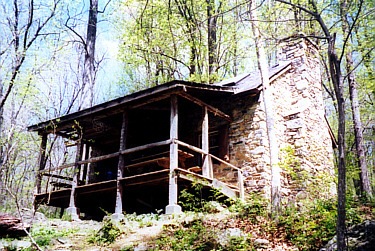 At just 56 miles from Washington, DC, the cabin makes for an easy weekday or weekend getaway. The stone house is just one room, a sleeping loft, and a large porch. The cabin is equipped with furniture, mattresses, blankets, a wood-fired stove, a fireplace, and cooking utensils. In other words, you don't need to bring a lot of camping gear when you stay in a PATC cabin. The stated capacity of the cabin is 12, but I wouldn't invite more than six people.
Myron Glaser is a primitive cabin compared to some other PATC cabins. There is no running water or electricity, and the bathroom is an outdoor privy. You have to fetch water from a nearby spring, and collect wood for the stove.
It's a two mile hike in from the parking area, on an easy, mostly level trail. In early spring, you can find morel mushrooms along the trail. The easy hike in makes it possible to take excursions like canoeing the nearby Shenandoah River.
The PATC cabins are a closely guarded secret — because they are so lovely and so cheap! For a small fee, you can head out to paradise with your friends, family and the dog.
The rent for Myron Glaser is just $30 a night Sundays through Wednesdays, and $45 per night Thursdays to Saturdays. You need to be a member of PATC to rent this particular cabin, and membership is $35 a year.
Some of the cabins are more rustic, or harder to reach. Others have modern amenities and you can drive right up. The rental rates vary accordingly.
Sixteen of the cabins can be rented by the public, while some of the nicer properties like Myron Glaser are reserved for members. The reservation policies are complicated and demand is high most times of the year; I recommend planning well in advance. The club posts a chart of cabin availability online, and sometimes you can luck out at the last minute. When I last checked, there was still good availability for Myron Glaser for some dates in November and much of December. Many families make a tradition of hosting Thanksgiving or other special occasions in a PATC cabin in the woods!
PATC is a great organization. They have an active schedule of hikes and trail maintenance activities. The club has separate sections for climbing and mountaineering, ski touring, and wilderness search and rescue. They publish many maps and hiking guides for the mid-Atlantic region.
If you're interested in hearing about the "jewel" of the PATC cabin system, and other great travel deals, head over to my blog at Fishing4Deals.com.