This post may contain affiliate links. As an Amazon Associate I earn from qualifying purchases.
* * *
Without a doubt, fall is my favorite time of year in Virginia for the bright, scenic colors and brisk air. This beautiful setting, combined with my personal goal of seeing more on my east coast bucket list, was an inspiration to head to lovely Charlottesville, VA.
My main goal for the day was to tour Thomas Jefferson's home, Monticello, the best-known attraction in the area. However, there are several other things to do on the same stretch of road, turning Charlottesville into a perfect day-long visit.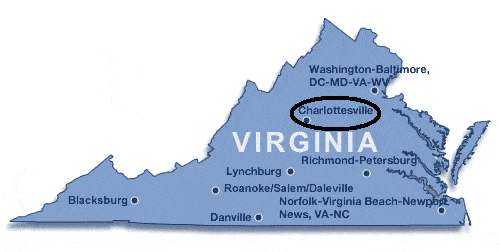 Monticello
Thomas Jefferson was an eclectic man. Your history class probably taught you about how he wrote the Declaration of Independence (when he was 33! I need to get started on my own legacy!) and how he was third president of the United States. You may even remember what he did inbetween or the details of what he accomplished.
Until I visited Monticello, though, I had no idea he had an interest in forecasting the weather or that he taught himself to be ambidextrous or that his favorite color was a deep pink. Are the nuances of his life important in the grand scheme of things? Probably not, but they make for an interesting visit.
Of course, visiting Monticello is more about life on a Virginia estate than Thomas Jefferson himself. Throughout his lifetime, this was a working plantation — first tobacco, then wheat — and it was set up to house a large extended family, many household servants, and slaves. The tour guides do a wonderful job of sharing "a day in the life" from several different perspectives and painting a picture of colonial life.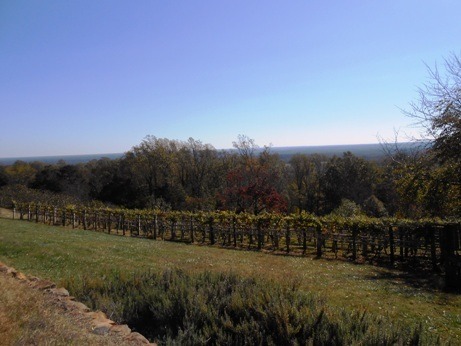 Today, the house is a UNESCO World Heritage site and a complete visit of Monticello will take four or five hours. Start with the introductory video, then join guided tours of the house, garden, and slavery buildings (45 minutes each), peek in the kitchens and other outbuildings, and then walk down the hill past Thomas Jefferson's grave until you return to the visitor's center to take in the exhibits. I've also heard good things about the Saunders-Monticello trail, which is 2.5 miles one-way.
If you go, be aware that house tours are on a timed ticket. Don't worry too much about when your entry time is, since there's plenty to do to keep you occupied while you wait. I was pleasantly surprised that the on-site cafe was affordable, tasty, and included healthy options. Additionally, keep in mind that winter tickets are cheaper but don't include the optional tours so I actually think visiting March-October is a better deal.
Ash-Lawn Highland
Further down the road from Monticello is Ash Lawn-Highland, the home of James Monroe. Compared to Monticello, this is a modest home with just a few rooms. Despite this, I found the tour to be quite interesting. Instead of being herded from room to room, there's plenty of time to ask questions, something I desperately needed since apparently I lost my knowledge of Monroe sometime after my AP History exam.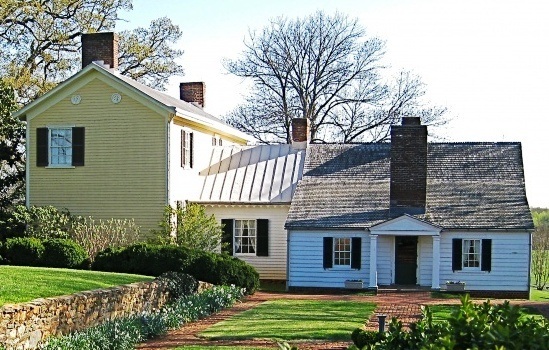 Like Monticello, you'll get a glimpse into daily life. The difference is that Highland (as Colonel Monroe called it) is more of a middle-class home in the area rather than a grand villa. The simplicity of his house is a bit humbling, considering that he was the fifth president, yet it seemed move livable and comfortable to me.
If you go, tours are roughly 30-minutes, though you're welcome to stay as long as you like afterward to view the small exhibit and speak with the incredibly friendly docent(s).
Michie Tavern
Michie Tavern was a curveball attraction: it sounded a little dull when I read about it ahead of time but I loved the inside look at a typical tavern, perhaps since I have such a travel-oriented outlook of my own. Hotel rooms in the 18th century weren't nearly as private as they are today and most of the time, you'd be sharing a room…or even a bed. While I'm not certain I'd have a comfortable stay, the taverns of yesteryear were a lot more social than today's accommodations. Gaming, dancing, and music were common in addition to group meals.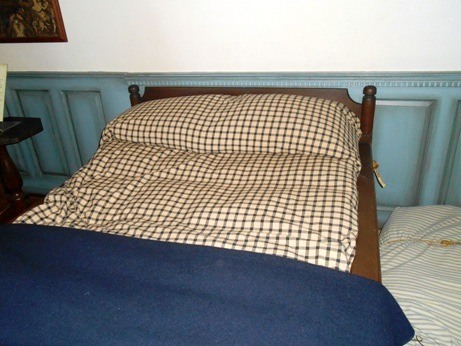 The tavern was moved a few miles from its original location to put it on the tourist trail. Most tourists don't actually bother with the tour and instead come only for lunch. The Ordinary serves all-you-can-eat portions of their famous fried chicken and 10 other dishes. The servers and other staff are all dressed in period wear to re-create a 1784 experience and somewhat unique meal.
If you go, they advertise self-guided tours, though I stumbled upon an infrequent guided tour. My guide was great, so it might be worth calling ahead to see if they have any guided tours the day of your visit. Lunch is an additional cost.
Bonus Tip: The Monticello Neighborhood Pass includes admission to Monticello, Ash-Lawn Highland, and Mitchie Tavern at a reduced price. For me, it was a great way to save a few dollars but if you qualify for standard discounts (such as senior, students, child, military, or local resident) you might be better off buying tickets a la carte. Run the math to find the best deal.
Jefferson Vineyards
Although I enjoyed seeing Monticello, Ash-Lawn Highland, and Michie Tavern, I'm not a history buff and think I would've gone crazy jumping from one exhibit to another sequentially. The perfect solution to this is take a time out after lunch to visit Jefferson Vineyards. Ironically, there is a bit of history here as well since the vineyards were started by Jefferson.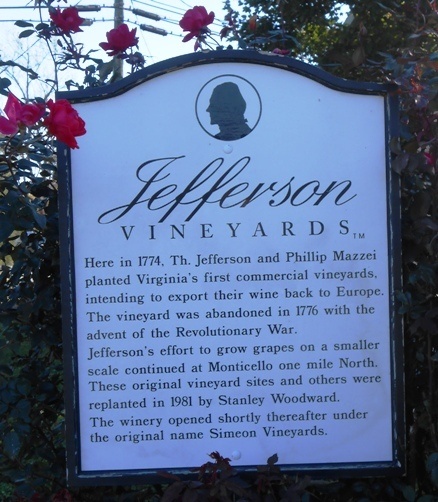 October was Virginia Wine Month, so I had a special occasion to visit, though they offer tours and tastings year-round. I wasn't amazed by any of their wines, but they're not bad and it was about time I tried a local wine! I thought it was a fun way to break up the day, though I didn't time it correctly to arrive in time for a tour.
If you go, tastings are $10 for 11 pours (about 2 glasses of wine in total) and include a Riedel glass to keep. Tours are included in your tasting fee and are offered at 1:00 and 2:00.
Carter Mountain Orchard
Out of everything I did in Charlottesville, I had a great time except for one stop: Carter Mountain Orchard. The orchard is a Virginian tradition and one that was talked up by everyone I know. Since I'm from upstate New York and apples are everywhere, I've never understood why anyone would drive an hour or two just to pick apples and yet everyone does. Curiosity got the best of me, so I stopped in to Carter Mountain Orchard to see for myself what was so special.
The orchard, even at 9am, was overrun with visitors. There were literally hundreds of cars in the parking lot, each containing a happy family ready to pick apples, choose pumpkins for carving, and take a hay ride around the orchard.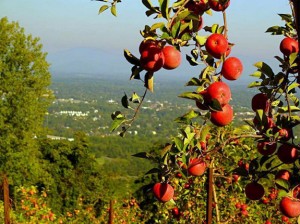 As for me? I stuck to watching the crowds while enjoying hot cider and fresh-made doughnuts. Since the orchard is literally situated on the top of Carter Mountain, there are some great seats on a deck behind their store where you can look down to watch families laughing as they spend time together outdoors. While the magic was still somewhat lost on me, I'll vouch for the doughnuts.
If you go, check out their website for hours which vary by season. October is a peak month for apple picking, but you can head to the orchard during other times of year for other pick-your-own-fruit as well. Be prepared for traffic delays entering/leaving the parking lot.
More About Charlottesville VA
Charlottesville has won the award of being my favorite Virginian city and offers far more than just the history along Thomas Jefferson Highway. If you can, tack on a second day to tour UVA's rotunda and lawn (another Jefferson contribution), shop and eat at the historic downtown mall, tour Montpelier, and eat far too much at nearby Palladio. On a third day, get outside! The trails at Ivy Creek are very close to town, though I prefer heading to Humpback Rocks to work up a sweat before going to Devil's Backbone for a microbrew.
For me, Charlottesville is the perfect way to travel locally, but it's worth a visit even if you're coming from further away. After all, Virginia is for (history) lovers.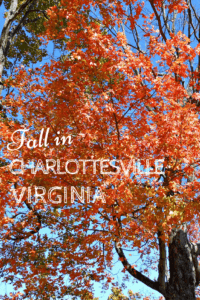 Special thanks to the Charlottesville Albemarle Convention & Visitors Bureau for providing me with a Monticello Neighborhood Pass for my visit. No other compensation was provided and as always, all opinions remain my own.