This post may contain affiliate links. As an Amazon Associate I earn from qualifying purchases.
* * *
Punta Cana is one of the most affordable Caribbean destinations all year, but some resorts offer extreme deals during hurricane season. With prices at $100 per night in the low season at Dominican Republic all-inclusive hotels, it's hard to pass up the offers even if rain is on the forecast.
Photo by Marta Logan via Trover.com
Hurricane season doesn't mean you're doomed with thunderstorms or floods. In fact, most days are hot and sunny so you can enjoy sandy white beaches and ocean swims. Even when it rains, showers usually pass quickly leaving you with the rest of the day to head outside.
Every once in a while, you might be faced with all-day rain but that doesn't mean you're out of luck. There's still plenty of things to do in Punta Cana when it rains.
Fun Things to Do in Punta Cana When it Rains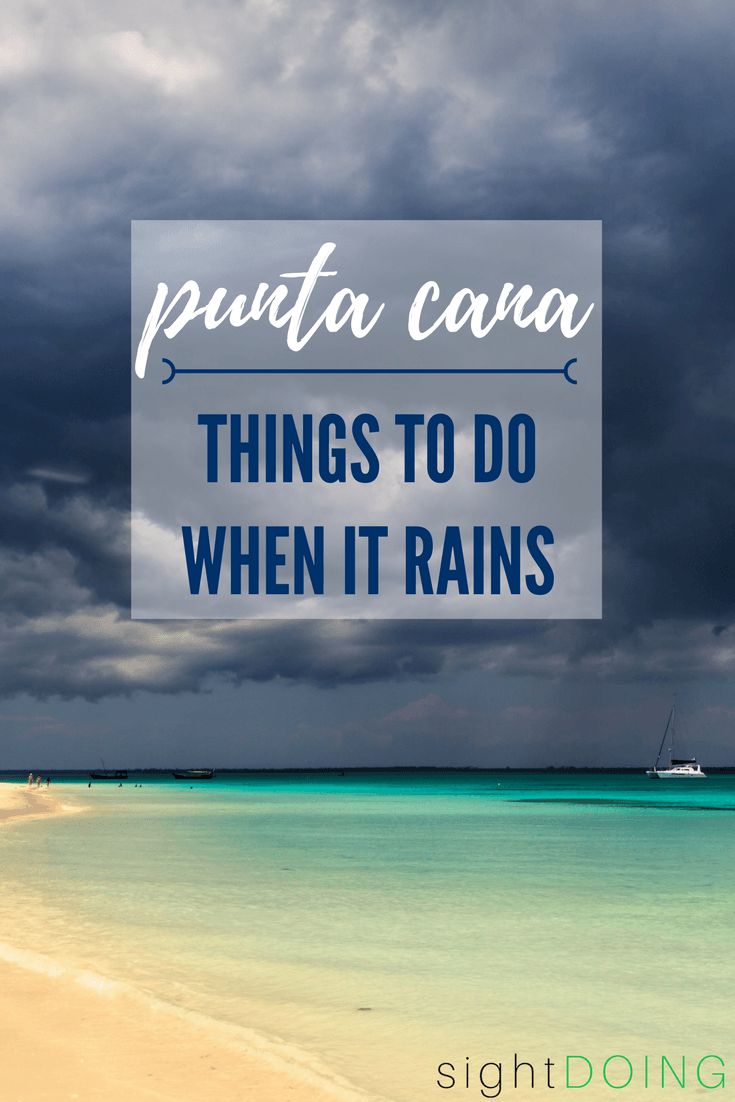 Try a Spelunking Adventure
A rainy day is the perfect excuse to leave the strip of Punta Cana resorts and head to Los Haitises National Park. Here the weather is always cool inside Fun Fun Cave. Tours from Punta Cana include an all-day adventure of rappelling in the cave, learning about cave formations, and horseback riding to and from the cave entrance. By the time you're out of the cave, you'll be ready for a hearty lunch!
Learn Something New
Most Punta Cana resorts offer daily classes to share the Dominican Republic's culture. There's usually something for everyone: salsa dancing, cooking, art, or language classes. These experiences are a great way to round out your vacation to include more than just sun and surf, but are particularly great when it's raining (or when you're sunburned).
Explore Underwater
When the weather is drizzly but not hazardous, you might as well jump all the way into the ocean since you'll be wet anyway. Scuba diving in Punta Cana includes the Dominican Republic's longest coral reef and two sunken ships, including the Monica and the Astron. As long as you choose a day without strong winds, divers can still experience visibility up to sixty feet underwater. Hint: even travelers who aren't certified can try it out for a day.
Pamper Yourself
Along with water activities and dazzling pools, Punta Cana resorts have great spa facilities for travelers. Choose just one treatment, like aloe wraps or a hot stone massage, to wait out the rain, or choose a full day package that comes with extra savings. If you're staying somewhere without an on-site spa, Six Senses Spa is a great choice. Allow extra time to enjoy facilities like lounges, saunas, and hot tubs.
Enjoy Punta Cana After Sunset
Going out with your friends is always a fun adventure, and the city has several clubs to choose from. Of them, Coco Bongo is one of the most popular. Unlike other clubs, Coco Bongo puts on a live performance every night featuring musicians and aerial acrobatics. That's the perfect excuse to stop dancing for a while and give your feet a rest, especially if you've packed heeled sandals.
Delight in Homemade Chocolate
The Dominican Republic ecosystem makes it great for cacao farming and the ChocoMuseo narrates the history and production of chocolate and other cocoa-based products. Even if you're not a museum-lover, you'll love this one: there are free samples of different chocolates, and you can join daily workshops to make your own chocolate bars.
Photo by Kaycee-Jon Ruiz via Trover.com
Plan a trip to Punta Cana, any time of year, and you'll have a great trip regardless of what the weather is like.