This post may contain affiliate links. As an Amazon Associate I earn from qualifying purchases.
* * *
You know that one thing in your city you always say you're going to check out but never do? When something's almost too easy and too convenient to carve out time and try? I finally stopped saying someday and went James River rafting this summer. For once, it was time to start playing tourist in my own backyard and working through my "Richmond bucket list".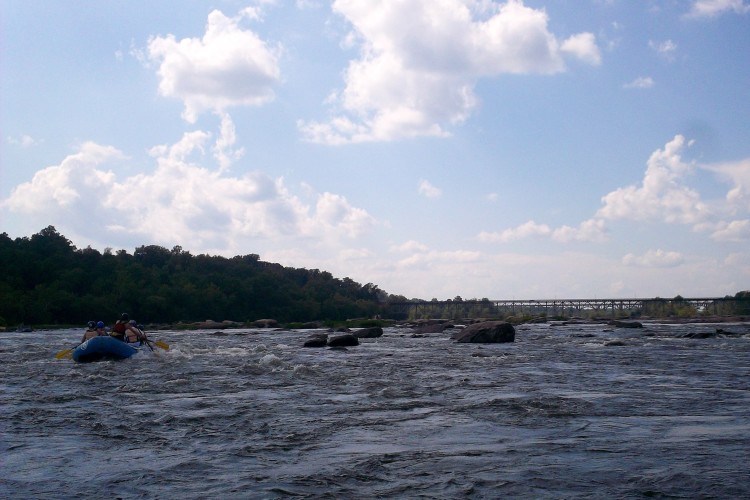 Why Go Whitewater Rafting in Richmond?
Even though I've been whitewater rafting several times before, the James River offers something completely different: it's one of the few places in the world with urban whitewater trips, including class III-IV rapids right through downtown. As much as I love nature, the idea of the city skyline being my backdrop instead sounded pretty cool to me!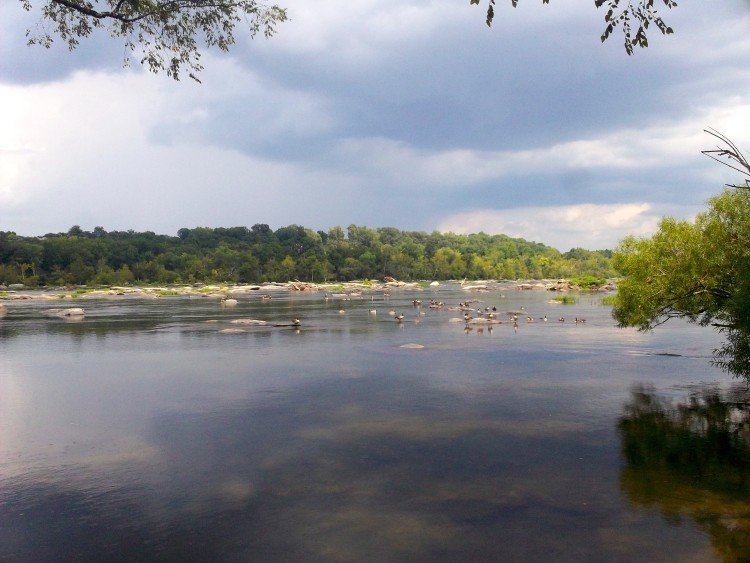 Geared up and prepped by Riverside Outfitters, we put in the river near Reedy Creek in the James River Park system. The mild stretch of water is not only gorgeous, but it's also a great place to get a feel for the raft, practice your paddle strokes, and get to know your raft mates.
The best part about the lower James is that it's really two trips in one. The first half of the Lower James is calm, with just enough obstacles to keep it interesting and some great swimming spots. And let me tell you — the river is warm in August, which is just how I like it.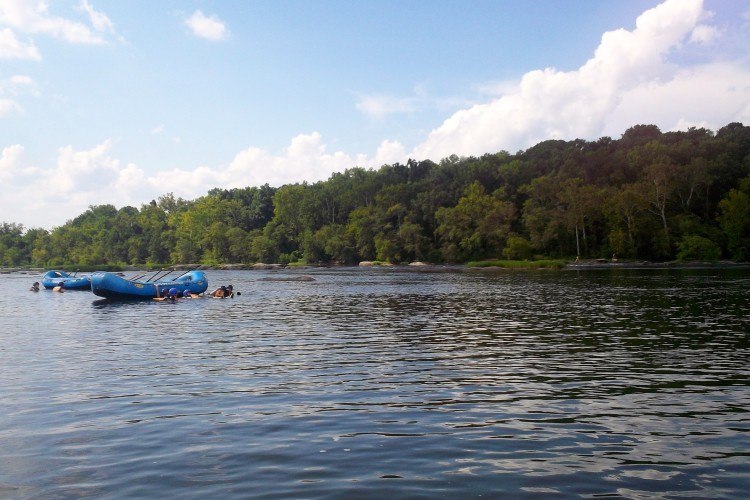 We even saw herons, ospreys, ducks, and a bald eagle along our route, turning our float into an unexpected eco trip.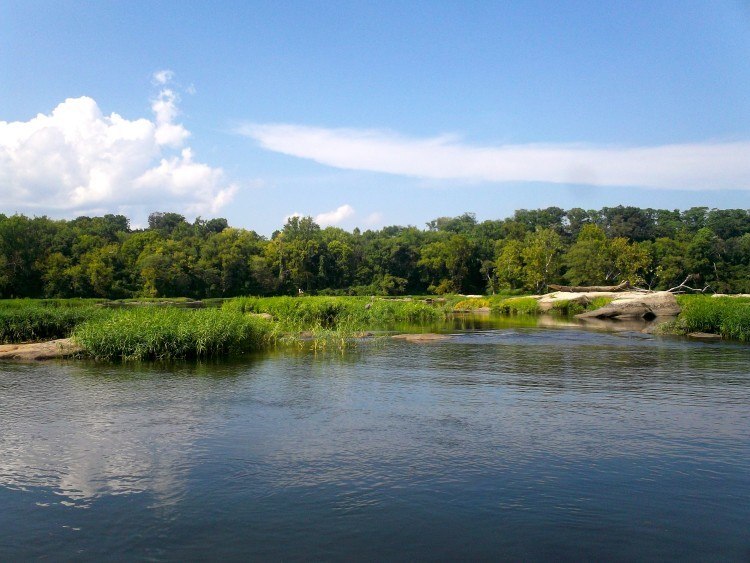 It was surprisingly nice to see the "green" side of my city, a part of Richmond I don't often think about. I've walked sections of the James River Park and spent a few Saturday afternoons swimming and sunbathing on the riverfront, but more often than not, I think of Richmond as the city it is.
Which is why I loved the trip starting the instant I could recognize city landmarks. As we made the bend into the city of Richmond, Belle Isle was on our right, Hollywood Cemetery on the hilltop to our left, and Hollywood Rapids straight ahead.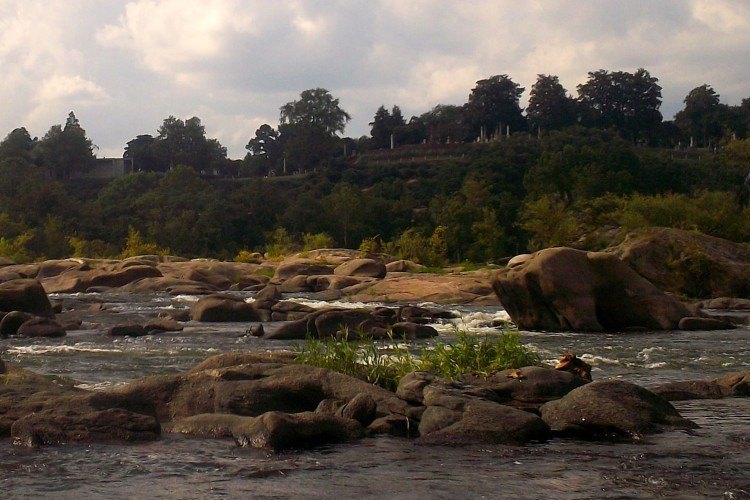 Hollywood Rapids are the big rapids of the trip, rated class III-IV depending on the day's water level. Dams around Belle Island were broken back in the 1970s, leading to a rush of big water. The rapids become more unnerving as soon as you realize that spectators on Belle Isle are watching and judging your raft as you paddle through.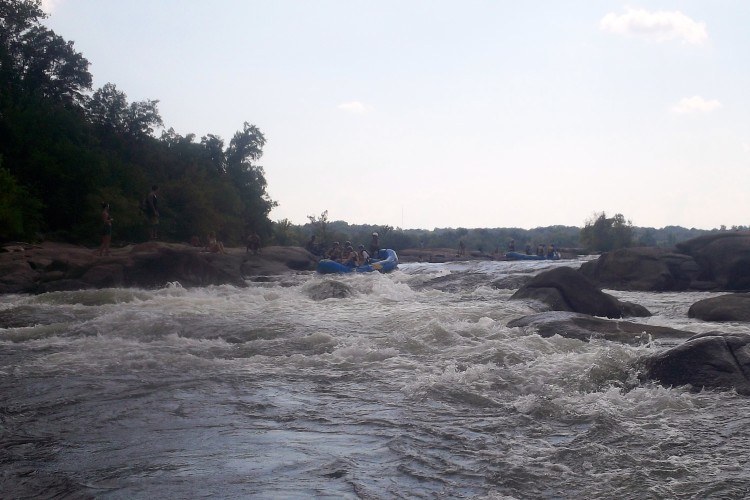 But once you make it through that action-packed corridor, it's the moment you've been waiting for. Urban whitewater rafting at its best.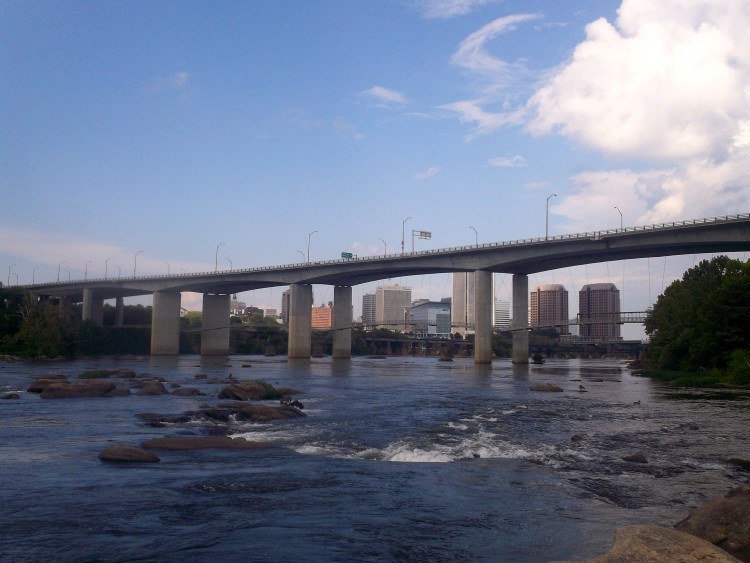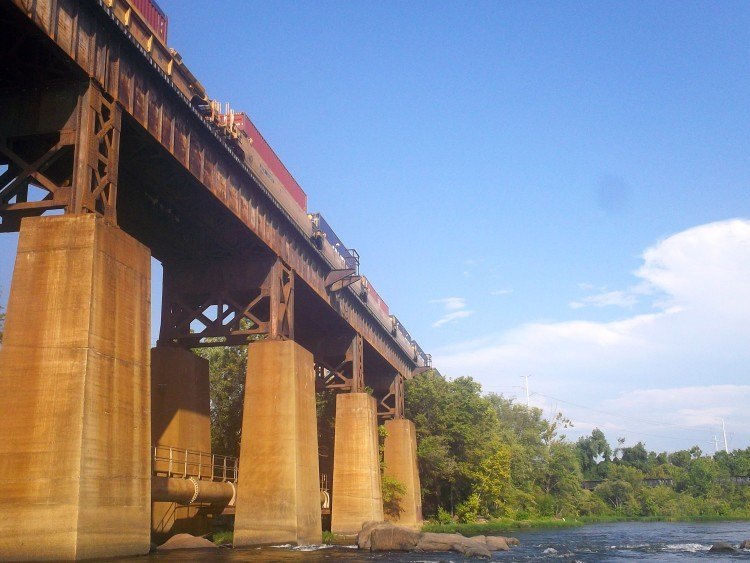 The second half of the trip goes by more quickly; the water runs faster, there's less paddling on flat stretches, and altogether, a more adventurous ride. By this time, our raft was taking everything in stride, trusting our guide to choose the best path, and spending our time in awe of the water.
Before I knew it, we were at the triple dip of Pipeline Rapids, running parallel to historic Shockoe Bottom and listening to the roar of the rapids up ahead competing with a train whistle above. The grand finale, if you will, is three class III rapids in a row followed by an optional paddle back upstream to "surf" in your raft by maneuvering into a hydraulic and stylistically enjoying the ride within it. It's the perfect way to cap off a trip whitewater rafting in Richmond.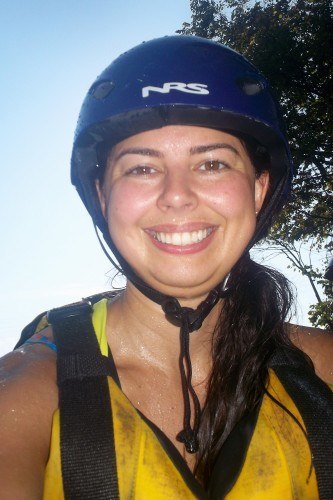 How to Go James River Rafting
Plan your trip with Riverside Outfitters — I've used them for several activities and day trips in town and they are organized, focused on safety, and work hard to provide a solid experience. I chose the Lower James River for my whitewater rafting trip, but they offer calmer (Upper James) and longer (both sections) trips as well.
For a hair-raising, adrenaline-filled raft trip, head to the river in spring when water levels are highest and fastest (but also the coldest – here's what to wear rafting). If that doesn't coincide with your trip, you can also request a duckie (one-man inflatable kayak) instead of a raft which will give the experience of bigger water. Trips run from spring into fall, so you've got a big chunk of time to enjoy the James River!
* * *
Going to Richmond? Read more about the city to plan your visit!