This post may contain affiliate links. As an Amazon Associate I earn from qualifying purchases.
* * *
After spending the first part of trip visiting Monterey and Yosemite, we arrived in San Francisco around 3pm on Thursday after driving in from Yosemite. We were pleasantly surprised at how little traffic was on the highway and Bay Bridge as we entered the city, but quickly faced the reality of city driving in San Francisco. After checking in and dropping our luggage off at the hotel, we went to return our rental car at a downtown office.
We were kind of grimy after arriving from Yosemite, so went ahead and showered and changed for the evening. We had decided to go to the Nightlife event at the California Academy of Sciences. We had a lot of fun here, enjoying the cooking demonstrations that were a feature for the week, as well as the cocktails, music, people-watching, and of course exhibits. The museum isn't huge, but plenty big for an evening visit and the exhibits were all well done.
On the roof of the California Academy of Sciences

TIP: If you're traveling without children, and your visit coincides with their Nightlife schedule, you'll enjoy the same museum for $12 rather than the normal $30 daytime admission. We still had plenty of time to enjoy the exhibits.
Afterwards, we grabbed dinner just outside the park at Pacific Catch. This was a great place for us, perhaps partly out of convenience, but it was all the right size portions and casual atmosphere we were looking for. We both enjoyed our meals, and were reenergized for the journey back to the hotel. Although we had taken the #5 bus to the museum, we returned on the N-car, and found both forms of MUNI really easy.
TIP: Bring exact change – there's no way to get change back.
And another TIP: The N-car went underground for part of it's journey, avoiding streetlights and traffic, and making our return trip much quicker but without views of city neighborhoods passing by.
We spent the night at the Orchard Hotel, kind of on the border of Union Square and Chinatown. It was a great hotel in a great location. We loved being able to walk everywhere, and the hotel itself was nice as well. Highly recommended.
Some random thoughts about the city – we quickly caught onto the city and navigating our way by foot and by bus (much easier than expected). Also, I'd read a lot about homelessness being a concern, but we didn't notice any homeless people during our entire visit. Weird.
Day 7 –
Our first goal for the morning was Mama's on Washington Square for breakfast, in need of something sweet and syrupy so the French toast seemed to fit the bill. We leisurely made our way there, strolling through Chinatown (Stockton Street) which was really active in the morning. I used to live in NYC, so Chinatown isn't a huge tourist draw for me, but it was still interesting to stop a few times to check out the weird foods or to do a little people-watching. There was a sizeable line out the door when we got to Mama's, so we decided to skip it in favor of an immediate breakfast at Café Divine, about a block away. We had a lovely table by the window for people-watching, and our food and cappuccinos were great, so it ended up being a good decision.
We continued walking down to Fisherman's Wharf, where we picked up a tandem bike rental from Blazing Saddles. We wanted to bike the city for the day, figuring it was a good way to see a good portion of the city in a short amount of time. We settled on a tandem bike, since I have never (literally) biked on a street before, and wasn't comfortable dealing with traffic and other distractions. My husband bikes on the road about 200 miles a week, so took the front seat to watch for traffic, signal our turns, and take care of the many gears we'd need while tackling hills. This ended up being a wise choice.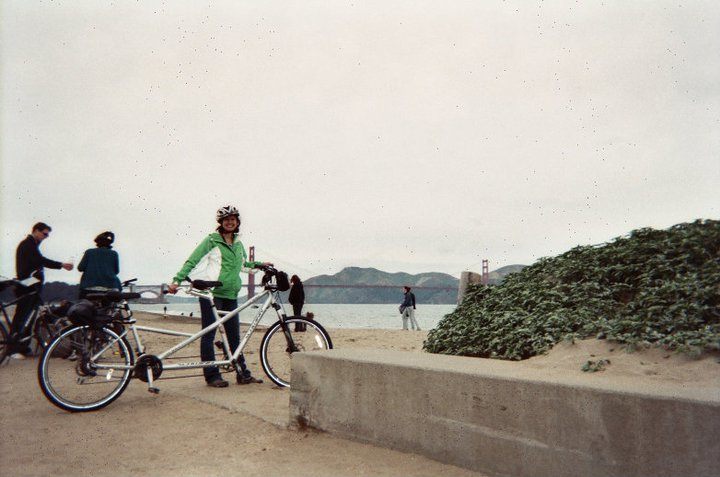 TIP: If you don't want to bike the bridge, be prepared to have your own route planned out. The staff at the shop was well-trained on the bridge route, but were kind of on auto-pilot and weren't much help with biking elsewhere in the city. However, they were great at attaching my purse to the back with bungee cords (no worries, ladies!) and pointed out places to store the bike lock, key, water bottles, and maps. Really works out well for tourists.
We ended up biking the first part of the bridge route, past the wharf, marina, Crissy Field, Wave Organ, Fort Point, Fort Mason, and yes…the bridge. However, once we had gotten halfway across for a good look back at the city, we turned around to head back on the bridge the way we came to continue onward. It didn't take us very long at all to get this far, so if you are an experienced biker, you may be bored with what would otherwise only be maybe a 75 minute bike ride to Sausalito.
TIP: If you can, plan your bike ride for the time of day when the West Sidewalk of the Bridge is open. It was closed during our visit for construction, and the east sidewalk was very busy with both bikers and pedestrians. Spreading out would have been a help.

Golden Gate Bridge San Francisco
We continued on our bike ride, through the Presidio and Lincoln Park and up to the beach. It was really pretty along the way, with a lot of the ride paralleling the 49-mile scenic drive. We liked biking through some of the neighborhoods and then up to the beach. We decided to bypass the Cliff House, figuring we had gotten the same view from our bike saddle, but I can see why others would trek out there for brunch or sunset. Later during our visit, we learned that we had missed some sort of cool cave near here (???) but I'm still unclear as to what this attraction is or where exactly it is located. Maybe a local can chime in with more details for a future bike rider.
We did end up stopping just inside Golden Gate Park for a flight of microbrews at the Park Chalet. We had fun tasting them, and learned a little more about the city from a friendly bartender. It was much quieter downstairs in the Park Chalet than upstairs at the Beach Chalet, so we were glad to have a choice.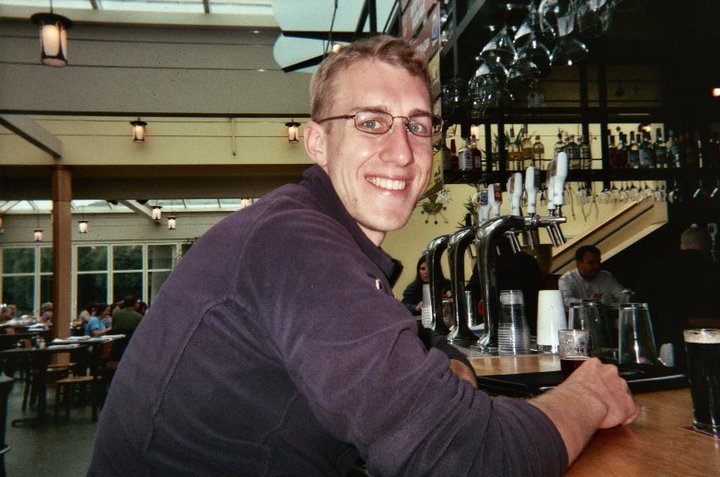 Continuing through the park, we explored a little by bike, a little by foot, and there's a lot I'm sure we missed. I enjoyed the rose gardens, dahlia gardens, and Stow Lake, but it started to rain (lightly) when we were going to go into the Japanese Tea Gardens, so we left the park a little earlier than expected. We headed out via the Haight-Ashbury district, where we had a fantastic lunch at Cha Cha Cha. Great sandwiches (my husband's cubano stole the show) and a really fun atmosphere. The sangria looked really good and really popular (and was surprisingly a good value by the pitcher) but we chose not to partake since we had already had the equivalent of a pint of beer each and needed to return our bike rental in good condition. We rode back via Arguello Blvd which was relatively flat until one steep hill at the end into the Presidio. We made it up, but probably only because my husband is an experienced biker…no way I could have made it up on my own. No worries, just get off the bike and walk it up if you need to.
TIP: Bring water or Gatorade; you'll want it at the top of one of those hills.
We had some time to kill before our 8pm show at Beach Blanket Babylon, so we walked back to the hotel the long way (okay, it was entirely out of the way). Strolled down the wharf admiring a few street performers, grabbed hot chocolates in Ghiardelli Square, and then walked (climbed?) up Russian Hill to walk down Lombard Street and then up Grant Avenue back through Chinatown to the hotel.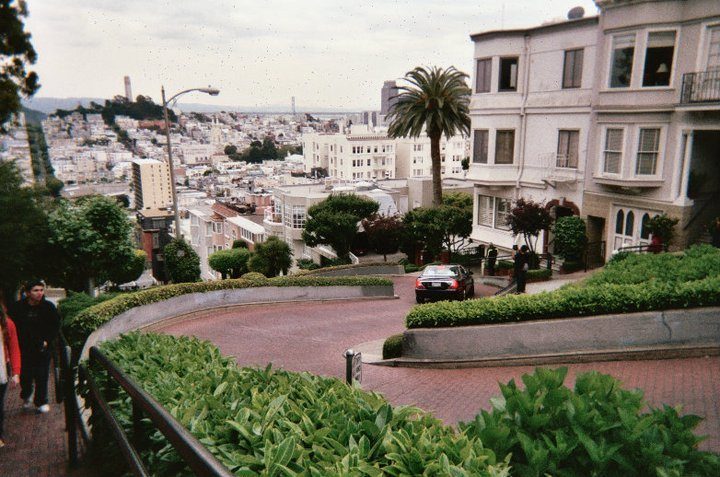 TIP: Any local, or anyone with a topographical map of the city, will think you're an idiot if you walk up Hyde Street. It is steep! A better bet is to zig-zag your way through the city…a lot of times, you can avoid the hills without going out of your way if you turn before you need to. So instead of walking south four blocks, then east two blocks you can walk south 1 block, east 1 block, south 2 blocks, east 1 block, south 1 block…no backtracking, just waiting for a few walk signals as you cross the street.
After quickly changing out of our bike clothes, we walked back to North Beach for our show. We had seats in the Rear Cabaret, but got there at 7pm when the doors opened and ended up with seats in the very first row of the rear, great seats. We found the wine list very limited, and boring, so were fine with saving our money but many others chose to partake in drinks throughout the show. The show itself was hilarious – both of us laughed constantly. The plotline itself is incredibly simple, with the real draw being the parodies on politics, pop culture, and San Francisco along with outrageous costumes, wigs, and hats. The singers were quite talented, and overall, we really enjoyed the show.
We ended up having a late dinner afterwards at Pinnochio, which was fantastic. My gnocchi truly was light as air, and my husband's dish was more seafood than pasta (just the way he likes it). Coupled with great wine, we had a lovely end to the evening. We felt really safe walking back to the hotel afterwards, at around 11pm.
Day 8 –
We had a really lazy start to our day. Maybe it was the bottle of wine we took down the last night, but we just couldn't get moving in the morning! Eventually we packed up our bags and checked out, leaving the bags at the front desk until we had to leave our red-eye flight later that night. We had grand intentions of breakfast at either Dottie's or Brenda's French Soul Food, but after the previous day's observation of a line out the door, our late start, and my mood (you know the one: the "I'm-hungry-tired-cranky-grouchy-and need coffee NOW" mood), we decided it would be a better decision to get breakfast close to the hotel and ended up at a Posh Bagels in Union Square eating breakfast sandwiches and delicious dark roast coffee. Got some refills to go, and then walked toward Japantown.
Okay, at this point, you're probably wondering why we walked all that way (and you'd really wonder if you knew it was raining), but I am a firm believer that one of the best ways to see the city is on foot. You are forced to slow down a little, you get up close to the sights, sounds, and smells, and you can really take things in. So we walked all the way to the Imperial Spa (a Korean style spa) near the Japan Center.
Last year in Mexico, my husband discovered the spa and instantly fell in love. Since then, he's been too stubborn to go back, claiming it's not manly enough or something, but he had requested that we hit the spa again on this trip. We had considered spending a night in Sonoma during our vacation, to take in the spa, some wine, and a few indulgent meals, but eventually decided against going to wine country, and instead ended up looking for a spa in San Francisco. None of the spas in town really tickled my fancy (I'm more about the facilities than the treatments), but the Imperial Spa sounded so intriguingly different that it made my cut. Let me tell you…it IS different, but in a really great way. This spa is not for the modest. You will strip down to your birthday suit, take in the dry sauna, steam room, Jacuzzi, and cold plunge pool with strangers while wearing absolutely nothing. We both booked the body scrub & acupressure combo, and both loved it. We were scrubbed to a clean we had never known before and then massaged into a state of total rejuvenation.
TIP: Bring clean underwear and socks to change into at the end. You'll feel so clean you won't want to rewear anything, even if you only wore it for an hour or two!
Afterwards, we took bus #38L back to the Embarcadero. We walked through the ferry building, which I would have loved to explore, but it was too crowded to talk to any of the vendors. We didn't have too many intentions to buy anything anyway, since our trip was coming to a close, but if we had been here at the beginning of the week, we would've loaded up on goodies for snacking. Things looked and smelled delicious and we enjoyed our walk-through even though we didn't stay too long.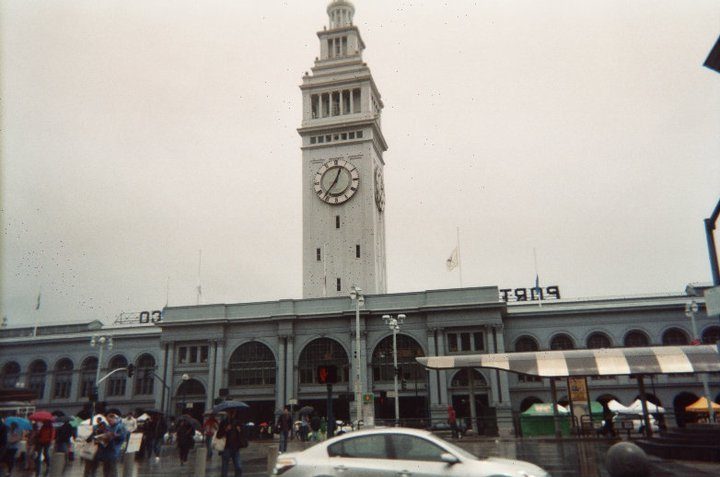 We stopped just down the Embarcadero at La Mar Cebicheria for lunch. Great place with really reasonable combination plates. We continued walking until we reached Pier 33 for our Alcatraz cruise. The cruise through the bay was nice, and we liked looking back on the city. The tour itself was okay. Historically, it was very interesting, but I'm not sure I gained anything by being there and kind of felt like I could have gotten the same feel by reading a book at home. So if you have time on your trip, I'd recommend it for the bay cruise and interesting stories, but if you're short on time, I wouldn't necessarily cram it in. All in all, we were on the island about 1 hour 45 minutes, plus additional time for the ferry each way and standing in lines.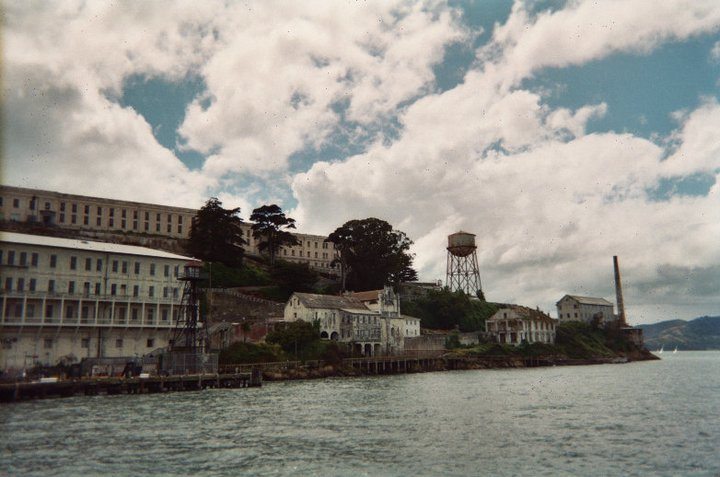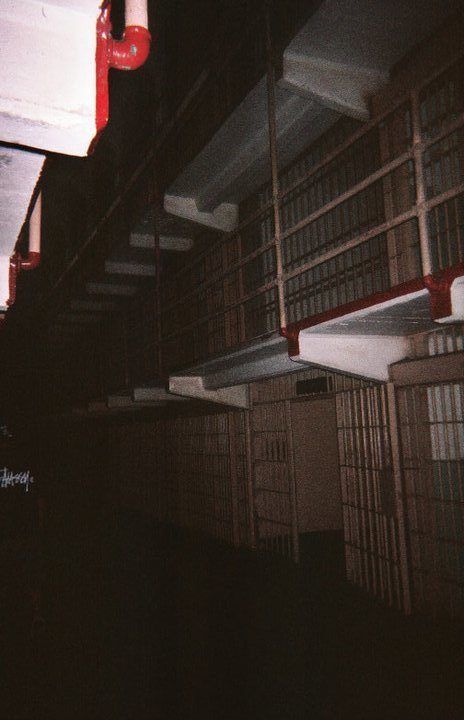 TIP: Don't get in line too early for the Alcatraz cruise…there is no advantage to being the first person on the boat!
We decided we wanted Dungeness crab for dinner, but didn't want to deal with the tourism of the wharf, so walked back to North Beach with a detour up the Filbert Steps to Coit Tower. The steps themselves were fun (I enjoyed looking in the gardens), and the murals in the tower was nice, so all in all a nice detour.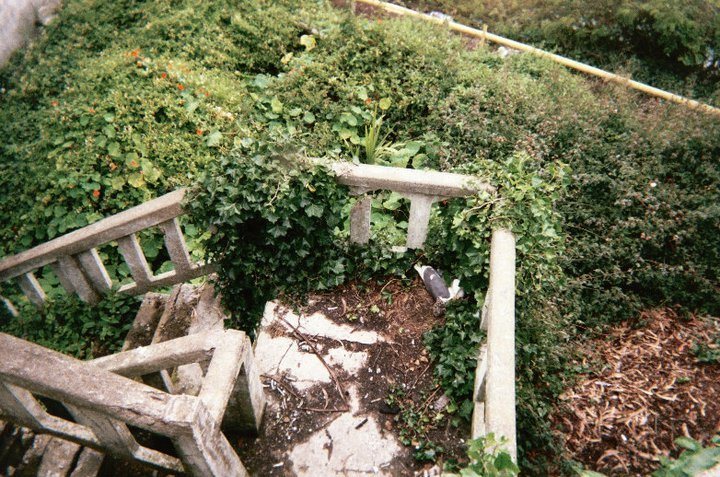 We walked from restaurant to restaurant checking out menus looking for crab, and ironically ended up a super-touristy restaurant because that's where we saw crab listed! So we ate at the Stinking Rose. It was probably the worst meal of the trip, but overall still not bad, so I guess we can't complain! I love garlic, and I love crab, but their sauce was overpowering. Still, an okay meal. We decided to pass on dessert there, and instead grabbed macchiatos and sacripantina to eat outside on the street while watching the last of our SF passerby.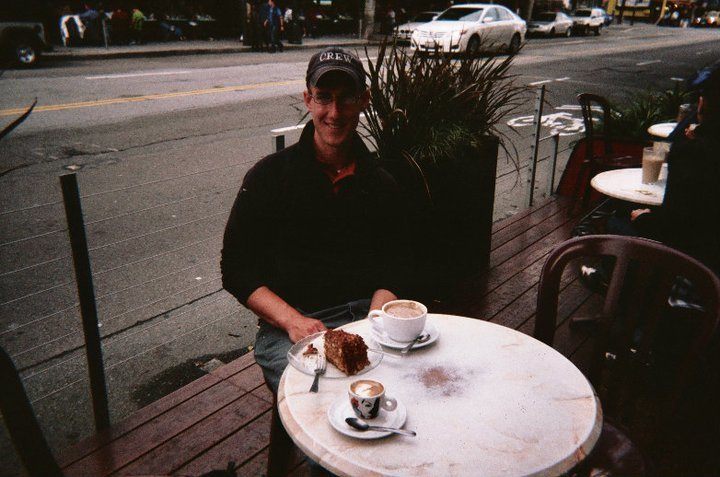 We ended up picking up our luggage from the hotel and then taking a taxi to the airport, thinking we were short on time. In reality, we would have had plenty of time for BART. We left the hotel at 8:30, arrived at SFO 8:50 and were at our gate by 9:10 for a 10:30pm flight. Who knew? For reference, it was $40 including tip by taxi vs $16 by BART.
Some thoughts on San Francisco…
We liked the city, and had a fantastic time, but thought the amount of time we had was just right for our touring interests/priorities and are not really sure what we would have done if we had more time. We did truly enjoy our visit, but most likely wouldn't make a special trip to the city for a return visit in the future. I can't put my finger on it, since we had a great time, but just weren't wowed. Anyway, our week overall was hugely enjoyable and we had a great vacation – can't wait for the next one!