This post may contain affiliate links. As an Amazon Associate I earn from qualifying purchases.
* * *
Day 4
After spending Days 1-3 in Monterey/Carmel/Big Sur and Day 4 in Pinnacles National Monument, we arrived in Oakhurst (near the southern entrance to Yosemite National Park) on the evening of Day 4.
We were starving after only a picnic lunch, so we stopped at El Cid for dinner before checking in to our hotel. El Cid was definitely the place to be – it was packed and we waited for a table. The food here was good – I'd say above-average for Mexican, though perhaps not excellent – but the true reason to come here is for the service. Everyone here went above and beyond to make sure we had a great meal, and because of them, we did. From our waitress to the busboys, bartender, and hostess, we had a lot of fun. Between the two of us, and El Cid's combination dinners, we sampled 4 of their dishes with each of them good. In fact, we liked El Cid so much that after we checked into the Hounds Tooth Inn next door, we returned for a round of margaritas.
TIP: The restaurant quieted down by the time we left (the first time) around 7:15 and remained quiet for our return visit, so if you don't mind eating later, this could be a good way to have a quieter meal.
The Hounds Tooth was exactly the perfect place for us to stay: a quiet room, a comfortable bed, and just the right combination of hospitality and privacy. We only spent one night here, but would highly recommend it to others and if we ever find ourselves in Oakhurst again (unlikely, but you never know) we would definitely stay here again.
Read more: The Magnificent Bandalier National Monument
Day 5
The one and only day we set an alarm on vacation!
We were up at 5:15am, as we wanted to shower, pack up, check out, and get to the Mariposa Grove in Yosemite before the crowds arrived. Luckily, we had plenty of picnic foods to snack on, since the inn didn't start serving breakfast that early. There was no traffic at that hour of the day, making for a really easy drive, but I can see how traffic could back up during busier periods.
TIP: While getting to the park early was a great idea, there is such a thing as getting there too early. Unbeknownst to us, the road to Mariposa Grove doesn't open til 7am!
There was plenty of parking when we got up to the Mariposa Grove and we started out on the trail. I originally only intended on doing the lower grove loop, but it was so pleasant in the woods before others got there that we ended up walking the upper loop as well.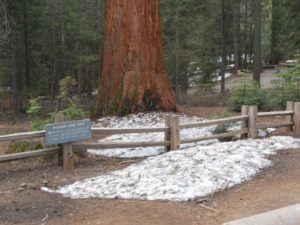 We really enjoyed our exploring and photos without crowds to deal with, and stopped to watch 4 young deer play for probably a good 20 minutes.
The morning visit (or evening, I've heard) is definitely the way to do it. By the time we got back to our car around 9:45, the lot was full, there was a line of people waiting to take a picture at the Tunnel Tree (with strangers in the background of their photos), loud construction noises on the trail itself, and road noise from the tram.
Not our cup of tea, so we were really happy we got there first thing.
From there, we drove up to the Wawona Hotel, hoping to enjoy a hot brunch.
Unfortunately, I was on a string of bad luck with our timing (TIP: Call ahead to double check on opening times!) because I thought they were open til 10:30 when in fact they stop seating people at 10am so we missed it by two minutes. We were still able to get some much-appreciated coffee to-go, and we snacked a little more outside before snooping around the grounds a bit.
We continued northbound through the park, and decided to skip the drive up to Glacier Point.
WHAT?!?!?! I know that's what is going through all of your heads right now!
We had plenty of time to head up there, but it was sooooo foggy for our entire drive through the park that we figured the view at the top would be too obstructed to be appreciated. So we purposely drove right by the turnoff, and instead headed directly to the valley. We stopped at two pull-offs to look around before stopping at the Tunnel View which was downright magical.
This park has a lot of scenic "Wow Factor".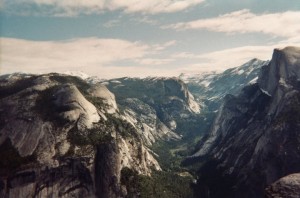 We grabbed some pictures, and then stopped again at Bridalveil Falls. When we walked to the base of the falls, we got SOAKED. Yes, we knew it was going to happen, and were wearing raingear, but somehow the reality of just how wet it would be didn't sink in until we were drenched. The air is so misty and wet, you can't see a thing but it is worth it just to feel the amazing power of the waterfall.
TIP: The parking lot at Bridalveil Fall, midday, is maddening. Drive past the lot and you can park on designated spots on the road, maybe 5 minutes of a longer walk than from the lot (or get here early in the day or in the evening).
We grabbed a parking spot at Curry Village and took the shuttle to Happy Isles for our hike of the day: the Mist Trail. From everything I read, this is THE trail to hike in the Valley, and we wanted to do it.
Guess what? Everyone is right…it is a great hike!
The only problem being, everyone else wants to do it also 🙂 We started the hike at the busiest part of the day, around 1pm, and knew we'd run into crowds, but weren't quite aware of how many crowds. We waited for literally 108 people to come down on the steps from the first waterfall before we could go up (too narrow for two-way traffic with that volume of people).
Yikes!
But we thoroughly enjoyed the hike, especially after the first waterfall when the crowds really thinned out.
We took the John Muir trail coming down, which was not very busy at all, though not very scenic. Still a good decision to save my knees! Overall, the hike took about 4 very enjoyable hours.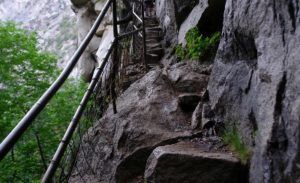 Read more about National Parks: The America the Beautiful Pass
We finished up our evening by checking in to our tent in Curry Village, and having a hot dinner at the Ahwahnee. I very much wanted to see the inside, so this was a good excuse to check it out as well as warm up. We had dinner in the bar (much cheaper, plus no reservations necessary) and then sat down in the great room to enjoy the fire. It was certainly nice, and I'd suggest a visit for a meal, but there is no way that the hotel is worth $400+/night. Of course, while I'm at it, there is no way that Curry Village is worth $110+/night (more on that at the end of the review).
TIP: Don't take the park's advice on bears lightly. We camp frequently, and have encountered bears before, so are fairly confident that the grunting and breathing we heard outside our tent around midnight was a bear. Use the food lockers!
Day 6
Strangely enough, we slept in the latest this day out of our entire vacation so far and were surprised to see it was 7:15 when we woke up (usually we're up in time for sunrise while camping, no alarm necessary). We had all day Thursday to make it to San Francisco (Thursday night hotel in the city, but no other timelines), but decided we had seen enough of the valley and that we'd rather backtrack to Glacier Point. It was a beautiful day with blue skies, though very cold, so we dressed in layers including hats and gloves and decided to hit the road.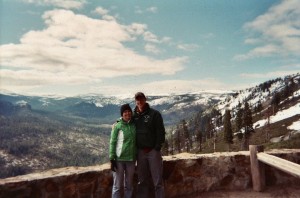 TIP: Don't think you're invincible to the cold weather. It was only 29 degrees in the valley (yes, in JUNE) overnight, and not much warmer at the top of Glacier Point in the morning!
Glacier Point is incredible.
The views of the valley are stunning, and we were awed by the mountains we unfortunately would not get to hike (Tioga Pass was closed due to snow).
We had a picnic breakfast at the top, and really soaked in the views. We loved our stop at Washburn Point as well – definitely worth seeing both. On the way back down, we parked at the trailhead for Sentinel Dome & Taft Point, hoping to trudge along the trails, but there was still knee-deep snow not too far from the trailead, so we gave up on that.
Read more about National Parks: Chiricahua National Monument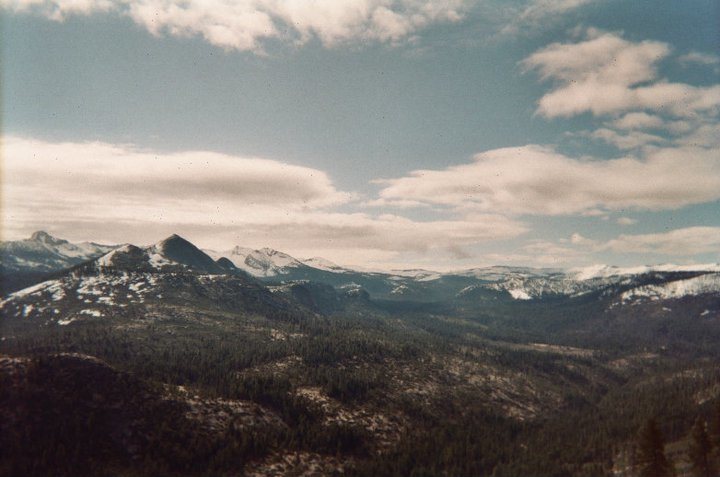 We had all afternoon at our disposal to see more of Yosemite, but decided instead to move on. It probably would've been an entirely different scenario if the hikes we wanted to do (4-Mile, Sentinel, Taft Point, Half Dome, and more in Tuolomne Meadows) were accessible, but we really didn't have any things that were personal must-dos in the Valley outside of those trails, so we called it a visit.
TIP: Save your entrance receipt – they check when you exit in case you didn't pay when you entered (such as in our case, when we got to the park before the entrance station was manned…no big deal for us to pay as we exited, but it would kinda stink if you had paid when you entered and had to pay again at exit because you lost your receipt).
We figured it made no difference how we left the park, so we chose the route on 120.
While this would be a great choice if there were things in the Big Oak Flat section of the park that you wanted to see, or Hetch Hetchy, or the historical gold towns…it was a windy, slow, boring drive if you intended on skipping all of that.
I don't know if 140 is any better, but just wanted to put my two cents in. It was about 4.5 hours from Glacier Point to San Francisco, and we also stopped for about an hour for lunch at Ferrarese's Deli in Oakdale (recommended).
I'll detail our San Francisco visit in the next post.
Some thoughts on Yosemite…
Let me start off by saying we love the outdoors.
We go camping at least once a month, sometimes hiking two or three weekends of the month. We love the natural scenery, fresh air, activity level, and solitude.
We were disappointed in Yosemite.
We were really torn between seeing Yosemite's claim-to-fame attractions and striking it out on lesser-known trails in pursuit of less crowds (but also foregoing the amazing vistas). In the end, we decided we wanted to see the most beautiful parts of Yosemite, and by our definition, that was the Valley's sights of Half Dome, El Capitan, Yosemite Falls, Bridalveil Falls, and the Mist Trail (in other words, the things you think of when you think of Yosemite).
We got great views of each of these and have to 100% admit that they are incredibly beautiful. We truly were in scenic awe. Unfortunately, once we had enjoyed those gorgeous views, we had trouble enjoying the rest of the park.
Read more about National Parks: 24 Hours in the Grand Canyon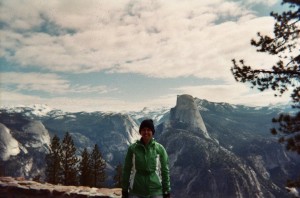 I knew going in that there would be hotels, restaurants, gift shops, and shuttle buses. I did not realize just how many trailhead snack bars, vehicles, and people this really implied. The answer is hordes of people, to the extent I felt more crowded on the pathways of Yosemite than I did in San Francisco.
Both my husband and I agree that Yosemite is like the "Disney" of national parks.
The shuttles were frequently standing-room only, there are food services galore, and stores that sells pretty much anything from sweatshirts to tents to cameras to vodka. Maybe it was just too much contrast from our last national park adventure (Denali), but there was just too much "city" to be enjoyable.
Are we glad we went? Undeniably YES.
Yosemite Valley is strikingly beautiful. But after realizing more valley hikes would only provide marginally different views, we decided to spend our time elsewhere.
Will we go back? Yes – we would like to check out some of the trails that weren't passable during our visit and the whole section of park along Tioga Pass, but if we go back we would certainly go in early fall when those areas will certainly be open, and hopefully when crowds are lesser.
Some thoughts on Curry Village…
We were drawn in by so many recommendations to stay in the park that we didn't even really consider staying outside the park.
Checking luggage on a flight to/from California with all our camping gear didn't seem worth it for a one-night stay, so we paid up for an unheated platform tent in Curry Village.
For those who are unaware, the accommodations are exactly as advertised: a canvas tent with a wooden floor, thin mattresses, blankets that had seen better days, 1 lightbulb, and what may or may not be a quick walk to the bathrooms, depending on your exact location. At $110/night, this is an absolutely horrid value and it would cost half that price in any other location. I naively assumed that we'd make up that extra value precisely because of its location.
In retrospect, it would have been just as quick to drive to El Portal as it was to make up our bed, bearproof our car, and wait for space in the bathhouse to get ready for bed. Maybe it would have been different if we had more energy at night for stargazing or twilight hikes, but we had already hiked for 15 miles thay day.
Maybe it would be different if we had multiple nights in the park and would only have to make a bed once, for example, and would save time in the long run. Maybe it would be different if you aren't used to camping, so hearing the outdoor sounds at night is more of a thrill.
I'm not saying that no one should stay in Curry Village – but I am saying to spend the time to consider all your options before making any decisions. We slept just fine, and didn't require any nicer accommodations, but evaluated the value of our lodging incorrectly and next time, we'll spend a little more time looking from all the angles.
Read more about other National Parks (links open in new window):