This post may contain affiliate links. As an Amazon Associate I earn from qualifying purchases.
* * *
For tourists, there's one key difference between national parks and national monuments: there are generally far fewer visitors at national monuments than at "full-fledged" national parks. National monuments can be just as beautiful, offer just as many hiking and camping opportunities, and you still get in free with an America the Beautiful Pass.
Actually, side note…

Officially, there are 63 national parks which were established by Congress for inspirational, educational, and recreational values. Distinguishing features might be outstanding scenery (think the Grand Canyon) or natural phenomena (like the geysers at Yellowstone).

On the other hand, national monuments are generally established by the president to protect and share areas of historic or scientific interest.

Who knew?
But before my visit, I had never even heard of Chiricahua National Monument or the nearest town (Willcox, AZ). Still, I've never had a bad trip through the southwestern USA and the draw of a national monument was an enticing reason to make a stop on the drive from Albuquerque to Tucson. Within yards of entering the national monument, I knew my family had made a great choice by including the detour on our itinerary.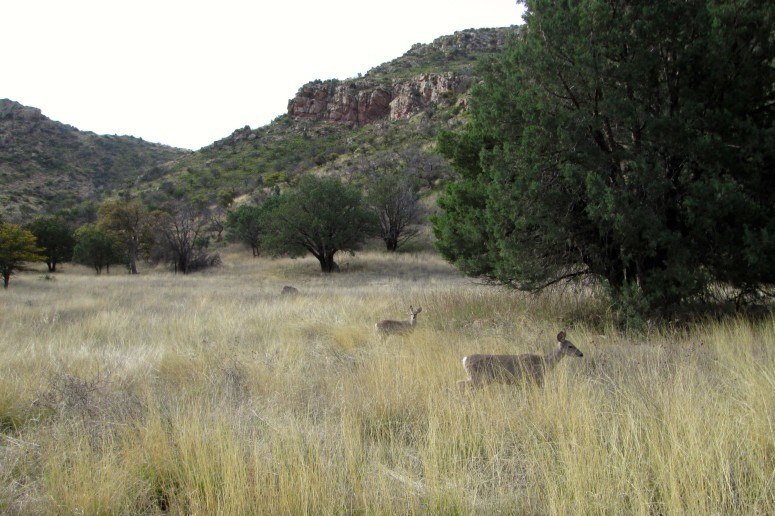 The draw to the Chiricahua Mountains are the unique rock formations known as hoodoos. The Chiricahua Indians named this "The Land of Standing Up Rocks" and it's easy to see why. Later, settlers called the area "Bonita Canyon" (pretty canyon), another apt name.
Geologists believe the hoodoos were formed by 27 million year-old volcanic ash that eventually eroded into today's current shapes.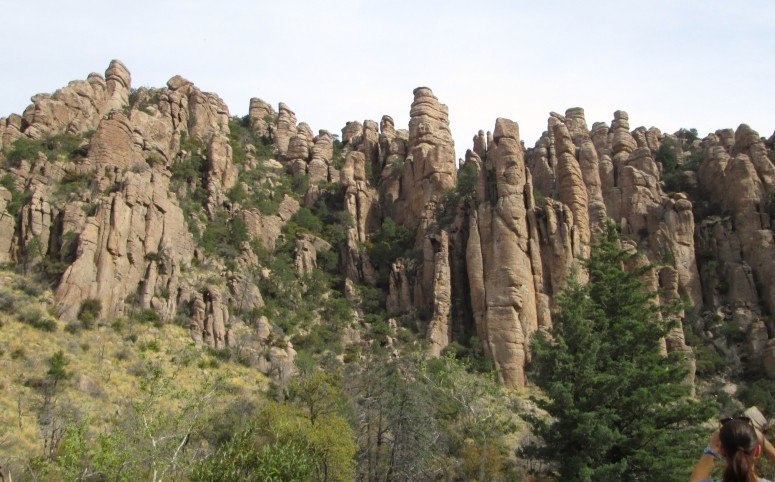 To make your way down through the hoodoos and down into the canyon, there are a total of 17 miles of trails within Chiricahua National Monument. The Heart of Rocks loop is the most recommended hike in the area and is a 7.3-mile round-trip covering parts of the Ed Riggs, Mushroom Rock, Big Balanced Rock, and Heart of Rocks trails. For visitors who want to see it all, the "Big Loop" adds on additional trails for a 9.5-mile trek.
We settled on the shorter Echo Canyon Loop, making this a perfect half day visit coupled with a picnic lunch and scenic drive. My family and I felt we still saw the highlights of this rocky wonderland without the novelty of the rock formations wearing off.
Parts of the trail were steep, heading downhill into the canyon. My mom's trekking poles came in handy and if you tend to lose your footing, they would be a great addition to your packing list. However, planning some time to stop and regain your footing can actually be a great way to see what's around you!
Bryce Canyon in Utah is more well-known for this style of rock formations, but Chiricahua is a great alternative if you're visiting Arizona or if you're traveling in winter, when snow and ice block Bryce trails. I also guarantee you'll find some solitude on these trails, something that can be just as enjoyable as a "more famous" name.
If you go…
Chiricahua National Monument is about a two-hour drive from Tucscon, making it a great day trip from the area. My parents and I actually spent the night in the town of Willcox, at an adequate but unmemorable Holiday Inn Express. However, the advantage to staying in Willcox is also making time for Fort Bowie National Historic Site, worth it for the scenery and not the fort ruins (which are basically gone).
* * *
Related Posts:

24 Hours for the Grand Canyon Was Just Right My favorite times at the canyon were sunrise and dusk, the area is more peaceful and provides a better opportunity to spot the local wildlife.

A Drive Through the Southwest If you're not afraid to get off the paved highway, this drive can provide unique scenery and stops in towns that not many tourists visit.

The SightDOING Guide to Phoenix The desert botanical gardens and Camelback mountain are just some of the many attractions that can get you moving and truly experiencing the city and surrounding areas of Phoenix.