This post may contain affiliate links. As an Amazon Associate I earn from qualifying purchases.
* * *
"I feel like we're in a scene from The Land Before Time," I commented. My husband and I were walking through clouds, the fog obscuring our view past twenty feet or so. In front of us, I could make out one of Yellowstone's mud craters, a hideous gray pool frothing away. My right ear was tuned into the glurping and rattling of the geothermal mud pots; my left heard the screeches of elk bugling in the distance. And no matter how gently I inhaled, the scent of sulphur wouldn't leave me alone.
We kept walking through the Mud Volcano boardwalks: a trail just two-thirds of a mile long winding past pots and pools and cauldrons. There was nary another visitor around; our car sat alone in the parking lot. Granted, it was 7:15 in the morning and 28 degrees Fahrenheit. Most travelers were warm and cozy in bed. But the cold didn't bother us nor did it seem to bother the elk in the valley below. We had hoped to see them — Hayden Valley is a known wildlife corridor — but nature wasn't on our side. Whether it was fog, geyser steam, or wildfire smoke, our view was eerily impenetrable.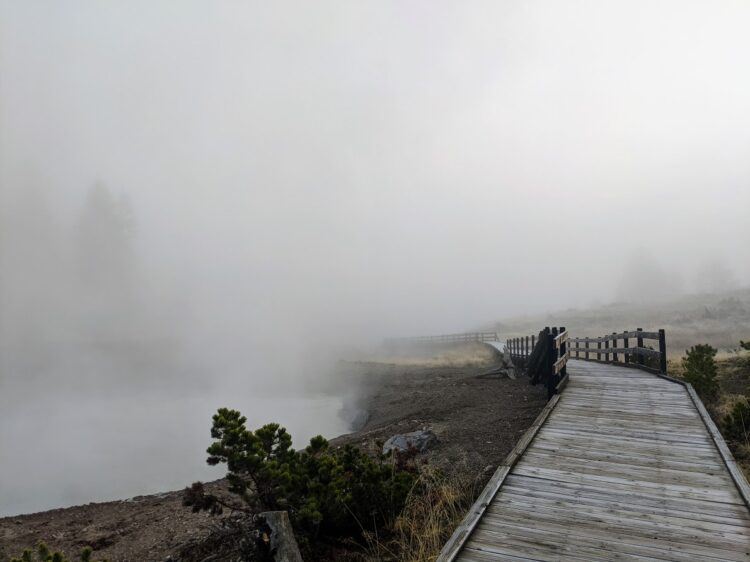 This, our third and final morning in Yellowstone National Park, was the first time I felt like we were in the wild. For the first few days, there were moments of brilliance: a too-close bison encounter and an unexpected geyser eruption in particular. Grand scenes abounded. But for every wonderful moment, there was a painstaking hour. Yellowstone, it seems, requires a lot of patience.
We expected big crowds at big attractions. I've been to enough national parks to know that parking lots close to photo points would be full to the brim and that one-mile hikes would be frequented by families walking four-abreast and visitors stopping to take selfies without stepping to the side. That's totally okay — I know what types of spots make me cringe and I know how to avoid them. For years, we've favored "minor league attractions" with a fraction of the crowds instead of flocking to the "best" or most famous spots.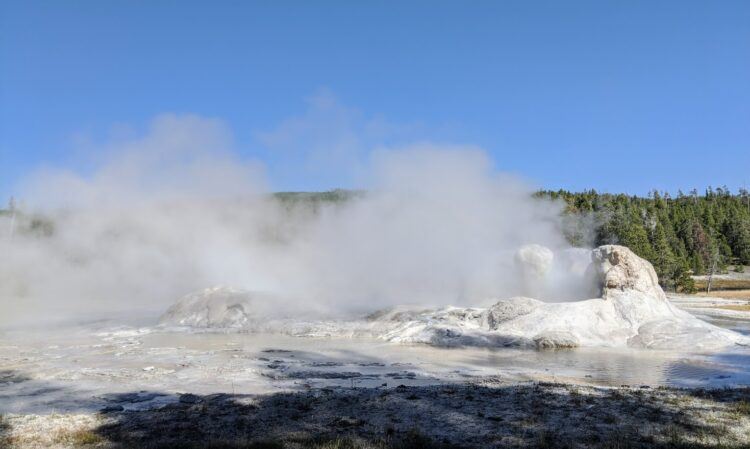 What I didn't expect, however, was just how little wilderness we'd see. The park is massively developed which is great for the average visitor who wants to check things off their list. You don't have to try hard to see a bison, elk, geyser, and waterfall. The simplicity means you'll rarely find a corner that allows you to immerse yourself, though. It was a challenge to find a quiet, peaceful place where you could sit and stay awhile without interruption by another car or hiker.
Compared to other parts of the country, most of our experiences felt contrived. A bear in Lamar Valley? Cool — except that there are 45 cars trying to watch a single animal. Another morning, there were at least 200 (yes, 200) cars parked along the side of the road for grizzly watching. Social media led everyone to an elk carcass from an attack captured on video. That's not wildlife-watching. That's a zoo.
The other thing that caught me off guard was the noise. We went on several hikes, as we always do, but even when we couldn't see another party, we could often hear them. Chatty Cathys followed us so many places that we actually cut two of our hikes short. There goes our normal love for listening to songbirds or quaking aspens rustling in the breeze.
Some of this might be COVID related. I knew roadtrippers would be up this year, but I thought that would be balanced by a lack of international visitors and bus tours (both are common in the park). September data isn't available yet, but August visitors were up 7.5% year-over-year. I also wonder if the type of person who went to Yellowstone was different this year compared to normal: would these people be visiting a national park if cruise ships and theme parks and resorts were operating like usual?
Whether this September was atypical or close to its status quo doesn't matter to me at the end of the day. Even a reduction in visitors wouldn't change how every experience felt manufactured. Want to see a waterfall? Park here. See a geyser eruption? Show up at this time. See a herd of bison? Look for the stopped cars instead of scanning for animals in the distance.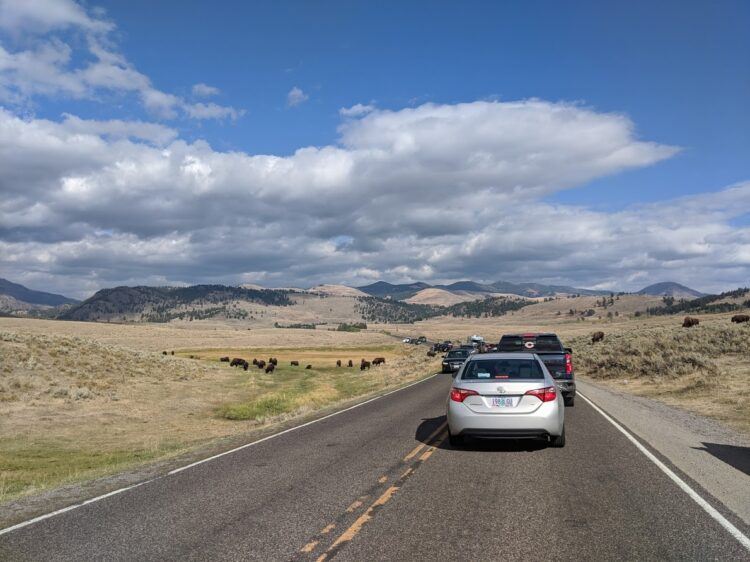 To me, Yellowstone felt more like Disney than a national park…except that Disney would be better organized.
We did our best to enjoy the park the way we wanted to. We visited sites at off-peak hours, chose less-popular geothermal areas, and dedicated time to hike in the backcountry. It was better than nothing, but I never did feel the connection to nature that is so easy to obtain elsewhere.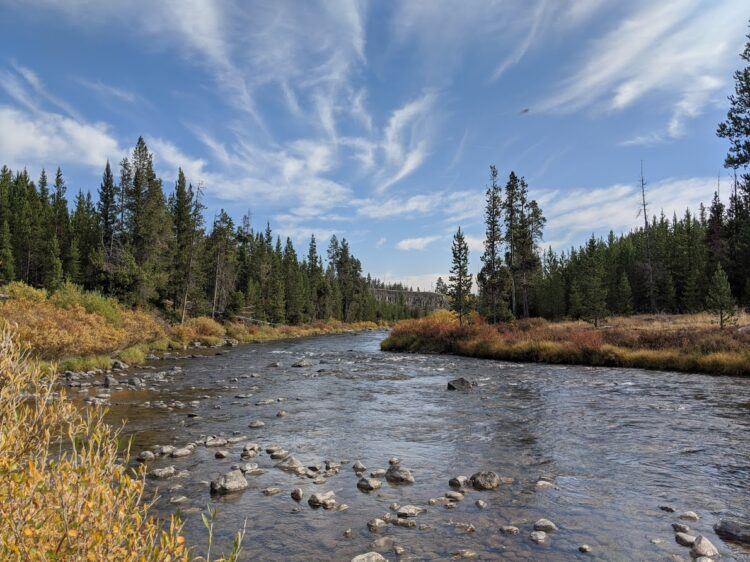 Despite my frustrations, I can see the appeal to Yellowstone. The park offers a myriad of experiences all within its boundaries. In a day or two, you can see geysers, bison, elk, prairies, mountains, canyons, rivers, colorful pools, pine forests, waterfalls, and more. Most parks can offer only two or three of those things and they nearly always require more effort than pulling up to a parking lot to snap a photo. Even many of Yellowstone's "trails" are paved walkways or boardwalks that can be completed in 45 minutes or less, making them accessible to a larger portion of the population.
In many ways, I'm grateful to Yellowstone. It shows off how incredible nature can be. Hopefully it inspires visitors to take good care of our planet so that places like this are protected for future generations. Perhaps it will even foster the cultivation of more public lands.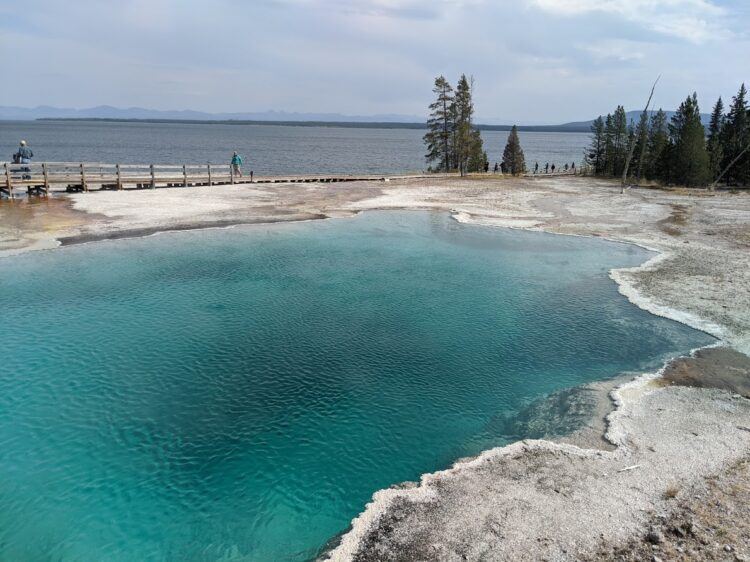 As I look back through my photos, everything seems more beautiful than it was at the time. The pictures don't show the chaos or the frustration of the moment. They show the park's grandeur and beauty in all of its forms without the traffic, the hair-pulling, or the inner voice screaming get me out of here!
Honestly, the photos remind me of places so majestic that I almost — almost — can't believe my own experience. Out of context, Yellowstone gives the perfect impression of forever wild that I desperately wanted it to be.
I don't believe in "never", so I won't say that I'll never go back, especially since the park has so much potential under a different set of circumstances.
But mark my words: if I ever go back to Yellowstone, it will be in the dead of winter when everyone else is far, far away.
Alternatives to Yellowstone in the USA
(In case you just don't want to deal with it.)