This post may contain affiliate links. As an Amazon Associate I earn from qualifying purchases.
* * *
Olympic National Park offers so much to see that planning a trip can be overwhelming. There are several distinct ecosystems in the park, spread over a vast distance without a lot of roads through the interior. However, by choosing the best hikes in Olympic National Park, you can see all the highlights: mountains, temperate rainforests, the coast, and wildlife.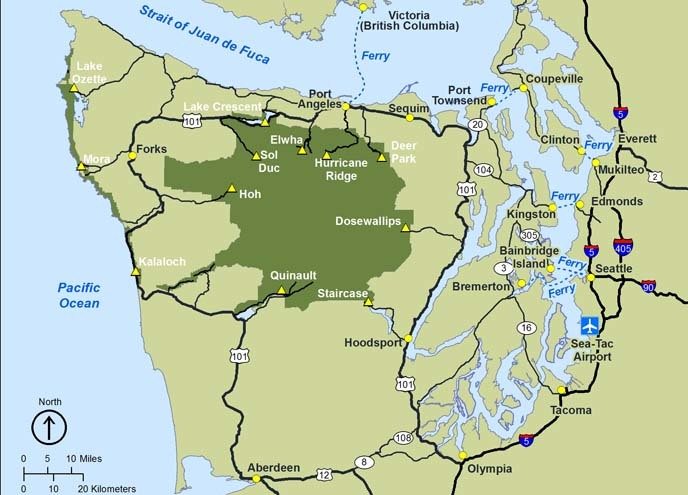 What Makes These the Best Olympic National Park Hikes?
The opportunity for biking, hiking, coastal exploration, and other outdoor recreation is mind-boggling since the park covers nearly a million acres. In my opinion, these are the four best hikes in Olympic National Park because none of them require intense physical fitness and they range from roughly 1 to 5 hours, all while showcasing the variety and natural beauty that this Washington park has to offer.
For the Mountains: Hurricane Ridge and the Switchback Trail
Just outside of Port Angeles is the Hurricane Ridge section of the park, the area that was my introduction to the Olympic Peninsula. As my sister exclaimed as we drove up the scenic route, "I didn't even know there were mountains in this part of the state!" Sure enough, the Olympic Mountains are gorgeous even on a rainy, overcast day like ours was.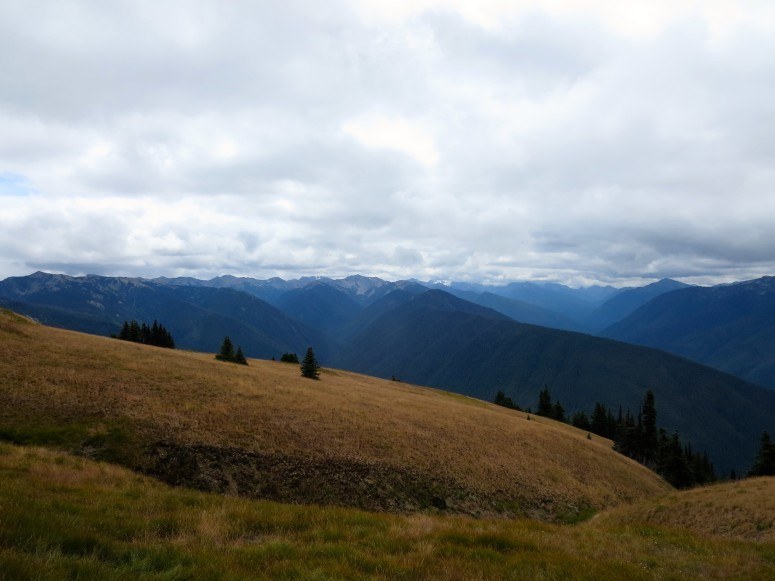 When it comes to mountains, they're best appreciated by heading up. Driving to the park visitor's center is a good start, providing views back toward the water and overlooking the Olympic range.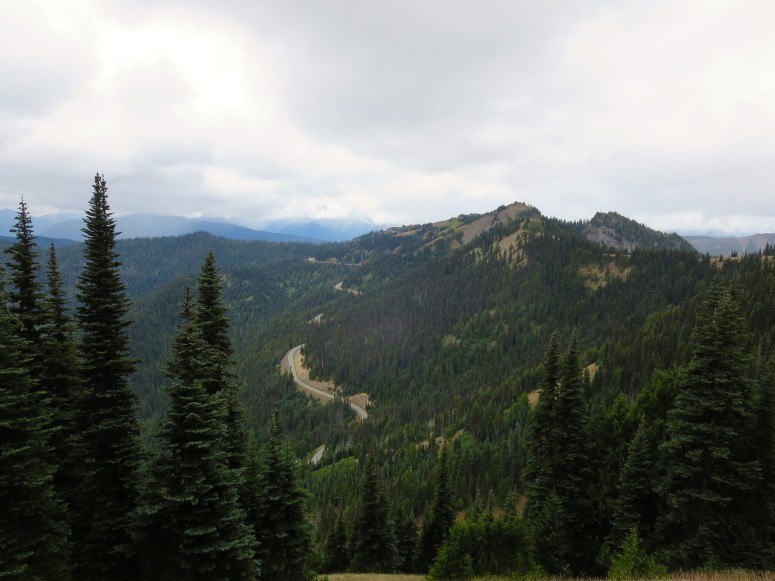 The Switchback Trail to Klahane Ridge has an intimidating name, but it's just 3.2 miles round-trip, meaning you'll only need an hour or two to complete it. At the top, you'll get expansive views of the lower valley and if you're lucky, you'll say hello to the family of mountain goats that lives in the area.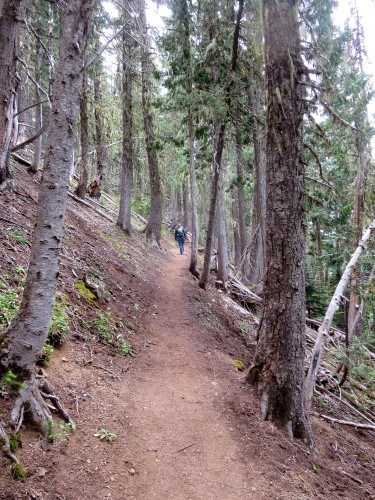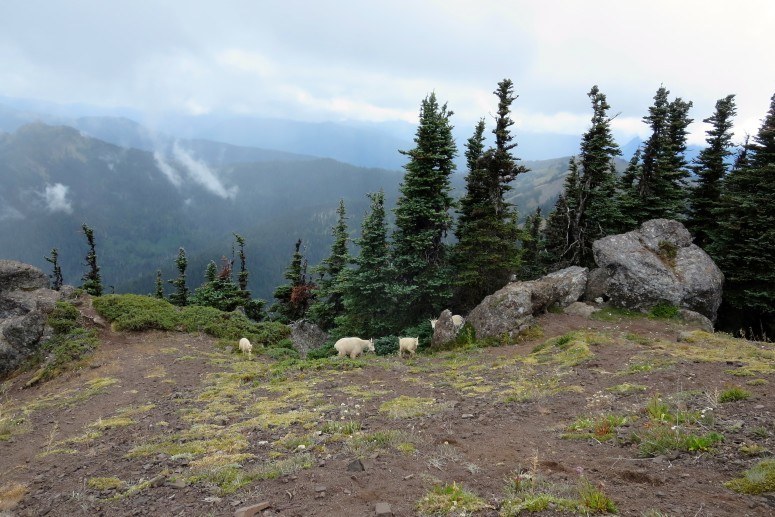 For wildlife watching in Olympic National Park and other parts of Washington, I recommend packing a pair of binoculars that are meant to stand up in wet weather. These Nikons are under $100 and work fabulously for the pricepoint.
Olympic National Park "Dry" Forest: Elwha Canyon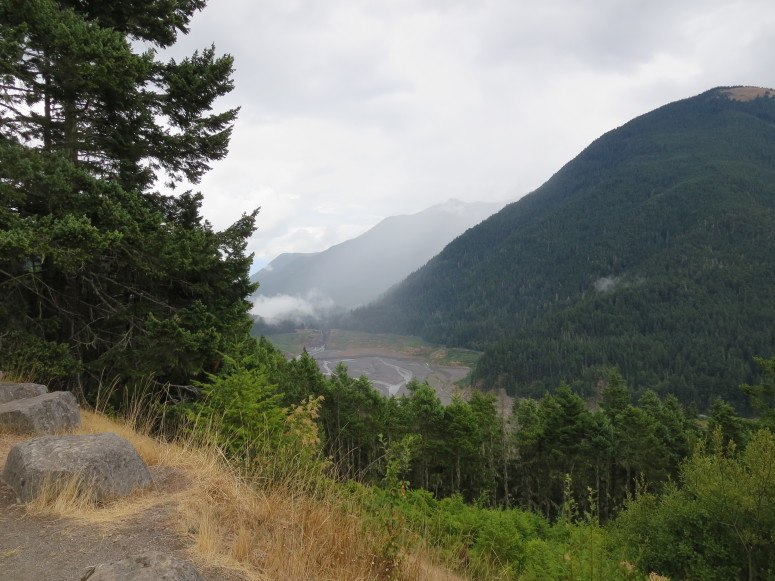 The lesser visited Elwha Canyon section of the park was by far my favorite even though it was a last minute addition to our plans. The river valley is beautiful and the surrounding greenery makes the whole park smell like a Yankee Candle. However, it is the manmade additions to this part of the park that are truly remarkable: the Elwha Canyon Dam was built in the 1920s and fully removed by 2014. Seeing how it's impacted the landscape is a really cool experience. The best part of this park section, though, was hot springs. YES, HOT SPRINGS!
Worth a Half Day: Boulder Canyon Trail to Hot Springs (5 miles round-trip)
This trail is easy enough for anyone to do, since it's on a wide path with relatively flat terrain. Hike in about an hour, crossing the log bridge, and you'll find some great hot spring pools on the right hand side. Pop in and relax those feet before heading back the way you came to complete your day hikes. (Hint: continue farther down the path and uphill in the woods once the path stops to find some smaller, hidden pools great for skinny-dipping).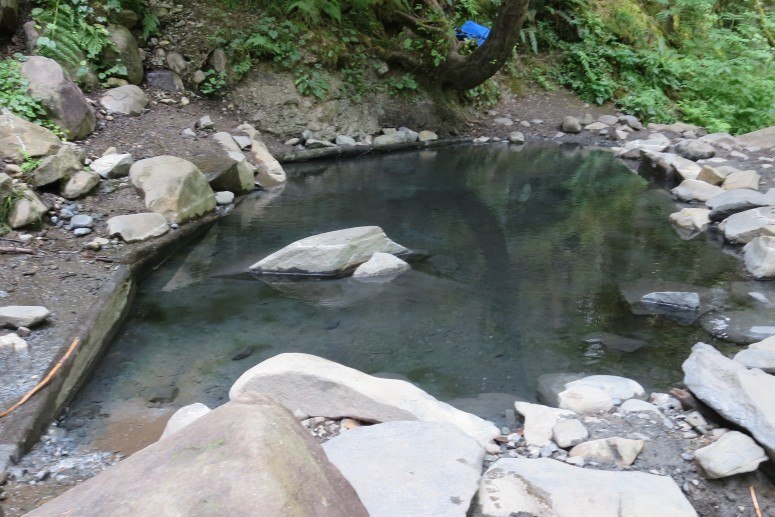 Nothing is worse than putting wet feet back into your hiking shoes after you've gone for a dip! I've got two solutions: either wear SmartWool socks which are designed to prevent blisters even on wet feet or pack along a pair of amphibious hiking shoes.
Olympic National Park Beaches: Ruby Beach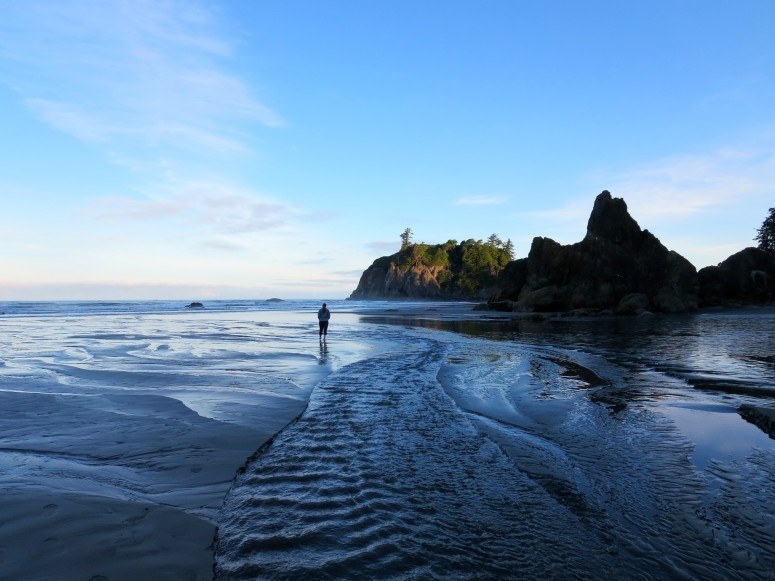 The length of coastline protected by Olympic National Park is astounding, with the most-visited beaches near Forks, WA. For sunbathing, head to Second Beach in La Push, where a fifteen-minute rain forest nature trail will bring you to a beautiful beach with soft sand that invites you to pull out a book and get some sunshine.
However, if you're looking for somewhere downright gorgeous, go to Ruby Beach. This is less of a trail than a meander along the oceanfront. You'll find the sand easy to walk over and the views extraordinary.
Ruby Beach is popular. Want it to look deserted like these photos? Plan your visit for early in the morning if you can — but remember low tide is more important than no crowds if you want to do any tidepooling. Check out more tips for visiting national parks.
For longer coastal hikes, head to Third Beach.
Olympic National Park Rainforests: Hoh Rainforest
When most people think of the Olympic Peninsula, they usually think of the rainforest. This area receives 140-167 inches of rain per year, and it's full of mosses, large trees, and ferns of all sizes.
I was able to explore the Bogachiel, Hoh, and Quinault temperate rainforests, but I thought the Hoh rain forest was the one that matched the image in my head the best. There's a Jurassic Park feel to the area and if you're lucky, the chance to spot Roosevelt Elk.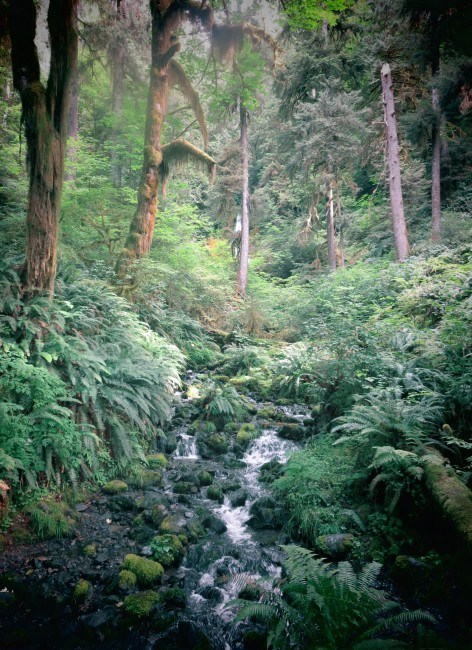 Just Try It: Hoh River Trail to Five Mile Island (10.6 miles round-trip)
If you're looking for a full-day hike, the Hoh River Trail is your best bet. It's 31 miles long and beloved by backpackers, but even day hikers love it. It provides a great glimpse into the rainforest, cascades, riverside, and glimpses of the Olympic Mountains in the distance — yet is still relatively flat and easy. You can turn around at any point, with an easy option to go to Mt. Tom Creek (about 1 hour each way) or Five Mile Island (2.5-3 hours each way)
"Second Best Trails"

If you still have time, there are plenty of other spots to visit in the area.

Sol Duc Falls is a quick, easy hike to some waterfalls in a super-green setting, but since it's so short (1.5 miles round-trip), it can be one of the busiest hiking trails. Go early in the morning or at twilight to avoid crowds.

The Quinault Rain Forest has some popular hikes, like following the East Fork Quinalt River to Pony Bridge, but in my opinion, the scenery here is more generic green without the outlandish slugs or ferns.

I missed the hike to Mount Storm King, which overlooks Lake Crescent. It looks stunningly beautiful, but like many mountaintops, you'll only get the panoramic views on a clear day (which is why I skipped it). You can see Marymere Falls in the same area.

The Ozette Triangle is essentially a loop trail (with three legs) heading to the coast. The whole triangle is about 8.6 miles long, although many hikers choose to turn around at Cape Alava. Here's the problem, despite fantastic scenery: there are numerous reports of garbage around Sand Point, deterring from the experience.
Olympic National Park in a Whirlwind
Can you see all of the Olympic Peninsula in a weekend? Absolutely not, but you'll understand the vast variety of natural beauty if you include some of the best hikes in Olympic National Park.
* * *
Plan the rest of your Pacific Northwest Vacation
6 Interactive Things to Do in Seattle
The Columbia River Gorge and Whitewater Rafting the White Salmon River