This post may contain affiliate links. As an Amazon Associate I earn from qualifying purchases.
* * *
If you've ever visited the Pacific Northwest in the spring, you might be familiar with how dreary the weather can be. Coming from Virginia, I was adjusted to warm, sunny days. Portland, though, was forecasted to be a high of 60 with cloudy, rainy skies the entire time. Since we're hikers, cool temperatures don't bother us, but muddy trails and wet clothing can be a bummer. Instead of holing up inside museums for a couple of days, we decided to embrace the rain. If you're going to get wet, you might as well get really wet!
We planned a rafting trip for the first day of our vacation. With our body clocks still ticking on east-coast time, we were up early for an energizing breakfast at
Kenny & Zuke's
and then on the road shortly thereafter. With some unexpected time, we decided to see some highlights of the Columbia River Gorge on our way instead of saving it for later in the trip.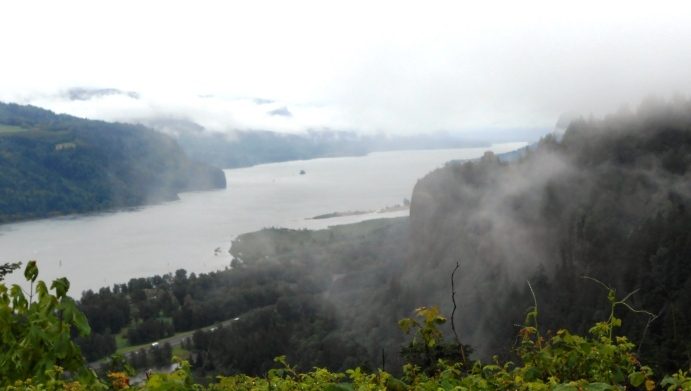 I have to say: the Columbia River Gorge was the biggest let-down of the trip. I have friends in Portland who talked it up for months. In my opinion, it was pretty, but not breathtaking. Was it because it was shrouded in mist the whole time? Maybe, but even checking out photographs of it under blue skies, I wouldn't rank it in my top scenic places in the USA. Feel free to disagree with me, since beauty is in the eye of the beholder.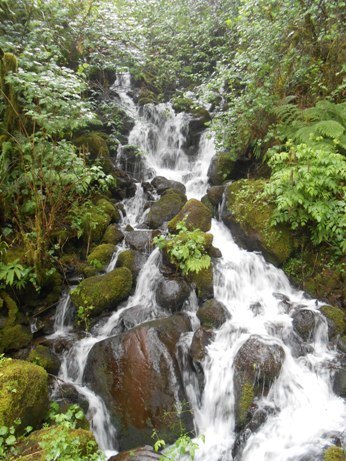 We continued down the Historic Columbia River Highway (Route 30), making a few stops along the way for photos and to stretch our legs.
One of the reasons the Columbia River Gorge is so popular is for the many waterfalls in the area. The most famous, Multnomah Falls, is the tallest in Oregon at 620 feet over two separate drops. The extraordinary amount of rainwater and spring run-off add to the underground springs from Larch Mountain, creating a majestic sight.
It is an easy walk up to Benson Bridge, where you can really feel the power (and spray!) of the first drop. A further one-mile uphill walk will take you to the top of the falls if you're looking to get away from the crowds. On a sunnier day, it should also provide views of the surrounding valley, though the weather didn't cooperate for us.
Continuing eastward, we passed through Hood River (your best chance for lunch, microbrews, or wine tastings) and into the state of Washington. In the small "town" of BZ Corner, you'll pass a few whitewater rafting outfitters. On this cool, wet weekday, the parking lots were deserted. Most people consider rafting to be a great activity for a hot day, but I've rafted on both beautiful and crummy days, and I prefer bad weather days. You'll be wet no matter what, and not having to share the river with 100 other rafts can make for a much more enjoyable experience.
Unfortunately, the water levels for Wind River weren't cooperative during our visit, so we chose to raft the White Salmon, a stretch of water that contains mostly class III rapids. With class VI considered unsafe to navigate, this implies a moderate trip. It's exactly what I would recommend for first-time rafters.
Zoller's Outdoor Odysseys
helped us wetsuit up to stay warm in the 42-degree glacier-fed waters and we were on the water in no time. We enjoyed the scenery on some of the slower stretches and were pumped up going through the rapids. The only problem? We've rafted some bigger rivers, so this one felt like a piece of cake and we started to let our guard down and take a few chances. This resulted in a little bit of swimming…
https://youtube.com/watch?v=RABzkq7nwKk
Overall, it was a fun way to spend a few hours and get our trip started off with a bang. We returned to Portland by driving on Route 14 (on the Washington side of the river), which I felt was more scenic than driving along the Oregon side. If you're in the area and have a car, I'd highly recommend this as a daytrip (family friendly, too!).
Still not fully adjusted to Pacific time, our Friday morning started pretty early also. Fortunately, the infamous Voodoo Doughnuts was right around the corner from our hotel, conveniently located near Stumptown Coffee, and is open 24/7 (with no line at 6am, I might add). Unfortunately, these doughnuts are beyond over-hyped (try Blue Star Donuts instead).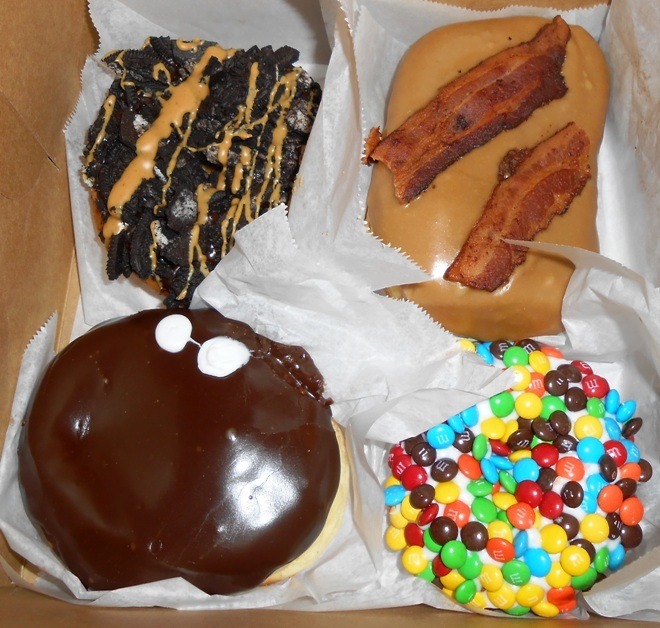 Our goal for the day was to head to the coastline. I have great memories of driving along the California coast and was hoping to re-create a day full of small town stops, enjoying rocky outcrops in the scenery, and walking along the sand. Not surprisingly, though, the weather along the way looked more like this: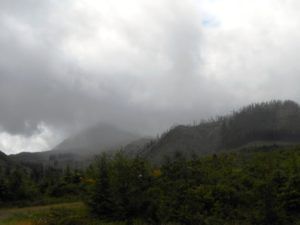 Determined to make the best of it, we continued driving westward through fog and drizzle. We had been blessed with ten-minute spurts of sunshine before and hoped to get a few more.
It was when we arrived at Ecola State Park that I realized I had made a rookie mistake. We had driven all that way out to Cannon Beach without bothering to check the tide schedules. At high tide, there wasn't any tidepooling to take interest in and our hike got cut short when we came across too many (humongous) trees that had fallen across the trail.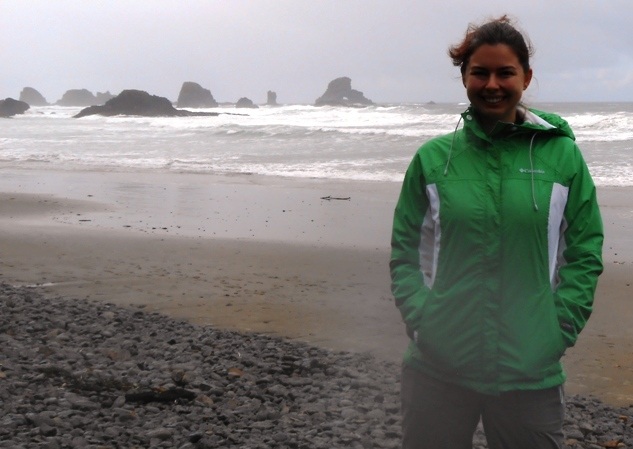 Grey skies made the area pretty in its own way…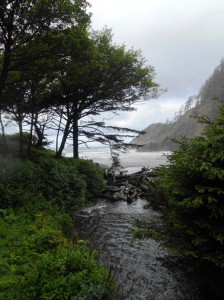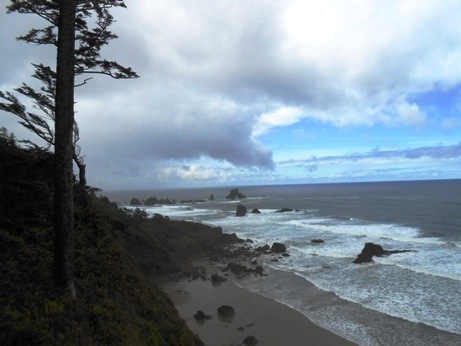 Since we weren't spending a lot of time outdoors, we made the journey along the coast through Oswald West State Park to Tillamook relatively quickly. It was a pleasant drive, but Highway 101 doesn't have endless, expansive coastal views. Tall trees block the view for much of the trip and much of the road is relatively undeveloped.
Our trip to the coast was much shorter than I anticipated, which freed up some room to spend the afternoon in wine country. While planning the trip, I had hoped to spend an entire day wine tasting, but the cost of a driver was out of reach and driving ourselves wasn't a particularly safe alternative. However, with the extra time, we figured to balance out the best of both worlds by stopping into one winery. Our choice was Argyle Winery in Dundee.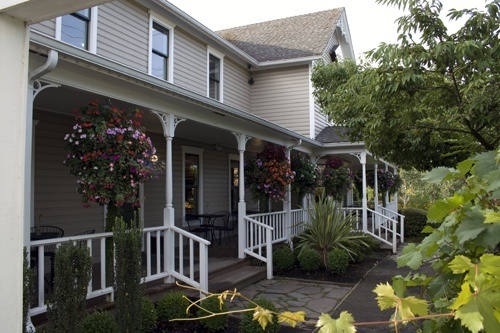 Overall, I had mixed feelings about our wine tasting experience. Argyle had some incredible pinot noirs and some surprisingly good sparkling wines as well. I left with a list of wines I loved, and for that, the experience was positive. On the other hand, the staff was uninterested in telling us about the vineyard or wines (despite it being fairly quiet in the tasting room) and the setting wasn't anything special. I obviously can't judge the entire Willamette Valley by a single tasting room visit, so I hope some readers will share wineries that offer more interesting visits!
Over the course of the day, I was able to get a taste of two different areas outside of Portland, something I'm glad I got the opportunity for. The weather may not have been very cooperative, but it was still a pretty good day.
After a few good days in the greater Portland area, I was looking for one of those wow! vacation days that is so great you can't stop grinning all day. We had a lot of fun whitewater rafting and definitely enjoyed our evenings downtown with great food and drinks, but I really wanted to take things up to the next level. We're happiest when we work up a bit of a sweat and put some effort into our experiences, so we spent our breakfast discussing plans to head toward Mount St. Helens.
I was really excited about heading to Mount St. Helens, but there was one major flaw with our plan. There are several areas of activity at the National Monument and because there's a volcano smack-dab in the middle, it's hard to hit more than one. And since it was another cloudy Pacific Northwest day, our chances of having good visiblity of the volcano itself weren't very good.
We decided not to spend time at the visitors centers or interpretive trails, and instead focused on Ape Cave on the south side (since it's always damp and cool anyway) along with an entirely unrelated visit to Tacoma, WA. Why? Because I have an unhealthy fascination with ferry boats, seafood, and glass-blowing. In my book, some time on Puget Sound was a worthwhile detour.
>>>>> Related Post: Glassblowing Lessons in Corning, NY
Driving to Tacoma is a boring but easy drive from
Portland
. I had high expectations for the famous Museum of Glass and was looking forward to comparing it to the Corning Museum I had visited earlier this year.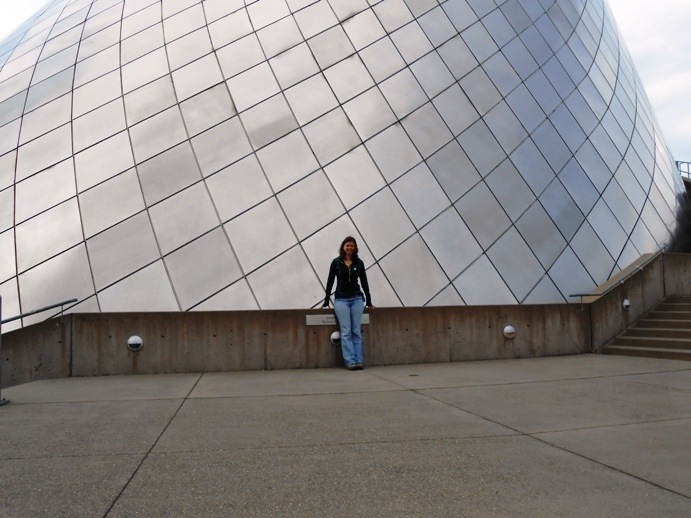 The museum itself is (physically) huge, but with relatively few exhibits. I expected to spend longer there, but all in all, we enjoyed about 90 minutes viewing the exhibits and watching the glassblowers at work. If you are a fan of glasswork — or even sculpture in general — I'd highly recommend it. There are several studios in the area (and also in Portland, actually) that offer lessons and workshops if you're inspired to try out glassblowing, fusing, or other techniques.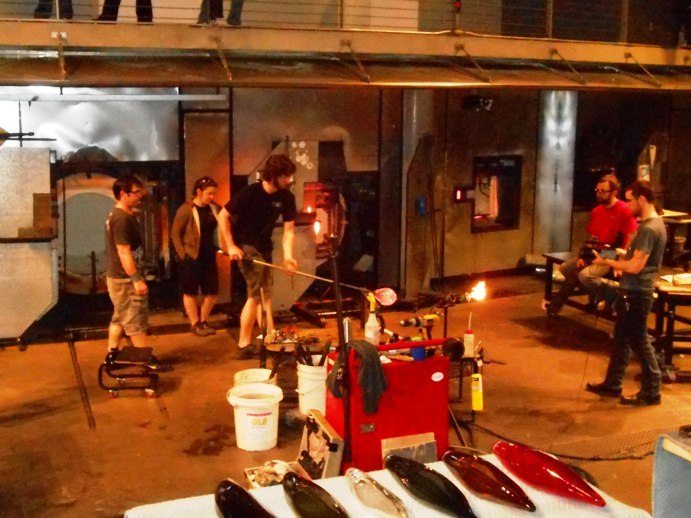 The other draw to Tacoma, for me, was fresh seafood with a view. Yes, there are plenty of great seafood restaurants in Oregon as well, but Tacoma's port is pretty busy and a fun place to watch all the activity going on. Somewhat arbitrarily, we settled on going to Duke's Chowder House, a casual place with fantastic service and a great view. If you can eat on their deck on a sunny day during happy hour, it would be perfect, but even indoors it was a good option.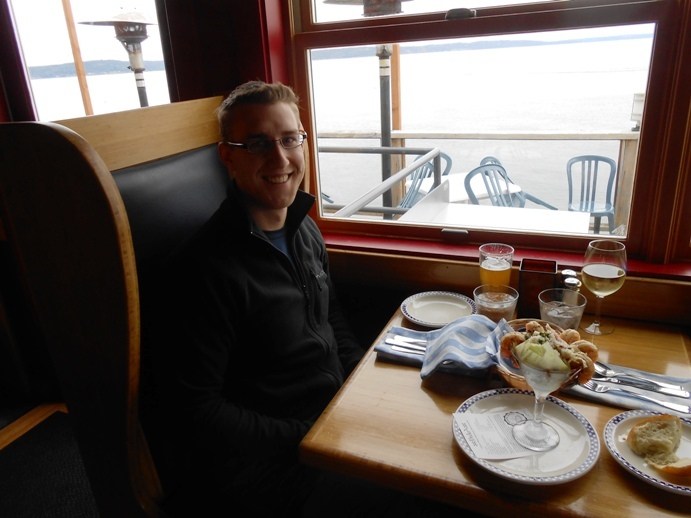 The drive along Route 503 toward Ape Cave was gorgeous. We had no idea that this stretch of road would be even remotely scenic, so we were pleasantly surprised and I wished we had gotten there earlier so we might have had time to hike, swim, or boat. To make things even better, the clouds were starting to break up and let in a few glimpses of blue sky (temporarily).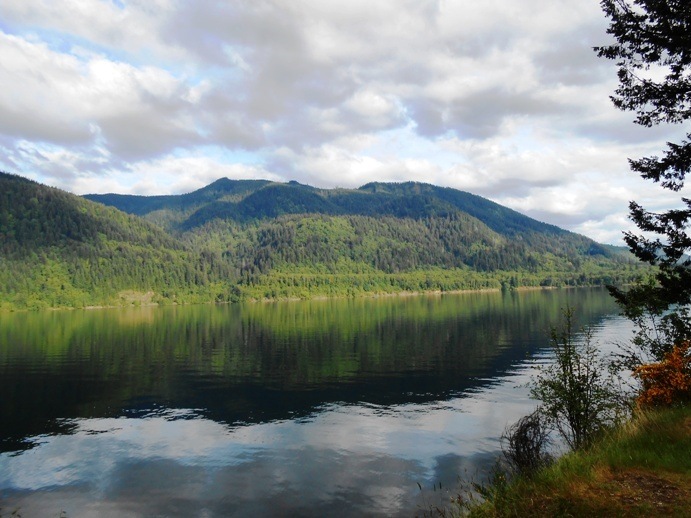 Ape Cave is actually a lava tube that was created about 2,000 years ago. At 13,042 feet long, it is the third longest lava tube in North America and one of the longest in the world that you can visit. I've never been anywhere like it, and that was part of the draw. Visitors are welcome to hike inside the cave, but come prepared. Like other caves, it is consistently cool (42 degrees Farenheit), damp, and dark.
There are two different pathways through the cave: the Upper and Lower caves.
The lower cave route is less than a mile, including a quick above-ground walk to the entrance, some stairs into the cave, and a gradual descent through the cave. It's similar to walking through an underground, natural tunnel and has some cool rock formations. Anyone in decent shape who can handle some uneven terrain would find it interesting, making it a good bet for families. This is an "out and back" hike, meaning you return the same way you entered, so you can turn around at any point if you get uncomfortable. Bring a flashlight for every person in your group because it is dark in there!
The upper cave route is much more strenuous, heading 1.5 miles in the underground portion and 1.3 miles above ground back to your car. Along the way, you'll climb over 27 piles of rock, some of them house-sized. You'll also have to wade through or try to avoid large puddles, scale an eight-foot lava fall (now hardened, and slippery when wet) and then exit via ladder through a hole in the cave ceiling. This is not for young children, anyone with bad ankles or knees, or people who come without hiking shoes (sneakers would work in a pinch, but definitely no sandals). I would highly recommend a headlamp as your light source because there were several times when I needed my hands free for climbing or balancing.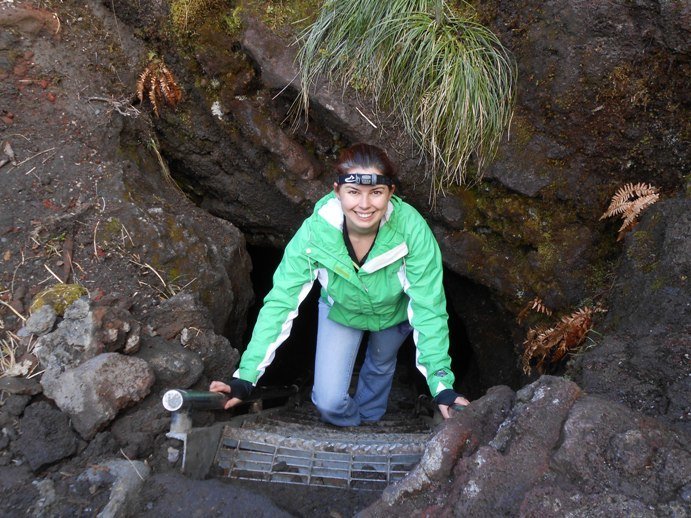 Regardless of which route you choose, it's a five-minute walk from parking to the cave entrance. Both start from the same entrance, and you'll head in opposite directions once inside the cave. The lower cave route will simply turn around and return the way you came and the upper route will end with an above-ground trail back to your car (plan on 1 hour for the lower route and 2 hours altogether for the upper route).
We purposely showed up right before sunset, hoping that meant everyone else would be clearing out. Since we wanted that cave experience of darkness and near-silence, having other lights and conversations around would take away from that. As a result, we chose to start on the above-ground route in order to take in the scenery while there was still daylight and then do the underground portion after dusk when it would be dark in the cave anyway.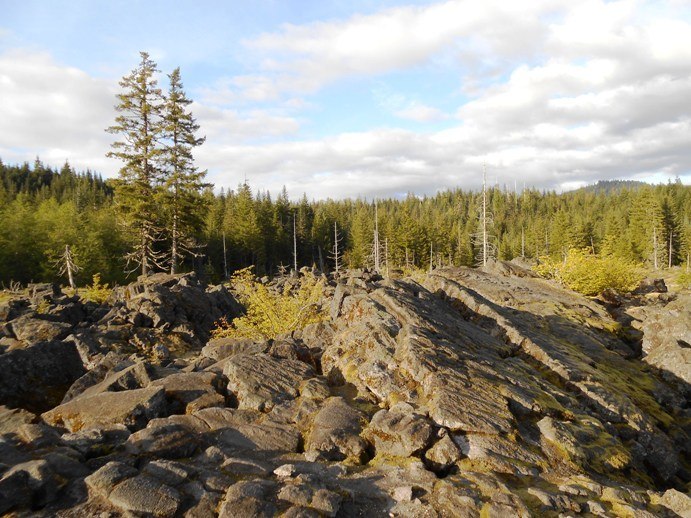 We succeeded in enjoying the scenery in daylight, avoiding people, and enjoying the darkness (when we turned our lamps off), but I can guarantee you that it would be easier doing it in the order the park recommends. I had to jump or slide down several sections rather than carefully and slowly scaling up. If you also want to avoid people, that's fine: but go first thing in the morning so you can still do it in the correct direction!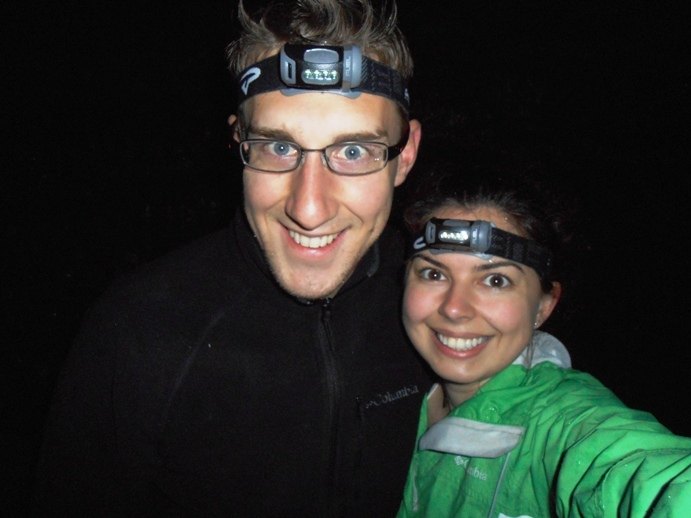 For us, the challenge is part of the fun, and we had a great time making it through. By far, this was a wow day on vacation and one I'd gladly repeat!
And of course, no post on this area would be complete without a view of the majestic Mount St. Helens.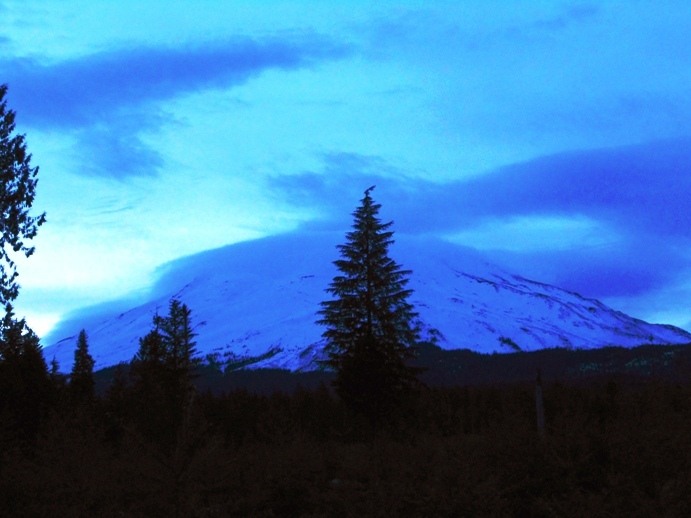 We definitely will have to return to Mount St. Helens another summer to take in the north slope by Johnston Ridge Observatory and learn more about the 1980 explosion itself. There are also tons of recommended trails in the area, though in late May, many of them were still covered in feet of snow. Next time…
Read More About Oregon: