This post may contain affiliate links. As an Amazon Associate I earn from qualifying purchases.
* * *
Sometime when I wasn't looking, I got old.
That's what I was thinking on Saturday night as a bed spring poked me in the spine. I was annoyed that I had decided to save a few bucks instead of choosing a decent hotel. The next night, I upgraded by a huge step by moving down the street to the Margaritaville Beach Resort in Hollywood Beach, Florida.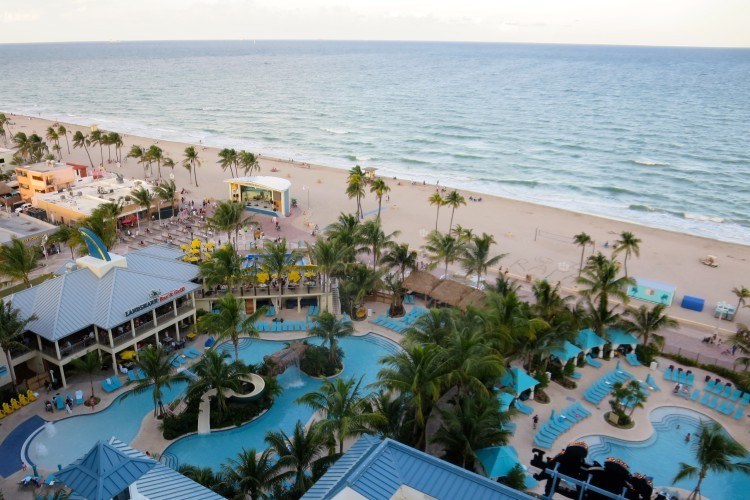 As I make it through the last precious months of my 20s, my needs and wants are changing.
My friends and I have talked about this a lot: we appreciate nice things and (usually) can afford them now. But our brains are still in that cash-strapped early-20s mentality, so we feel guilty paying for an upgrade even when we know we'll value the experience. It's hard to change old habits!
Inspired by a friend who just went to Colorado in style instead of roughing it, I am embracing my stay at Margaritaville this week. After all, this is destination paradise.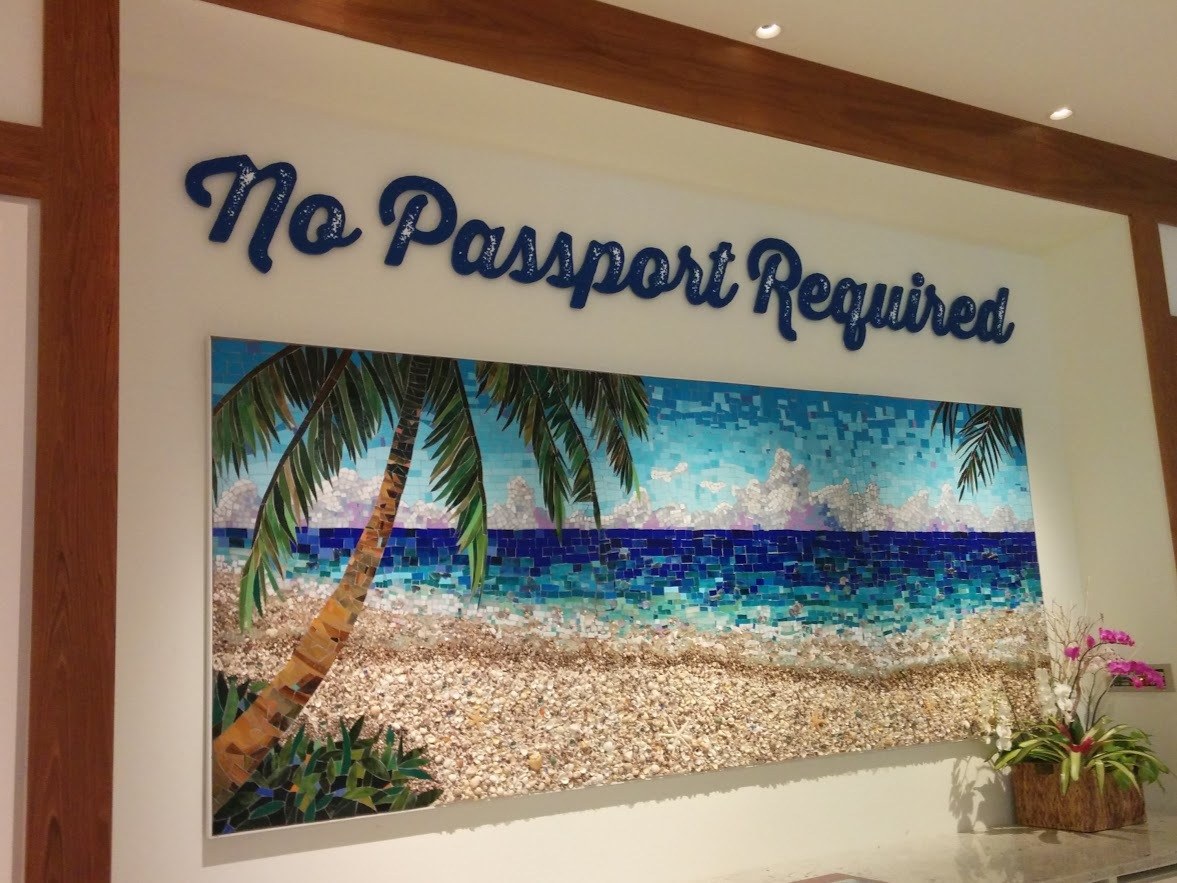 Margaritaville Hollywood Beach Review
An Overview of the Hotel
Within moments of arriving, the "five o'clock somewhere" vibe washed over me. There are cold drinks in the lobby area — something you definitely need if you're not used to Florida's climate! — and fun decor all throughout reception.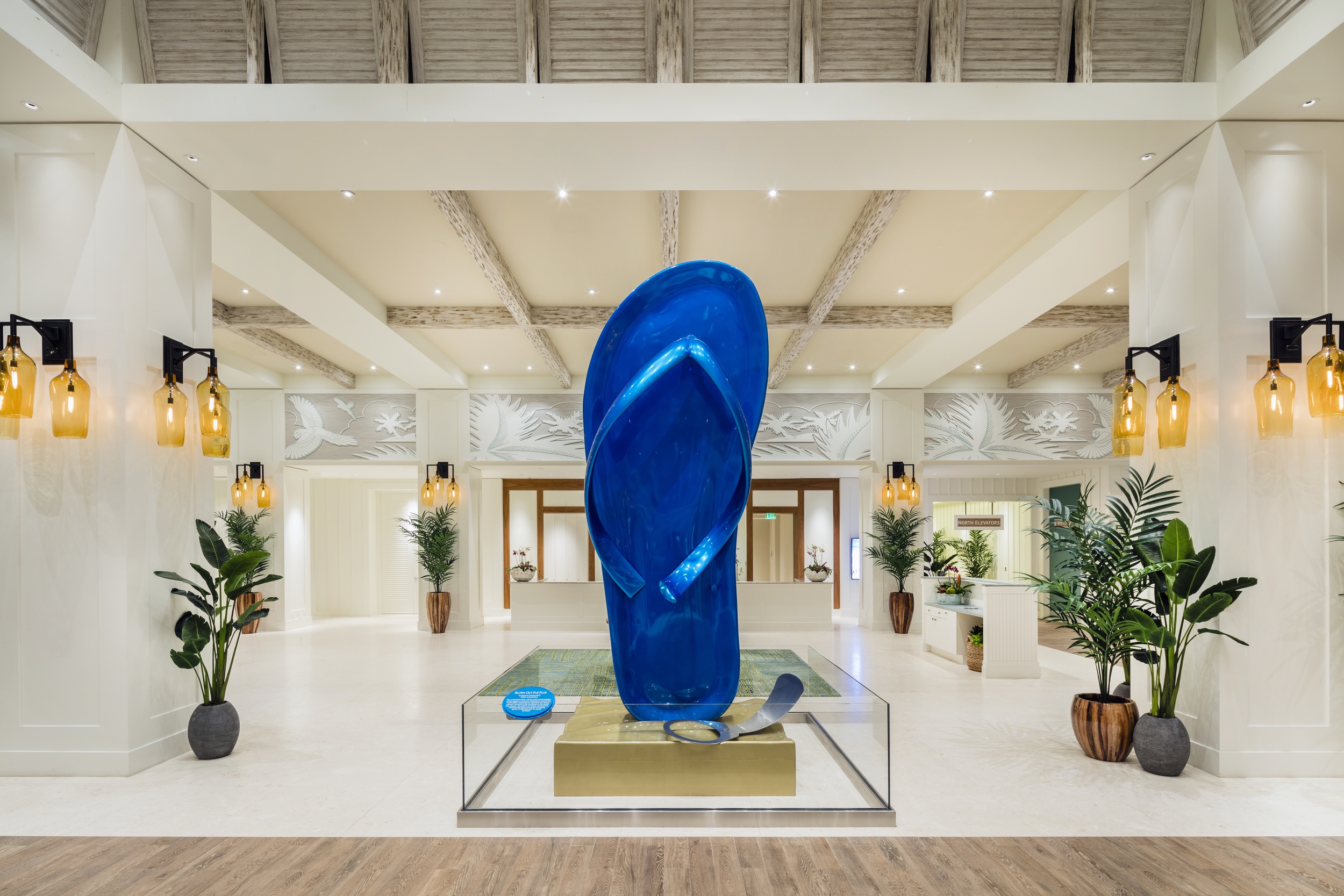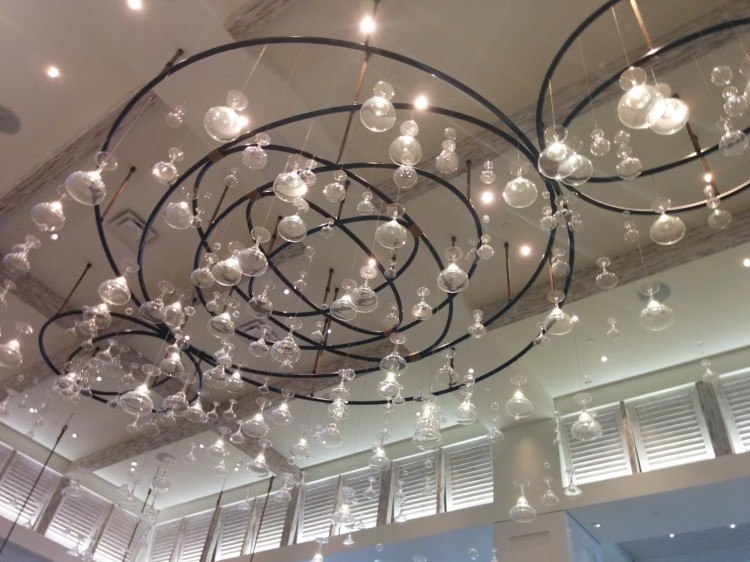 Check-in was quick and easy with friendly staff, and by the time I made it to the elevator, I was already 100% in vacation mode! They do a great job of creating a full-on destination resort.
Rooms at the Margaritaville Hotel
The resort is just the right size: enough rooms that they can offer all the on-site amenities you'll want but not so big you'll get lost going to your room.
I had a standard king room which was plenty big and was decorated in whites and blues to represent that coastal feeling.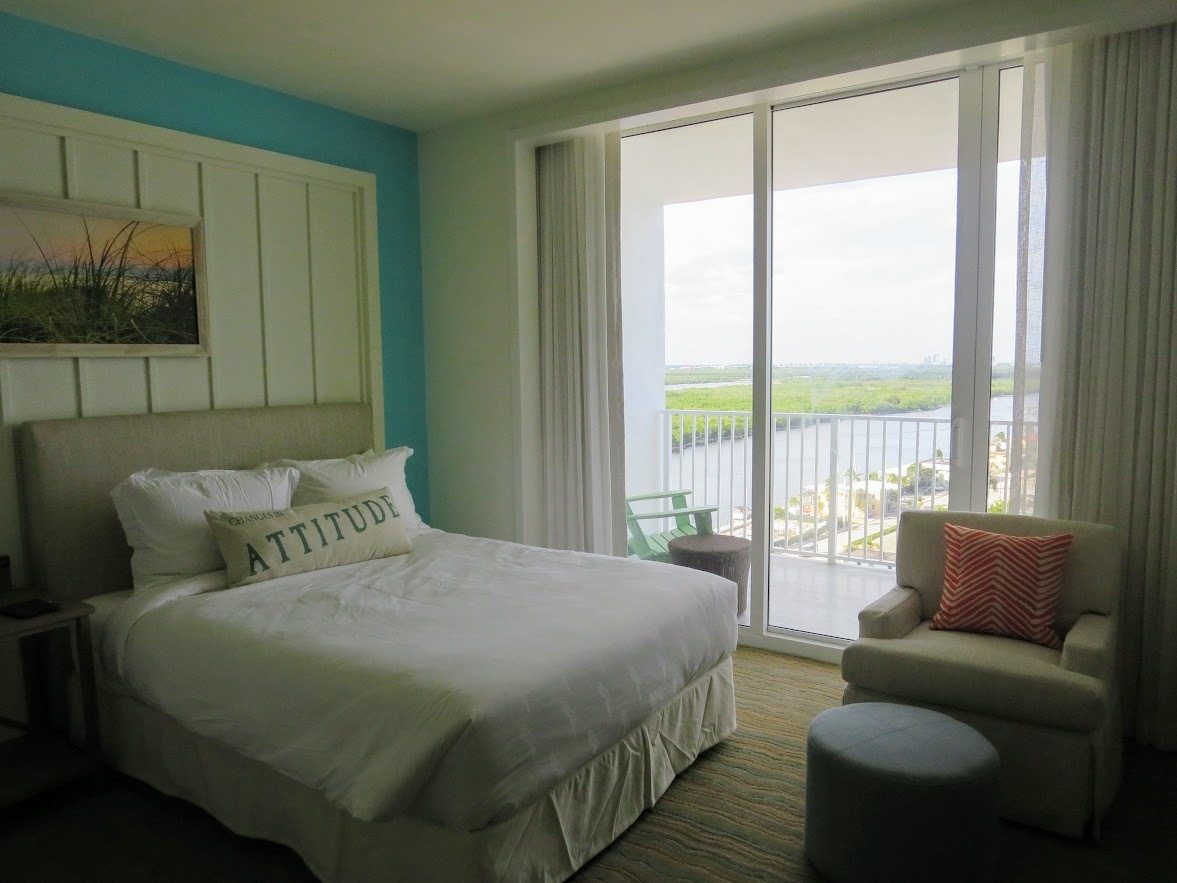 My room happened to have a side view, which meant I could see the Atlantic ocean (and the intracoastal waterway) but the oceanview wasn't straight on.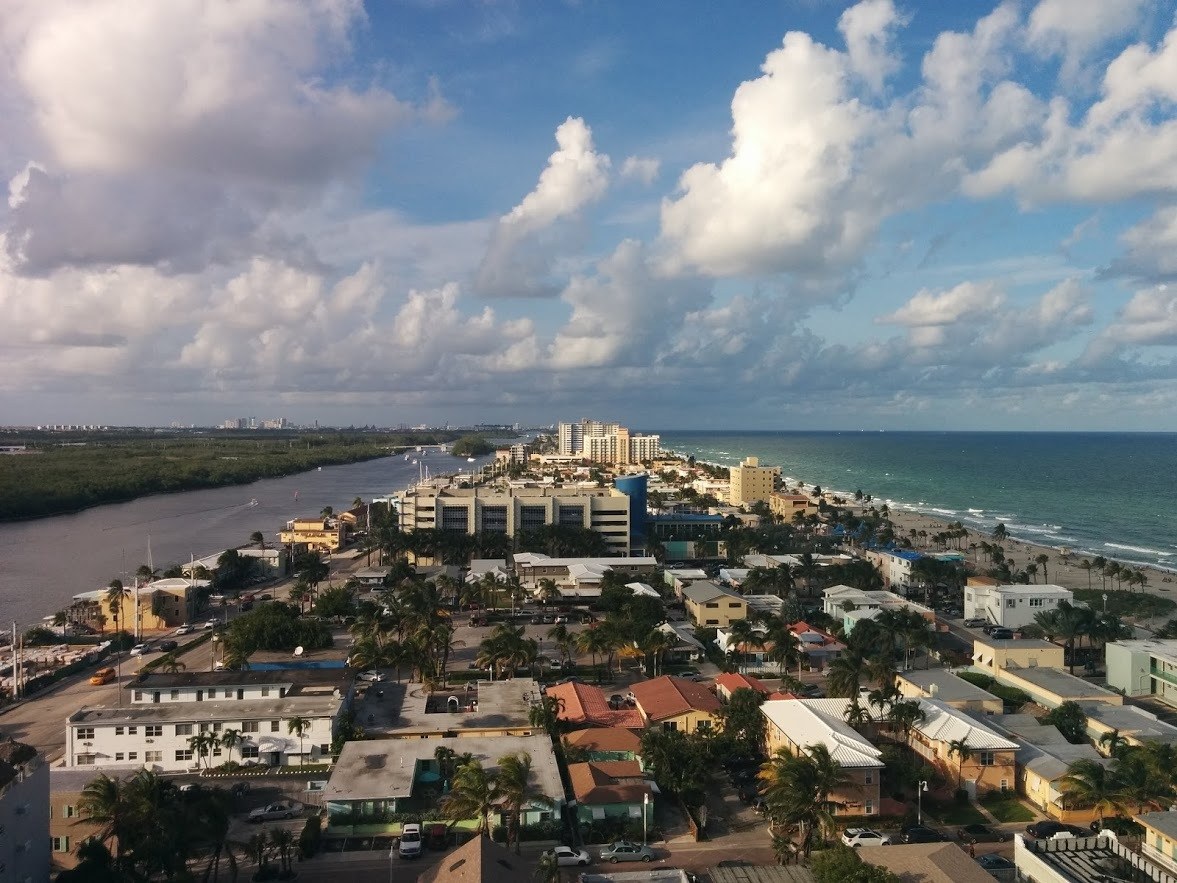 I'll be honest, other than taking that picture I didn't really look out the window much (I'd rather be outside enjoying things close up!) so my favorite parts of the room were the little touches that definitely turned up vacation mode!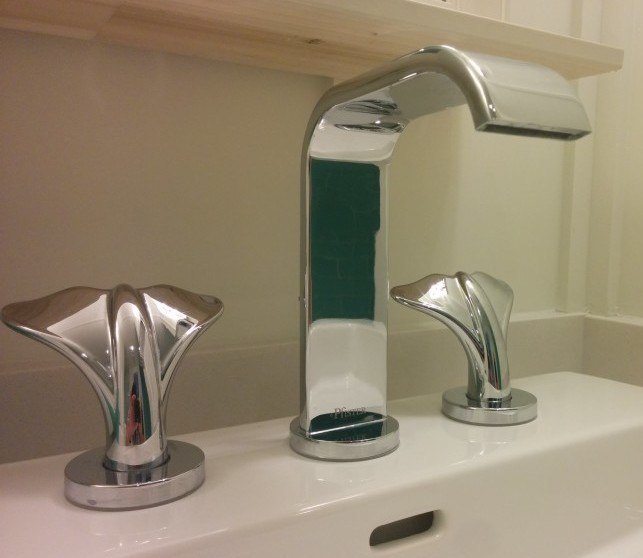 Margaritaville Pools
It sounds crazy to mention the pools at a beachfront location, but I'm a sucker for swimming and sunbathing without sand.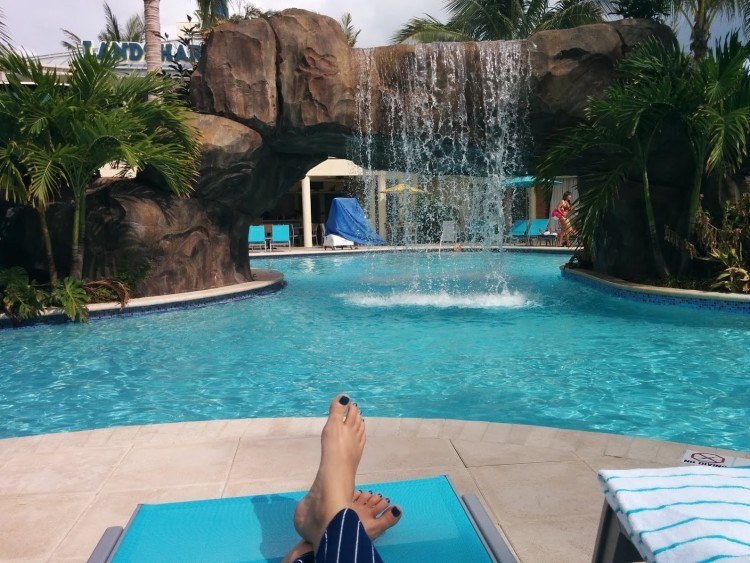 Margaritaville Hollywood has three pools:
The Lone Star Pool (the main pool, with lots of lounge chairs to go around)
The Landshark Pool, with pretty waterfalls
The Rooftop Pool, which is adults-only
If you don't like the vibe at one, it's easy to move to a different one!
The Margaritaville Resort Hollywood FlowRider!
If you've ever wanted to give surfing a try, this is your chance. The Margaritaville FlowRider is a surf simulator, with constant 35mph waves. Unlike the ocean, there's never a lull in the waves — which means you can surf anytime you want (but it's harder to regain your balance between tries).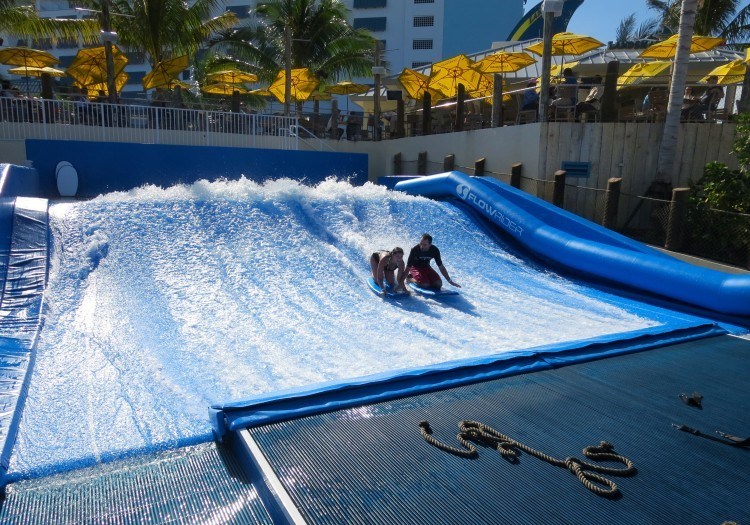 One-hour sessions start with bodyboarding on your belly. When you've mastered that, you'll try kneeboarding, and then eventually traditional standing. It's harder than it looks, but it's a TON of fun. Luckily it's fun even when you fly backward…after all, it's like a reverse waterslide!
PRO TIP: A lot of spectators watch the surfers, so dress decently: I was really glad I had a quick-dry top over my bikini!
Looking for something different?

Margaritaville has lots of rentals to choose from: paddleboards, kayaks, waverunners, guided fishing trips, and even a mangrove trip with free margaritas!
Eating On-Site
I found a lot of local restaurants to be underwhelming, so thankfully there are plenty of places to eat right at this Hollywood Beach resort.
The classic favorite, Jimmy Buffett's Margaritaville, is open for three meals a day. I thought breakfast in particular was great, with plenty of variety.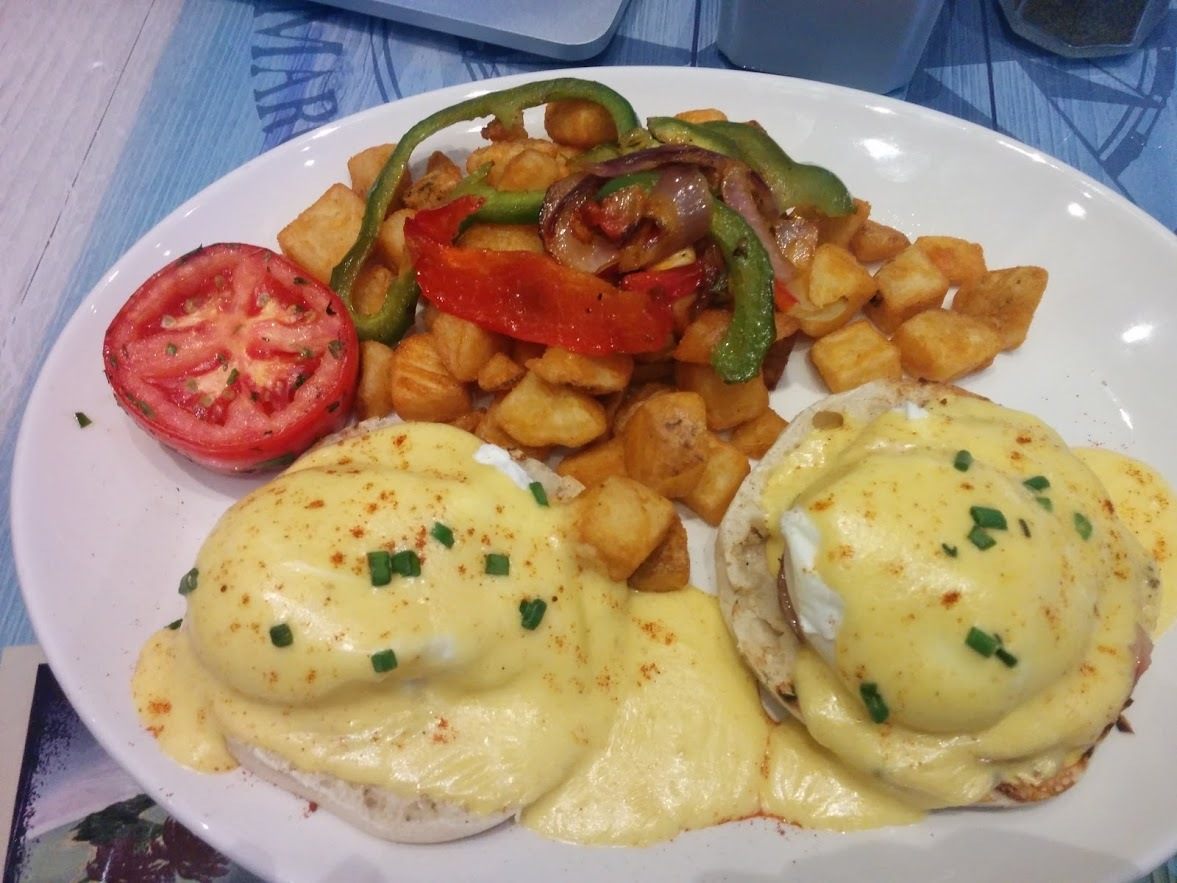 For super casual, try the Margaritaville Coffee Shop or take-out at the Floridays Airstream Café. I didn't try either, but they always seemed to be popular!
For something nicer, try JWB Prime Steak and Seafood. This is the type of place I'd love for date night with my husband, but since I was traveling without him, I'll have to save it for next time 🙂
It's 5:00 Somewhere
Hello, vacation!
You'll find cold drinks near all the pools, with choices including the LandShark Bar & Grill, License to Chill Rooftop Bar, and Lone Palm Beach Bar. You'll find live music somewhere almost every night of the week.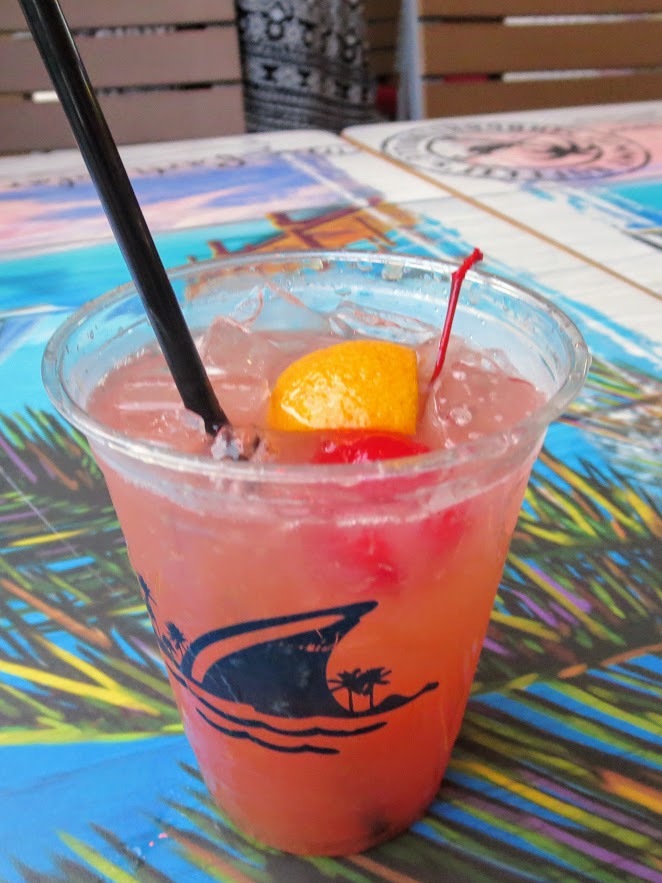 There's also the 5 O'Clock Somewhere Bar and Grill and a more upscale bar inside at JWB Prime.
As you might expect, prices were higher than home, but not really higher than anywhere else on the Hollywood Beach Broadwalk. So, feel free to get comfy on-site and order your choice of beer or cocktail. Happy hour is Monday-Thursday from 5-7pm, with specials like $6 mojitos.
Margaritaville's Perfect Location
There's two things you need to know about Margaritaville's location:
It's right on the Broadwalk, for walking and biking to local restaurants, bars, and shops.
It's right on the ocean, for you know, that perfect South Florida vacation.
It's also worth noting that you're a quick drive away from everything in Fort Lauderdale, so if you have a rental car, you can get out and explore!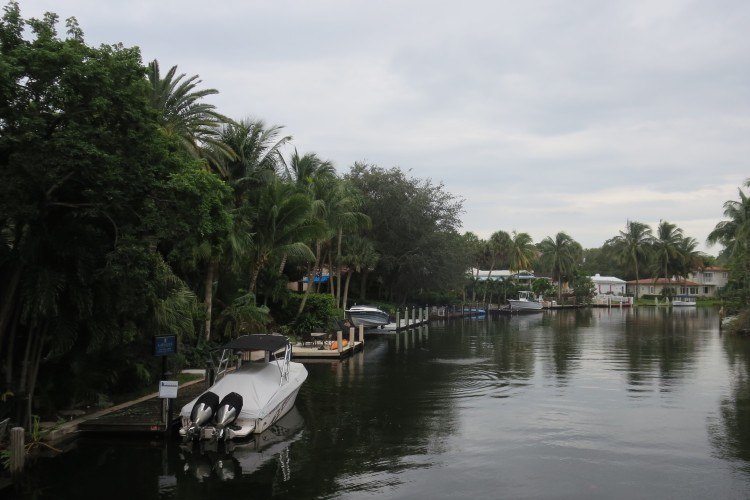 The Dreaded Resort Fee
I hate resort fees. If you're going to add a mandatory payment, I think it should be built into the room rate, not tacked on afterward.
So, you should know that the Margaritaville in Hollywood Beach has a resort fee of $32/night as of 2019.
You can actually get decent value out of it if you plan ahead and have time to take advantage of all the resort amenities. It covers standard add-ons, like bottled water in your room and wi-fi, and some beach bonuses:
beach towels you can use during your stay
beach chairs and umbrellas, on the beach right outside the resort
complimentary bike rentals (great for the broadwalk)
free fitness runs or bike rides in the morning, depending on the day of the week
As much as I liked this resort, I really wish they'd either build these into the price of the room OR make them optional (e.g. I never used the beach chairs!).
Other Amenities at the Margaritaville Resort
My favorite extra was beach yoga, but there's something for everyone here.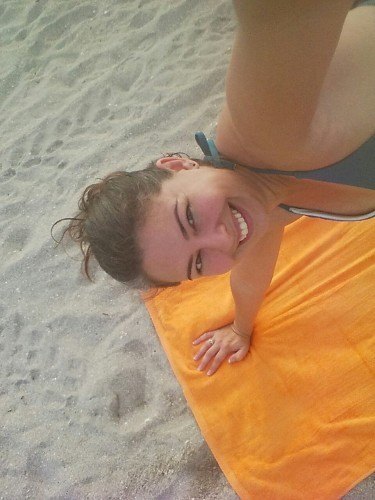 The hotel also has a kids' club, gift shop, spa, fitness center, meeting rooms, and plenty of parking ($30 self-parking / $40 valet).
Your License to Chill at Margaritaville
Yes, travel is about exploration and discoveries, and there's a lot of that to be done here in Fort Lauderdale and Hollywood Beach.
But as I often find (and subsequently forget), if you always rush through things, you'll miss out on those discoveries anyway. A little rest & relaxation is a good thing. Coffee on my balcony and an hour at the pool can make the difference between going to bed exhausted and going to bed refreshed, even if you were busy the entire rest of the day.
Margaritaville Hollywood Beach gives you a comfortable place to explore from and somewhere to escape the daily grind. In fact, that license to chill might be just as important as your passport.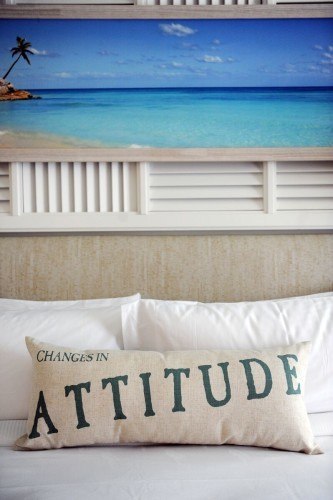 * * *
Book your Margaritaville Hotel stay now!
* * *
Plan More of your Florida Vacation With sightDOING:
Hollywood Beach Florida: Things to Do in One Perfect Day
Fort Lauderdale: Been There, Hadn't Done That
* * *
Part of my trip to Florida was sponsored by Margaritaville Beach Resorts – Hollywood Beach and The Greater Fort Lauderdale Convention and Visitors Bureau, but I'm so glad I tacked on extra fun in the sun on my own — it's totally worth it.