This post may contain affiliate links. As an Amazon Associate I earn from qualifying purchases.
* * *
My first visit to Fort Lauderdale was back in 2006 and at the time, I foolishly thought of it as Miami's little sister. It wasn't until many years later when I decided to go back and give the city a second look that I realized it had blossomed into a sightDOING hotspot. I found tons of unique things to do in Fort Lauderdale which made me appreciate the city a whole lot more.
If you're headed to south Florida, this is the place to go. Even if you've visited before, I bet you haven't done all these things to do in Fort Lauderdale.
After all, I'd been there, but I hadn't done that.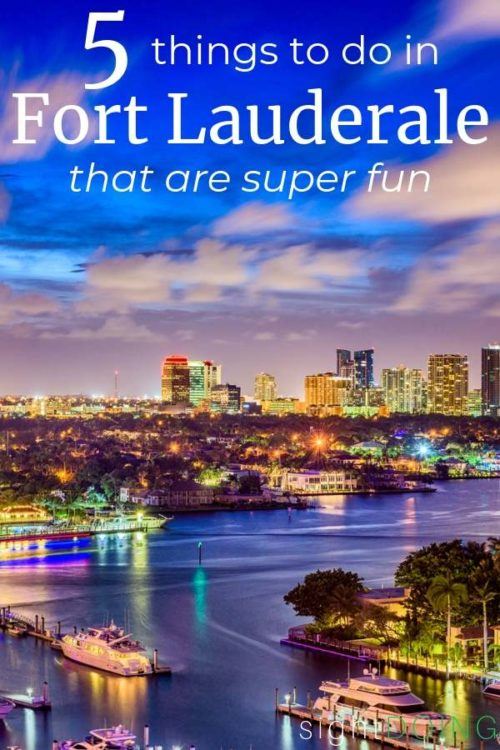 Fun Things To Do in Fort Lauderdale
Roll Around Town
Sorry, Fort Lauderdale, but even though you're "The Venice of America", wandering and getting lost on the waterfront just isn't the same as it is in Italy. Sometimes it's better to shake off the silly comparisons and just enjoy an area for what it is, and in a modern day city, you need a modern day tour.
I hopped on an i2 with Segway Fort Lauderdale for a morning exploring the city. Since we learned how to handle full speeds (12.5 mph), you can cover a lot more ground than you would on foot — and frankly, riding a segway is fun regardless of how far you go.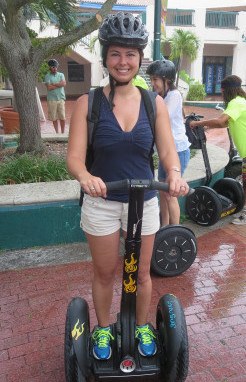 We zipped, twirled, and glided along Las Olas Boulevard, making this one of the coolest ways to see Fort Lauderdale riverfront. It was so much fun I completely forgot about the rain and instead was happy to be outside.
The tour took us past mega-yachts, over a draw bridge, next to neighborhood canals, and in search of local iguanas. A few trivia facts and history lessons were thrown in for good measure, but I was too distracted with my toy to remember anything.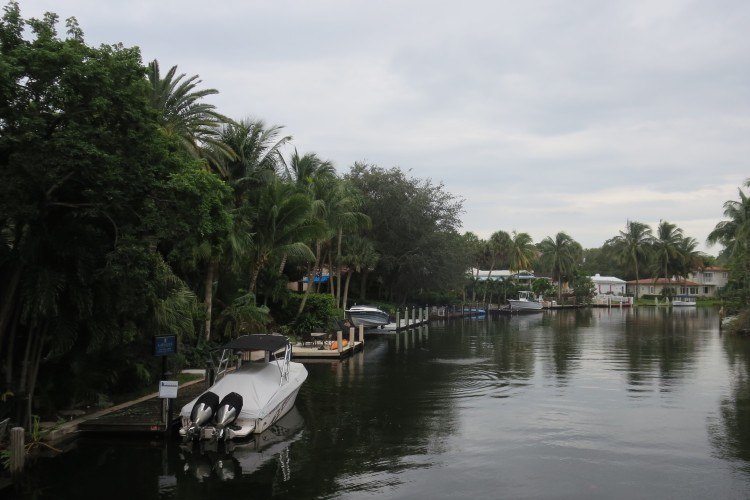 If you've gone on segway tours before, it's still worth doing this one. Since the route travels quiet residential streets near gigantic mansions and along pedestrian-only riverside paths, there are a lot of opportunities to let loose on the segway unlike busy city tours. This was definitely an unexpected highlight of things to do in Fort Lauderdale!
Day trip to Hollywood Beach
Just around the corner in Broward County, Hollywood Beach is the best patch of oceanfront in the area. If you're looking for sun, sand, and surf, this is the place for you!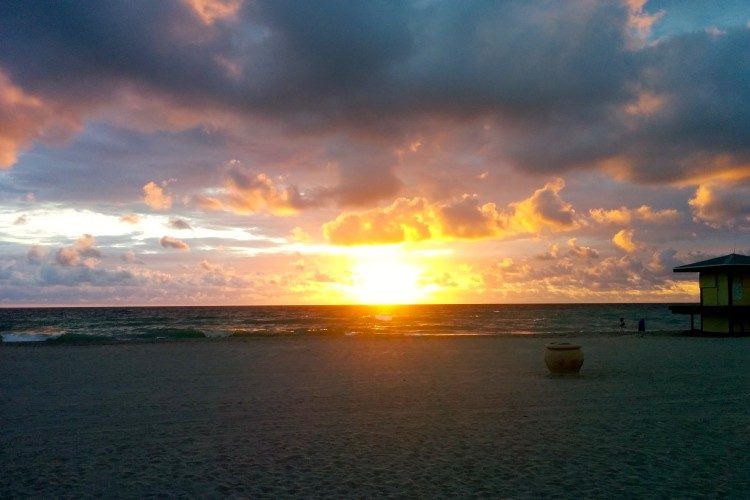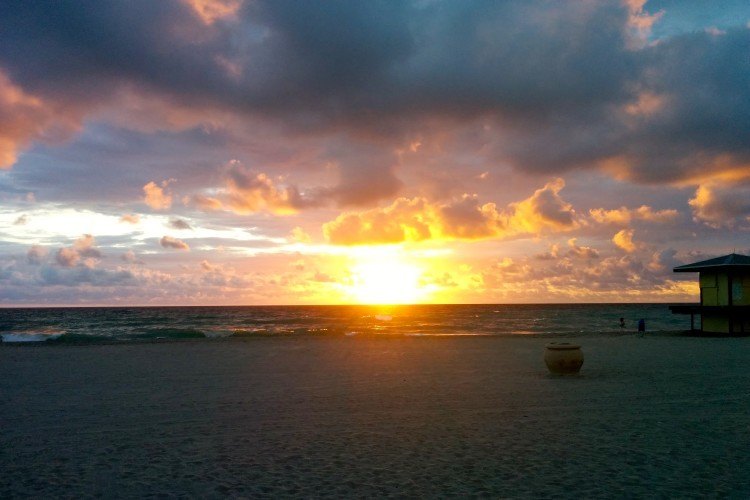 But this day trip from Ft Lauderdale is worth a visit even if you don't just want to hang at the beach. Some of my favorite things to do here were learning to surf on the Flowrider and walking along the Hollywood Broadwalk.
The Flowrider is a surf simulator — no need to keep swimming to and from shore here! The waves are a constant 35 miles per hour, so the surfing is always good. Beginners will start by bodyboarding, then knee-boarding, and then finally standing up!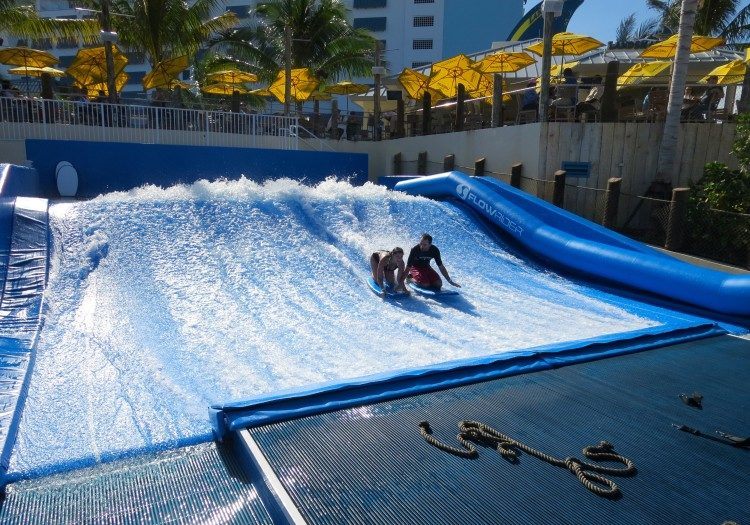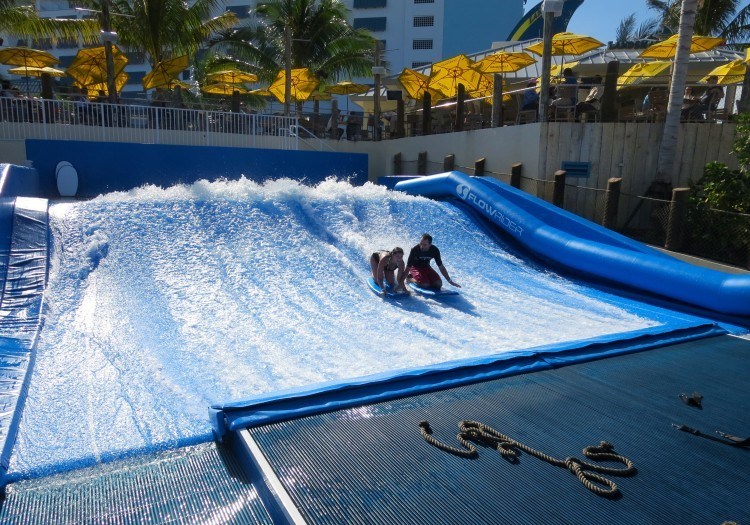 Climb for a View
When is a lighthouse more than a pretty landmark? When it's one of the world's most powerful lights and shines over 28 nautical miles. The Hillsboro Lighthouse was first lit in 1907 and today the beam has the same power as 5.5 million candles.
Tourists are only allowed to visit once per month and must arrive by boat, but it's by far the coolest lighthouse I've ever seen. Once you've climbed all 175 steps, you'll have tremendous views of Hillsboro Inlet and the Atlantic Ocean.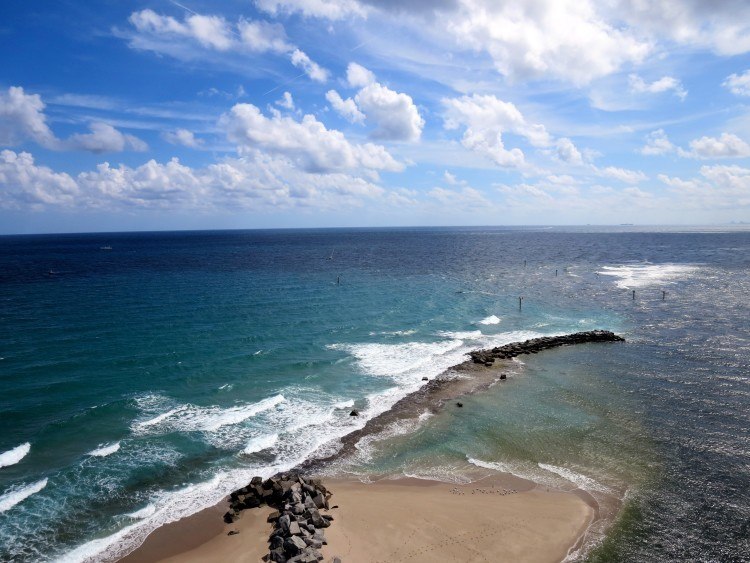 Fort Lauderdale Boat Tours
Take a Boat to Dinner
I ate a lot of great food in Fort Lauderdale, but one meal in particular stands out. Not far from Hillsboro Lighthouse, there's a seafood restaurant with some of the freshest fish you'll ever eat.
But the menu isn't why you should go. That's just a bonus. Instead, go for the boat ride. You'll arrive in a parking lot after driving past multi-million dollar homes and from there, you'll take the complimentary water taxi to the restaurant itself.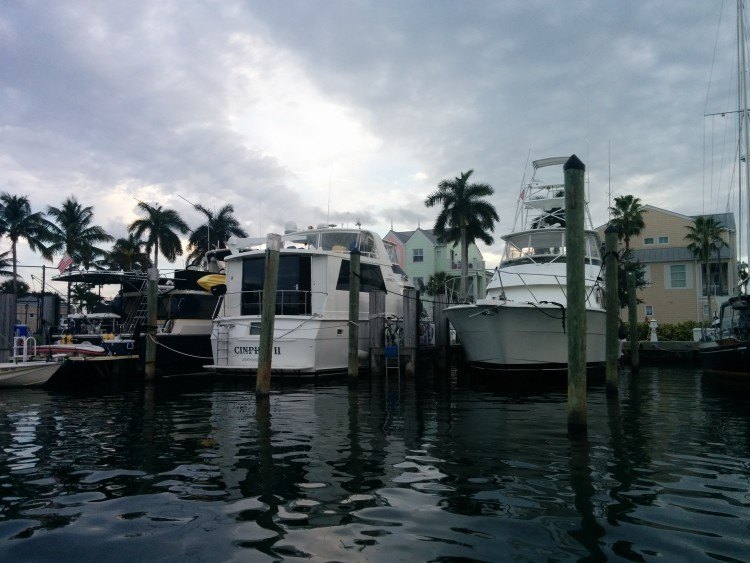 Originally, Cap's Place was a 1920's casino and illegal speakeasy. In fact, Cap used to boat over to the Bahamas to smuggle in rum and other booze while his brother shined the light at Hillsboro Lighthouse to signal when the coast was clear. Who knew this part of Florida had such cool history?
And to be perfectly honest, Cap's Place still looks like it's from the 1920s. Pull up a seat in the bar and pretend you're Al Capone. You might even feel like him by the time you've finished your first stiff drink.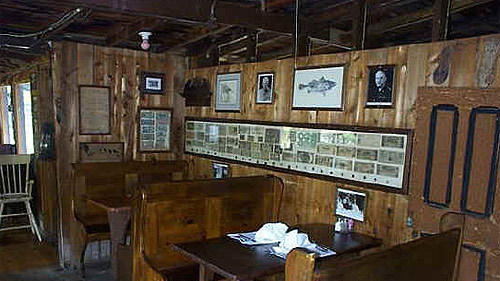 After a full day of kayaking and horseback riding, I was hungry and the food was darn good. Don't judge me for sampling three appetizers, an entree, and dessert — I swear I was doing it in the interest of "research" for the blog.
Now I can say without a doubt, you want the bacon-wrapped scallops to start, Johnny style snapper (lightly breaded and pan-fried with a lemon/garlic/wine sauce), and absolutely key lime pie at the end. Or at least that's what I want when I go back.
Don't be fooled with their crab cake recommendations; they're good, but they're no comparison to Chesapeake delights.
Hold On For the Ride
So, last time I went to Fort Lauderdale, my family and I day-tripped out to the Everglades for an airboat ride. Even then, I thought it was pretty cool to speed through the area and look for alligators, but it was time to take it up a notch.
It was time to take an airboat ride at night.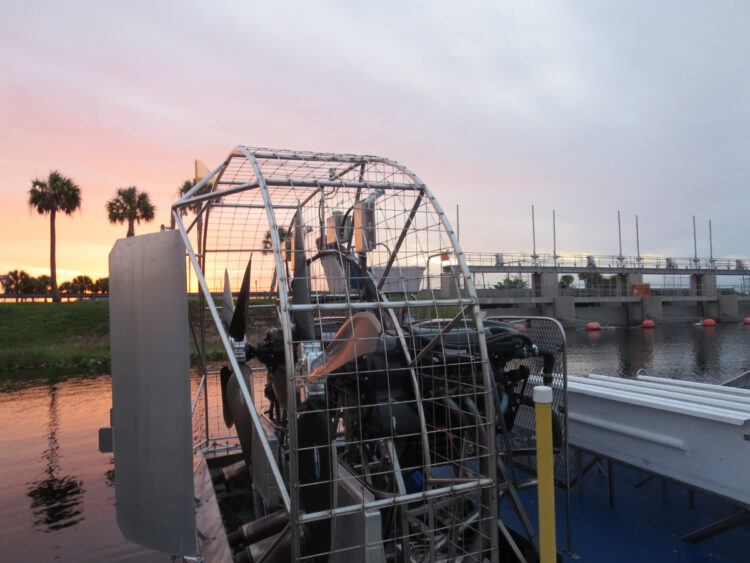 Sawgrass Recreation Park offers sunset rides twice a week, and speaking from experience, it's worth scheduling your trip around it. Alligators are nocturnal animals and besides…everything's a little more exciting after the sun goes down.
Just to get into party mode, my group started with some grilled gator bites and a cold beer to get in the mood for an adventure. Maybe that's why we had a small hiccup and delay getting started; we ended up not going out until it was completely dark despite our intentions for a sunset tour.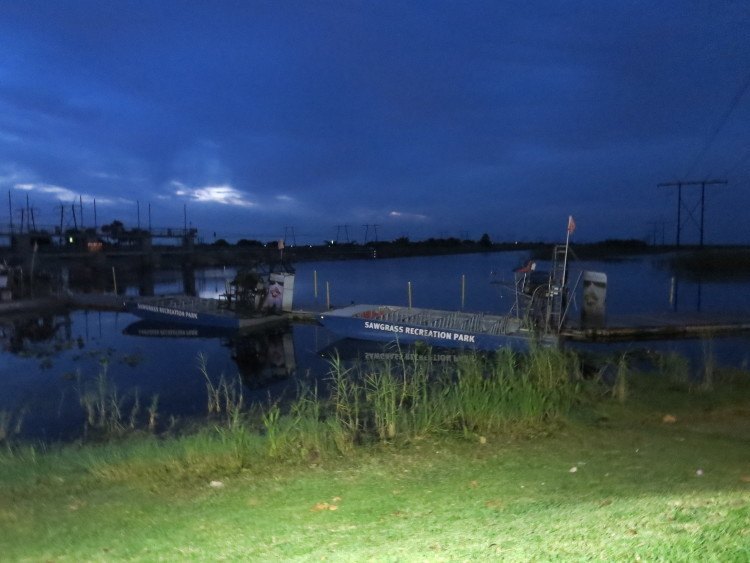 The water in the Everglades is shallow and tall, thin grasses form what look like islands, so as you're skimming over the surface of the water at full speed, it's hard to tell the difference between what's actually land and what's just grass. We plowed through sawgrass prairies, searching for glowing alligator eyes as we went. Spotting them at night is definitely cooler than daytime spottings. Just don't get too close!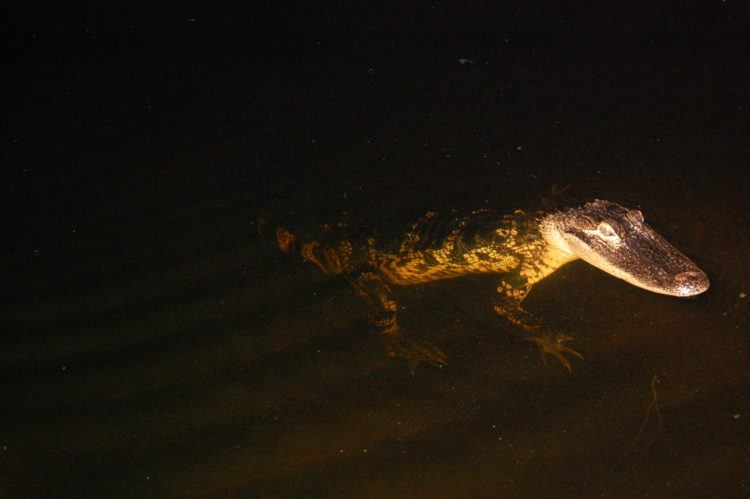 Other Water Activities in Fort Lauderdale
Learn to Fly
I don't know about you, but when I was a kid, the superpower I wanted most was the ability to fly. I never dreamt it would be possible, but I got my chance in Fort Lauderdale!
The Flyboard is a water-propelled device that simulates flying. Once you're strapped into the boots like a snowboard, water is forced through jet nozzles underneath, pushing you upward as if you're flying.
The crew at South Florida Diving Headquarters made it sound easy. With your feet underneath you and your legs straight, just let the water do the work. Yeah, right. Like water skiing, first you have to get up and then you have to stay up. Practice makes perfect and you'll want strong legs if you don't want to get tired too fast!
I was set up for failure, partially because I was way too cocky going into it and partially because the boots were about five sizes too large even when tightened to their smallest setting (hint: pack a pair of water socks if you have small feet). But I had a smile on my face every time I got up, despite staying up only for seconds, and I even accidentally did a few tricks and spins.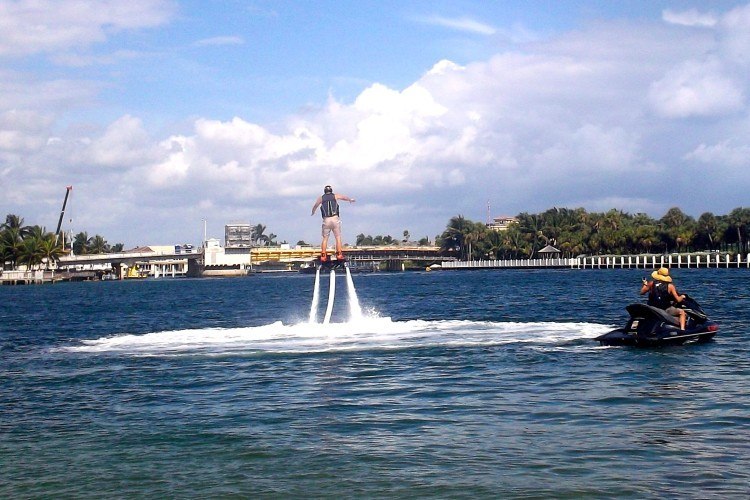 The reason flyboarding is so cool is because it's one of those activities that's fun even when you fail. You're propelled through the water — then the air! — and it's hard not to let a few squeals of excitement escape. You're never particularly far above the water level but it still feels like you're soaring. And in a worst case scenario? You fall a few feet into surprisingly warm water in a calm cove. This was one sightDOING adventure I could do over and over.
Fort Lauderdale is Sunsational
I expected to like the area, but I had no idea that I'd like it so much that I already want to go back. The city is down to earth and relatively affordable compared to other parts of South Florida and there's a lot of things to do. I ran out of time on this trip to try everything on my list of things to do in Fort Lauderdale, but you can bet next time I'll plan enough time.
* * *
Part of my trip was made possible by the Greater Fort Lauderdale Convention & Visitors Bureau. I owe them a world of thanks for reminding me I hadn't yet discovered all that Fort Lauderdale has to offer. All opinions and stories remain my own — and yes, I can honestly say I'll be returning on my own to check out more things to do in Fort Lauderdale!
Read More About Florida