This post may contain affiliate links. As an Amazon Associate I earn from qualifying purchases.
* * *
No joke: I had 3 hours and 57 minutes for a Miami layover yet I was fumbling over my belt buckle in a public restroom because I was in a rush. I had to pee like a racehorse — at least I stayed hydrated on my flight — and my phone was chiming with text messages every few seconds.
"Where ru?"
"Things to do, places to see."
"Meet me baggage claim"
So I buckled up as fast as is humanly possible, washed my hands but skipped the air dryer (who has time for those?), and power walked my way to meet a friend. Not just any friend, but the owner and mastermind of Competitours, a tour almost as insane as The Amazing Race. I expected another insane race on our Miami layover because he had a secret tour up his sleeve.
We made it through immigrations quickly, thanks to Global Entry, and I glanced down at my watch. My next plane left in 3 hours, 48 minutes…and it seemed like a "good idea" to leave the airport and jump in an Uber to a random address.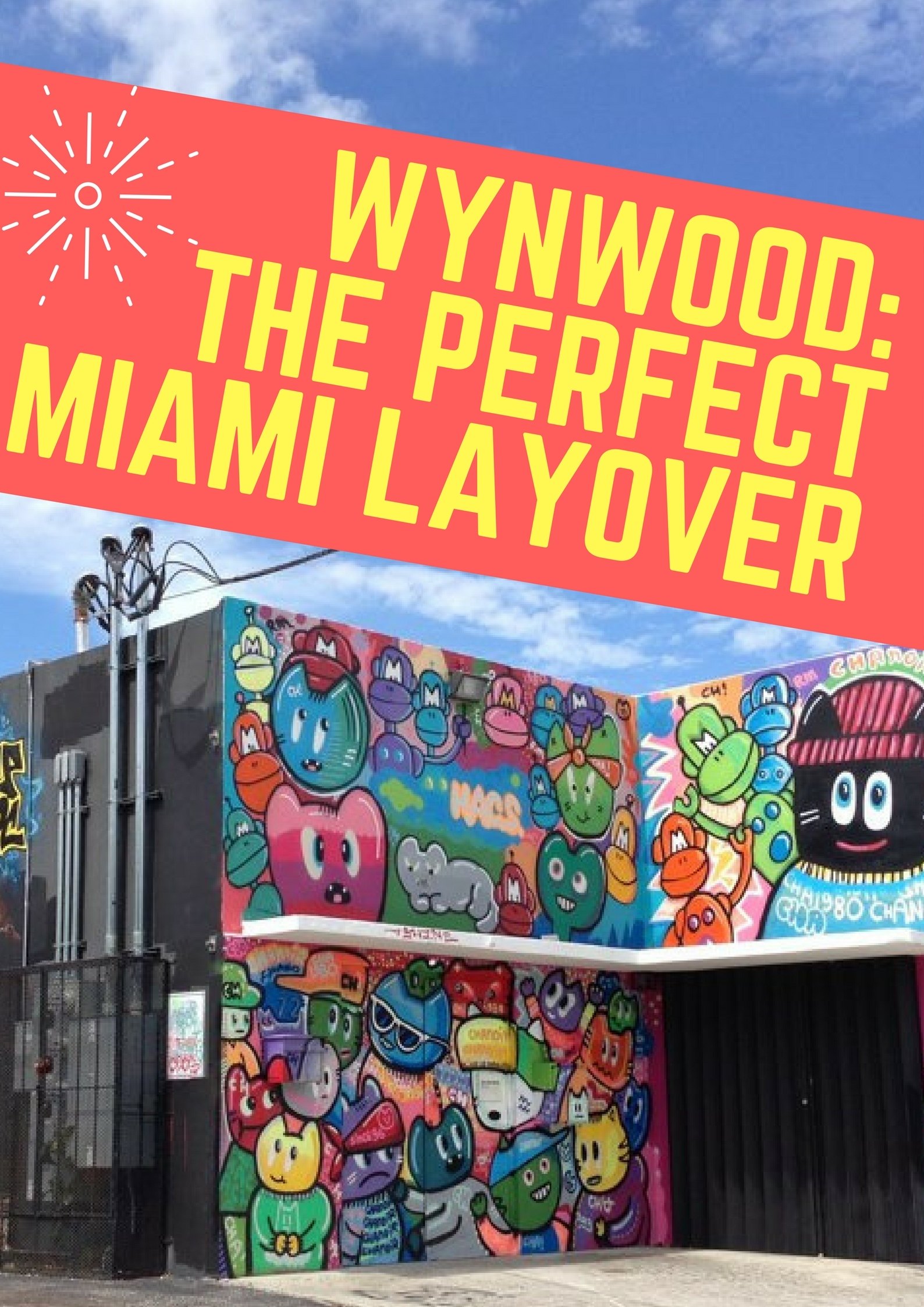 Our destination, unbeknownst to me: the Wynwood neighborhood of Miami.
Wynwood is just 15 minutes from the airport, making it perfect for a Miami layover. More importantly, it's way more interesting than the inside of an airport terminal. The neighborhood is best known for the Wynwood Walls, an outdoor street art park that features more than 40 murals and other installations.
Wynwood also has 70+ galleries, five museums, plus art complexes, art studios, art fairs and roughly ten square blocks loaded with street art. Check out NE 36th to NE 41st Street between NE 2nd Avenue to N Miami Avenue.
So why is Wynwood perfect for a Miami layover?
Wynwood is the ultimate version of choose your own adventure. Since so much of it is outdoors and publicly available, you can visit anytime during daylight. After dark, the Wynwood Walls are lit until 11:30pm every day except Sunday.

The Wynwood Walls: an outdoor gallery for commissioned street art
If it starts to rain, just pop indoors to shop in galleries galleries or meet the artists. Stop for a coffee, or a meal, or a beer — this is hipster haven, after all. You can cram it into a short Miami layover like I did or you can spend all day if you're vacationing in South Florida.
Art is subject to personal interpretation, so it's great for self-touring. But if you enjoy the history and context, there are several guided tours to give you background on the artists and deeper meanings.
A Brief SightDOING Tour on my Miami Layover
Four hours isn't a lot of time to leave the airport for a Miami layover, but somehow we made it fit. I stashed my bag at a coffeeshop, grabbed a cold brew to go, and rented a bike to ride up and down the streets. Realistically, once you factor in taxi times and a cushion to go through security at the airport upon return, I had about 2.5 hours to enjoy.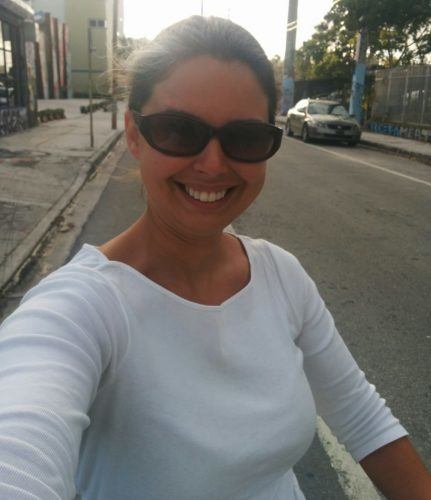 The Wynwood design district used to be a working class neighborhood, so rents were low, artists moved in, and creativity started taking over. Today, it's completely revitalized. With gentrification, you'll now find fashion boutiques, specialty fitness studios, event spaces, and restaurants. You'd never know the area was once run down.
We didn't have much of an agenda, so we criss-crossed Wynwood, trying to avoid traffic on Second Avenue as best we could.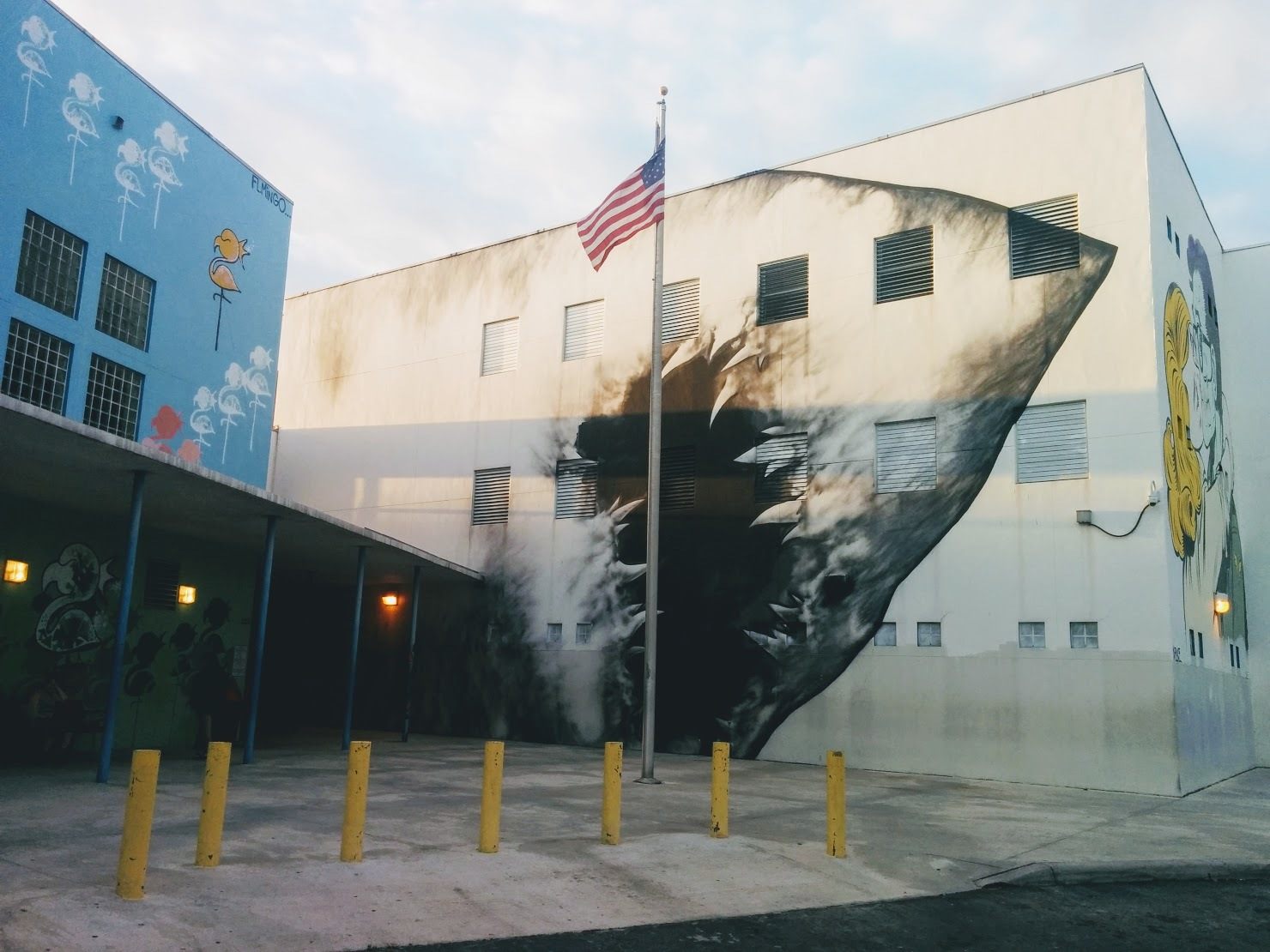 In retrospect, we could have gone with a map and guide, but half the fun was just seeing what we could find. And we got lucky -- we even saw an artist at work.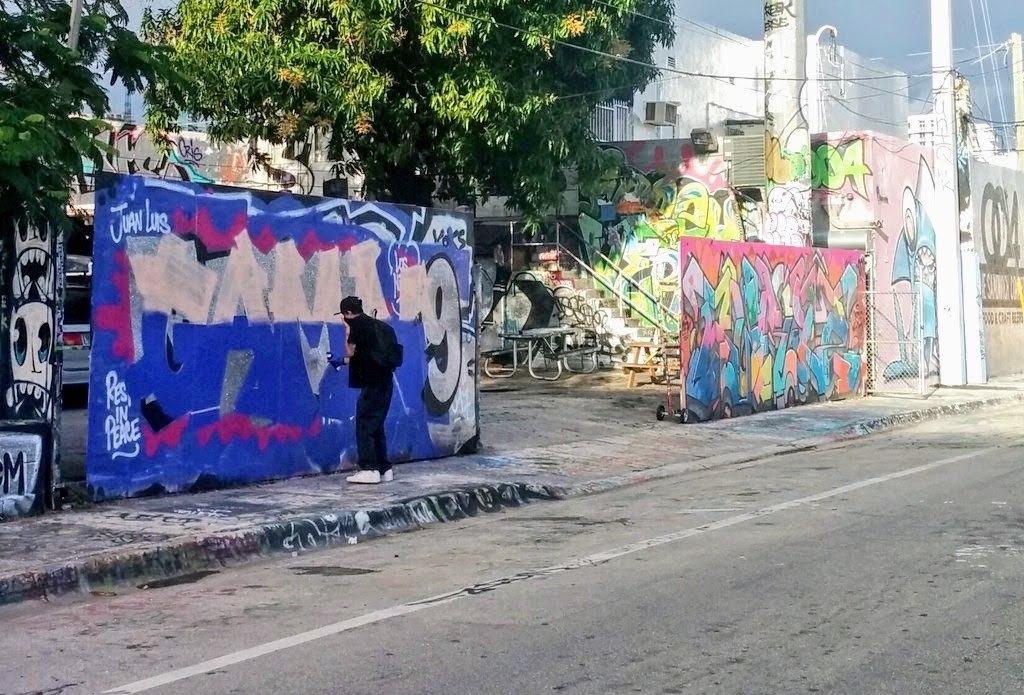 We missed some of the best-known murals, but there were some other ones just a few blocks out of the way that were tremendous. Biking makes it easy to cover the entire area quickly, but there's no reason you can't see it all on foot if you prefer.
How to Plan Your Miami Layover to Wynwood
Hopefully you can check any suitcases all the way through to their final destination so you're hands-free during your layover. If you can't, you can fiddle with luggage storage at the Miami airport.
Hop in a taxi or Uber to Wynwood -- ask for Wynwood Walls as an easy to locate starting point. If you want to rent a bike ($6.50-24 depending on how long you need it), you'll find a Citibike location by 24th Street & 2nd Avenue, complete with a basket that's great to store your purse or other loose items.
I ate dinner at the Wynwood Kitchen & Bar. The small plates come out quickly, which is great if you're on a tight Miami layover. If you're really in a rush, try a fresh-baked empanada and cookie to go from Panther Coffee.
How short is too short a Miami layover?

You need a minimum of three hours to go to Wynwood on your Miami layover, but that's pushing it. To make that work, you 100% need to have a boarding pass already for your next flight, no stored luggage, and TSA Pre-Check to skip security lines once you're back at the airport. Even then, you'll only end up with about one hour to actually explore Wynwood.

The perfect length layover would be 4-6 hours, which will give you 2-4 hours at Wynwood. As Goldilocks says, that's "just right."
* * *
Yes, you can really tour Wynwood independently on your Miami layover, but if you purchase one of the guided tours, you'll be supporting this website at the same time you get a more in-depth sightDOING experience. As always, thanks for your support!