This post may contain affiliate links. As an Amazon Associate I earn from qualifying purchases.
* * *
Before my trip to Colombia, I worried about my safety in Bogota. I was headed there for a week — three days on my own (a solo female) and four days with a group of friends. I wasn't too concerned about whether Bogota is safe as a group, but I had hesitations about traveling solo for sure.
Even once I arrived, I still wondered a bit.
Standing in Parque de los Periodistas, my first Bogota tour guide told me, "The biggest danger you'll face in Bogota is the traffic." Sure enough, the city is chaotic with cars weaving in and out of lanes and pedestrians never have the right of way. I wasn't 100% convinced that traffic would be my only worry, but hearing him say that put my mind at ease. I was worried about Bogota Colombia safety, but for a moment I was reassured.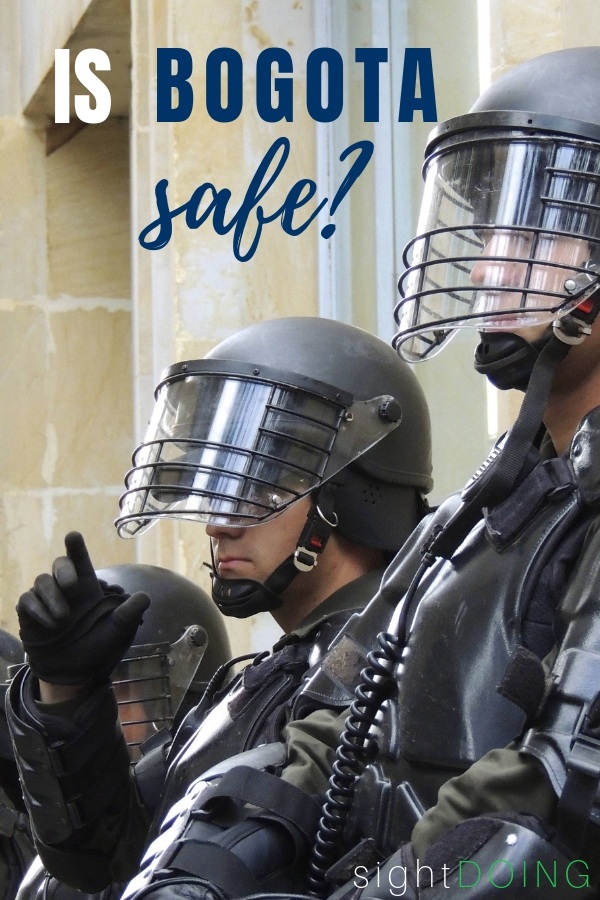 I'm not normally a nervous traveler, but Bogota has a dangerous image, even if the country's violent history is (for the most part) behind them. I lived through Guatemala City's notoriously dangerous Zona 3 and Mexico City's "unsafe" metro. How different could Bogota safety be?
The Locals' Persepective: Is Bogota Safe? YES!
The vast majority of locals want to change perceptions about Bogota and do a great job of it. I was welcomed by Uber drivers, tour guides, hotel staff, and random locals in restaurants or on the streets. Everyone is proud of what Colombia has to offer in tourism and wants to make sure you love their country as much as they do. Within 24 hours, I really liked Bogota. Within 5 days, I loved it.
But many of the people I talked to were in the tourism industry. Of course they're going to say Bogota is safe: their livelihood depends on it. The real question is whether or not Bogota is safe, from an unbiased opinion.
After 7 days in the country, did I think Bogota is safe?
If I had flown home on Sunday, my answer would be absolutely yes. Bogota is a big city and all big cities have some things to watch out for, but that's to be expected.
It was my last day that gave me a few things to look out for and remind me that Bogota is still transitioning and requires special attention.
You should carry travel insurance on every trip (at the very least, medical and emergency), but in places like Bogota where the reputation is a little more wishy-washy, a full policy is a good idea. My RoamRight policy was comprehensive, a great price, and perfect for peace of mind. Thankfully, I didn't need to use it.
Is Bogota Safe? Deciding where to go.
I drove through one very rough, very gritty neighborhood on my last day because a city-wide event known as Ciclovia closed down a bunch of roads and my Uber re-routed. Even in broad daylight, it was a good reminder that Bogota isn't perfectly safe yet. I could see drug deals going down and prostitutes on the street (on a Sunday morning, no less!).
We were in and out after just a few blocks — never stopping — with the windows up and doors locked, but that was all it took for me to remember that parts of Bogota are no joke. Even the popular historic district La Candelaria is an area that several expats and locals told me not to visit after dark if I was alone on weeknights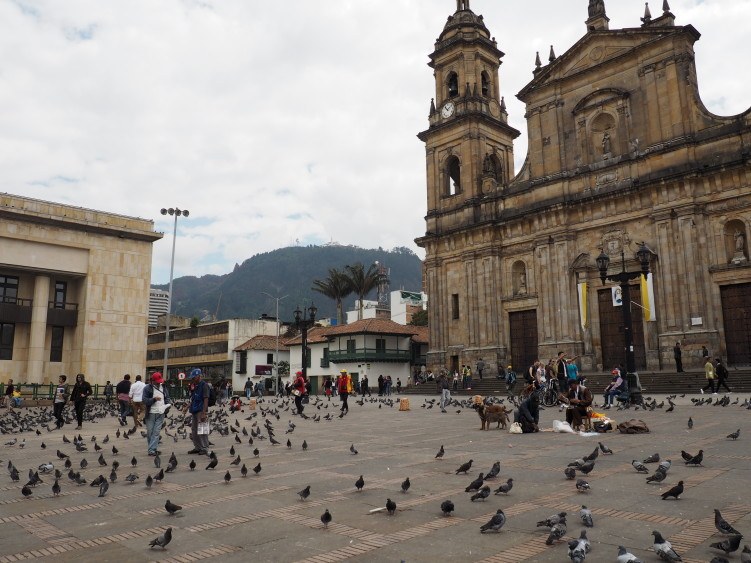 Pick your hotel location carefully and by all means, ask around before walking or visiting certain parts of the city. Don't believe me? Even in my very safe neighborhoods (I stayed in 3 different places), all three hotels buzzed me into the property for safety in the evenings and at two of them, I was always escorted out as well.
Is Bogota Safe? Well, there's pickpocketing and theft…
Theft is enough of an issue in parts of Bogota that travelers are advised to be extra cautious. Police with guns were along one of the hiking trails I took and there are bars over the windows of many stores in all but the most upscale neighborhoods.
Honestly, despite all this, it felt just as safe — if not safer — than most Central American cities I've visited. Sure, it's all relative and a lot of Central America isn't considered safe either, but keep your wits about you and I'd say your risk is no greater here than elsewhere.
I did have a credit card stolen, but that's mostly my own fault. I was physically juggling a million things while in the midst of a city scavenger hunt, and I think my Visa slipped out of its pocket and onto the ground in a busy square. Someone picked it up and charged 50,000 pesos on it (about $16), but Chase helped me out immediately by reissuing my card number and refunding the charge, so no harm done other than feeding the untrustworthy image of the city.
The Chase Sapphire Preferred is my favorite travel credit card, with one of the major reasons being their awesome customer service. No phone trees when you call them (just a human being!), no foreign transaction fees, and great rewards to help fund your next trip.
Is Bogota Safe for Public Transportation?
Bogota is massive, covering 613 square miles and home to 8.8 million people. There's absolutely no way to cover that kind of area on foot, but public transportation goes everywhere (as long as you can figure out the route you need).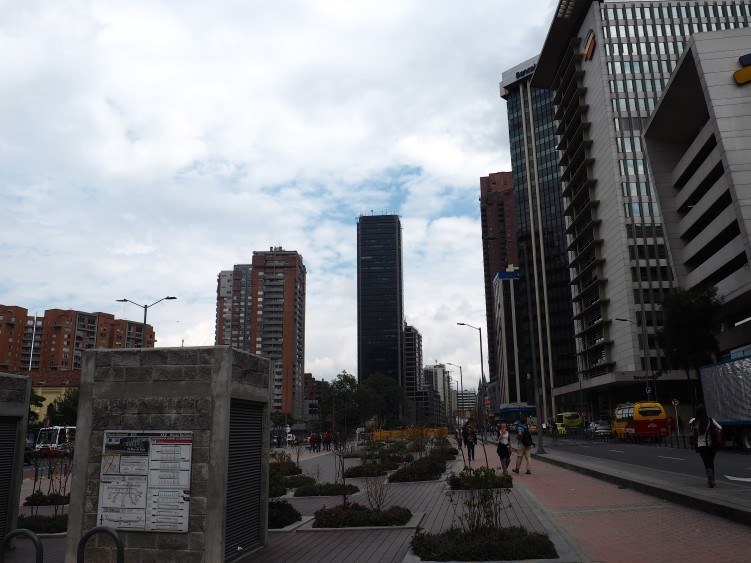 Generally speaking, everyone advised me to steer clear of local buses and colectivos, but the verdict was 50/50 for the newer, nicer Transmillenio and SITP buses. Drivers are known for being reckless and most vehicles are packed like sardines, making pickpocketing a common occurrence. I only rode the bus once, and chose not to risk it for most of my journeys. Just because I'm covered by RoamRight travel insurance doesn't mean I want to make a claim.
Taxis also have a bad reputation — one upheld by numerous locals once I was there. If you're "lucky", they'll just rip you off. Otherwise, some unscrupulous drivers take clients to the middle of nowhere to steal their belongings and gang up with other drivers to make you withdraw your daily limit from an ATM. Calling a taxi instead of hailing them off the street helps you ensure a reputable driver, and if your hotel has a preferred driver, that's even better. I only rode in two taxis (both times with other people), but both worked out just fine.
Did I overcompensate for my safety? Maybe, but better safe than sorry. Learn more about how I traveled smarter while planning my Bogota trip (because life happens).
Is Bogota Safe? My close call with Uber.
I primarily took Uber to get around, a decision driven primarily because it's easier than carrying small change for fares throughout the day. I had a lot of lengthy waits and the GPS pick-up spots weren't always accurate, but prices are fair and cars are clean.
There's one big caveat though…Uber isn't technically approved by the government, so most drivers want you to sit up front so it looks like they're driving a friend and aren't pulled over by police. I'm sharing this context because sitting up front put me in an awkward position.
On my final afternoon, I called an Uber for a ride by myself and was picked up by a middle-aged man. The ride started out the same as any other, but a few minutes in, he touched me. Not inappropriately and not harmfully, but it was uninvited. I brushed it off as weird and continued my ride, until it happened again, this time on my thigh.
My instinct told me to act, so I feigned car sickness as an excuse to get out of the car (in a safe place) before reaching my intended destination. All's well that end's well, but a handsy driver was one strike against Bogota's safety.
Solo Female Travel in Bogota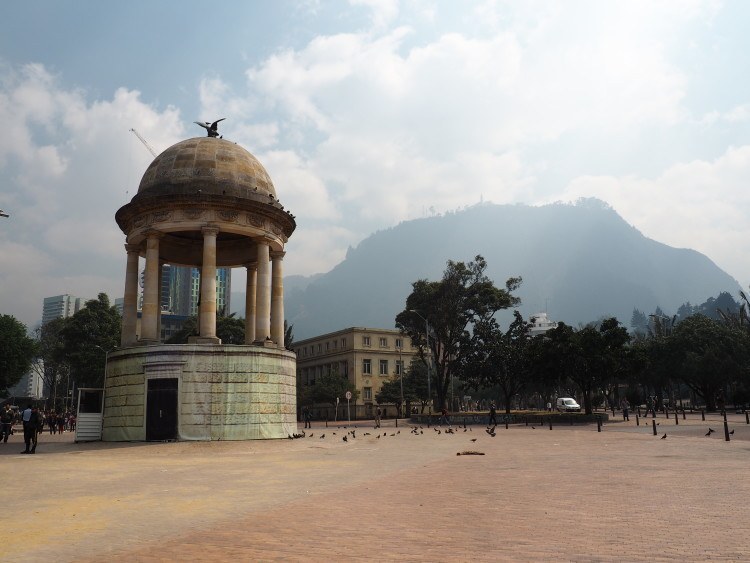 I'd go back to Bogota — and there's a lot of Colombia I want to discover — but if I'm being perfectly honest, I'm glad I didn't go alone. I spent two nights with a friend and joined other friends for several other group activities and dinners.
Sure, I traveled solo for part of the time, but having a group and contacts in the country made me feel much more comfortable. I probably wouldn't have gone out to a local bar to play tejo (their version of horseshoes or cornhole) and that was a highlight of my trip. I might not have tried some of the great restaurants I ate at because they'd require car rides on my own after dark instead of hitting the corner cafe on my own.
This isn't just a reality of Bogota, but solo female travel in general. I love solo travel and often it is extraordinarily safe, but it's something that also requires vigilance and care.
The Bottom Line: Is Bogota Safe? It's Up to You
Ultimately, I left undecided about Bogota's safety. In a group, I think it's safe enough, but I still have hesitations for solo female travel in Bogota.
I won't stop you from planning your own trip to Bogota, but I will urge you to think about whether or not you'll be comfortable during your time there. Leave your valuables at home, pick a safe hotel, stash your cash in your underwear, and get a travel insurance quote from RoamRight.
When I return to Bogota (and I'm positive I will), I'll invite a friend. We'll have a great time together, keep an eye out on each other, and enjoy the positives of the city rather than the negatives.
* * *
Share your story in the comments!
Have you ever traveled anywhere you've felt unsafe? Tell me where you were, what happened, and how you resolved the situation.
* * *
Read More on sightDOING: