This post may contain affiliate links. As an Amazon Associate I earn from qualifying purchases.
* * *
I was already in Barbados by the time I heard about Tropical Storm Kirk. To be honest, hurricane season in Barbados hadn't even crossed my mind while I was prepping and packing. Little did I know that I was in for a surprise.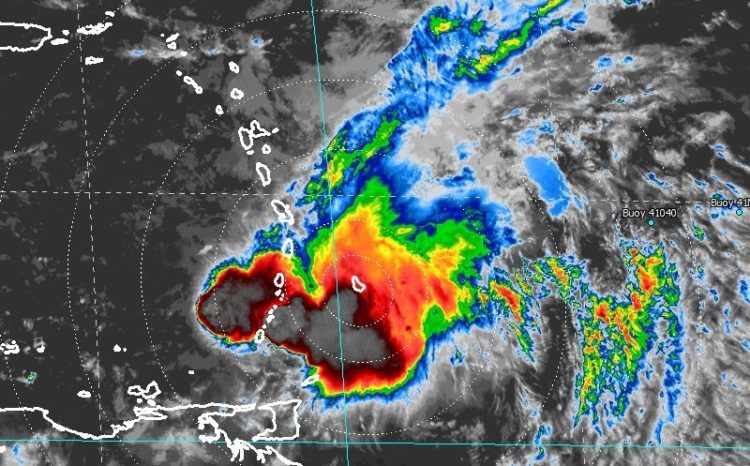 It wasn't that I was naive: Barbados hurricane season just hasn't been bad historically. Most storms bypass the island, swerving farther north, with the last noteworthy storm in 1980. I expected some showers — which are prone everywhere in the Caribbean — but the odds of a major event were pretty low.
But once I was on the island, there was a roller coaster of tropical storm predictions: first, Kirk was announced, with Barbados directly on its path. Over the week, the storm was downgraded, then upgraded, with Barbados being forecasted on and off its path. Who could tell if it would be a problem or not?
When Is Hurricane Season In Barbados?
Officially, hurricane season falls between June and October and like most of the tropics, the worst of Barbados rainy season falls between August through October.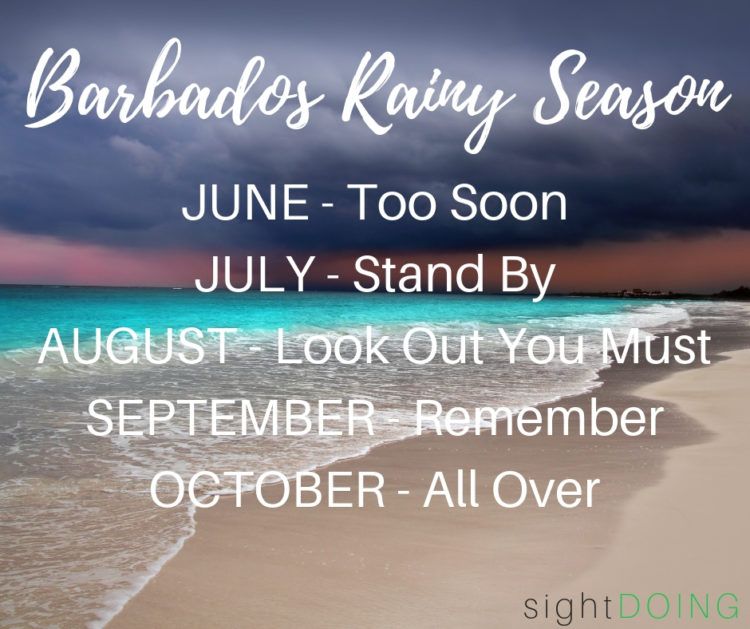 Barbados' position at just 13° N puts it south of the typical hurricane belt. The rocky coasts and reefs also help protect it from dangerous swells if and when storms do pass by. Locals also swear that if the country floods, it clears up within a day or so due to the porous nature of the island.
All of this combined makes Barbados one of the lowest-risk destinations in the Caribbean during hurricane season.
Okay, But What About Rain in Barbados?
Even though Barbados has historically been spared from the worst of it, summer and fall are still rainy season in Barbados. And sure enough, my September forecast was downright depressing.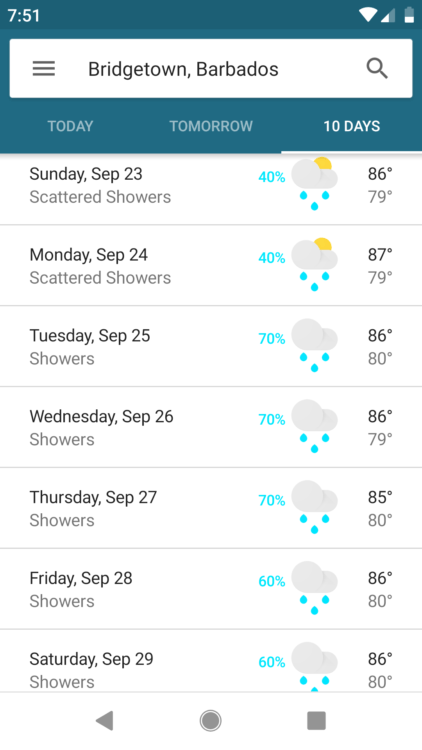 During early fall, you should plan on showers during at least part of your visit. The good news is that even on rainy days, the showers were usually light and short-lived.
For the most part, you'll still enjoy sunny days and plenty of good weather to explore Barbados.
Advantages of Traveling to Barbados in the Rainy Season
Even though the risks of bad weather are low, you might be wondering why you should bother going during the off season at all compared to going December through April when it's peak, dry season.
Well, how about having beaches all to yourself?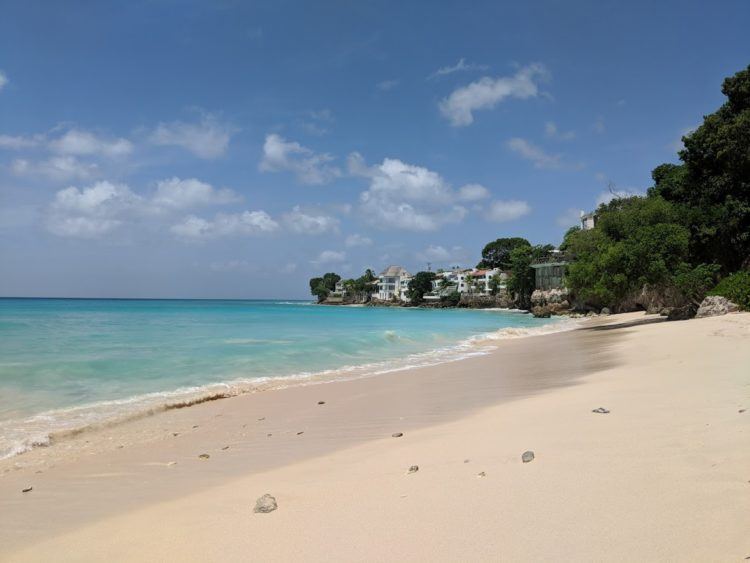 Being able to get reservations in the best island restaurants, even last-minute?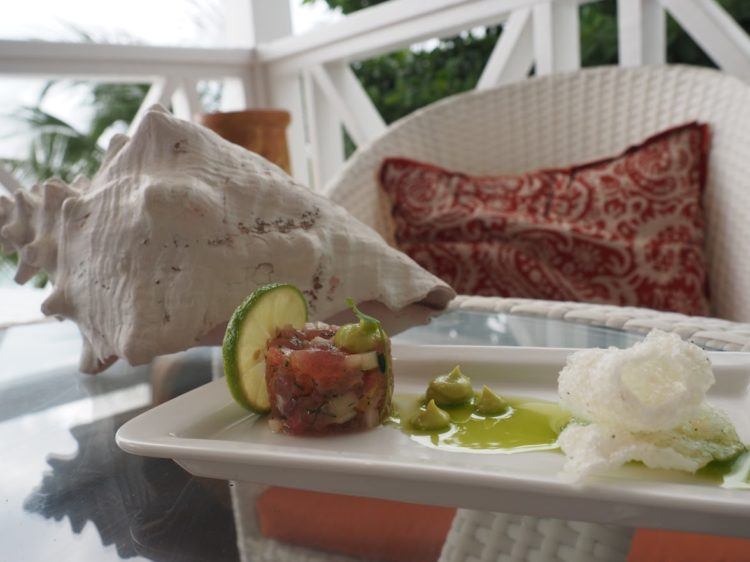 Getting to meet the locals, who are thrilled to have time to show you their country?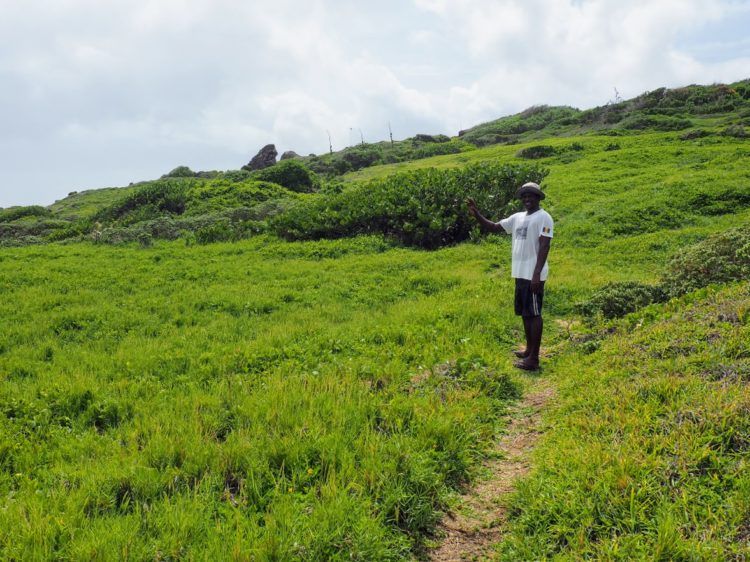 Wouldn't you love lower hotel rates, with most hotels I researched about half-price? (Flights are cheaper, too!)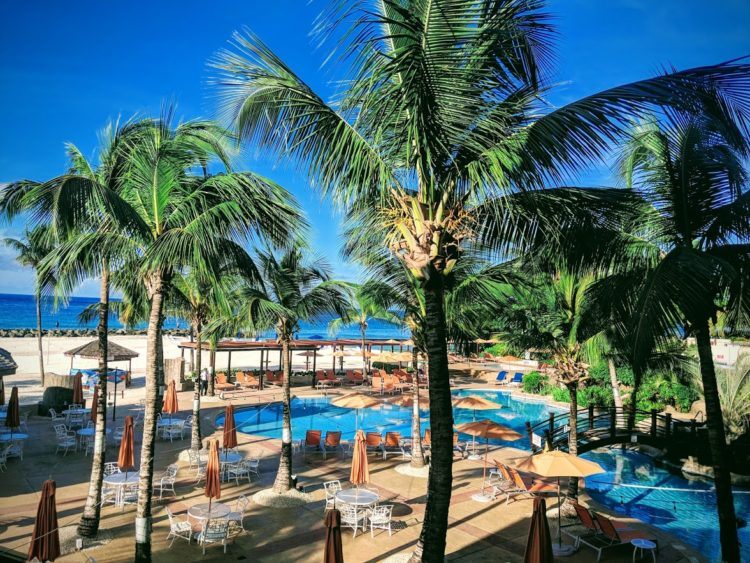 Not to mention, partial cloud cover and a light breeze makes for more comfortable afternoons, perfect for hiking and other physical activities.
Barbados' biggest event, Crop Over Festival, takes place throughout the rainy season culminating in August. This is a huge draw for visitors to celebrate with local Bajans at parades, street fairs, and with tons of local music and dancing. I missed it on this trip, but it looks like a blast and it would be a shame to miss it just because you're scared of a little rain!
Set Yourself Up for Success (4 Tips for Hurricane Season in Barbados)
If you decide to go to Barbados during hurricane season — and I would do it again, truth be told — there are a few things that will definitely make it easier.
Be Prepared for Closings
First, my recommendation would be to plan a vacation in late August (after most kids have gone back to school) or anytime in October. I had no idea before my trip that many restaurants and some shops fully close in the month of September. There's not enough business to go around, so owners use that time for their own holidays and/or use the time for maintenance and renovations.
There were still plenty of options in September, but you'll want to confirm businesses are open by calling or checking their Facebook page before making any assumptions.
Stay on the West Coast
The west side of Barbados, on the Caribbean Sea, is the best protected part of the area. It tends to have calmer water and less seaweed washes up during turbulent seas. This makes it the best region to stay in if you're traveling to Barbados during the rainy season.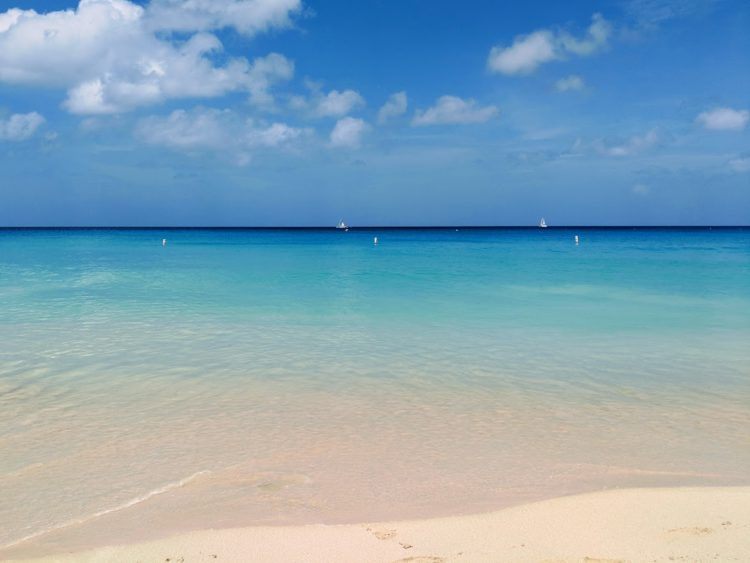 The downside here is that unlike the south coast, there are fewer restaurants in walking distance (and restaurants in general tend to be higher-end). Thankfully, bus routes ply up and down the main road so you can still get around.
Keep Your Plans Flexible
What I loved about Barbados is that the island has so much sightDOING that is unrelated to surf, sand, and sea. That makes it incredibly easy to pivot plans if you do end up with a bad weather day (even with tropical storms, I only had one bad day out of eight).
Be flexible to move your days and activities around if needed and everything should fall into place without an issue.
If you have something you absolutely want to do during your trip, plan it at the beginning of your trip so you have time to reschedule if you need to. Don't leave it for the last minute!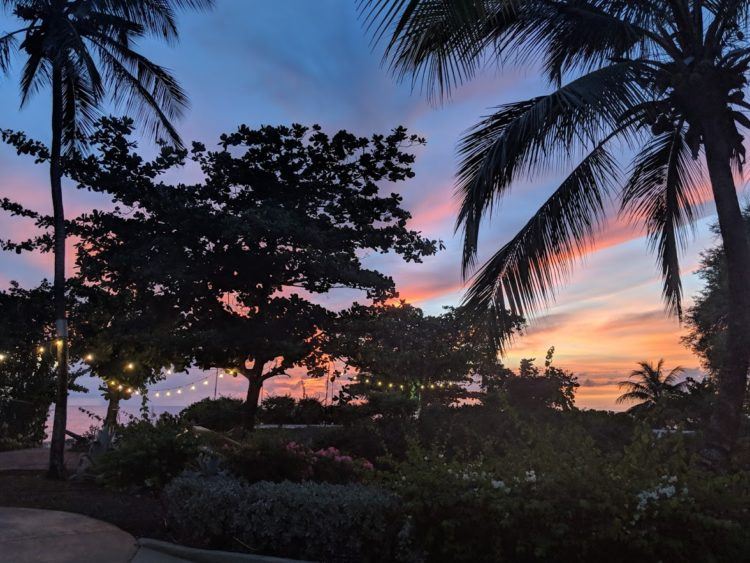 Purchase Travel Insurance
Travel insurance is one of those things you buy and hope to never use, but it can save your butt on the off-chance a hurricane heads your way. Look for a policy that specifically includes weather events (most do).
I know several people who were unexpectedly stuck in Barbados for an extra night while flights to other islands were cancelled. Many big jets could still fly in and out during the storm, but smaller aircraft for short hops throughout the Caribbean were impacted by the wind.
Usually you can get a policy for less than $100 and that will cover you in the case you need to cancel your trip for a hurricane or help reimburse costs if you have storm-related costs like extra hotel nights or replacement flights.
I purchase policies through RoamRight and you can learn more about travel insurance here:
Things to Do in Barbados When it Rains
If you find yourself in Barbados on a rainy day, don't worry. There's still plenty to do!
St. Nicholas Abbey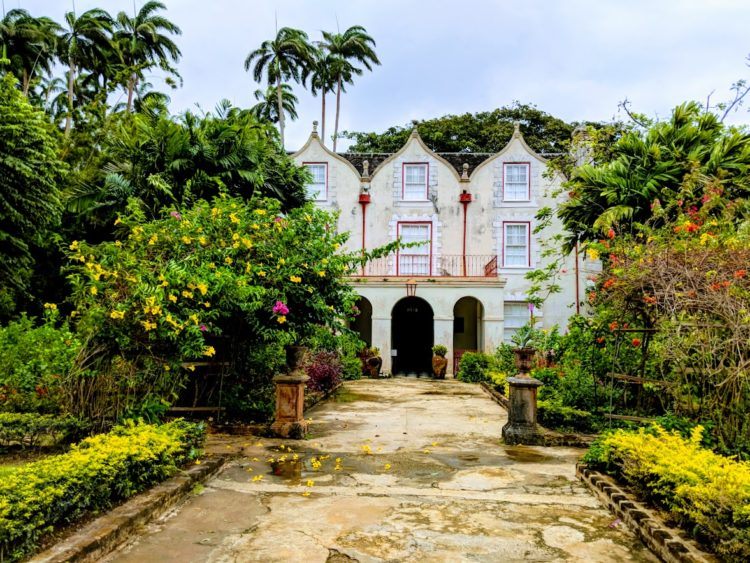 The abbey is one of three remaining Jacobean mansions in the western hemisphere, which was fun for an architecture dork like me. Other visitors come here for their housemade rum — you'll learn the history, taste their aged rums, and have a rum punch. Plus, by the time you're done inside, there's a good chance the weather will have cleared so you can enjoy the gardens and views over the island.
Harrison's Cave
It doesn't matter what the weather is, or how bad it's raining, you can pay a visit to Harrison's Cave. The cave sits 160-feet below the ground and features waterfalls and streams. If it's rainy outside, the streams and falls will be a little stronger. For hardcore sightDOING, you can join the eco-adventure which includes army crawling, ducking, and adventures in the dark. For something calmer, go ahead and join the tram tour.
Take Cover in a Rum Shop
Part store, part bar, part community center, these little village shops are neighborhood hang-outs, and you'll meet all sorts of local characters inside. Pull up a chair and start a conversation with someone you meet (or challenge them to a game of dominoes, a popular pastime in Barbados).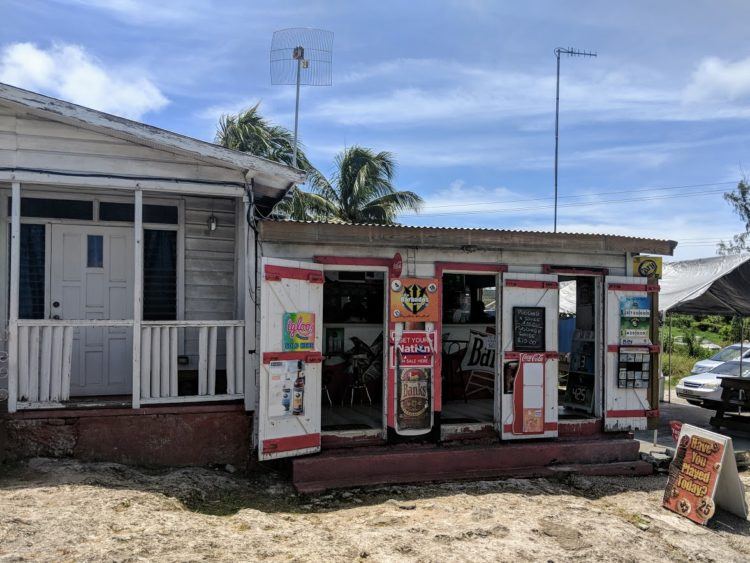 As a solo female traveler, it's worth noting that almost everyone I met in rum shops were local men. They are respectful, courteous, and welcoming — something I certainly appreciated since it's not always the case when traveling alone.
Drive to the North Shore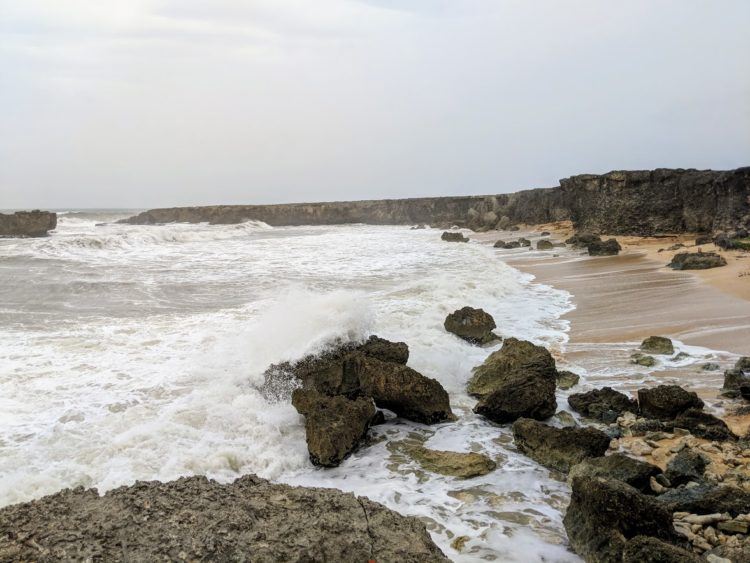 If you can't beat it, join it. When the weather's bad, the rugged coasts of Barbados are mesmerizing to watch as waves roll in. Throw on a raincoat and drive north to walk along the coastline until you find a spot to hunker down and watch from the comfort of a waterproof picnic blanket.
Since rains are usually short-lived, you can stop by Animal Flower Cave when you're done for a little swim and the chance to check out the anenomes in the sea cave.
And if You're Stuck in a Worst-Case Scenario…
Take a deep breath and remind yourself it won't be that bad. Tropical Storm Kirk came and brought plenty of rain, and even some flooding, but it lasted twelve hours at most and as the locals said, the floods cleared up quickly. It barely impacted any of my trip and history says your odds are great.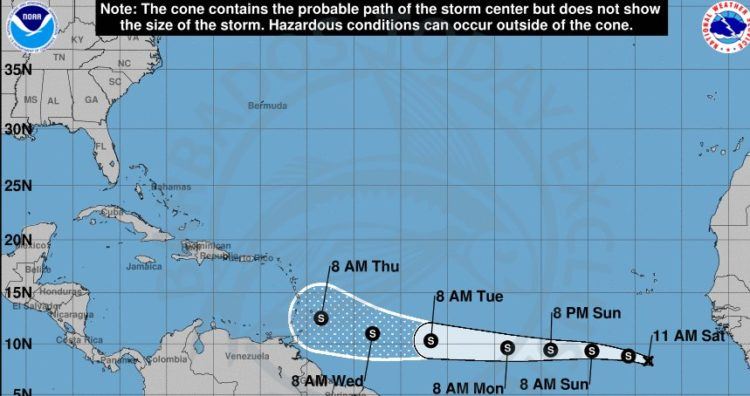 As you can see, Barbados doesn't get many hurricanes, since they tend to miss or avoid the area altogether. This is one of the reasons people from around the world flock to the island year round. If you want to experience a great deal of sunshine even in the off-season, then book a trip and don't stress too much about hurricane season in Barbados.
* * *