This post may contain affiliate links. As an Amazon Associate I earn from qualifying purchases.
* * *
After five days of fun in the sun, I've made it home. Along the way, I broke all of my normal travel habits (plenty of time for shopping! chain restaurants that make things easy! "wasting" time watching TV in the room!) and you know what? It was fabulous!
Florida was fantastic. We did quite a bit of park-hopping, including Busch Gardens, Sea World, Aquatica, Discovery Cove, and Universal's Island of Adventure, plus we threw in some time swimming with the manatees in Crystal River just to change up the pace a little. Surprisingly, the parks weren't all that busy, so we managed to be pretty efficient at getting on all of the rides. We strategized a little bit to avoid the crowds, and it worked out in our favor so that we weren't exhausted from spending all day standing in lines. All in all, I was thrilled with how the trip turned out.
We had five days to play with, and with five parks to visit, that works out to a busy week 🙂 I guess technically we flew into Tampa on the night of the "Day 0" – but it was 12:30am when I landed, and about 1:20 by the time I picked up my rental car and made it to the hotel, so clearly no time for park-hopping that day. We stayed at the Country Inn & Suites airport location, which was adequate (especially given the late night arrival) but hardly anything special.
It seems like blog trip reports these days tend to focus on the airline and hotel experience, but that's not the focus of my travels. It's why I'm a cheapskate when it comes to booking hotel stays but will spend hundreds of dollars on my daily activities (park tickets are NOT cheap!). So here's a little eye candy from our experiences this past week, and for those of you who may actually want to learn about our hotel stays, you'll find my reviews mixed in with a ton of others at TripAdvisor.
SATURDAY – BUSCH GARDENS
After a hotel breakfast, we made our way to Busch Gardens for its opening at 9am. By far, getting to the parks as soon as they opened was the best decision we made. We rode the Cheetah Hunt roller coaster with no line, and then made our way to SheiKra since we expected that to also get busy later in the day. No line again, so we rode it a few times in a row before making our way through the rest of the park rides. All in all, we rode everything but the Scorpion roller coaster, which was closed for maintenance the day of our visit. We were pleasantly surprised to find the park only moderately busy even midday, and our longest wait for any ride was only 25 minutes. Because of the lack of queueing, we were done with our visit around 3:30pm and left for a late lunch at a nearby Red Lobster instead of eating at the park. You got a lot more for your money by dining off-site!
Overall, we liked Busch Gardens a lot (especially my sister, who LOVES animals) and I'd say that SheiKra was our favorite ride.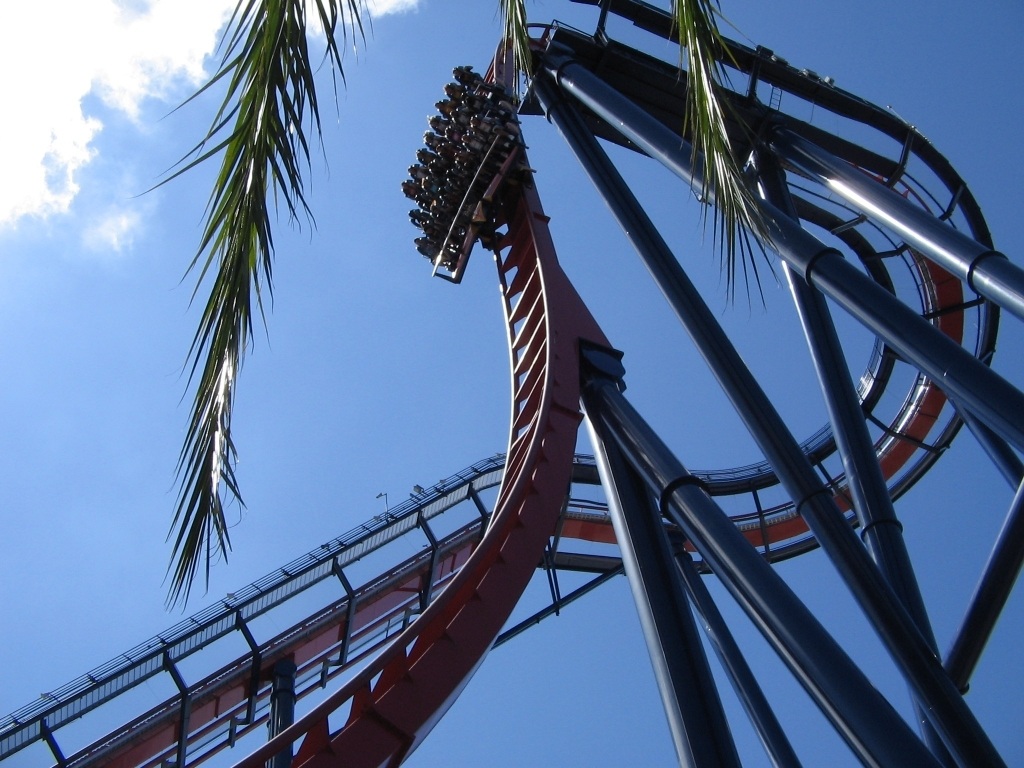 We continued that night on a drive to Crystal River and a stay at the Holiday Inn Express. This was an easy drive, but have quarters ready for the tolls! This is a fairly small town, without much to do, but we managed to check out the boat parade for a festive evening before calling it a night.
SUNDAY – CRYSTAL RIVER MANATEES & SEA WORLD
We started our morning with a manatee swim with Captain Stacy of Manatees in Paradise. This was actually the activity that spurred our entire trip to Florida, so we were happy to make the short detour to Crystal River. The tour was wonderful – Captain Stacy is friendly and very knowledgeable about the wildlife and ecosystem of the area. We saw dozens of manatees, though only had a few that were curious enough to get close to us. They are magnificent, gentle creatures…just keep your expectations in check. By nature, manatees spend a lot of time resting and aren't necessarily going to be all that entertaining. Still, a great trip, and our four hours flew by!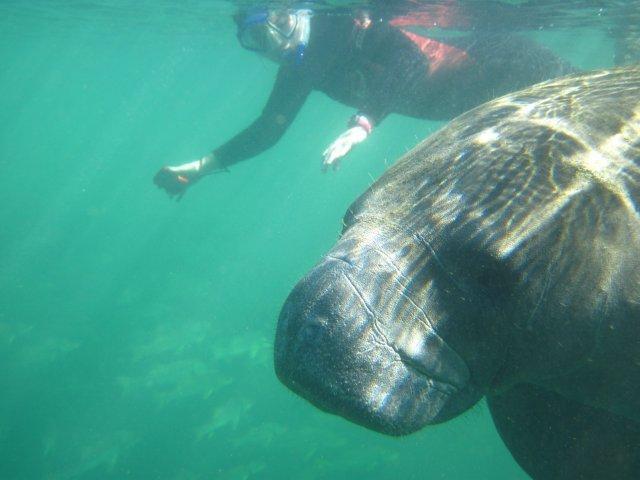 We concluded our Crystal River stay with a seafood lunch at Charlie's Fish House because I've always wanted to try stone crab. The meal was good, though hardly atmospheric.
It was another easy drive this afternoon, this time to Orlando. We made it to Sea World by around 5pm, giving us six full hours to explore before the park closed. Talk about a long day 🙂 Anyway, we spent the night looking at a few exhibits, but mostly attending shows. We were also thrilled to see no line whatsoever at Kraken, so we rode that 3 or 4 times. It was probably my favorite roller coaster of the week. We've been to Sea World numerous times (not just the Orlando location) and always love it, but we had never been at Christmas. The holiday decorations, music, and atmosphere were incredible and very much added to our visit. The holiday fireworks were a nice touch, but we were cold and tired and in retrospect, I'm not sure they worth staying for unless you were alert and excited to be there still. Live and learn. Overall, we loved Sea World and I'd give the best ride award to Kraken and the best show award to Shamu Christmas Miracles.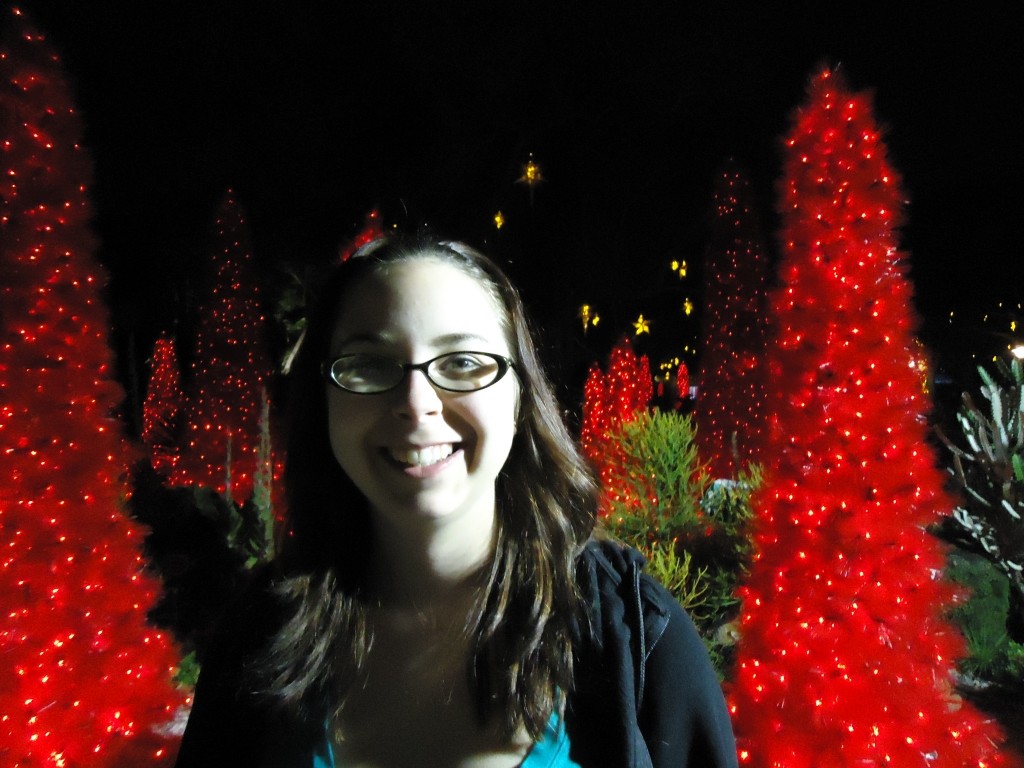 MONDAY – ISLANDS OF ADVENTURE
It was really, really hard to wake up on Monday in time to get to IOA for an 8am opening, but we made it. We never intended to have such an early start after a late night the day before, but we rearranged plans to IOA on Monday so we could postpone Aquatica to later in the week when it would be hotter. This was a great decision, but boy was it tough combining a late night with an early morning…
Upon arrival at IOA, we went straight to the Harry Potter section of the park and got in line for Forbidden Journey, which even at opening was a 40-minute wait. Yikes! My sister loved this ride, but I got a little queasy – regardless, it was worth the wait and we loved touring "Hogwarts". We spent the next two hours or so also in the Harry Potter section, and rode the dragon coaster a total of four times since there was no line. My sister loved the Butterbeer (essentially a cream soda mixed with a butterscotch syrup, and then topped with some sort of marshmallow/whipped cream topping???) and our meal at Three Broomsticks. Being Harry Potter fans, we also tried the pear cider, pumpkin juice, and Hogs Head Ale but found none of them to our liking.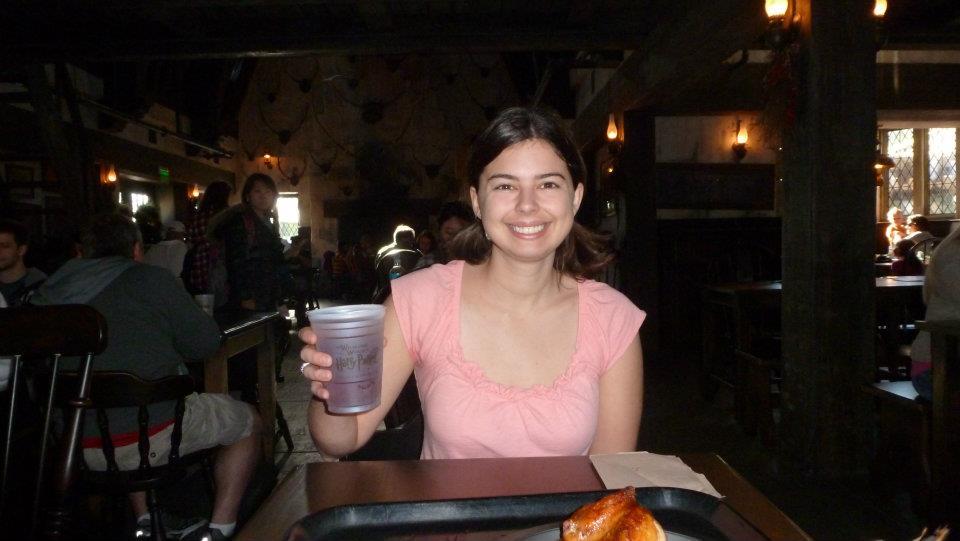 We spent about until 4pm or so exploring the rest of the park, and were able to go on just about all the rides before leaving then. I loved how well the park was themed and found just walking around enjoyable, plus several of the rides were excellent. A great day.
We took a few hours in the late afternoon/early evening to go out to an early dinner at Giordiano's pizza, which was on my short-list since I like Chicago pizza. It was a good meal, but trust me – a small pizza will easily feed two! We put our feet up in the hotel for an hour or so, and then returned to IOA in the evening. We managed to avoid some of the crowds with this approach, and made it onto the last two rides we hadn't gone on yet…now with no wait! We also returned to the Harry Potter section, which was brilliant in the evening. The atmosphere was well done, and the lines for Forbidden Journey & Ollivander's were both quite reasonable. I'm very glad we saw that area both day and night, since they felt very different. A great park, and my favorite ride was the Hulk roller coaster.
TUESDAY – SEA WORLD & AQUATICA
We wanted to return to Sea World in the morning since there were a few exhibits we couldn't see in the dark, plus we had missed a few of the shows that were daytime only. Our first stop, right upon arrival, was Manta roller coaster which was unbelievable! It is a great ride, and truly felt like flying. However, the loading/unloading of passengers was horribly slow (at least compared to the previous day's efficiency at IOA) so even first thing in the morning with practically no one in front of me, it was still a wait. We spent some more time seeing shows and re-visiting exhibits and went over to Aquatica midday to take advantage of the warmth and sunshine.
Aquatica was added to our itinerary only because it came included with our Discovery Cove/Sea World/Busch Gardens combo ticket, but ultimately it ended up being a nice afternoon. There aren't a whole lot of water slides, but the park was practically deserted, so we were able to ride them multiple times with no wait. We spent some time in the fast-moving lazy river and jumping in the wave pools, and spent some time inbetween all that just sunbathing. This was the perfect combination for us – some lazy time and some active time. My favorite slide was the Dolphin Plunge waterslide.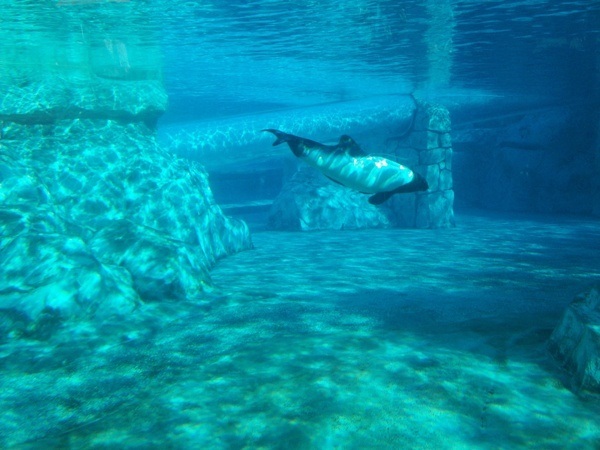 We left Aquatica after about 4 hours since we had thoroughly enjoyed the park by then, and stopped into the TGI Fridays next door for our "dinner". We were thrilled to find we had arrived during happy hour specials, so were able to eat and drink really cheaply! It's hard to pay $15 for a burger, fries, and beer in the park when the same price will pay for a higher quality selection of the same foods…including tax and gratuity.
We returned, once again, to Sea World for a few hours in the evening, mainly because we realized we had missed the beluga & walrus exhibit entirely. While we were there, we stepped into a few favorite exhibits once again before calling it a night.
WEDNESDAY – DISCOVERY COVE
This was our last day, and a relaxing one. Actually, we had felt that Aquatica was a lazy, relaxing day and this was even slower paced! Generally speaking, Discovery Cove would have made sense more in the middle of our trip as a day to rest and recover from the busier parks, but we booked our tickets for the day that was showing as the warmest so that we could best enjoy the water activities.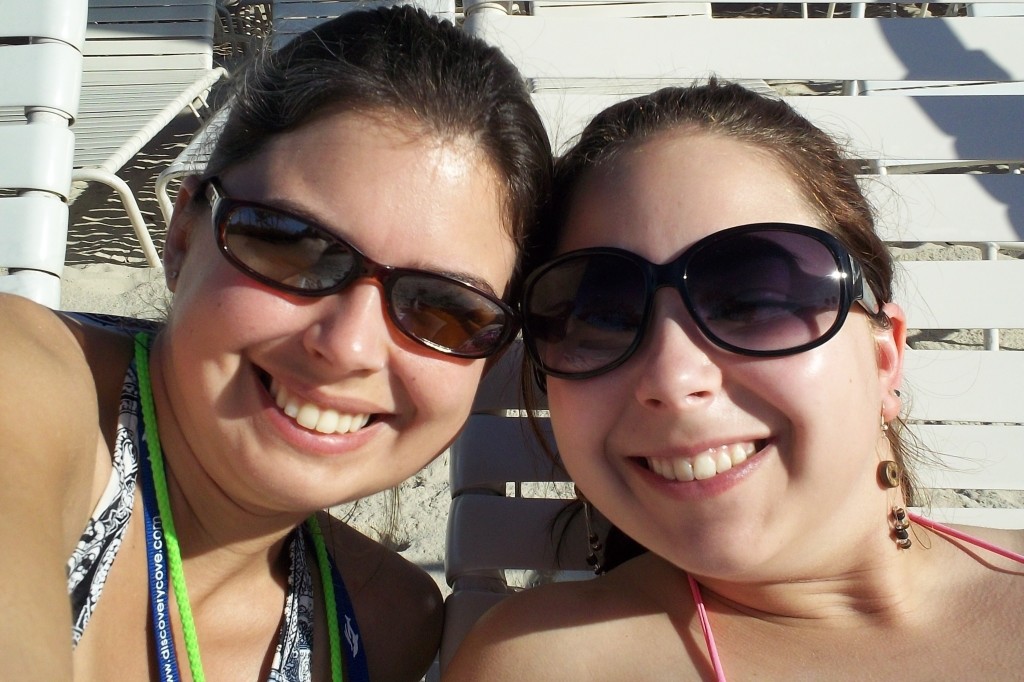 The park was much smaller than I expected. There are three main areas: the dolphin area, the reef (snorkeling) area, and the lazy river which intersects the aviary and Serenity Bay beach area. You can do each area justice in an hour, and I suppose you need another hour to participate in the dolphin interaction (we didn't). All in all, plan on a half day for the park and then as much time as you'd like for sunbathing or returning to activities. I think you could easily combine Discovery Cove and Aquatica into one day, at least during low season when there are no lines at the waterpark. Both of us were about ready to leave by about 1pm, but we had time to kill before turning in our rental car and flying home that evening, so we stuck around until closing and primarily read and sunbathed. It wasn't a bad way to end the trip – just a little anticlimatic.
I have mixed feelings about Discovery Cove. It was beautiful, and I had a good time, but I probably won't return. It's quite pricey, and the slow pace just doesn't fit with my personality making other parks a better alternative (for me). This is nothing against the park, just about trying to do a good job mixing personal preferences with vacation activities. Still, I loved the Grand Reef and made the most of my day.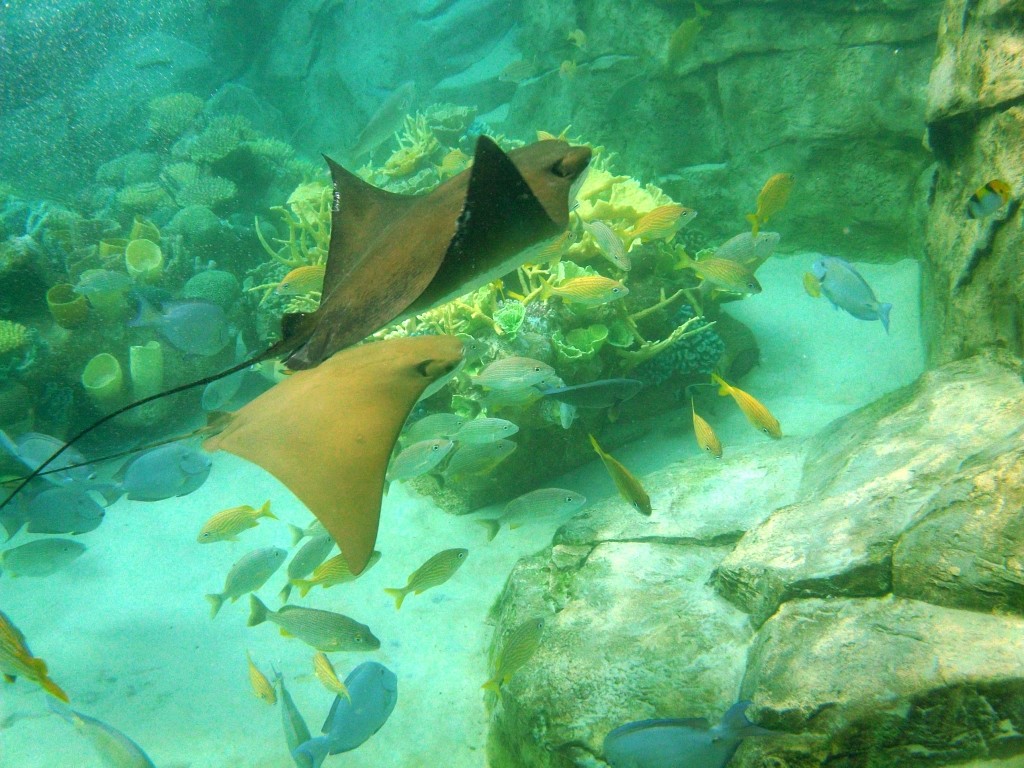 We had just enough time for one last meal at a Longhorn Steakhouse before my sister and I went our separate ways – me to Virginia and she to Michigan. Our rental car dropoff was a little confusing as we tried to find a gas station to refuel before returning the car, but other than that, everything went off without a hitch and I was in my bed around 11:30 that night. We had an incredible trip, and I'd love to return.