This post may contain affiliate links. As an Amazon Associate I earn from qualifying purchases.
* * *
My husband has wanted to go to Germany for years, so this was a dream trip for him. Absolute "must-sees" from my husband's dream trip were the Munich Oktoberfest and the Black Forest…two regions that ordinarily would not be grouped together. As such, we designed a road trip style itinerary, and rented a car which made it incredibly easy to stop and see things along the way. This is not the style of vacationing typically recommended for Europe, but we found it enjoyable. I'm very glad we chose the itinerary we did – if we had limited ourselves to only Munich & the Black Forest, we would've missed our favorite parts of the trip!
Neither of us speaks very much German (my husband knows conversational German from high school classes, and I learned some basics and pleasantries from a computer program while planning the trip), but this was not a hindrance. Luckily, we found locals willing to politely listen to our broken German – many of whom helped us practice and learn, and others who switched over to English to converse. We appreciated both ways of communicating!
All in all, our trip included brief visits to Munich, Oberammergau, Garmisch-Partenkirchen & Mittenwald, Hohenschwangau/Fuessen, Lindau/Bregenz, the Black Forest (St. Peter, St. Maergen, Triberg), Baden-Baden, Bacharach & St. Goar, and Frankfurt. It looks tiring in writing, but in reality, the trip felt well-paced for us.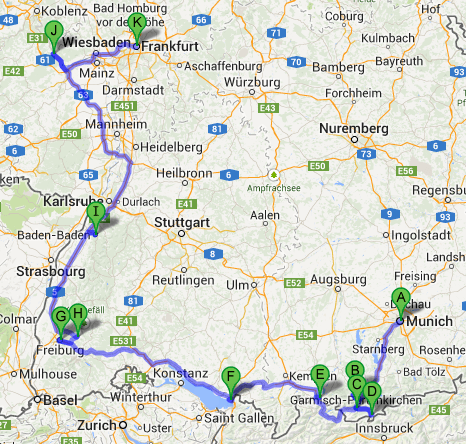 Munich airport is incredibly easy to navigate, making it the perfect place to arrive in Germany. Clearing immigrations was a non-event and catching the S-bahn to our hotel was equally easy. After quickly dropping our bags off, we decided to make the most of our day and dove right into the city atmosphere.
We spent the remainder of our first morning wandering through the Viktualienmarkt, and had a great time observing the different food stalls and local customs. It was a great place to get a mid-morning snack, as you could decide based on what looked (or smelled!) good rather than simply ordering off a menu. The sun was shining, and the fresh air really helped us wake up and adjust to the new time zone.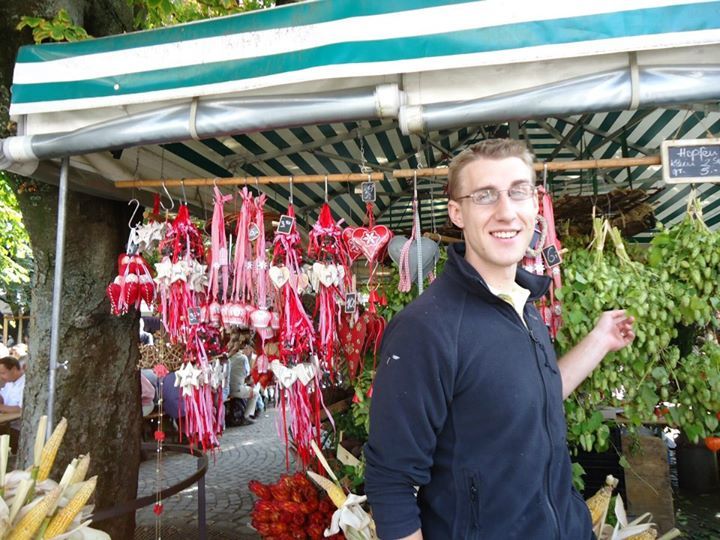 We made our way over to the Marienplatz in time for the 12 noon clock showing. I couldn't believe the crowds, but we were able to get a great view of the clock. Frankly, it was kind of overrated – we were there at the right time, and as such it was nice to see, but I'm not sure I would plan my schedule around ensuring you are there for a clock "performance". The Marienplatz itself is quite beautiful to look around, especially if you have read a little history on the buildings there. We chose not to enter the nearby St. Peter's church or Frauenkirche, and instead joined Lenny's Bike Tours for a 12:30 bike ride.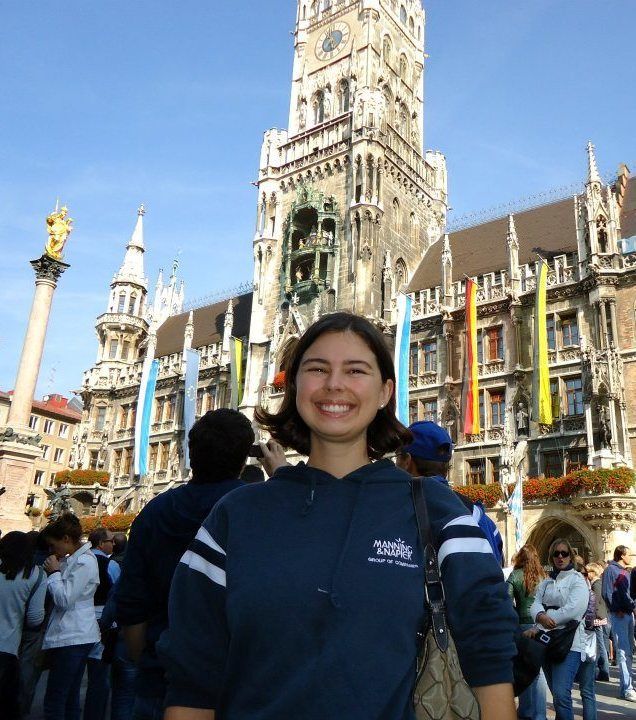 Normally we like to find our own way through a city, but neither one of us was having an easy time navigating through Munich. Between jet lag and lack of sleep on the airplane and only a sub-par map, we had trouble figuring out where we were at any given time. Unlike home, streets are not laid out in a grid-like pattern, so roads come in at every angle, do not necessarily travel in a straight line, may change names after just two or three blocks, and street names are not always prominently displayed. Thus, a guided tour seemed the perfect way to acquaint ourselves with Munich. Our bike tour was fantastic, with just the right amount of information (both historical & cultural) and the right amount of entertainment. For only 10 euro, we went through the Marienplatz and other historical squares, by the Hofbrauhaus, to the Residenz, and through the Englischer Garten. We loved our stop at the Chinese Biergarten – it was nice to have someone explain how things worked there, and we had fun talking with the other people on the tour while enjoying our very first German beer and pretzel.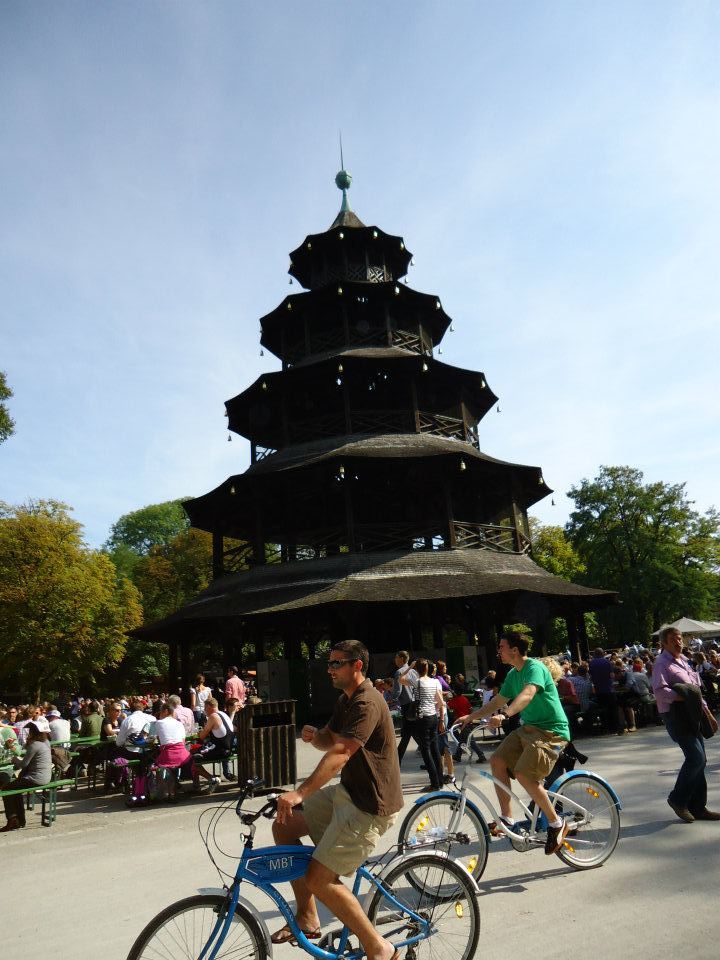 After the tour, we continued through Munich on our own, this time on foot. We really had no destination, and chose just to wander. We love to walk through areas, taking in the neighborhoods and sights, and trying to soak in a local feel. We accidentally found ourselves at the Oktoberfest grounds at one point, but didn't dawdle too long there (we'd return the next day!) and then after asking directions, we made our way from there to the Augustiner Keller biergarten. This was a fantastic place for dinner and a drink – relatively affordable, outdoor seating on a beautiful night, and a fun crowd.
On our walk back to the hotel, we stopped in the Hofbrauhaus (we got turned around a few times before finding it, again perhaps due to jet lag, or more likely…a liter or two!). After walking through, and realizing that everyone spoke English, we decided instead to call it a night. We didn't want to ruin our traditional biergarten experience with a touristy evening, and figured it was probably about time to go to bed anyway. We spent the night at the Holiday Inn (City Centre), which was a nice place to stay, especially considering we were able to redeem free nights from frequent-stay points. Otherwise, accommodation in Munich is sky-high during Oktoberfest!
Like I mentioned previously, it has always been on my husband's bucket list to attend Oktoberfest, but what I didn't mention before is that it was not on my list whatsoever! I'm not a fan of crowds or loud places or parties, so Oktoberfest didn't seem like a logical way to spend a day. Our original plan was for my husband to head to Oktoberfest for the day, and for me to visit Dachau first thing in the morning and then join him in the afternoon inside the tent, but after seeing the Oktoberfest grounds the night prior, we decided it would be far too difficult to find each other halfway through the day, especially given an open-ended meeting time and a tent that holds thousands. Instead, we decided to go to Oktoberfest together for the entire day.
To be perfectly honest, we had a late start to our day, and by the time we had dressed, eaten breakfast (at a lovely bakery not far from the hotel), and walked to the fairgrounds, it was 11:30am. Never fear, there were plenty of open tables. Throughout the day, we had different groups join us and we enjoyed talking with our tablemates who were Germans, Italians, and Canadians. Half the fun was meeting new people. I ended up (surprisingly) having a fantastic day, thoroughly enjoying the traditional brass band, plenty of beer drinking (Paulaner), and of course: people-watching!
A few things surprised me about Oktoberfest. First, that it never got loud. Don't get me wrong, it certainly wasn't quiet…but certainly not as loud as I expected a tent of thousands of beer-drinkers to be. I never had to yell to talk to someone, which was a pleasant surprise. Another surprise was a full menu – I expected perhaps 5-10 food choices, and 2 drink choices (beer or water). Instead, there were several pages of foods to choose from, and even a full bar available. A huge shock to me was how many tables (entirely full tables that were unreserved) were open when we arrived at 11:30. In fact, full tables seemed open until at least 1:00, and seats for small groups (2-3 people) easily available until 4-5pm on a Sunday. The last surprise was no wait for the bathrooms! Perhaps the only public restroom getting that much use in Germany and still being able to adequately handle a large number of patrons.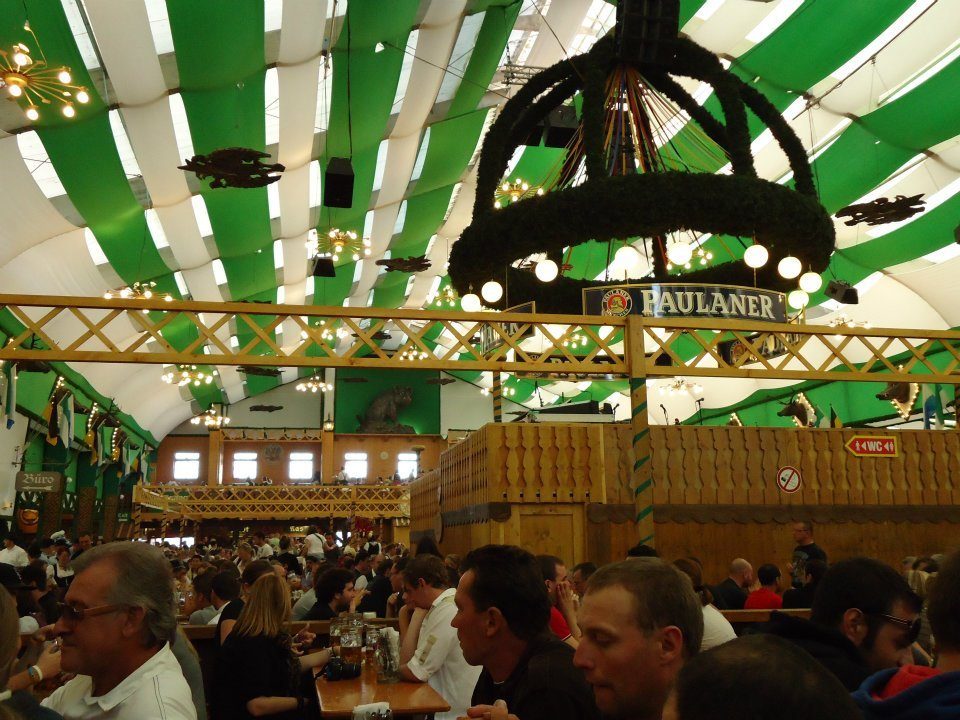 Around 6:00, I decided we had had enough fun (i.e. beer), and so I begrudgingly led my husband out. We said goodbyes to our new friends and continued our Munich adventure with a dinner not far from the Marienplatz at a small beer hall, the Jodeler Wirt. We seemed to be the only tourists there, which was fine by us. This ended up being a great find, with good food at reasonable prices and a really fun accordionist. Highly recommended.
Our last morning in Munich was an early start, partially due to our early turn-in the night before, and partially due to having a scheduled rental car pick-up at 9am. We decided to walk to the Marienplatz for a hearty breakfast. We had seen several restaurants earlier in our visit on the square itself, but there was one in particular near St. Peter's Church that was raised up a level so you could overlook the market and some other areas…and we were hoping to enjoy some people-watching from above with our meal. Unfortunately, we quickly realized that full-service restaurants do not seem to open early on weekday mornings! We hadn't given it a second thought, assuming that since IHOP & Denny's at home are open at 6am (or earlier!), that of course restaurants in Munich must certainly be open by 7:00. After a good thirty minutes of aimless wandering, we only saw one closed restaurant after another, and as such, claimed defeat and ended up back at the hotel for a large (and expensive) buffet.
Happily stuffed with German cuisine, we headed off to our rental car pick-up and then into Bavaria…
After a few simple days in Munich, it was time to hit the road. We had specifically chosen to rent with Europcar for two reasons: 1) They are one of the few rental companies that has automatic cars at a reasonable price and 2) They had an office next door to the Holiday Inn, which was incredibly convenient. Although we had requested a "Mercedes A-Klasse or similar", we ended up with a huge Volvo SUV. I thought this was going to be a nightmare to drive around and find parking for, but my husband (the driver) didn't seem phased by this substitution at all. We took it, and it ended up not being an issue at any point during the week.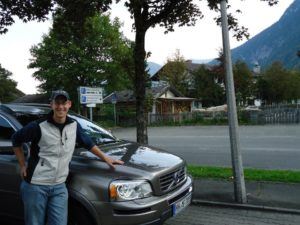 I should perhaps pause and mention that my fears about driving in Germany (in general, regardless of car class) were unfounded. I had fought for relying on trains the entire week as I have used this strategy elsewhere in Europe with great success, but I lost this argument when we found a great rate on the rental car and realized our credit card offered full rental insurance, so we wouldn't need to pay for that additionally. All in all, we ended up paying about 70 euro per day, including the rental itself, gas on this monster of a car (diesel @ approx. 1,40/liter x 1210km), and parking fees. Yes, this was more than train fare would have been, but it also offered great flexibility and saved us time since we could travel on exactly our own schedule. We chose to buy a maps package for a GPS we brought from home rather than renting a GPS from the agency, and we are thrilled we made this decision as it was second-nature to program addresses, re-route for detours, and find attractions/lodging using a points of interest feature.
Anyway, we made it out of the city of Munich and onto the highway without too much trouble. In fact, this was the most difficult part of driving over the entire week and it was still perhaps only a 20-minute delay! Our goal was to make it to Garmisch-Partenkirchen in time for dinner, so we had plenty of time to make this relatively short drive, and we used every minute of this time to see a few attractions along the route.
Our first stop for the day was at Schloss Linderhof and what a lovely way to start your sightseeing. The setting is phenomenally beautiful, with mountains, blue skies, and idyllic countryside. Upon arriving, we had a wonderful time simply strolling the grounds, with their fountains, gardens, and pathways. We enjoyed our short tour. Although brief, it gave a lovely overview to King Ludwig which we would build upon later in the week. The grotto was impressive and well worth the additional time for touring.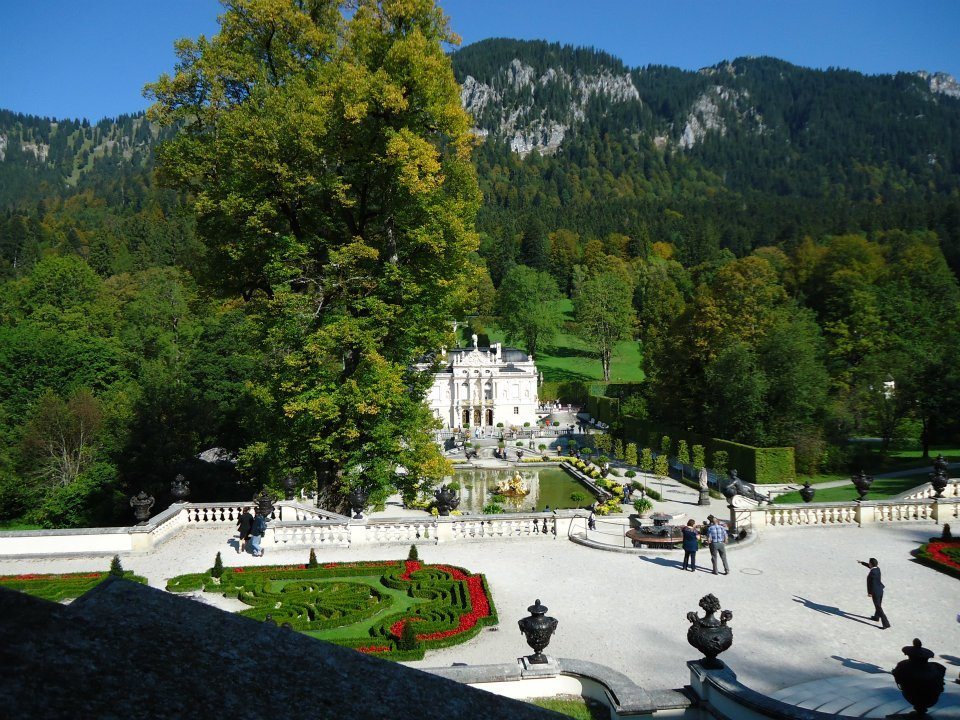 Afterwards, we headed to the town of Unterammergau, a short distance away, for a ride on the sommerroldebahn. It was such a beautiful day that "playing" outside seemed like a great activity. The track seemed closed at first, since no one else was there, but a quick stop in the restaurant meant that someone would gladly start the ride for us. We had a lot of fun and were glad we made the quick stop.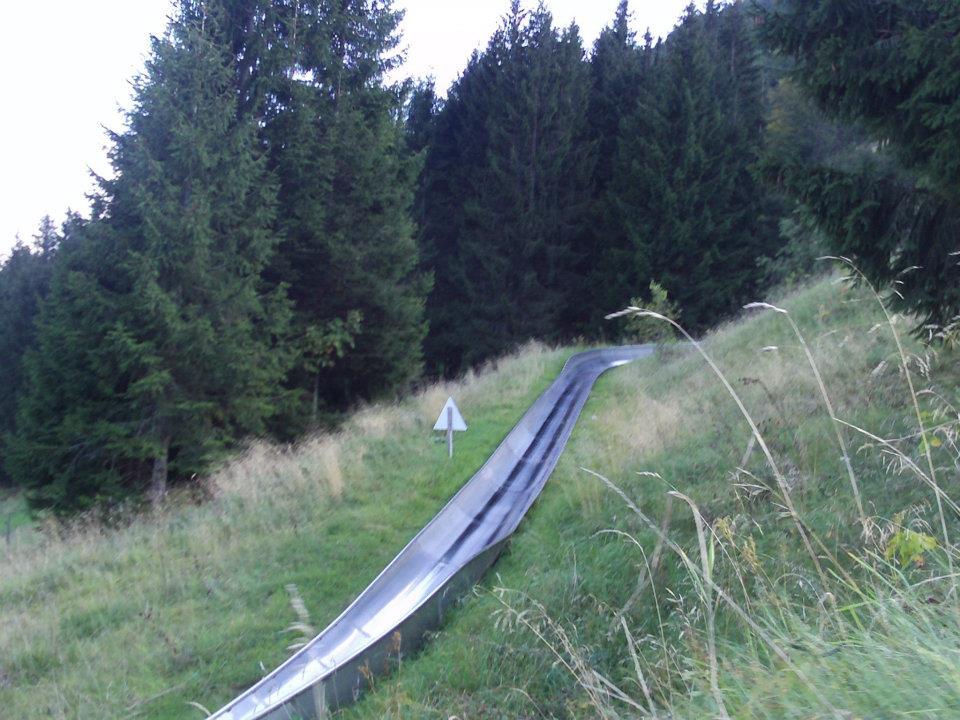 Just a few miles away is the town of Oberammergau, which we stopped in for lunch. We ate at a great restaurant on the town square, enjoying our meal outside on such a sunny day. We spent about an hour that afternoon walking through the quiet, picturesque town to admire the church and do a little window-shopping with all the great wood carving. As a side note, traditional Bavarian ware (lederhosen and dirndls) were much cheaper here than in Munich.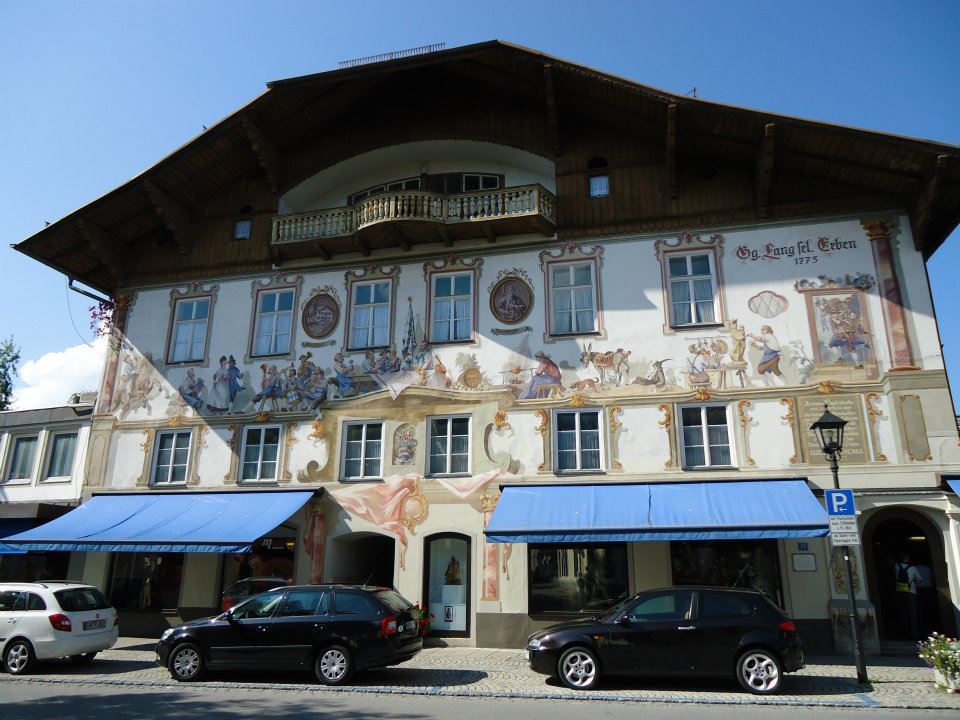 We also stopped, quite briefly, at the Kloster Ettal. What a beautiful monastery! It didn't take long to walk through with an information sheet, but again it was 30 minutes well spent. I bought some mini-bottles of the liquer for us to sample that evening at the hotel. It was fun to try them, but we didn't really like any of them and probably didn't need to taste all 6 flavors 🙂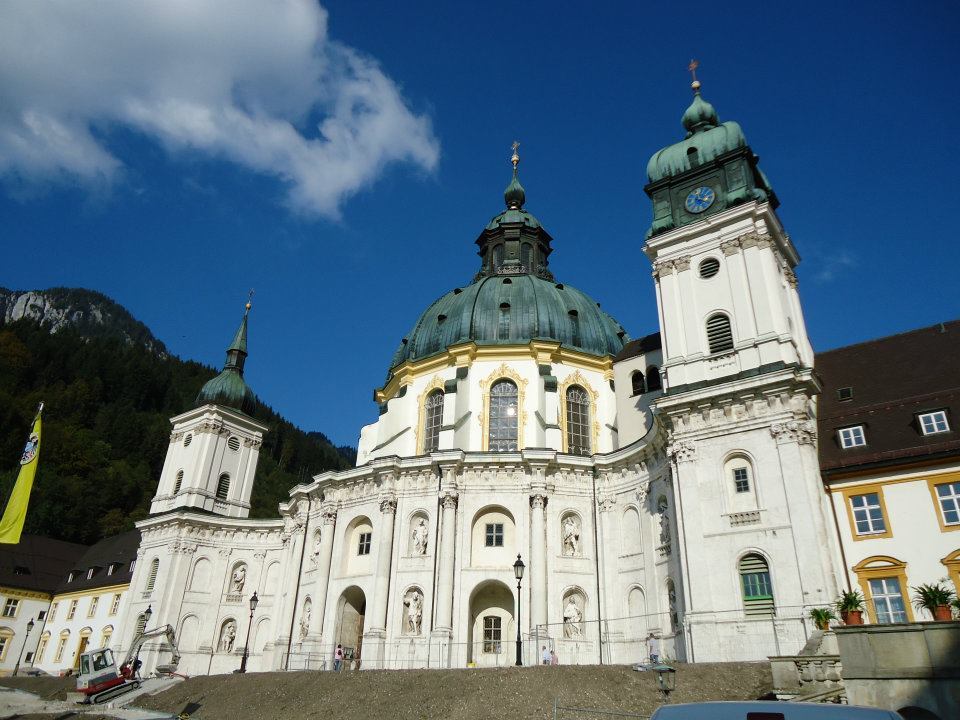 Our last touring of the day was at the Partnachklamm in Garmisch-Partenkirchen. We were able to find parking by the ski runs and then spend the rest of the afternoon walking along the gorge. It was a perfect day for an outdoor walk, and a great end to the afternoon. It was beautiful, and we enjoyed walking past the woodpiles while listening to cowbells and seeing nearby mountains just as much as we enjoyed the gorge itself.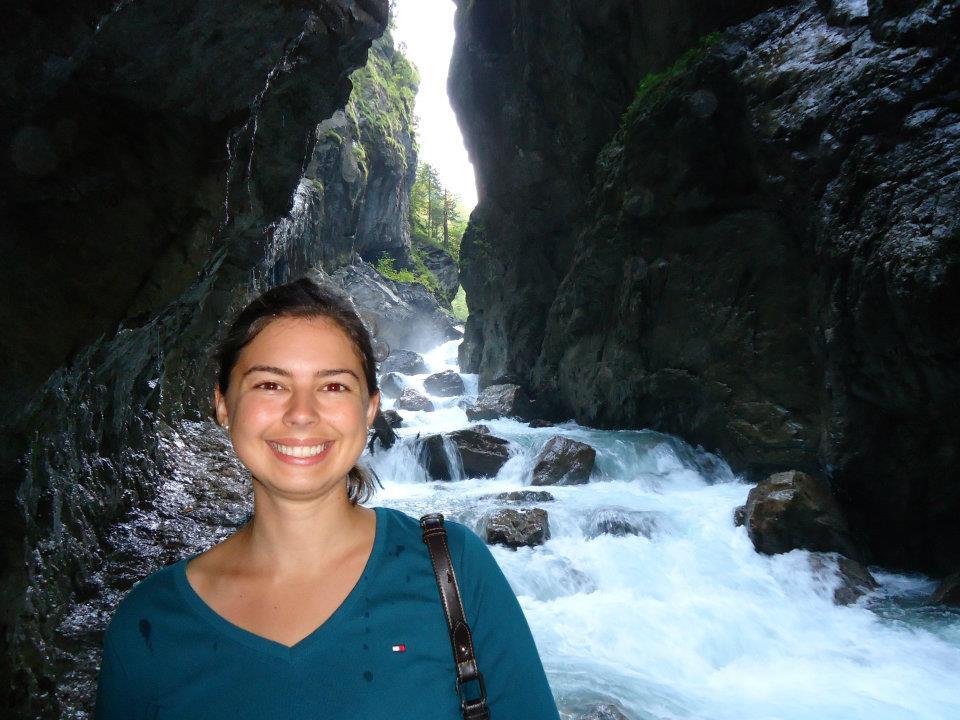 Dinner tonight was at the Gasthof Frauendorfer in G-P. Yes, the food was only average, and the show was kitschy, but we enjoyed our evening thoroughly. We arrived at roughly 7:30, just when the show was beginning. Though the music is continuous, the slap dancing was intermittent (about 3 or 4 performances of one song each). We shared a table with a German couple (from Berlin) and truly enjoyed our conversations with them about Northern Germany. Service was slow and I'd even categorize it as inattentive (even by European standards) but that was okay given the distraction of music!
We overnighted in the nearby town of Mittenwald at the Hotel Rieger, and the next morning, we were up fairly early again, anxious to see the mountains close up! After a hearty breakfast, we made our way to the Karwendelbahn. This cable car is truly spectacular, rising quickly and steeply to the top of the mountain. I loved every minute of the ride to the top, and was amazed by the beautiful views.
Once at the top, we spent the rest of the morning (3 hours?) hiking on the mountain. There are quite a number of trails, leading from peak to peak, and we were right in our comfort zone. There is a loop trail that everyone seemed to take, so we headed off in the other direction to start with to avoid the crowds and found ourselves on a very steep trail requiring the use of cables to reach the top. What fantastic views at the top! I loved looking through the Alps, down at the town of Mittenwald below, and enjoying the fresh air. We did return to the trail that "everyone" took and could see why, as those views were breathtaking as well and more easily accessible with a steady climb with some switchbacks.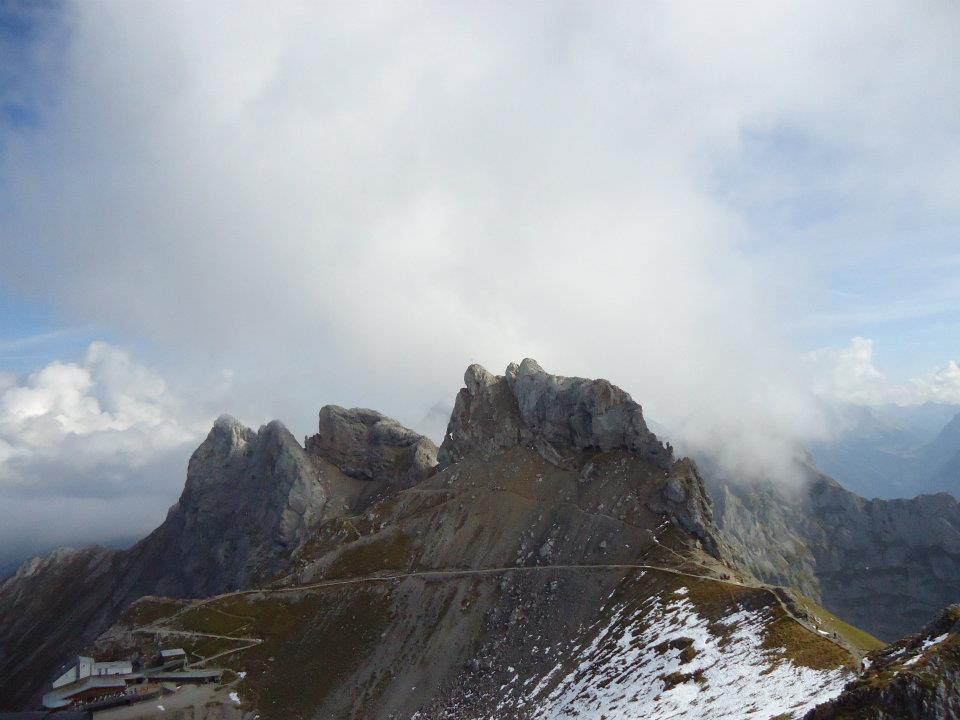 We chose not to dine at the restaurant at the top, but instead returned via the cable car and went to the recommended Alpenrose instead. Our lunch was delicious, and the outdoor setting was lovely. After our lunch, we hopped in the car for a quick drive to the town of Hohenschwangau for the next part of our trip.
We arrived in Hohenschwangau in the late afternoon after a scenic drive through the countryside. We instantly knew that we were in for a treat – from a scenery perspective, there is no doubt that this area was the most beautiful we visited. With the gorgeous Alpsee, mountains, trees just beginning to turn color, and of course the castles, it is incredible. Thankfully, the town was quiet when we arrived, as most of the day-trippers had left.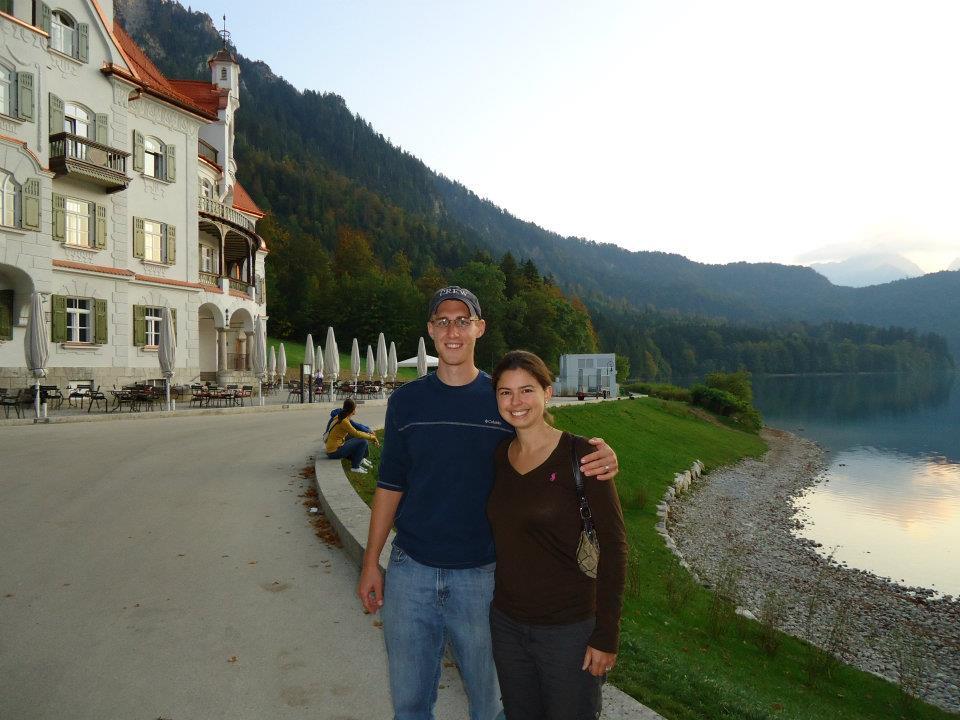 After checking into our hotel, we walked to the lake to rent a rowboat for an hour. The lake itself was quiet and peaceful, and it was amazing to us that no one else was boating at that time.

We chose to make the quick drive into Fuessen to eat dinner, as Hohenschwangau center is very "sleepy" in the evenings and no restaurants came recommended. Fuessen itself was very easy to reach – it is very close but feels world's different, as it is a town where locals go about their business without the tourism facilities and souvenir shops of Hohenschwangau. Unfortunately, our meal was probably the worst of our trip with unfriendly service and below-average food. You win some, you lose some – we still enjoyed a night together and especially enjoyed returning into town with a view of the castles lit up. Regardless of where you overnight, this is one of the joys of not day tripping from elsewhere.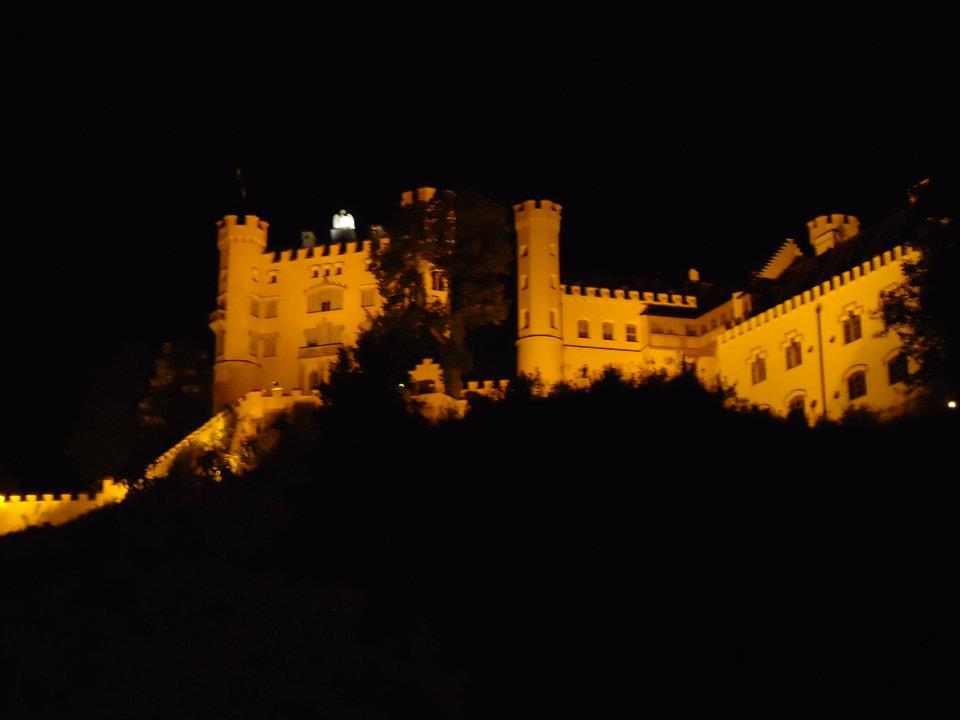 The next day brought another early morning start for us, as we wanted to ensure an early tour. The ticket office was able to accommodate us on the 9:20 tour, which was perfect for us. We chose not to tour Hohenschwangau since we had seen Linderhof already and weren't sure that yet another castle would amaze us. When we return – and we certainly will given the natural beauty of the area – it will be on our list of places to tour.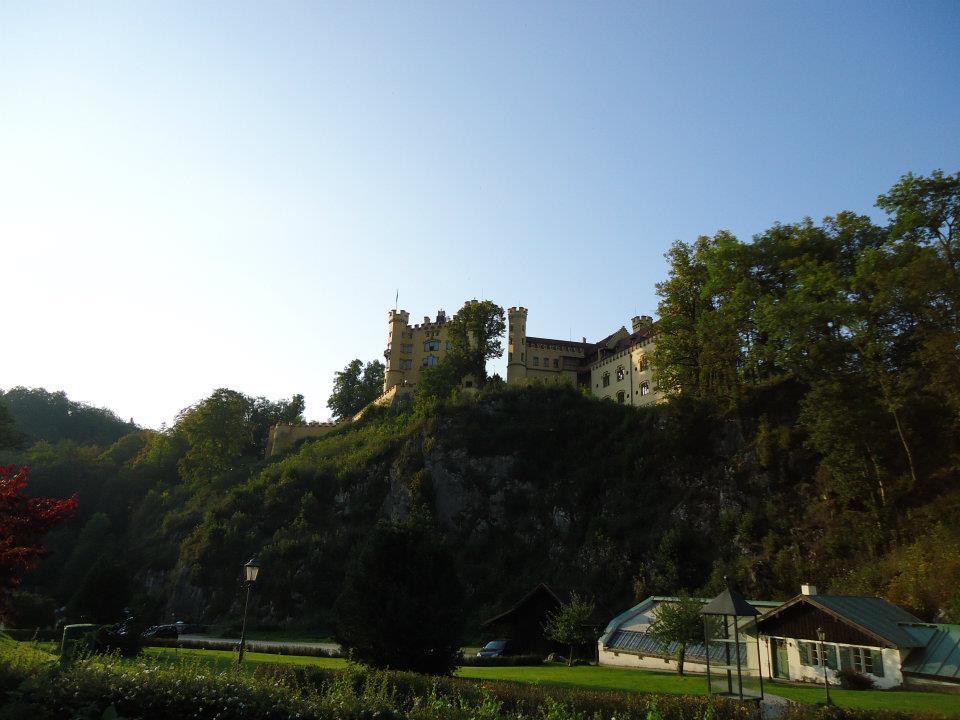 We hiked up to the Neuschwanstein castle rather than taking a shuttle and really enjoyed being outside and having the trail to ourselves. It was great to get to the castle for pictures before anyone else was there, as we could take plenty of unobstructed photographs. The mist over the town below us was atmospheric, but had lifted by the time our tour of the interior was over. What luck on our timing!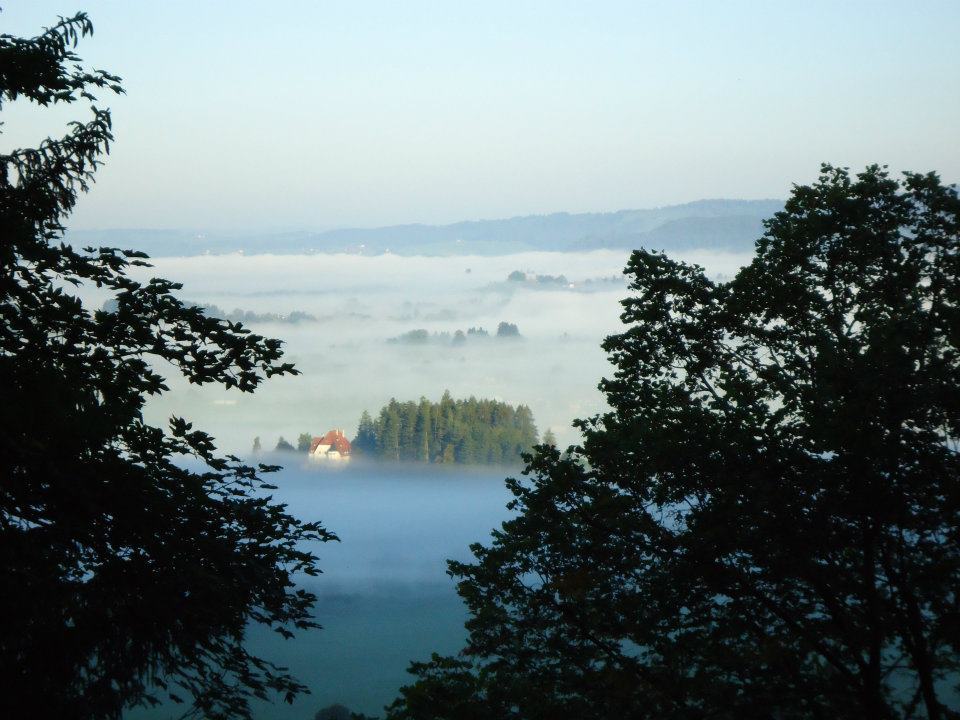 The inside of Neuschwanstein was much more intriguing to me than Linderhof had been, perhaps because it was more unique. We were on an audiotour, rather than a standard guided English tour, since they didn't have enough English patrons at that time to lead an entire group. This ended up working out well, as I lingered toward the back of the group. Being a few steps behind everyone for the entirety of the visit meant that I had some parts of the castle to myself. Even though a lot of people complain the tour itself is short, I thought it was the perfect amount of time to enjoy the decorations without being bombarded by information.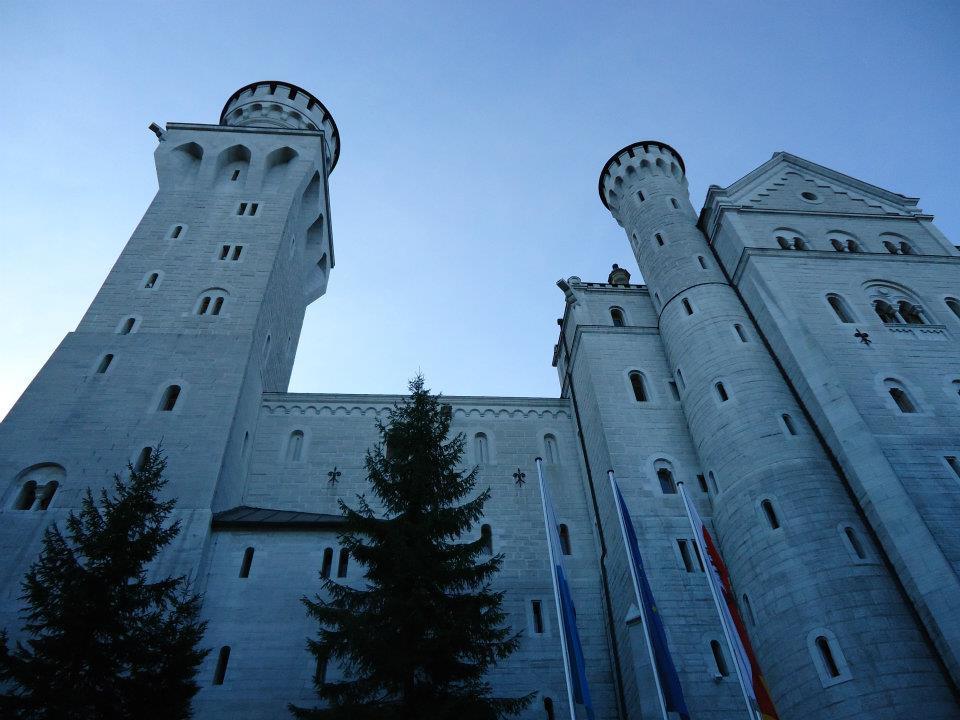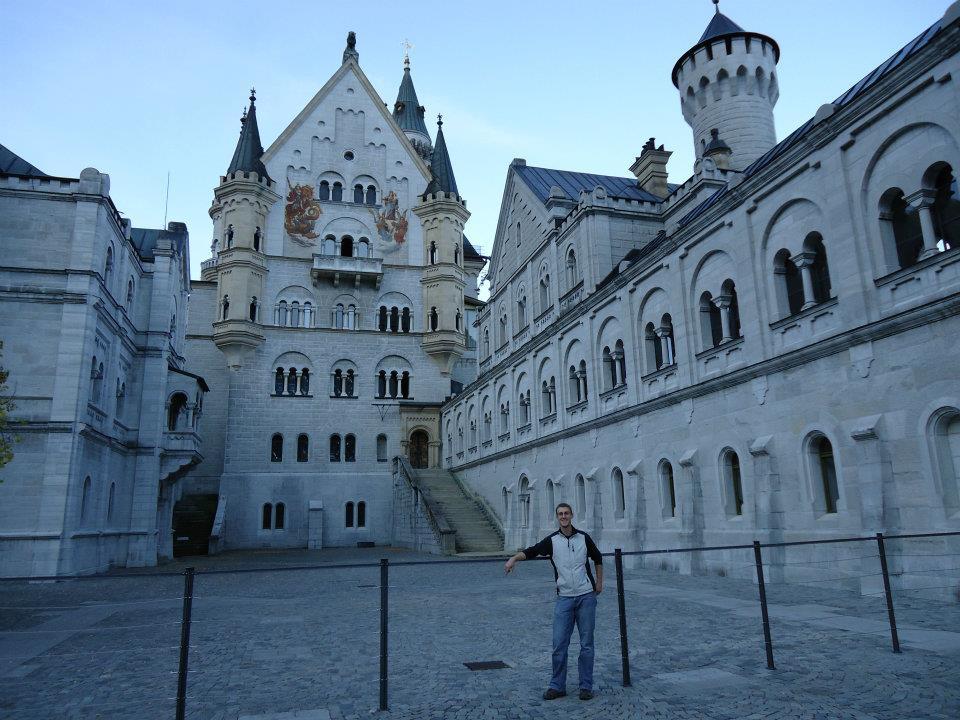 We returned to the Marienbrucke after the interior visit for fantastic pictures in full daylight and then walked back down into town via the Pollat Gorge hike. It is very beautiful and worth the short detour. Again, we found the path to be relatively quiet as the majority of tourists seemed to take the bus or horse carriages to and from the castle. What a surprise to find ourselves in town and surrounded by literally hordes of visitors! There were people everywhere and unfortunately much of the area's charm was immediately dampened. We cannot stress enough how much we enjoyed the quiet of late afternoon, night, and early morning when it was less-traveled.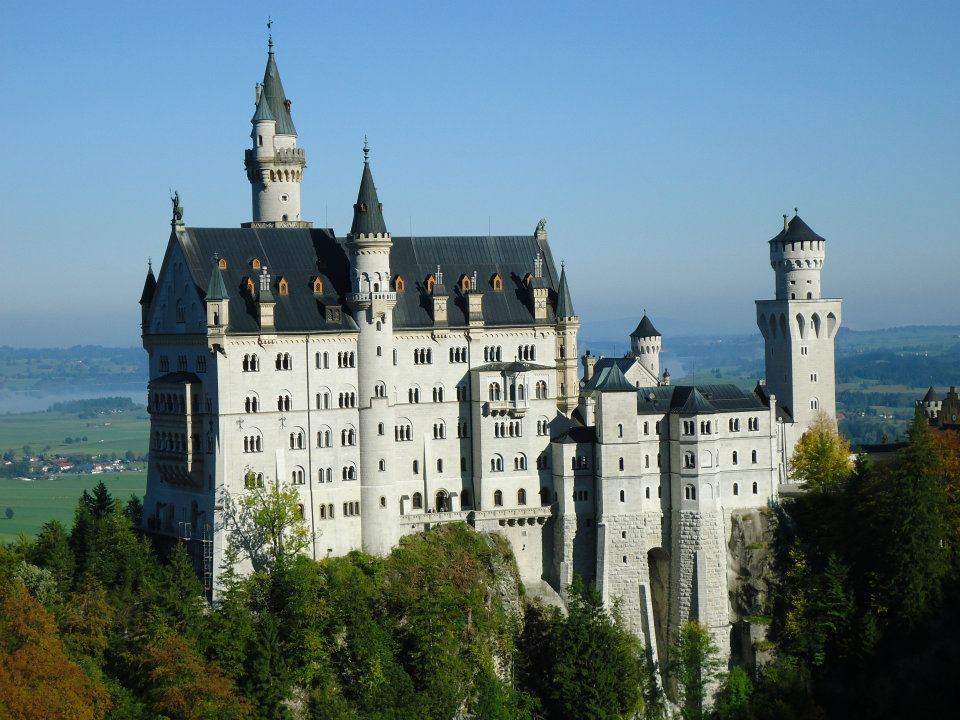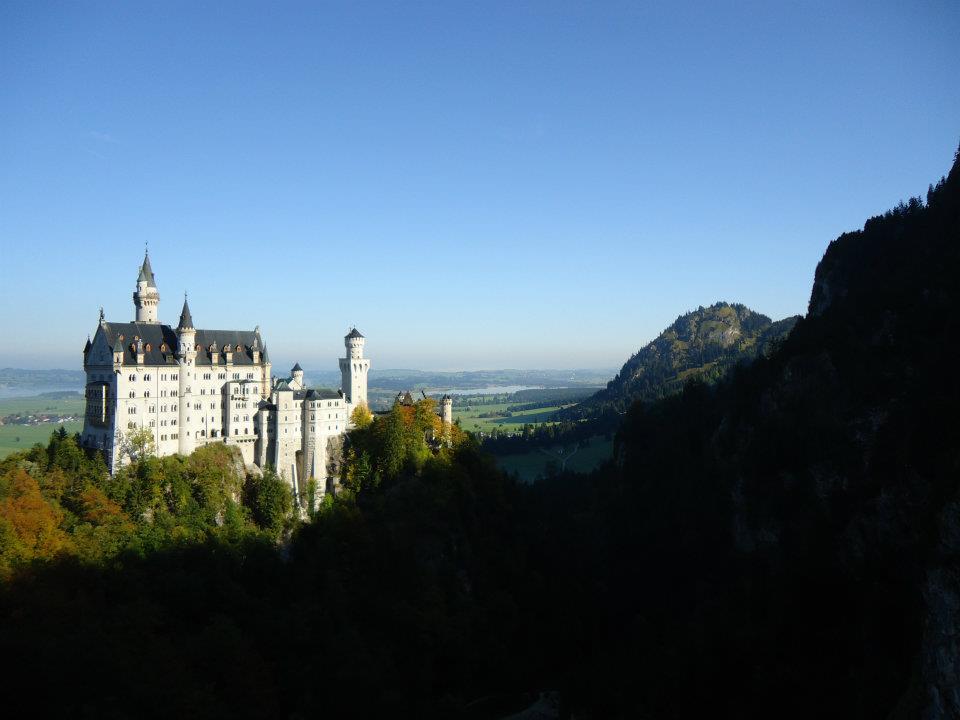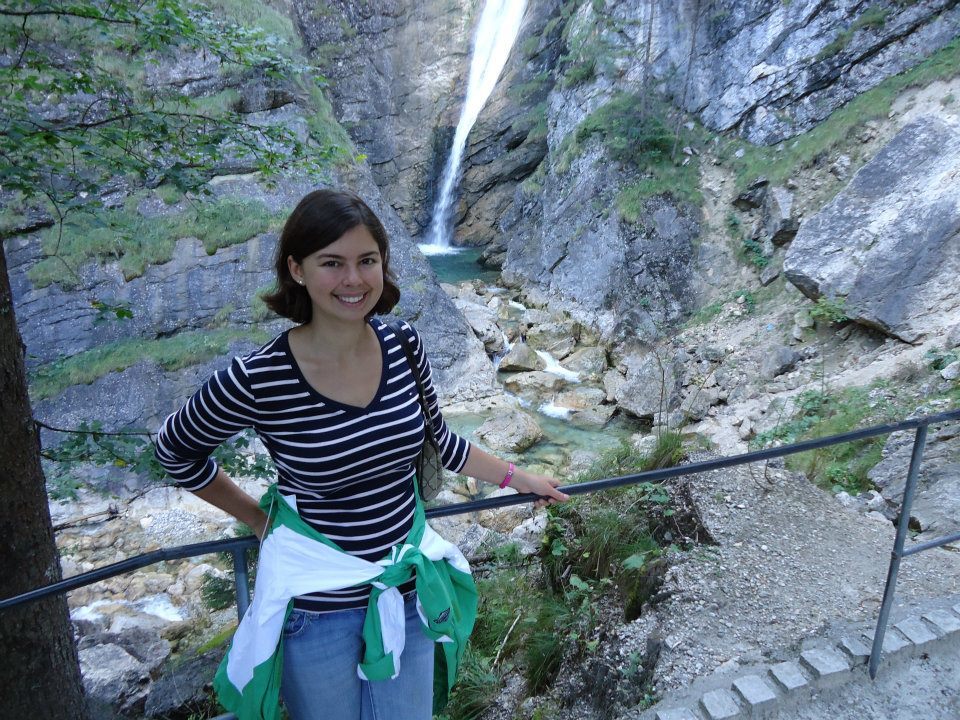 Our final stop for the area was at Tegelberg, in hopes of hang gliding. Unfortunately, the winds were not in our favor that day and we didn't want to wait around for hours to see if conditions changed. Instead, we drove to the Wieskirche in Steingaden. We were so lucky to arrive, coincidentally, in time for a midday organ recital that truly added to the ambiance of our visit. The church is gorgeous, though not at all what I expected (my head had jumped to an image of all the woodcarvings being dark wood, rather than the white and painted carvings in reality). Still a sight to see, and truly magnificent with the organ in the background.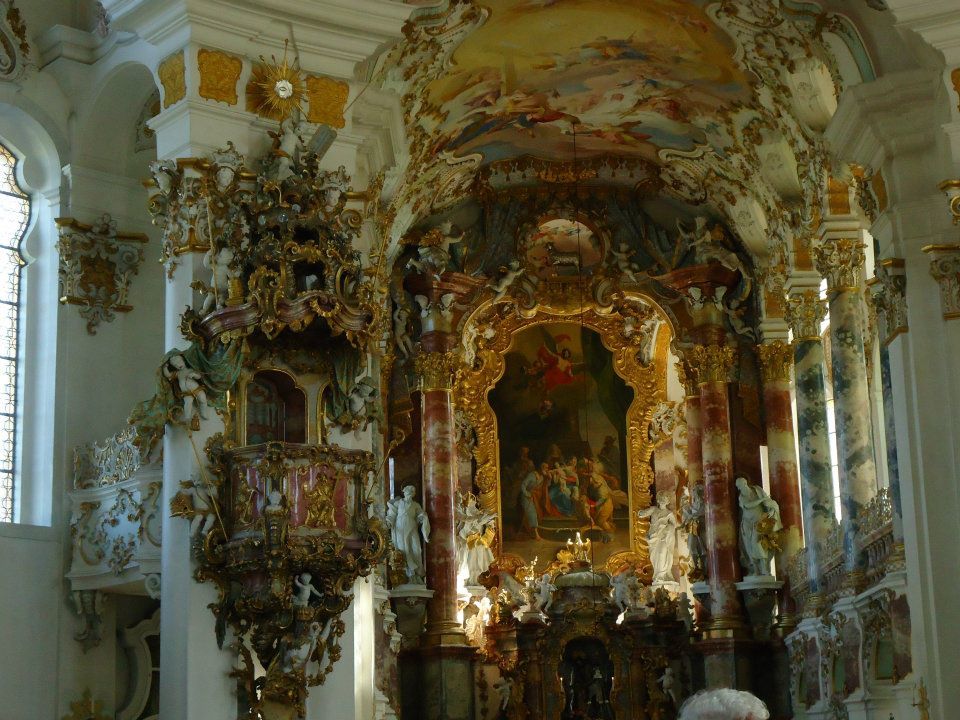 Every once in awhile, I plan a trip (or part of a trip) that ends up being a disappointment. After several wonderful days in Germany, we were underwhelmed with the Bodensee.
Lindau, while planning, seemed to be the perfect place to stop for the evening given its location along our planned route to the Black Forest. We were looking forward to spending an evening along the waterfront with a great meal. I kept reading about how wonderful Lindau is. Upon arrival, Lindau seemed no different to me than any other seaside town. Great restaurants, some shopping, a promenade…but not much else. Maybe we missed something, or maybe it is just our inclination to want to be "busy" rather than spending our entire day strolling and shopping. Unfortunately, the air was also quite hazy on the day of our visit (weather? smog?) so the views across the lake were also not that inspiring.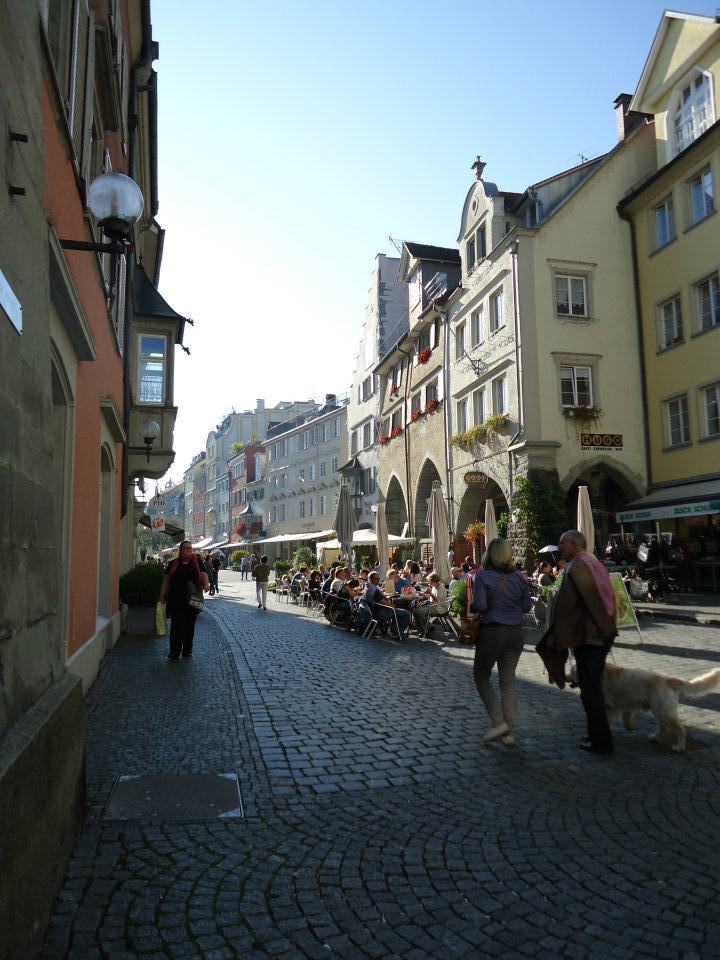 Somehow we managed to make it all the way to Lindau in the early afternoon after skipping a hanggliding excursion outside Neuschwanstein and not taking an hour or two for lunch. Instead, we found a lovely waterfront café to dine at.
Given our early arrival, we found ourselves wondering what to do for the rest of the day. We made our way across town (it is not that large) and stopped for 45 minutes or so to have coffee and watch the boats on the lake. Eventually, we bough ferry tickets to Bregenz despite not knowing what to do there either!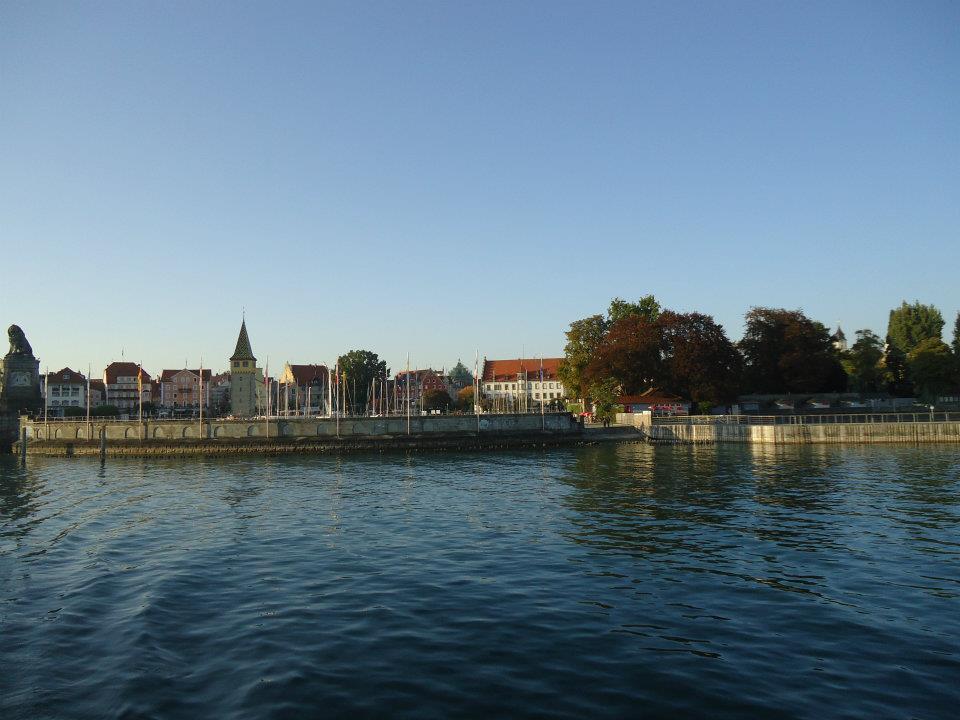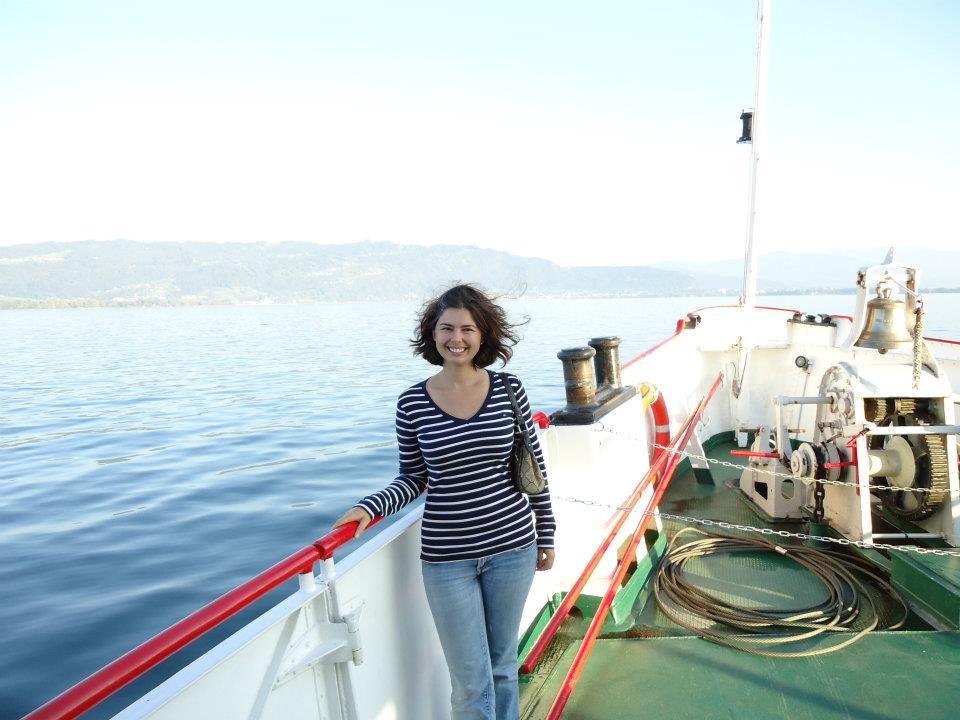 The ferry ride was pleasant, and upon arrival in Bregenz, we spent about 2 hours walking through the city and watching the sunset before returning to Lindau by train. Dinner tonight was in Lindau, at the Alte Post. This was one of our favorite meals of the trip and a redeeming end to our day. We both had fresh lake fish, in two different styles, and both were equally delicious. Service was friendly and attentive, and for once we even saved room for dessert, which was also delicious. A great meal, and highly recommended. We spent the night at Hotel Garni-Bruegger.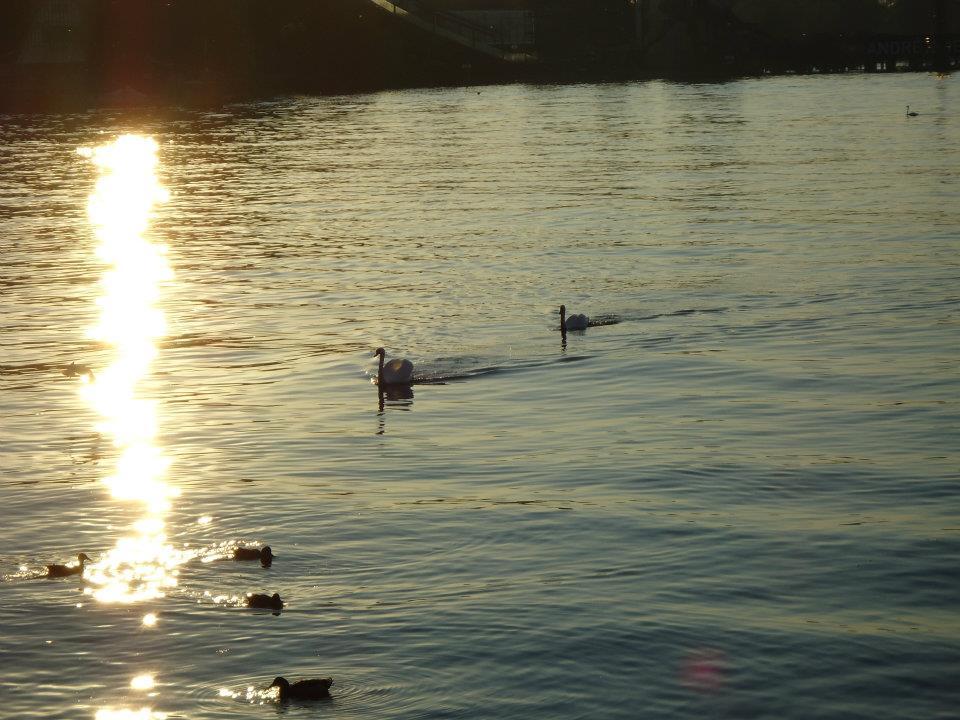 Unfortunately, we woke up to rainy weather (a first on this trip) in Lindau and as such decided to skip our planned visits in Meersburg and Insel Mainau along the Bodensee. Instead, we drove directly to the southern Black Forest and incredibly enough, the weather began to clear as we left the Bodensee region. A fantastic bout of luck, or perhaps a sign that this part of Germany just wasn't for us.
We spent most of the morning simply driving through the Black Forest, with short detours to stop in Titisee (we were underwhelmed, and therefore stayed only briefly) and a quick stop in Freiburg to see the massive cathedral. We ended up driving on the Hoellental, which was a great introduction to the region.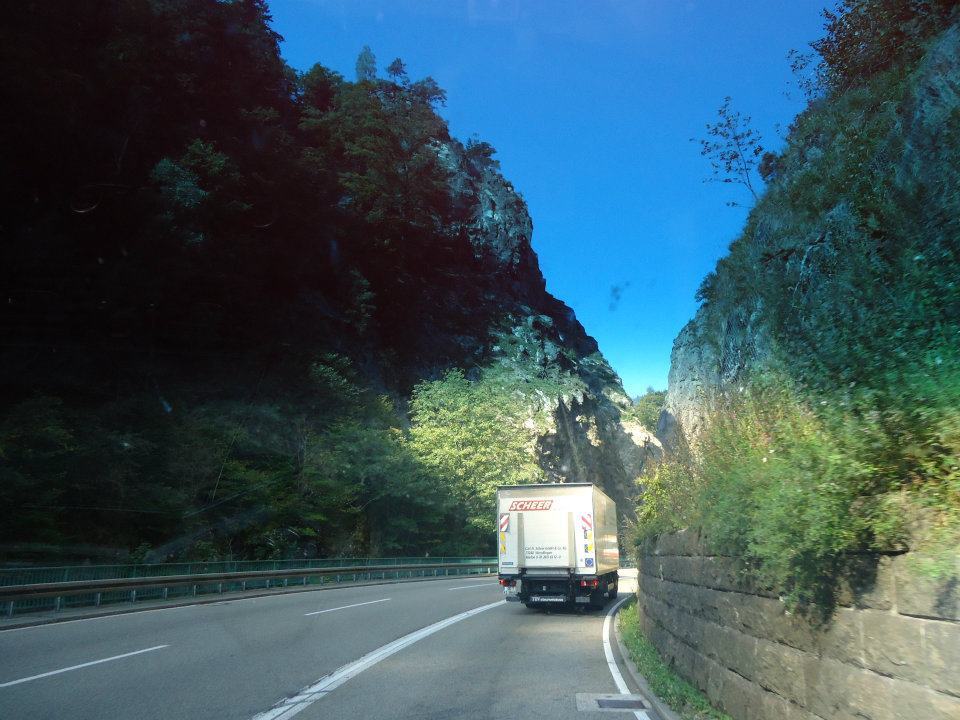 Eventually, we meandered up to Mount Kandel. The hotel at the top was a great place for lunch, with food being cafeteria-style and very inexpensive. We sat outside, admiring the view and watching hang gliders take off. There are some paths to hike as well, though we didn't do much wandering.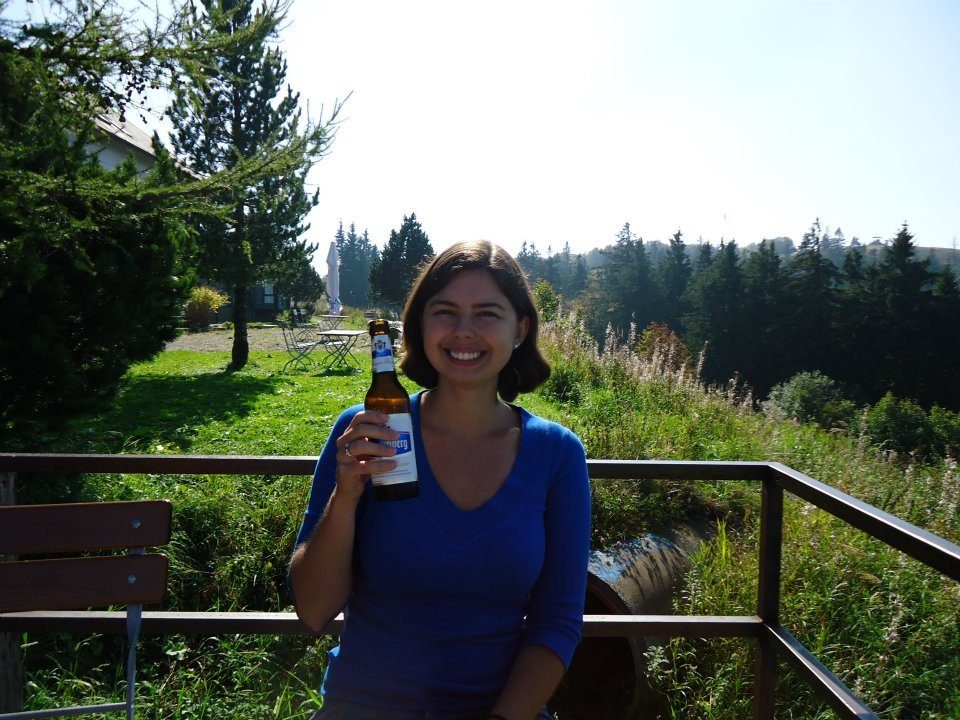 It was a quick drive from here to our guesthouse in Sankt Peter, a great stay.
And what a lovely town Sankt Peter is! I wasn't sure where to stay, as there are so many towns in the region, but this ended up being the perfect choice for us. Our drive through Freiburg confirmed that it wasn't the small town we were looking for, and Titisee was much too touristy. The town of Sankt Peter was the perfect size, with a nice town center easily reachable on foot. There were several restaurants/cafes and many friendly locals. We ended up walking to the nearby town of Sankt Maergen. I was led to believe this was a simple walk, although much of it was actually uphill and we were not smart enough to bring water with us, making it a much more strenuous trip than it otherwise would have been. Buses link the two towns about every 30 minutes, making it easy to get back to where we started. The walk was great, with many more walkers than I expected. It heads through town and up into farmlands. This area is not the same type of beauty we experienced in the Bavarian Alps, but beautiful in its own way.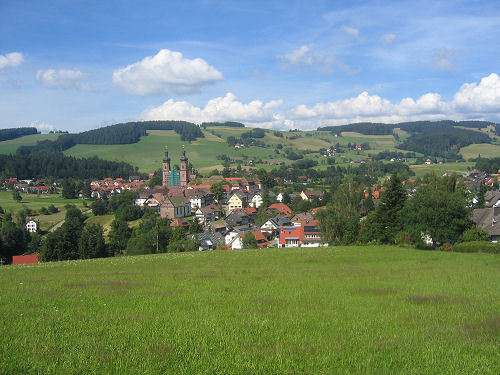 We had dinner that night at our hotel, the Gasthof zum Kreuz. My husband claims this was the best meal of the trip, and it certainly was fantastic with only fresh, local ingredients. We both ate heartily and inexpensively before retiring to our room.
After yet another early breakfast (hearty and indulgent!), we headed north through the Black Forest to Triberg. We arrived at the waterfall park early, before the crowds arrived, and spent about an hour walking through and enjoying the falls. It was a little strange for us to see them in such a developed park, rather than in a completely natural setting, but beautiful nonetheless.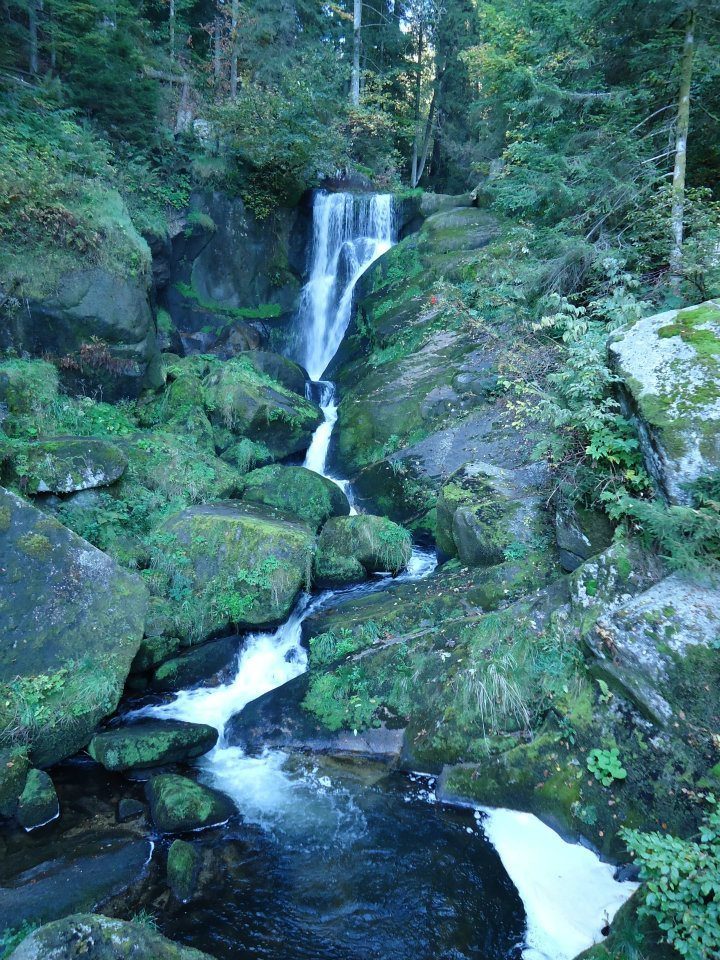 We then began our quintessential Schwarzwald shopping experience: cuckoo clocks. We had no intention of purchasing one, as they are very expensive, but truly admired the clocks available. We stopped in the House of 1000 Clocks, a huge store with all styles of clocks and were thankful that we were able to browse the store. Better still, we found another store further into town where we could watch a carver at work and learn much about these handmade clocks. I wish one was in our budget as a souvenir!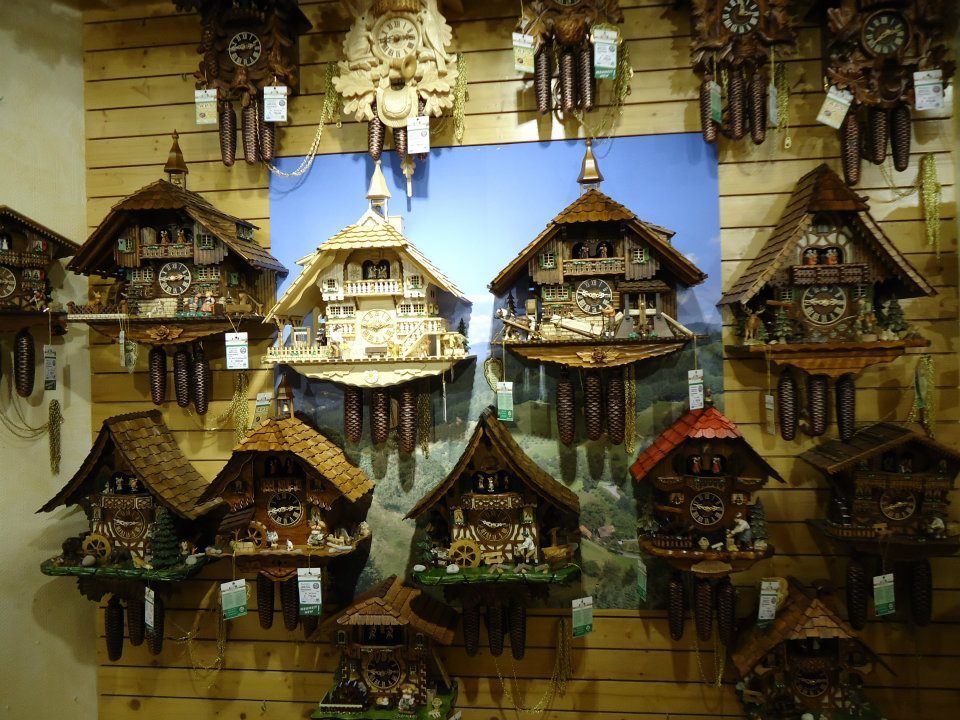 Our stay in the Black Forest was brief, but enjoyable. Technically, our next stop is also a part of this region, but it feels worlds different!
If I were filthy rich, my next vacation would be at an Aman resort. If I simply had a relatively high amount of discretionary money, I'd return to Baden-Baden.
This is a tourist town that is entirely successful at separating tourists from their cash. There's a fancy casino, expensive spa treatments, gourmet restaurants and overpriced bakeries, and more shopping than you could imagine. Unfortunately, since we had just dropped $2400 on airfare between the two of us (purchased before I discovered the usefulness of frequent flyer miles), we had no cash leftover to partake in these little luxuries.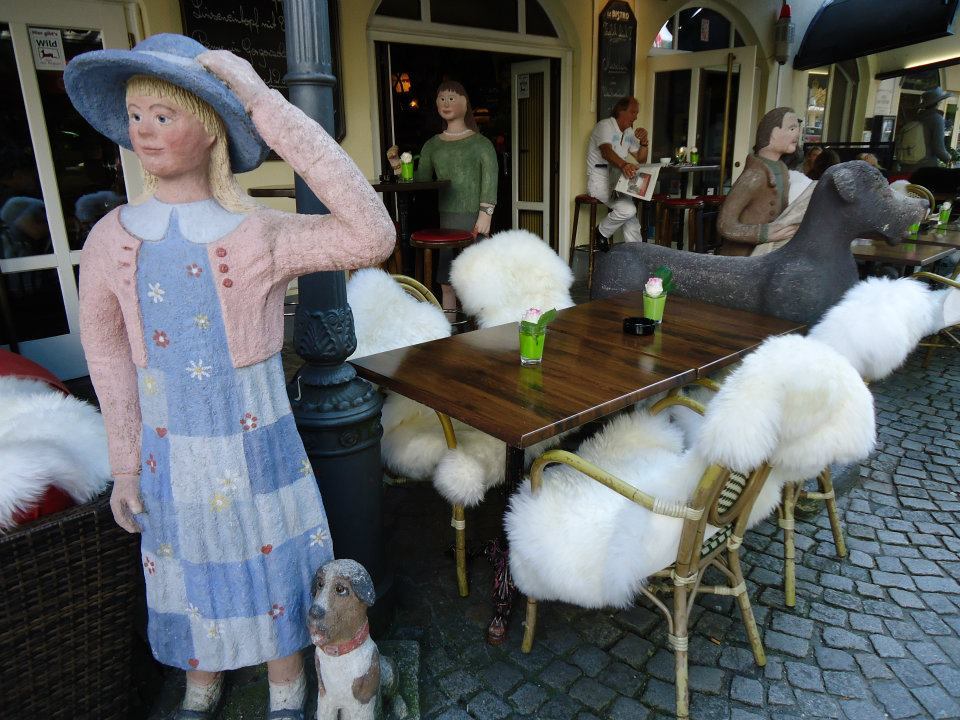 Our drive through the Black Forest brought us to Baden-Baden in time for "lunch". I use that term loosely, as instead of a typical meal, we indulged in some overpriced, sinful desserts instead of a true meal. The cakes, pastries, and sundaes all looked too good to pass up, so that became our midday meal. It still cost us over 20 euro, although it was a fair price once you factored in how entertaining it was to watch people pretend to be rich.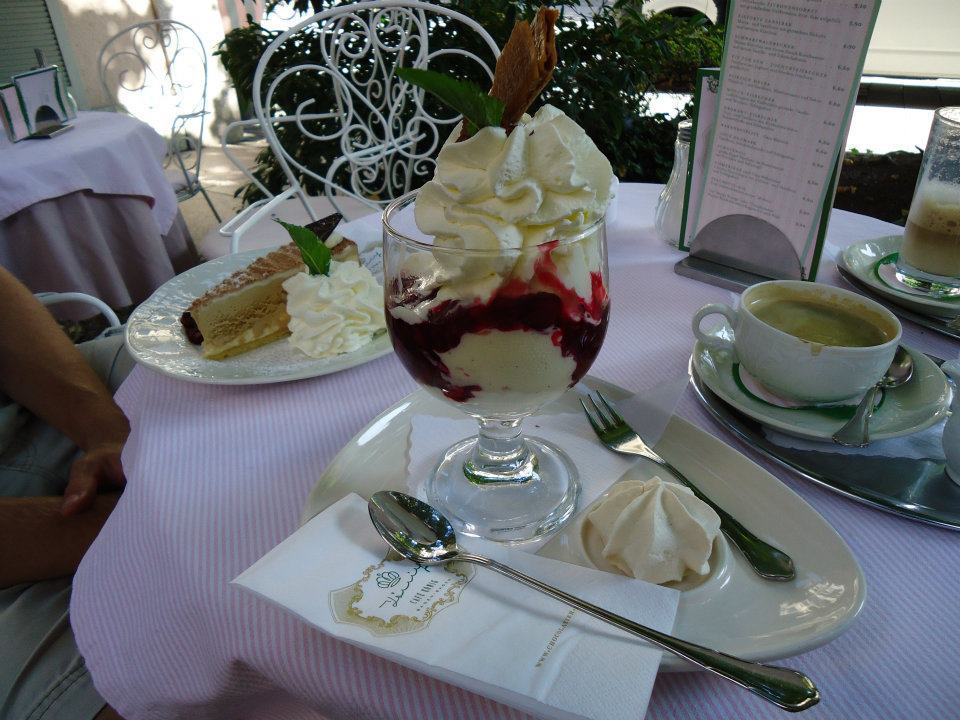 Afterwards, we let our dessert rest while indulging some more at the Frederichsbad baths. This was the entire purpose for our visit to Baden-Baden, to partake in this traditional experience, and is was just as great as we expected. It is wonderfully relaxing, and not to be missed. It took about 3 hours to complete the circuit, although you definitely won't want to rush through and may want to allow a little more time 😉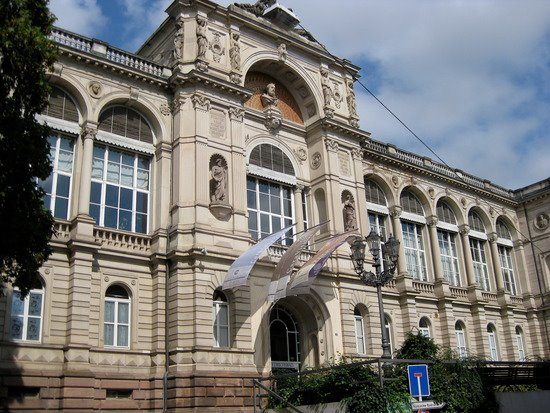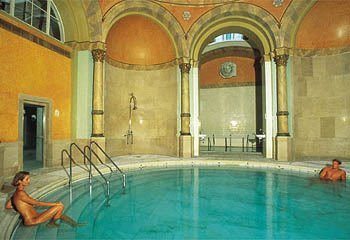 We spent the rest of the afternoon in town, strolling Lichtentaller Allee and heading into the rose garden before enjoying a contemporary meal and finishing the night with a quick visit at the casino (no gambling, watching only). It ended up being a fairly late night for us considering our early start.
We stayed just outside the town center (but still within walking distance) at the Holiday Inn Express, a standard chain hotel which proved to be adequate for our stay.
We woke up in Baden-Baden not truly sure what to do. Originally, we expected to spend most of the day walking through town but we decided against that plan in part because we didn't have money to live it up in Baden-Baden and also due to being "ahead of schedule" after skipping our paragliding in Bavaria and touring in Meersburg. Thus, we had all day free. We discussed options over our hotel breakfast, and decided that while we enjoyed the previous day at the baths of Baden-Baden, there was nothing else in town that we truly were excited about. After debating between spending a day in Strasbourg (a favorite city of mine) and seeing more of Germany, we decided to head into the Rhine Valley. We cancelled our second night's stay in Baden Baden and went off on our way.
Luckily, I had a guidebook with me to provide inspiration for our last minute adventure. We had an exhilarating drive on the Autobahn and made it to Bacharach quickly.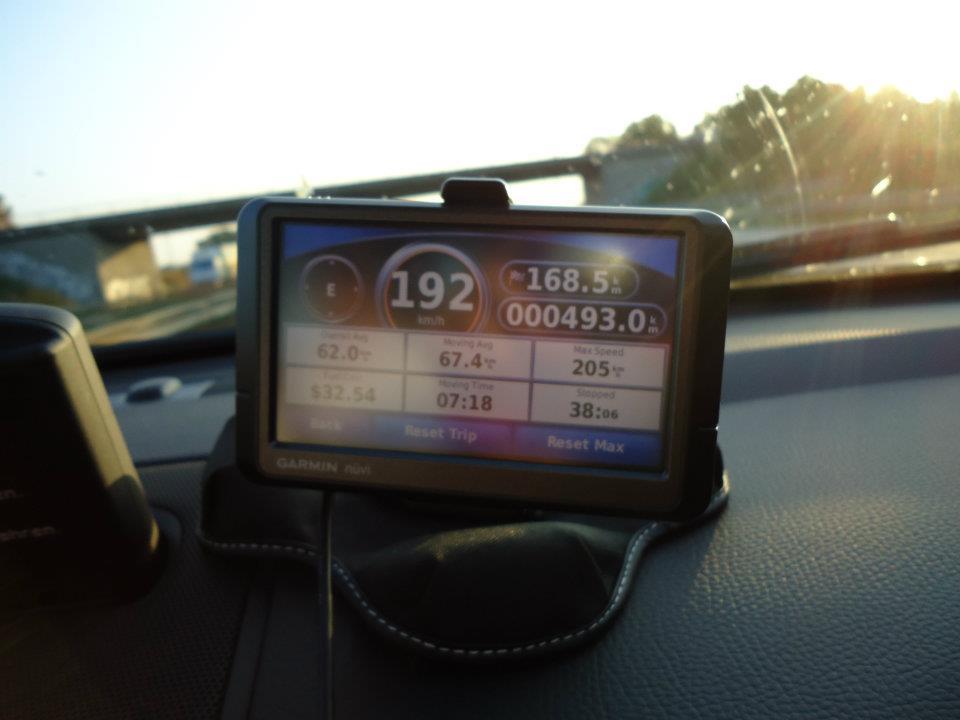 Bacharach is a great medieval town, so very different from anywhere else we had been over the past week. We strolled through town for awhile, and then purchased tickets for a short river cruise to Sankt Goar.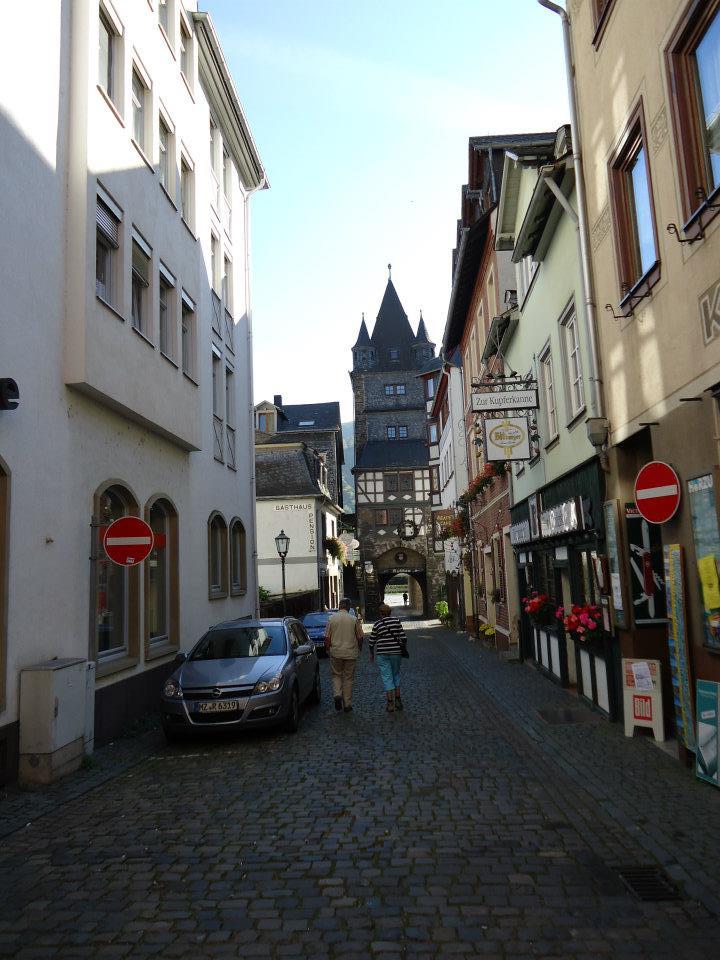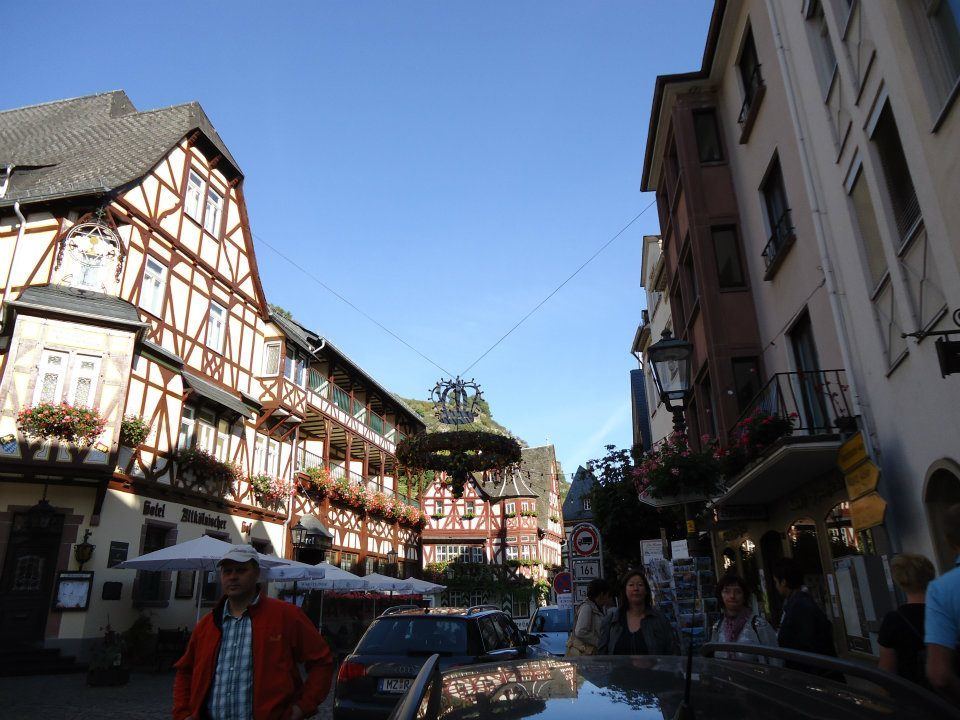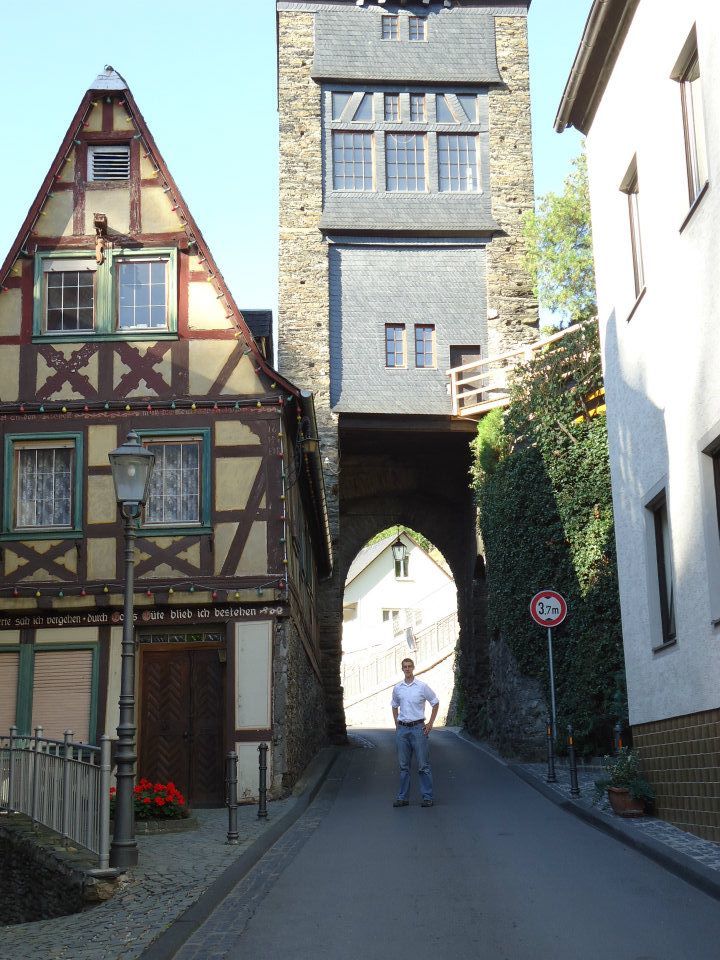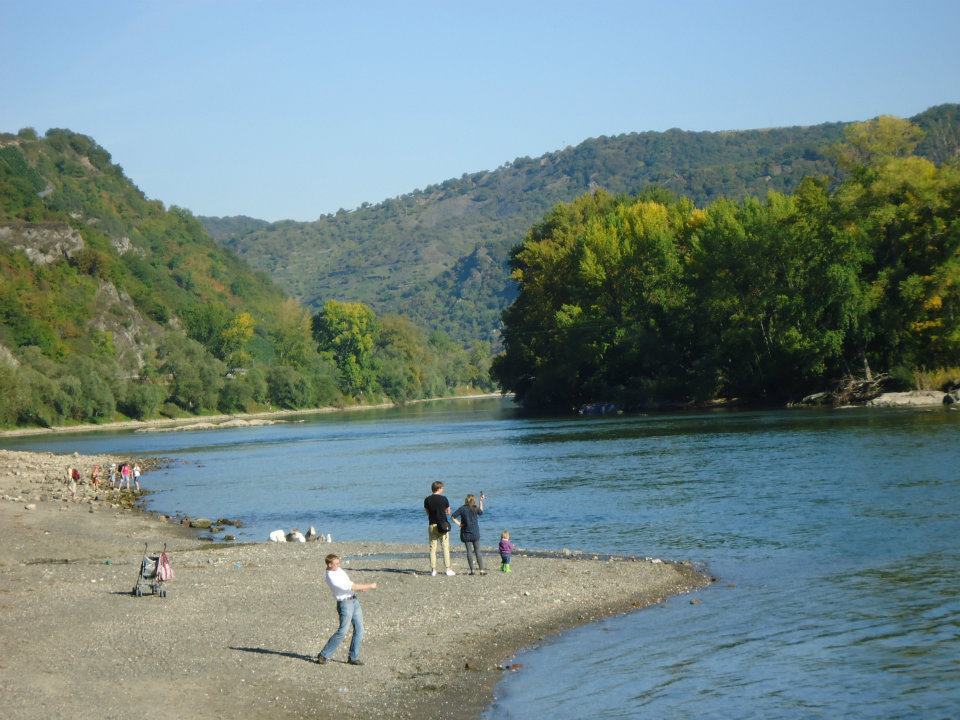 The cruise was wonderfully enjoyable, as we lucked out once again with a sunny day. The castles and vineyards along the river make the cruise go by very quickly.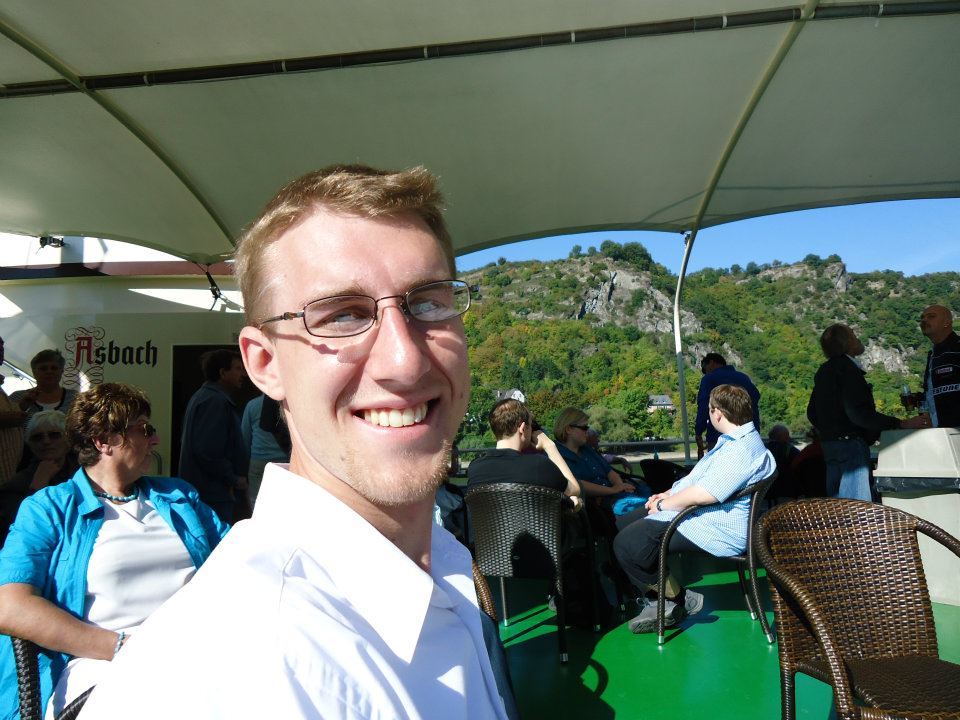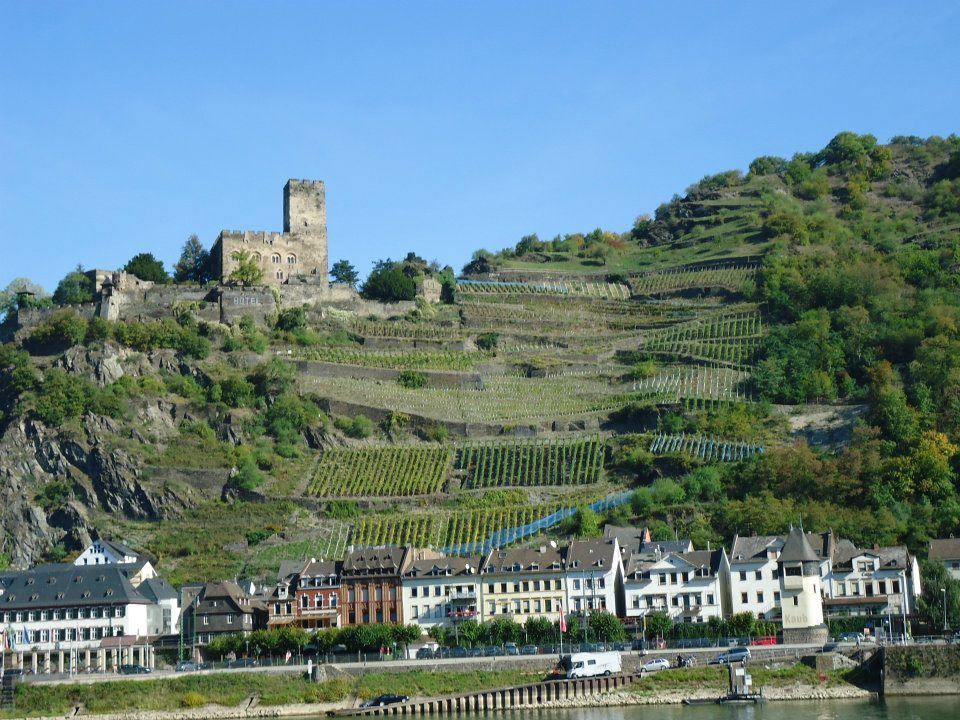 In Sankt Goar, we immediately headed up to its star attraction: Rheinfels Castle. This was a bit of a climb, so we decided on having an early lunch before touring the castle itself. We ate at the restaurant there at the top, which turned out to be average food with an incredible view. Afterwards, we spent about two hours going through the castle and exploring a few nooks and crannies. It is so different than Neuschwanstein, not surprising given the time difference in construction and use.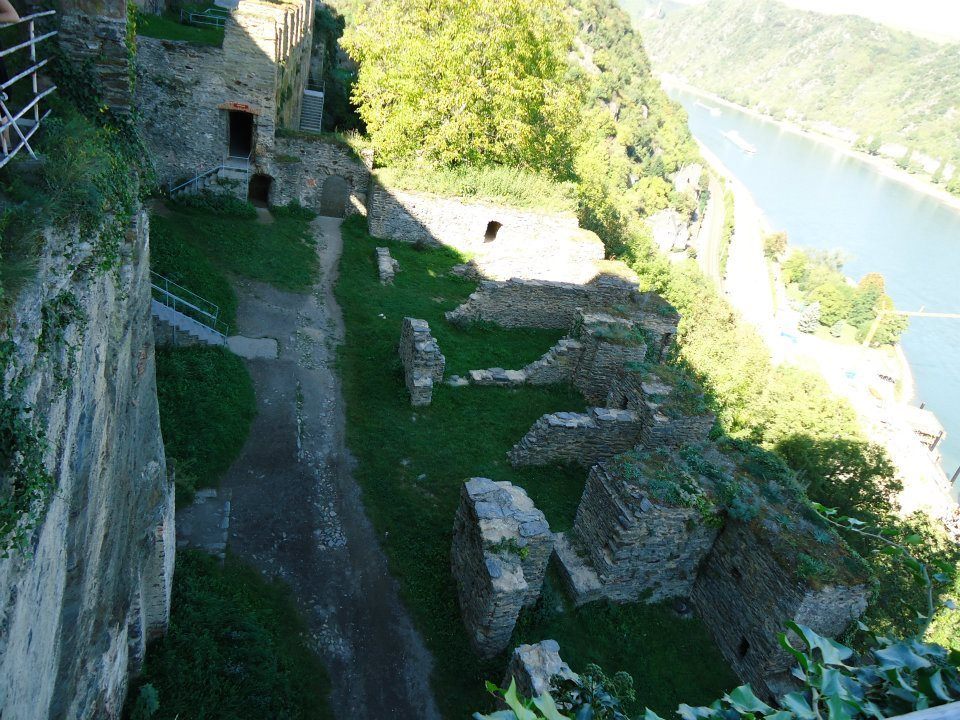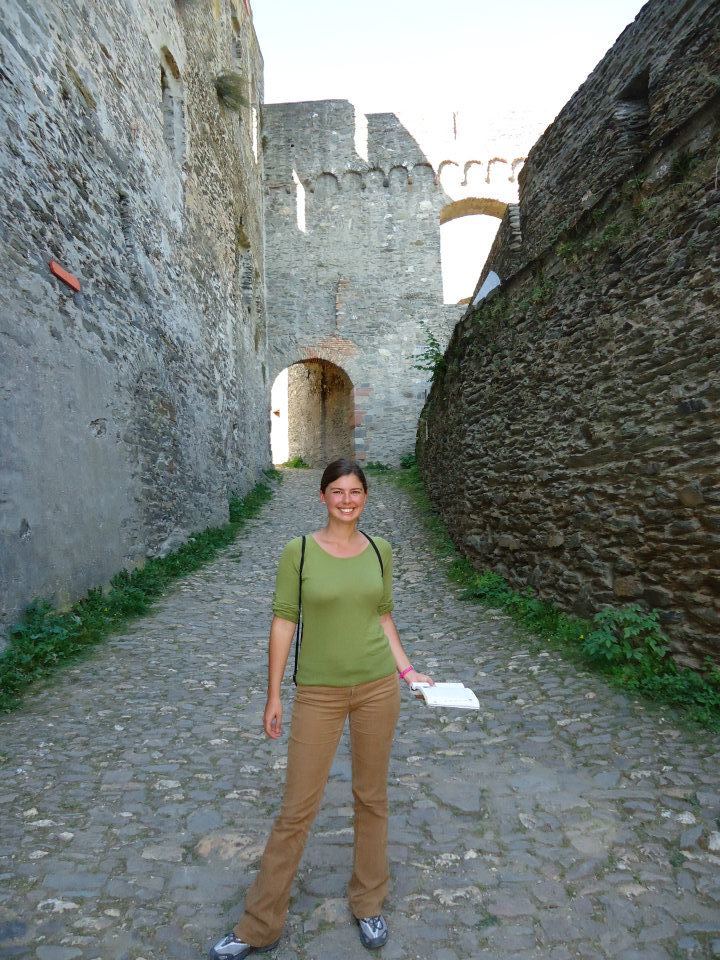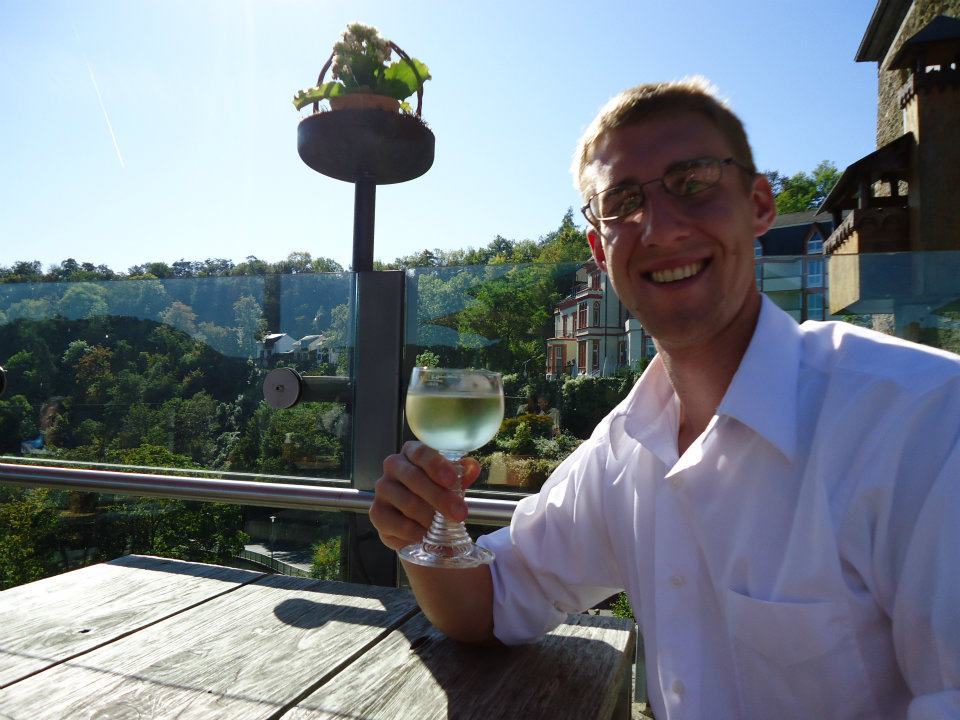 We returned to Bacharach by train, which was quick, cheap, and easy. Once back in town, we decided to stop in one of the cute little wine gardens that seem to be everywhere. We were thrilled that we could order a "sampler" of some of the region's wines, and ended up sampling six wines while enjoying fresh cheese and bread for an afternoon snack. We lingered, spending some of our time enjoying the beautiful day and the end of our vacation and some of our time deciding where to spend the night. I wanted to spend the rest of our time here in Bacharach as it seemed such a great town, but I lost out and instead we ended up driving to Frankfurt for the night. Regardless, our unexpected day on the Rhine ended up being one of the highlights of our trip.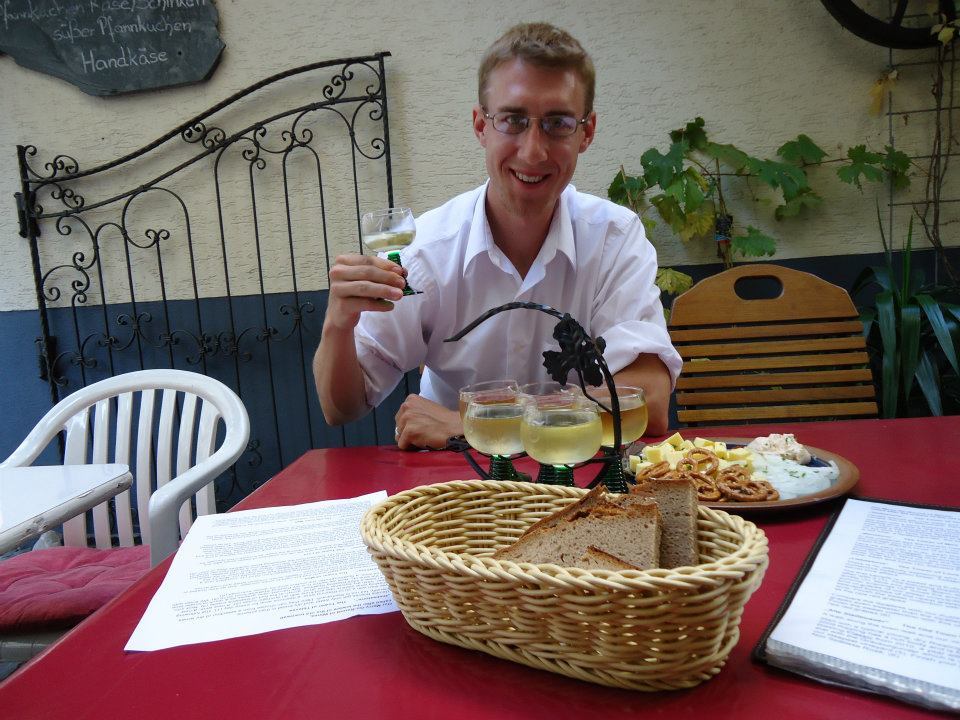 It's no secret (and I make no apologies) that I prefer small towns, quaint villages, and the great outdoors to big cities. The city lifestyle isn't for me and I tend to avoid it on vacations as well. My husband, on the other hand, loves nightlife, people-watching in crowds, and a hustling pace. Spending just a little time in Frankfurt was the least I could do to make sure he could check out a German city.
After an incredible day in the Rhine Valley, we had one last hop on the Autobahn. Our flight the next day was out of Frankfurt anyway, so we knew we'd be headed in that direction eventually. We ended up making it into Frankfurt just in time for dinner, choosing to stay outside the city and taxi in rather than deal with navigating city streets and finding parking.
Our destination of choice? Sachsenhausen, a young, vibrant district known particularly for its bars and nightlife. If we were going to hang out in Frankfurt, I wanted to sample some apfelwein, which was easy to find. Unfortunately, I didn't care for it at all – it must be an acquired taste as it seemed much like vinegar to me! However, we ate at a great outdoor restaurant with local specialties.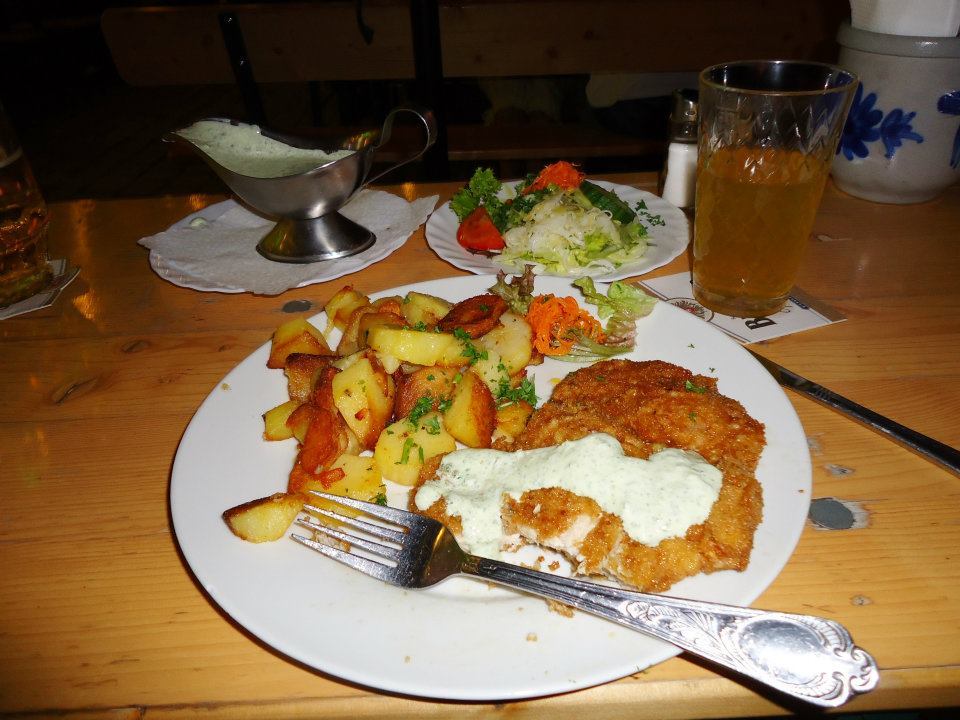 This was definitely the district to be in – with the average age somewhere in the 20s/30s and a smattering of nationalities. We ended up at a fun lounge and spent the rest of the evening with some drinks and a hookah – with a lot of people watching. It was a fun way to end the trip (even I'll admit it) and we felt confident enough to return to our hotel by bus rather than taxi. Frankfurt is an easy city to get around and great for a single night, but I doubt I'll feel the need to return.