This post may contain affiliate links. As an Amazon Associate I earn from qualifying purchases.
* * *
I've been to Oktoberfest before, so for this year's trip I didn't need to read a million pages of festival tips to prepare. I just wanted to pick which Oktoberfest tent to go to! Unfortunately, it took reading through a thousand websites just to find the basics I needed, so I thought I'd compile all of it into a single best Oktoberfest tents guide so that no one else had to re-create the wheel.
This article will be short and sweet…just the facts (although if you have questions, let me know in the comments. I love talking about Munich, beer, and travel!)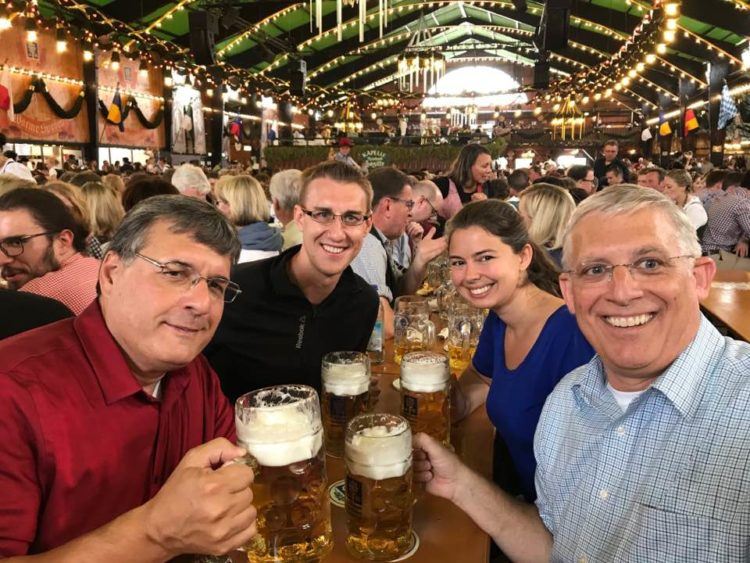 Oktoberfest Tents Guide: Everything You Need to Know in One Quick Chart (2019)
Oktoberfest Tent Name
Indoor Seats
Beer Served
Beer Price
(CASH ONLY)
Type of Music
Armbrustschützen-Festhalle
5830
Paulaner
€ 11,70
Traditional Brass
Augustiner-Festhalle
6000
Augustiner
€ 11,40
Traditional Brass
Bräurosl
6200
Hacker-Pschorr
€ 11,80
Traditional Brass &
Yodeler
Fischer Vroni
2695
Augustiner
€ 11,70
Traditional Brass
Hacker-Festhalle
9300
Hacker-Pschorr
€ 11,80
Day: Traditional Brass /
Evening: Party Band
Hofbräu Festzelt
6895
Hofbrau
€ 11,70
Traditional Brass
Käfer's Wies'n-Schänke
1000
Paulaner
€ 11,80
Löwenbräu-Festhalle
5700
Löwenbräu
€ 11,80
Traditional Brass
Marstall
3200
Spaten-Franziskaner-Bräu
€ 11,80
Day: Traditional Brass /
Evening: Party Band
Ochsenbraterei
5900
Spaten-Franziskaner-Bräu
€ 11,50
Traditional Brass
Paulaner-Festzelt
8450
Paulaner
€ 11,80
Party Band
Schottenhamel
6000
Spaten-Franziskaner-Bräu
€ 11,75
Traditional Brass
Schützen-Festzelt
5100
Löwenbräu
€ 11,80
Traditional Brass
Weinzelt
1920
WINE
Varies
Various
If you're looking for specific band names, longer descriptions of each tent atmosphere, or information on smaller tents, you'll find more at the Oktoberfest festival guide.
So What are the Best Oktoberfest Tents?
★ Armbrustschützen-Festhalle is the sightDOING pick for Oktoberfest 2019.
It's everything I wanted Oktoberfest to be: good beer, cheerful visitors, great oom-pah-pah music (with some international hits thrown in), and 5,000+ of my new friends singing Ein Prosit. I highly recommend it and consider it the best of the best Oktoberfest tents.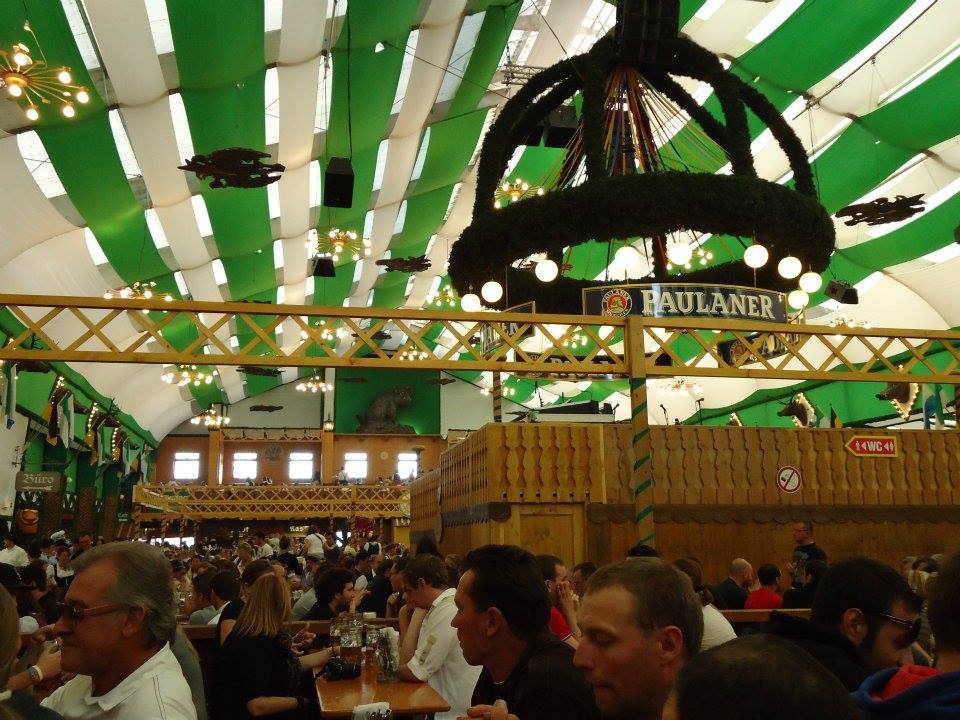 In my experience, no other tent has the same international, social flair as Armbrustschützen-Festhalle.
However, it's worth checking out a few tents to decide your own favorite. You'll hear different bands, meet other people, and try different beers! What's not to like?
My other favorites were Marstall, Oschsenbraterei, and Augustiner Festhalle.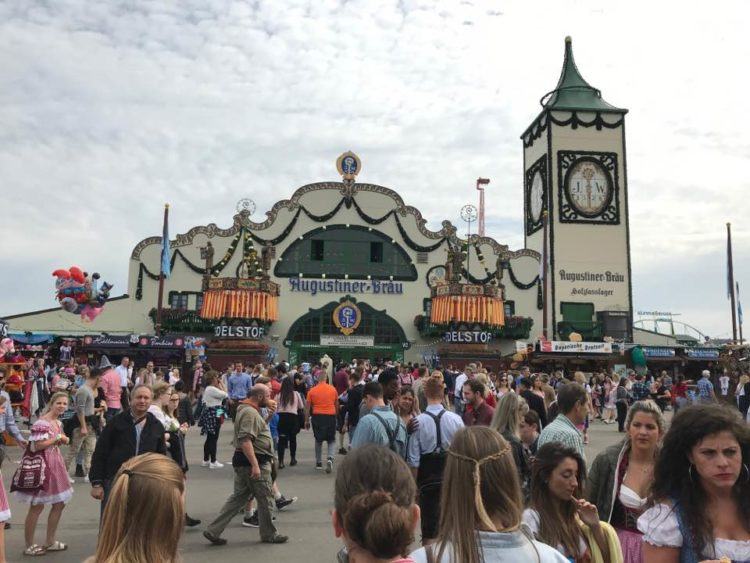 More importantly, you'll probably want to keep in mind that the "best" tent is probably the one with open seats, unless you planned ahead and paid for a reservation.
Where to Stay for Oktoberfest
If you're going this year, look NOW and book ASAP. Some hotels are probably already sold out or have high rates. If you're not 100% committed to going yet, I still recommend booking a (refundable) reservation while you can.
Oktoberfest 2019 runs September 21 – October 6, 2019.
If you're planning ahead for next year, you'll have more options.
My Favorite Munich Hotels
Booking your hotel through these links helps to support this site. It also means you're getting a hotel I've personally stayed at and recommend at the lowest price publicly available. Thanks for your support if you choose to book.
My favorite hotel in Munich is the Hilton Munich City. It's easy to reach from the airport, the Marienplatz, Theresienwiese (Oktoberfest), and just about anywhere else since it's situated right on top of the Rosenheimer Platz subway station. Rooms are comfortable and service is helpful. If you hold Gold or Diamond Hilton status, the lounge with (free) evening drinks and full breakfasts is wonderful.
>>>>> Book the Hilton direct for free internet and the best prices.
Even though the Hilton is my favorite, I've stayed at the Holiday Inn Munich City Centre twice during Oktoberfest (2011 & 2017). It's essentially the same location as the Hilton, but they have semi-reasonable prices during the festival which means more money for beer 🙂 Book direct to save 5%.
Mini-Primer on Erding, Germany
Although staying in downtown Munich itself is best, if you're on a tight budget or if everything in the city is sold out, you can commute in on the S-bahn (commuter rail).

My recommended alternate is the Hotel zum Erdinger Weissbräu in the town of Erding:
You'll save a ton of money
The hotel restaurant has great traditional Bavarian food
You can tour the Erdinger brewery (book English tours in advance; they DO sell out, especially during Oktoberfest)
You can visit the Thermenwelt Erding (the waterpark requires bathing suits; the sauna circuits are mandatory nude, like most German spas)
If you have more time than money, it's a good option.
Things to Do in Munich Other than Oktoberfest
There is so much to see in Munich other than just hitting up the beer tents. Remember, Oktoberfest is a huge festival, with rides and food and carnival games.
Outside the festival, you'll find plenty to enjoy in the city itself. If you only have one day, the best thing you can do is a bike tour through the city to see all the highlights (with a stop at an outdoor biergarten, of course!).
For day trips, I prefer Zugspitze in the mountains rather than Berchtesgaden/Eagle's Nest. And of course, Neuschwanstein castle is a classic day trip that makes you feel like you're in a fairytale (skip the Linderhof combo version – it's nice, but your time is better spent at Neuschwanstein).
* * *
Any last questions on the best Oktoberfest tents? I'm happy to help with your planning!
* * *