This post may contain affiliate links. As an Amazon Associate I earn from qualifying purchases.
* * *
I think it's obvious why I wanted to see Newfoundland puffins. The clown-like creatures know how to put on a show, flying and diving and making the funniest noises on earth. They've got outlandishly orange beaks that are so ridiculous they shed them in the winter, exposing a grey beak underneath. People call them the "penguins of the north", but having seen both penguins and puffins, let me tell you: puffins are the #1 seabird.
These lovebirds mate for life, from age 4 or 5 until death parts them about age 20. Every year, they'll bow their heads and rub those outrageous beaks together, the puffin-equivalent of snuggling.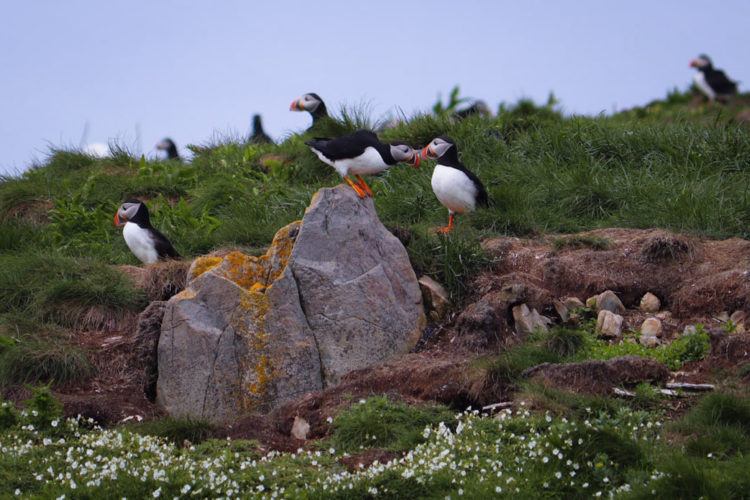 Mama and daddy puffins take turns feeding the baby (it's called a "puffling", which might be my new favorite word) and are civilized enough to bring whole fish back instead of regurgitating it like other birds. These birds are so devoted to their partners that scientists actually refer to population numbers by pairs of puffins rather than an individual count, which is unique for the animal kingdom.
Where to See Puffins in Newfoundland
The largest colony of puffins in Newfoundland — actually, anywhere in the western Atlantic — is in Witless Bay, south of St. John's. But to see them there, you'll have to get on a boat. And boy, do I remember the last time I went puffin watching on a boat. That trip happened to be in Maine and I distinctly recall how difficult it was to focus on a puffin through my binoculars. In flight, these birds are fast and keeping them in a narrow field of vision is challenging. Add in the bobbing of a boat, up and down, up and down, and it's that much harder (and that's assuming you don't make yourself seasick).
Nope, this time I was going to be smarter. I'd see the puffins from shore, with solid ground beneath my feet, thankyouverymuch. If that meant I'd only see a thousand puffins instead of half a million, so be it. Quality over quantity.
(Oh, who are we kidding? One thousand puffins is plenty to brag about if you ask me!)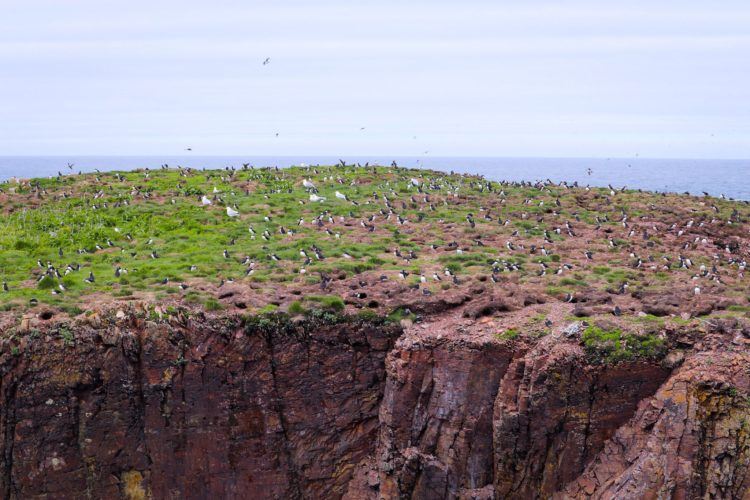 So I piled into the minivan — and I do mean piled, because apparently traveling with your family even at the age of 33 means one heck of a roadtrip — and off we headed to the Bonavista peninsula and the tiny town of Elliston.
Now, Elliston completely fails at tourist marketing. They declared themselves the "root cellar capital of the world" in 2000, even though no traveler ever in history would go out of their way to see somewhere that people used to store potatoes a century ago. Even culinary travelers that eat six or seven meals a day (how?) don't want to travel hundreds or thousands of miles to see a cellar. But Elliston is also the best place in Newfoundland to see puffins from land — thousands and thousands of them in season.
As you might have guessed, that's why I went there.
Elliston Puffins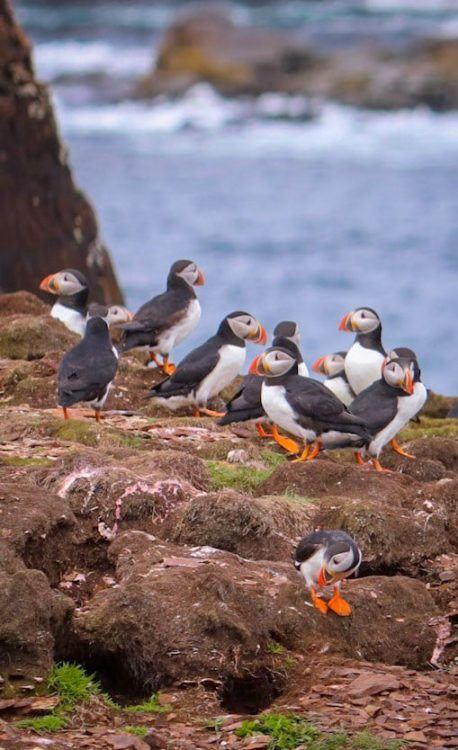 Although you can sometimes spot puffins all over the Newfoundland shoreline, the Elliston lookout is the most consistent spot to see puffins without leaving dry land. Roughly 300 pairs of puffins nest there, although the area looks even more crowded because a few other species are found there, too.
The puffins nest on an island just off-shore, which keeps humans on the mainland and puffins safely at a distance. It's close enough that you'll see little black and white and orange birds frolicking with your bare eye, but with binoculars or a zoom lens, you can pick out individuals as they cavort on the island.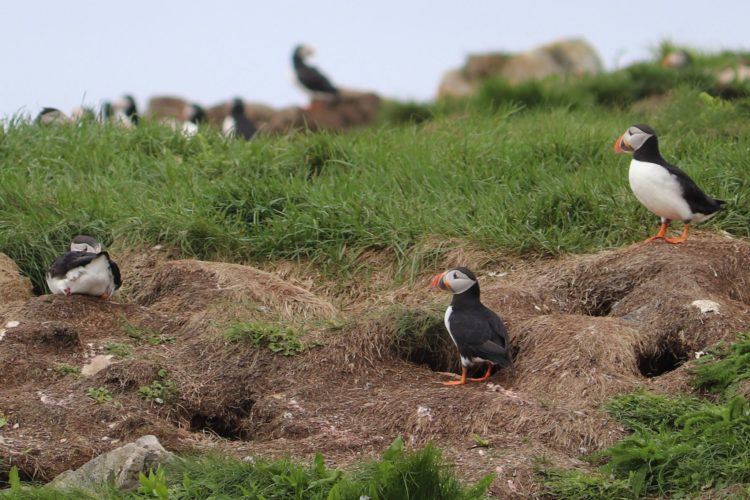 Brilliantly, you're just close enough to see them but just far enough not to smell them — some of my past experiences with guano (bird droppings) have been overwhelming!
To see them, you'll need to park along the road and walk over uneven terrain for five or ten minutes to get to the edge of a sea cliff. You'll very clearly see them across the water, although rumor has it, if you're there early in the morning or other quiet times, they may even land on your side of the cliffs.
The Elliston puffin viewing site is donation-based, so do bring some cash to help keep the site clean and maintained. You'll also want a few extra layers to protect against the fierce wind on the cliffs. Bonavista is the windiest spot in all of Canada and I can attest to how windy it was during my visit.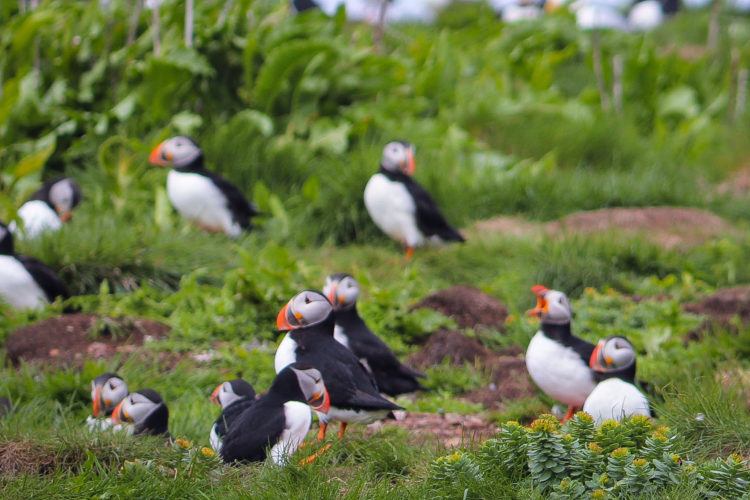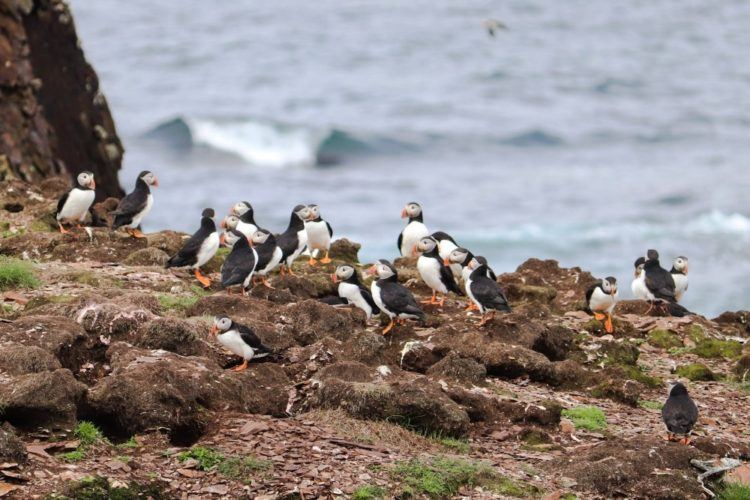 When to See Puffins in Newfoundland
Like many migratory seabirds, puffins spend most of their year at sea, only returning to land briefly to nest and take care of their young. Newfoundland puffins can be seen from roughly mid-May to mid-September; outside of those summer months you'll have to head farther into the Atlantic for a glimpse of them.
Planning Your Trip to See Puffins in Newfoundland
Based on my experiences watching puffins in Maine and Alaska, I think viewing them from land is a much better bet than a boat trip. The Elliston viewing point is easy to find and is about a 15-minute drive from Bonavista or 45 minutes from Trinity.
Elliston itself is a very small town, but if you have time, you can walk the Klondike Trail, see the Bonavista lighthouse, or even check out those famous root cellars 🙂
If you DO want a boat trip to see puffins, Witless Bay is a much better place to visit and is a few hours away, near St. John's. Keep in mind the boats must maintain a set distance from the birds, but on the upside, there's a chance of seeing Newfoundland icebergs (best May-June) or whales (best July-August).
Description:

Cruise to the incredible Witless Bay Ecological Reserve for your chance to watch puffins, whales, and icebergs. Wildlife attractions vary with the time of year. Puffins nest May through to mid-September. Peak whale season is from mid-June through mid-Aug

Price:

$55.62
If you're in need of a place to stay, I very much liked our Airbnb at the Skerwink trailhead (between Trinity and Elliston). Plan on spending two or three days in this area to see Newfoundland puffins, hike, visit historic Trinity, try the brewery in Port Rexton, and add in some water activities.
Read More About Newfoundland