This post may contain affiliate links. As an Amazon Associate I earn from qualifying purchases.
* * *
Although there are lots of reasons to visit Newfoundland, it was "Iceberg Alley" that most caught my attention. Icebergs in Newfoundland are so reliable that an entire industry has formed around taking tourists out to see the best bergs.
And it's easy to understand why — some of these icebergs can be as large as a house, and no matter their size, it's probably a drastically different view than you get at home!
But seeing Newfoundland icebergs is a little like wildlife watching; you need some luck and flexibility to get it right. If you're traveling to Newfoundland to see icebergs, here's what you need to know for the best chance of success.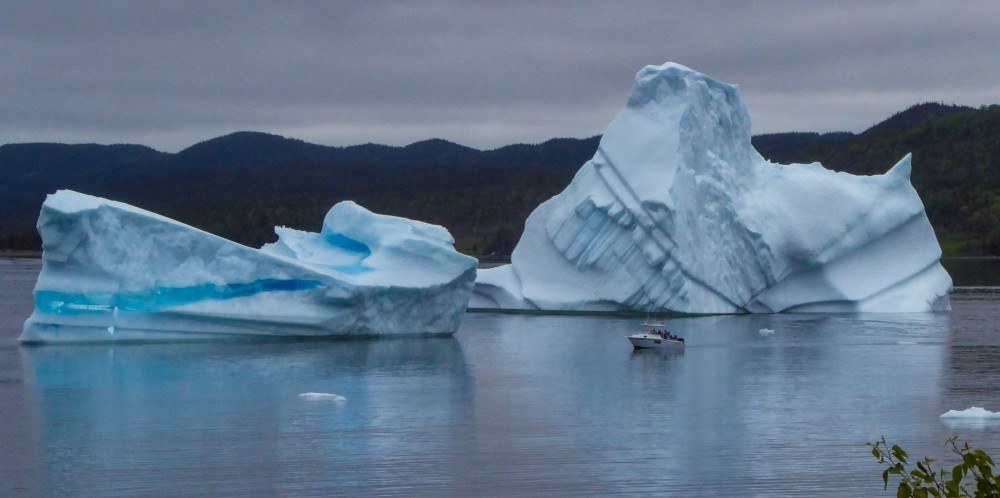 What is Iceberg Alley?
First, you should know that an iceberg is a chunk of glacier that has fallen off (never seen it? check out my video of calving glacier in Alaska — opens in a new window). These glaciers can be 10,000 years old, so the icebergs themselves are made of ancient ice.
Every year, hundreds of glaciers from Greenland or the Canadian Arctic travel little by little to Iceberg Alley in Newfoundland, an area off the north and east coasts of the island, making it a reliable — and dramatic — place to see icebergs.
Top Tips for Finding Icebergs in Newfoundland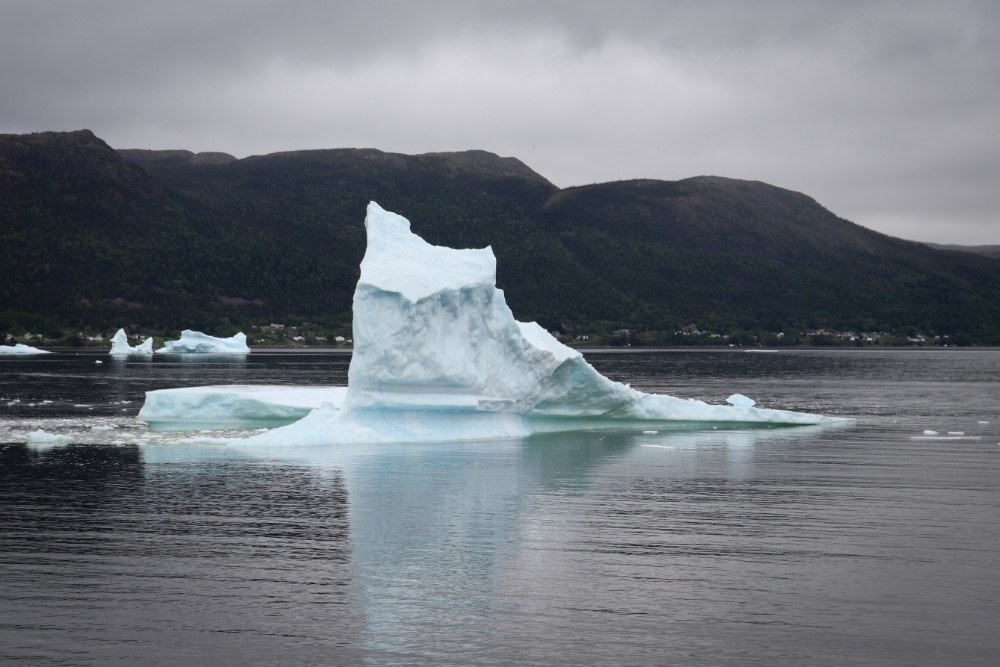 1 – Make Sure You Visit in Iceberg Season
Iceberg season officially runs from April through June, with a few stragglers in early July; outside of the season, you can't count on any icebergs.
Traveling in April can be a little risky, as some of the icebergs can get caught in sea ice, making it far more challenging to see them.
As you might expect, icebergs do melt as temperatures rise, so prime time for iceberg viewing is May and the first part of June.
2 – Make a Route of Popular Viewing Places for Newfoundland Icebergs
Theoretically, you can see icebergs anywhere along the Newfoundland coast, but every year it seems like there are consistent sightings in St. Anthony, Twillingate, Fogo Island, Bonavista, St. John's/Cape Spear, and Witless Bay.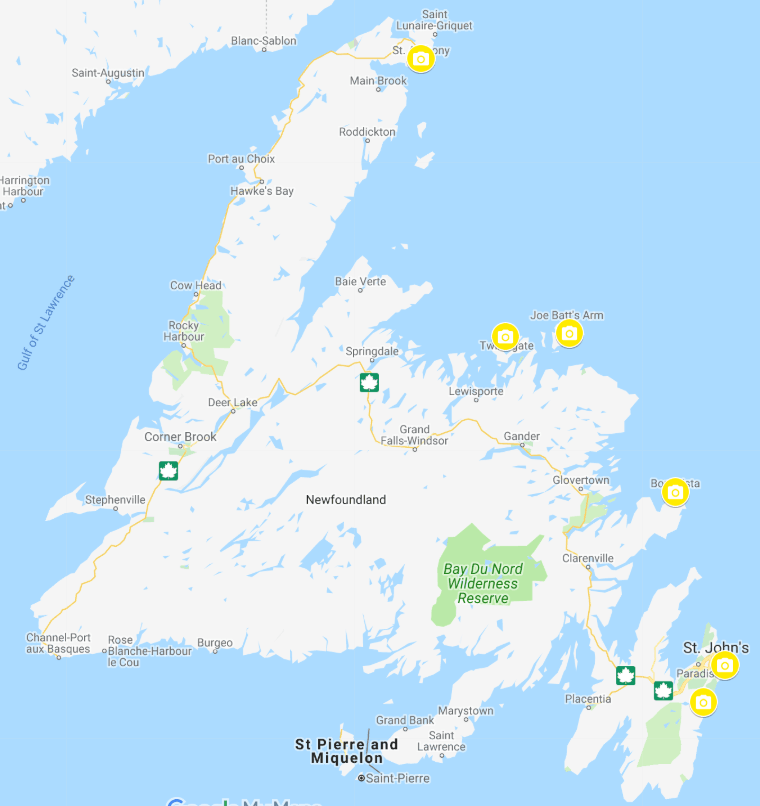 Almost all travelers spend some time in St. John's anyway (with easy side trips to Cape Spear and Witless Bay), so that's a great place to start. The Bonavista peninsula was — by far — my favorite part of the island with lots to do, so I'd recommend adding that to your trip plans too!
3 – Leave Plenty of Free Time in Your Itinerary for Detours
Although you can guess where you might see icebergs when you plan in advance, there's no guarantee in nature. If you can, leave some flexibility and/or free time in your schedule so that you can make a detour if you get a tip on iceberg locations. Trust me, the locals are just as excited about colossal icebergs as you will be, so news will travel through small communities quickly.
You'll also want free time in case of weather delays — fog and rain can obscure views, so even if there are icebergs out there, you might not be able to see them.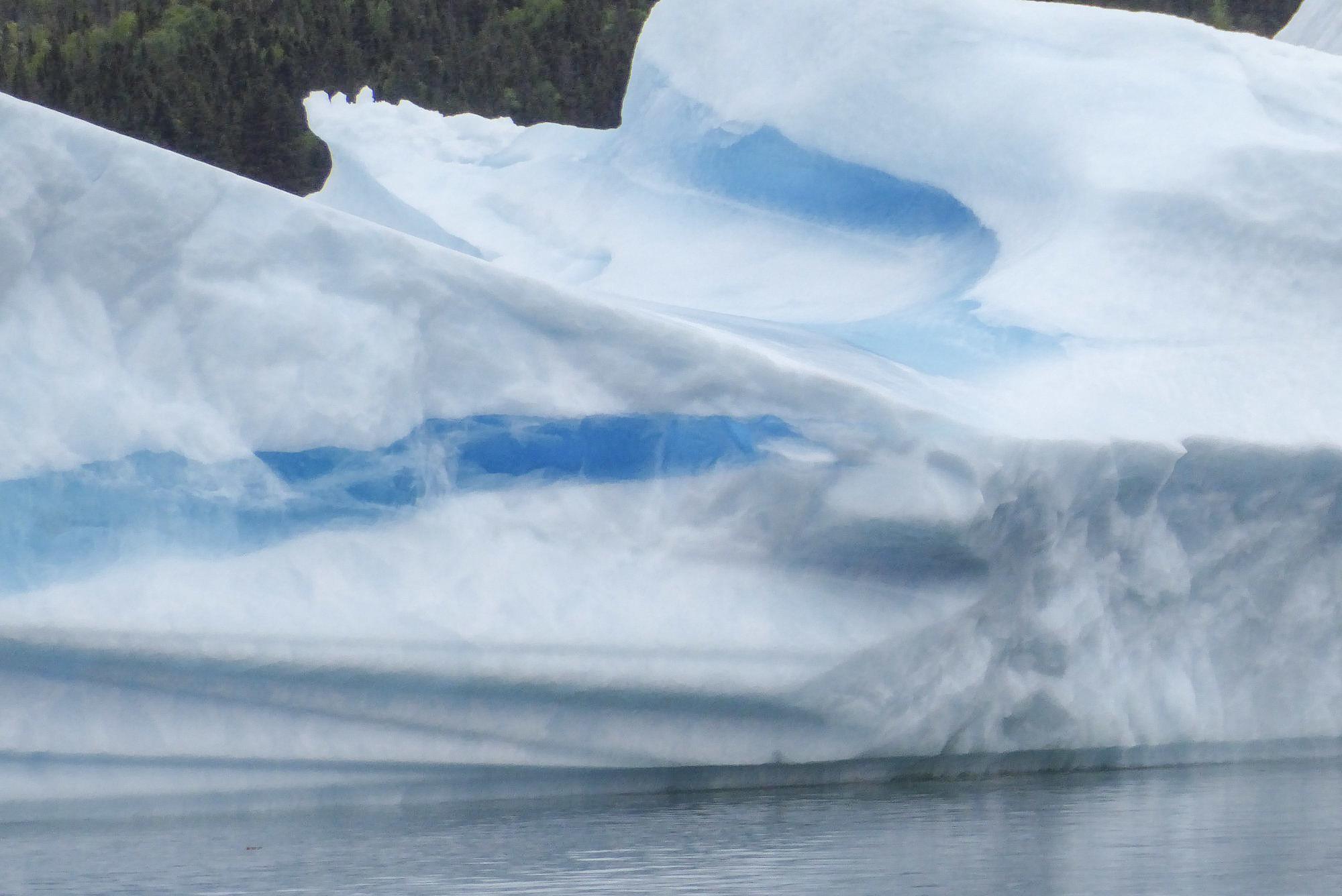 4 – Follow Along with Online Sightings
There are two great places to get information on real-time iceberg sightings: the tourism Iceberg Finder and in a Newfoundland Iceberg Facebook group. The first site is better for a quick glance at where the icebergs are on a map, but it does feel a little delayed. Facebook will give an instant look at what's out there right now with photos of what you can expect, but you'll need to double-check a map to figure out if the small towns mentioned are anywhere near you!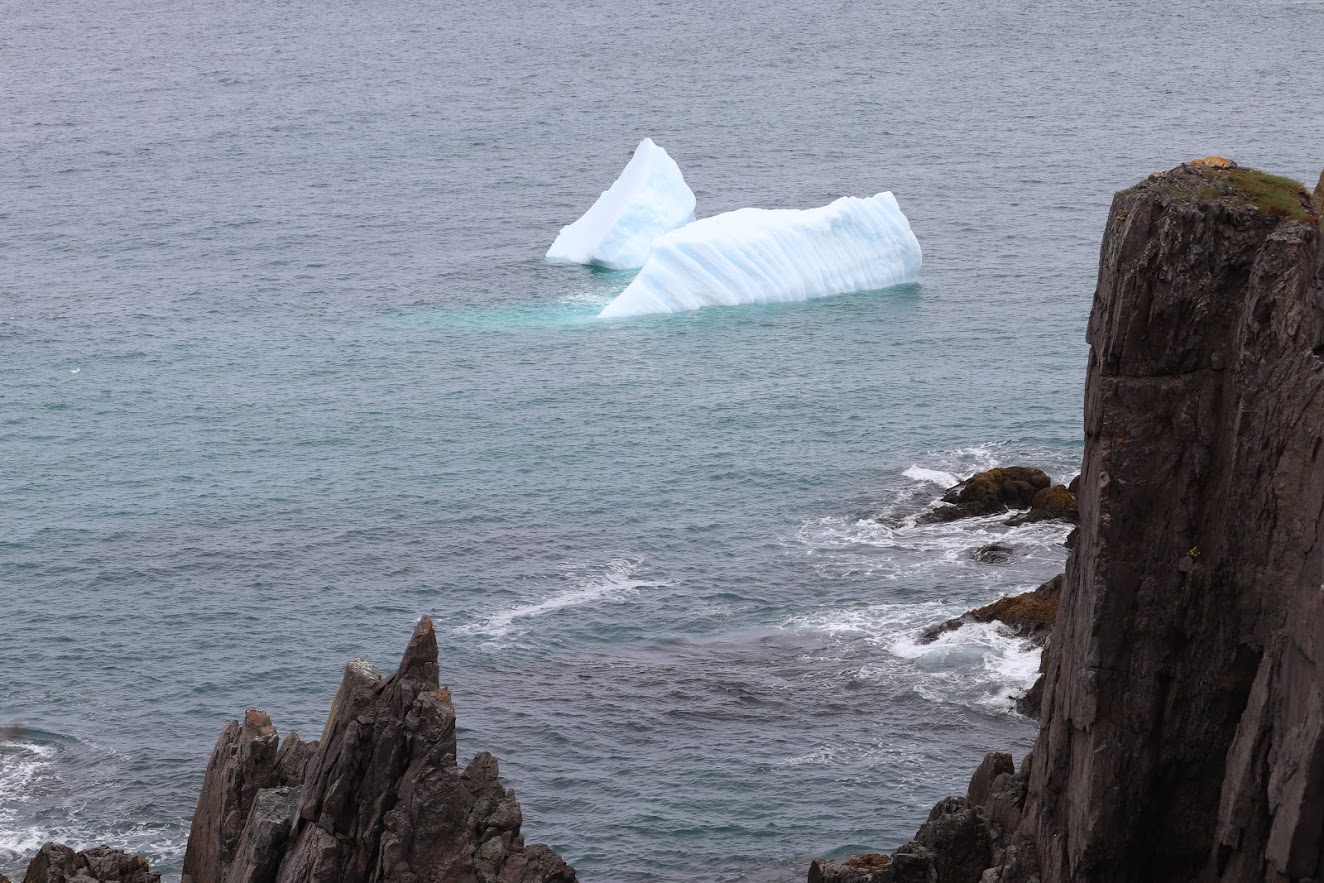 5 – If You Can, View Them From Land and Sea
Chances are, you'll be able to see some icebergs from land, giving you no excuse to check them out 🙂 The best iceberg was one I found unexpectedly off the coast of the Klondike Trail — a beautiful giant surrounded by incredible scenery. A few popular viewing spots are from the the Twillingate Lighthouse and Cape Spear (although to be honest, I was very underwhelmed by Twillingate as a town).
Going by boat to see the icebergs will let you see them up close and personal and give you a feel for their amazing size — sometimes bigger than houses. You can expect boat tours to cost $20-60, depending on how far out the icebergs are and whether or not it also includes wildlife viewing (like whales or puffins).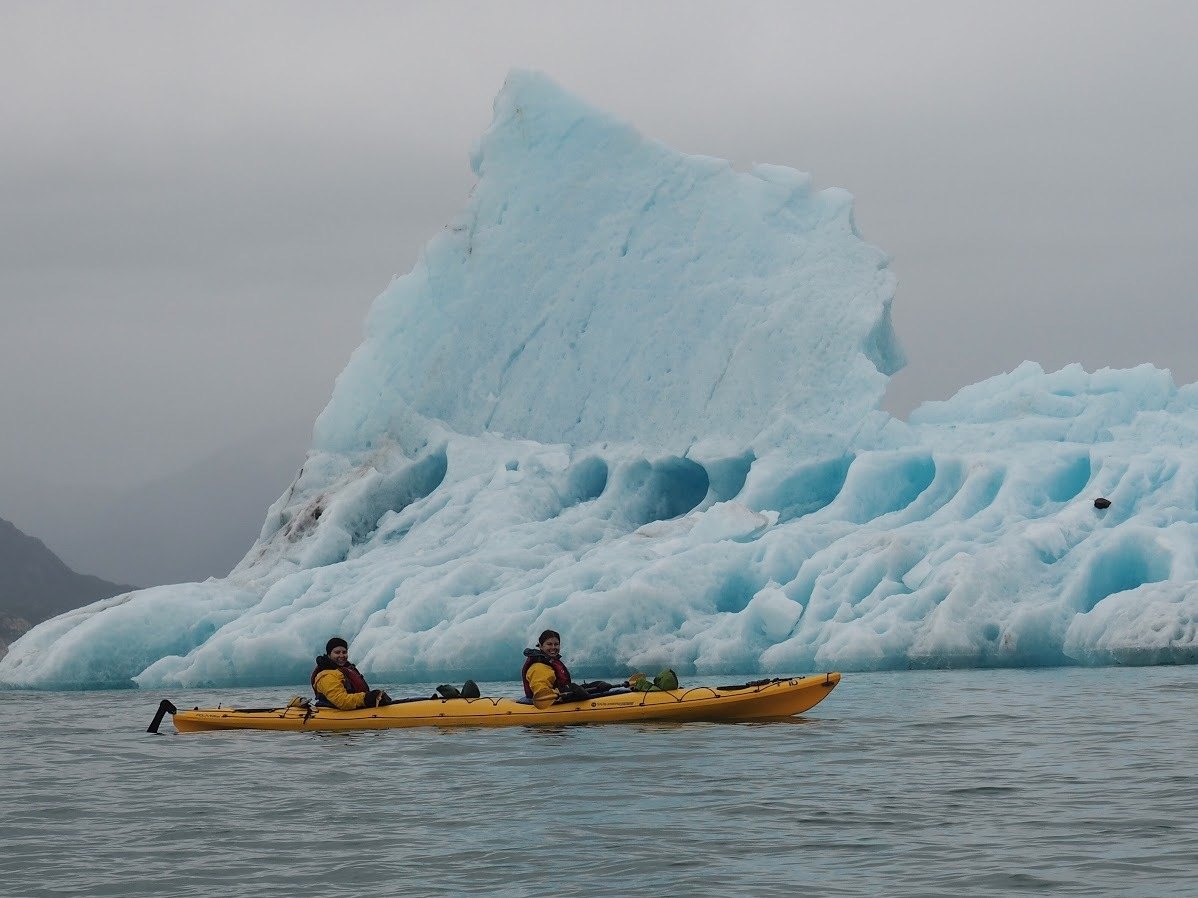 6 – But Don't Book Your Iceberg Tours too Far in Advance
The biggest waste of time on my Newfoundland trip was a two-hour boat tour on a terrible weather day, in a town that KNEW there were no more icebergs within boating distance. So we rode around in wind and sea swells in search of whales (that hadn't migrated yet) and scenery (that was obscured by clouds).
You can avoid that waste of time and money by only booking a few days in advance, when both the iceberg reports and weather forecasts look reasonable. A few tours will also let you cancel for a full refund with 24 or 48 hours notice.
And in addition to the big tour operators, you'll find intrepid fisherman willing to take you out in their boat to see the icebergs as well — just head down to the harbor and ask around.
If you want to lock in a Newfoundland iceberg tour, my pick is the Trinity Kayak trip through the harbor. It'll be beautiful even if there aren't icebergs around and you might see whales.

And if you are lucky enough to see icebergs, getting close to them is an incredible experience.

Trinity Tow 'N' Go Kayak Tour – $118.39

On this tour, you'll tow your kayak to a remote location to paddle back to Trinity. Travel through spectacular seascapes and sea caves to Trinity itself or to a predetermined pickup point based upon wildlife viewing opportunities (whales in particular) and sea state.
I can't think of anywhere else in the world where you can so easily, cheaply, and reliably see these incredible bergs. Because of that, you'll definitely want to include seeing icebergs in Newfoundland to your list if you're in the neighborhood.