This post may contain affiliate links. As an Amazon Associate I earn from qualifying purchases.
* * *
Rocky Mountain National Park captures your heart immediately: snowy summits provide a gorgeous backdrop, alpine forests and fresh air are waiting to be explored, and there's wildlife everywhere if you're willing to look. While many people visit on a day trip from Denver, you'll want 3 days in Rocky Mountain National Park if you want to see the highlights and have time to hike a few trails.
This 3 day itinerary includes the best hikes in Rocky Mountain National Park. It's best in summer, when roads are open, snow has melted, and long daylight hours give you plenty of time to explore. Is it for everyone? Absolutely not — you'll need to be acclimated, somewhat fit, and ready to explore. If that's you, it's a great starting point if you're interested in one of the most beautiful parks in the United States.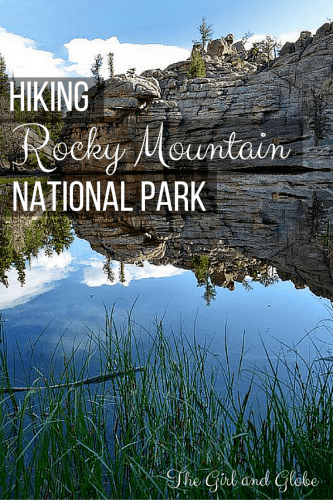 Always check directly with the park to confirm potential snow cover and/or other conditions affecting the park:
https://www.nps.gov/romo/planyourvisit/road_conditions.htm (or call 970-586-1206)
Rocky Mountain National Park Itinerary
Trip at a Glance:
Day 1 – Start with a scenic road trip and then hike the Wild Basin trail (1-6 mile options), drive Trail Ridge Road, and end with a 2.5 hour hike to Moraine Lake with chances to see wildlife. Spend the night in Estes Park.
Day 2 – Get a good workout on the Bear Lake Trail (6+ miles), see very different scenery at Lumpy Ridge, and take a ghost tour at a historic hotel. Spend another night in Estes Park.
Day 3 – Drive the full length of Trail Ridge Road as you cross the Continental Divide. Then look for moose along the Colorado River Trail and spend a night on the western side of the park (in Grand Lake or Granby).
This itinerary includes dozens of miles of hiking, meant for travelers who regularly hike and/or carry out a fitness routine. Altitude in the park may affect you even if you are in good shape; acclimating for a night or two (for example, in Denver) should help immensely but always listen to your body and adjust plans as necessary. Learn more about acclimating.
Day 1 in RMNP Colorado
Driving to Estes Park and Rocky Mountain National Park
​There are a million different ways to get to Rocky Mountain National Park, but if you're starting from Denver, the best of the scenic drives is arguably taking the "long way" on the Peak-to-Peak Scenic Byway​. Driving the full length of this 55-mile highway could take three hours given the number of photo stops you'll want to take. Savor the drive, passing through national forests and enjoying glimpses of the Continental Divide to the west and gorgeous peaks dead ahead. If you're short on time, you can just cut over once you hit Lyons, but the full distance is worth it if you can make an early start.
Officially, the Peak-to-Peak Scenic Byway begins off I-70 near Golden, CO and heads north through Clear Creek Canyon on CO Highway 119 past Blackhawk before continuing north on CO Highway 72 toward Allenspark. From there, it heads north on CO Highway 7 passing Twin Sisters and Lily Mountain before arriving in Estes Park.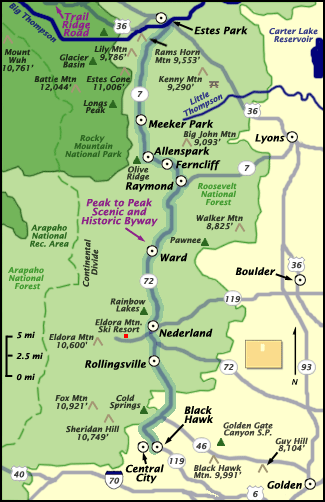 Wild Basin and Hike to Ouzel Falls
Between Allenspark and Ferncliff, you'll find the turn-off to the Wild Basin section of Rocky Mountain National Park on your left. This part of the park is pristine and somewhat less-traveled, making it a great introduction.
Here, you'll find a great hike to start your visit. Park at the lot at the very end of the road for the Wild Basin trailhead. Just ten minutes or so up the trail, you'll find the spur to Copeland Falls. Turn around here if you only want a short jaunt.
Otherwise, the trail continues further into the quiet forest, sometimes offering teasing looks at the peaks around until you hit Calypso Cascades and Ouzel Falls. From just beyond Ouzel Falls, you can loop around via a 6.1-mile lollypop trail hike, a trek that will likely take about three hours. If you have less time or energy, turning around at Calypso Cascades is a good alternative (3.6 miles round-trip).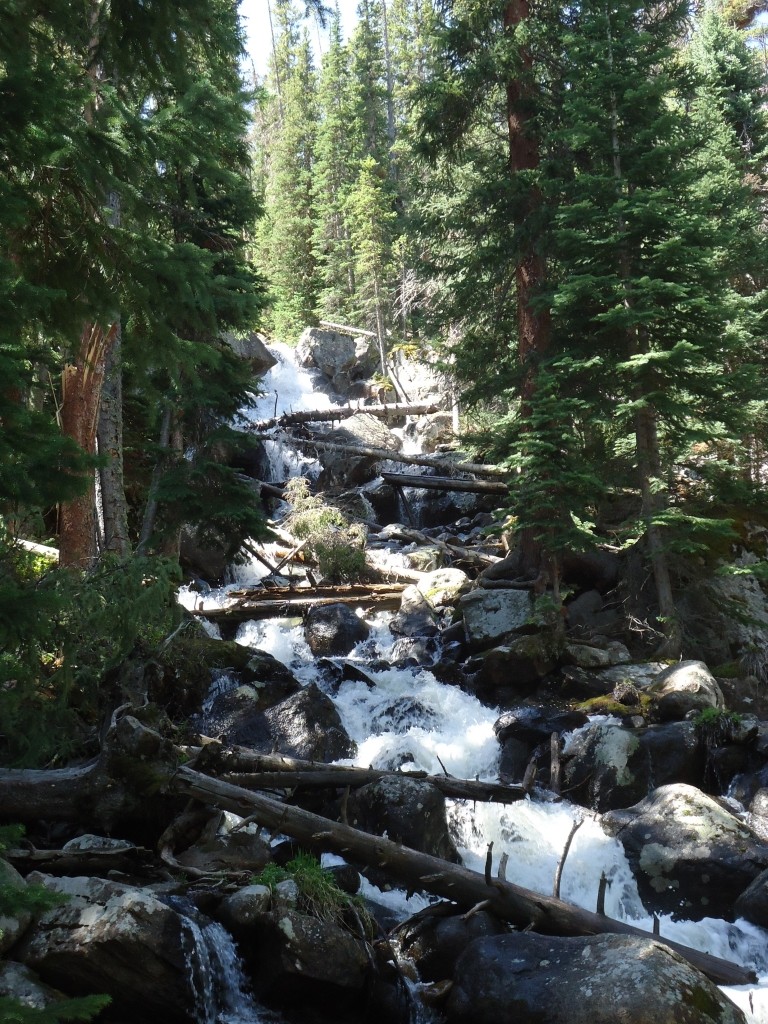 Serious outdoorsmen will plan on a picnic lunch, but if that's not your speed, don't worry. You'll be driving right through town anyway after your stop at Wild Basin, and can easily stop for a quick meal, such as the trout at The Sundeck.
TRAVEL TIP: You may want to stop at your hotel after lunch to check-in; many cabins and Airbnbs in Estes Park don't have 24-hour hotel desks, so you may have to time your arrival a little more carefully.
Trail Ridge Road
Head back into the park and spend the afternoon driving through the east side of the park on Trail Ridge Road. Drive past Sheep Lakes, Horseshoe Park, and to the Alpine Visitor Center, which is just after hitting the highest point on the park road, at over 12,100 feet in elevation. Return the way you came, stopping at any interesting overlooks for photo stops and a chance to search for wildlife.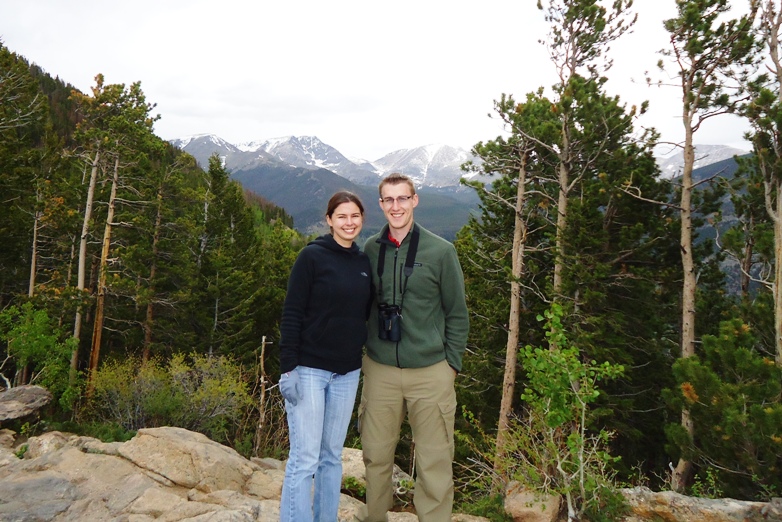 Moraine Park and Cub Lake
Moraine Park is the perfect place to spend an evening in the park. Have dinner at the picnic tables near Fern Lake and catch a shuttle from there to the Cub Lake trailhead.
Hiking in this area is one of the best spots for a walk at dusk. Wildlife is frequently seen even near the trail. Those with time and energy can continue past Cub Lake to The Pool (a total of six miles or 2.5 hours) before returning to the Fern Lake area where your car is waiting.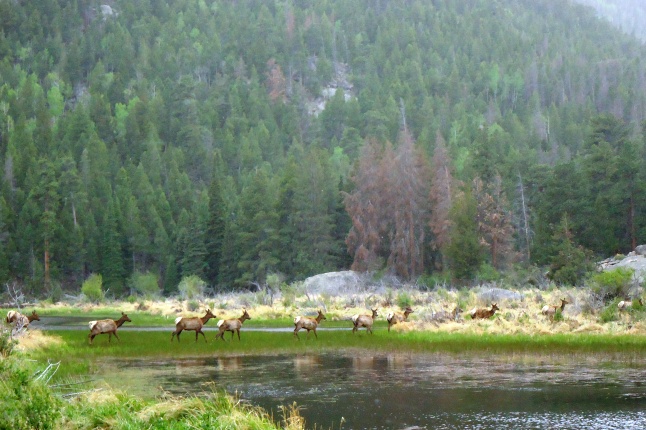 Where to Stay in Estes Park
This small town is better suited for cabins, historic hotels, and B&Bs rather than "big box hotels", so be ready to try something new and interesting!
The Stanley Hotel is the most recognizable property and is a great option for special getaways.
The Haber Motel is my pick if you want to be in walking distance to Estes Parks shops and restaurants (but for hikers, that might not matter).
Blue Door Inn is great value at a lower pricepoint. It has great views and BBQ grills if you want to cook your own meal to save more money.
Since Estes Park is an expensive destination in general, look for more value options on Airbnb.
Day 2 of Your Rocky Mountain National Park Itinerary
Wake-up calls come early, and for good reason. National parks are always less crowded first thing in the morning, so it's worth getting up early. A hearty breakfast is essential before a day full of hiking, so try out The Egg & I, which is always open early.
Bear Lake
This morning, enter the park at the Beaver Meadows entrance station. If you arrive early enough, you'll be able to drive yourself on Bear Lake road, but if not, there are shuttles running throughout the day.
Non-hikers will enjoy the easy, paved path at Bear Lake, while more ambitious trekkers will love the loop past gorgeous subalpine lakes including Nymph Lake, Dream Lake, Lake Haiyaha, and ending past Alberta Falls in the Glacier Gorge trailhead. This is a 6.5-mile hike if you shuttle back from Glacier Gorge to Bear Lake or add in any or all of the detours to Emerald Lake (additional 1.4 miles round-trip), The Loch (1.8 miles), and Mills Lake (1.2 miles) worthwhile. Incorporating each of the extra legs could add to up to an 8-hour hike, making it necessary to pack a picnic lunch.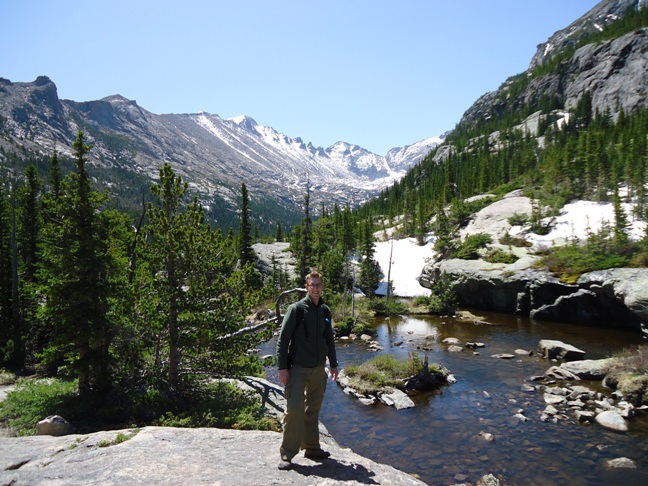 Lumpy Ridge
Anyone who prefers to mix it up instead of enjoying one long hike should exit the main park and hike to Gem Lake from the Lumpy Ridge trailhead. The 3.3-mile round-trip hike will likely take a full three hours due to its steepness, but leads to granite cliffs and unique boulders compared to what is seen in the rest of the park. It's a great trail since it's so different than elsewhere in the park.
Evening at the Stanley Hotel
Not far from Lumpy Ridge, the historic Stanley Hotel is home to the excellent Cascades Restaurant (at least stop in for a cocktail) and tours featuring the hotel's history, connection to Steven King's The Shining, paranormal activity, and even ghost stories. It's a great way to spend the evening and a change of pace from most other national parks.
Spend another night in Estes Park.
Day 3 at RMNP
Re-enter Rocky Mountain National Park for the last time. Today, you'll head west through the park, passing over the Continental Divide, and checking out scenery that seems worlds different from what you've seen over the past two days.
Head West through the Park
If the road's open, start at the Fall River entrance station and head west past Sheep Lakes to the Alluvial Fan and Endovalley and then over Old Fall River Road. This 9-mile road is full of vistas and overlooks, an excellent way to start your day. From here, continue over Trail Ridge Road west over the Continental Divide, passing by several different climate zones as you change elevation.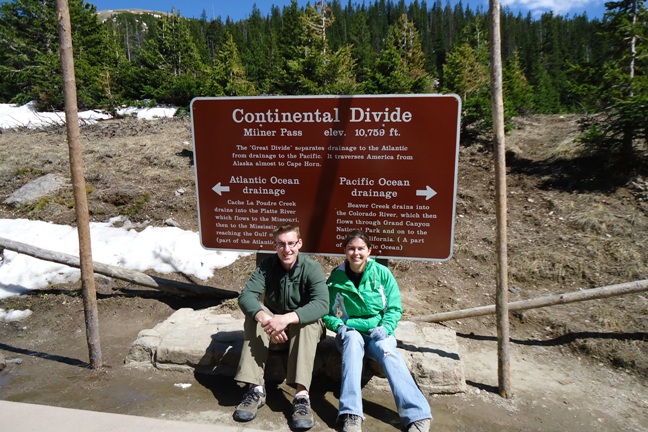 Colorado River Trail
Your destination for late morning is the Colorado River Trailhead. Here, you'll find a relatively easy hike in prime moose country.
Head north up the Colorado River trail, through the woods and past flowered fields. About 3.5 miles into this hike, you'll pass the remains of Lulu City. There isn't much here anymore, but you will see parts of old log cabins and maybe even the ruins of the Shipler Mine.
Further down the trail, you'll find yourself in a miniature version of Yellowstone's Grand Canyon. Enjoy the scenery here, full of stark gray rock. At this point, you can loop around via the stage road back to the trailhead and your car for a 13.8-mile hike, or you can return the way you came for a 9-mile hike. The detour is well worth it for the change of scenery if you have time.
Grand Lake
Late afternoon and early evening is a great time to drive the last few miles through the park, since moose and elk can be spotted. We even saw a fox and a coyote! If you haven't yet spotted a moose, make a last stop at the East Inlet trailhead in Grand Lake for the 10-minute walk to Adams Falls. Worst case scenario, at least you'll get to see a beautiful waterfall.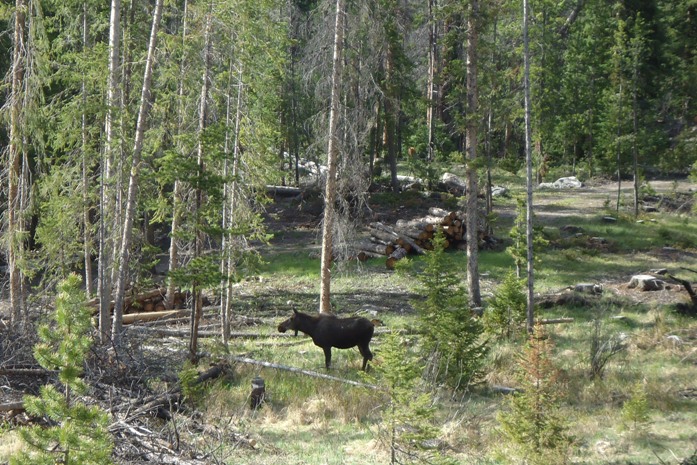 There are hotels easily accessible on the west side of the park, like Spirit Lake Lodge in Grand Lake. Choices here are limited, so you can also backtrack to Estes Park or head all the way to Denver for the night, both about two hours away.
* * *
Read More About Colorado