This post may contain affiliate links. As an Amazon Associate I earn from qualifying purchases.
* * *
If you haven't been yet, western Colorado is the best part of the state — the San Juan Mountains are extraordinary, with alpine lakes and waterfalls and never-ending forests to enjoy. And although there are many places to stay, Telluride is a frequent favorite. The only problem? The drive from Denver to Telluride is 6+ hours. The good news, though, is there's plenty to see and do along the way.
In fact, I recommend allocating an entire day for the drive, so you have time to stop in one or two places to stretch your legs and see more of the state. If you can, you could easily extend the journey into a few days…there really are a lot of worthy attractions between Denver and Telluride! Some of my favorites are below. Do them all or choose one or two. After all, sometimes the journey is just as enjoyable as the destination itself.
How to Get from Denver to Telluride
The drive from Denver to Telluride is about 350 miles and will take about 6.5 hours, depending on your exact starting location, which route you take, and what traffic is like. There are two main routes to get there.
Northern Route to Telluride (I-70)
The first takes you on I-70 west toward Grand Junction, where you'll then take 50 East to Montrose, 550 South to Ridgway, 62 West to Placerville, and finally 145 South into Telluride. I'll call this the north route.
Southern Route for a Scenic Roadtrip Denver to Telluride
The second route avoids the interstate. You'll take 285 South to Poncha Springs, then 50 West to Montrose. There, you'll join up with the same route for the final hour and a half or so, again taking 550 South to Ridgway, 62 West to Placerville, and 145 South into Telluride. I'll call this the south route.
If you're driving round-trip from Denver to Telluride, I'd encourage you to take each route for one-way so you can enjoy different scenery in each direction. If you're only heading one-way, I think the southern route has better scenery along the way but the northern route makes more sense if you want to add a few overnight stops. Just my opinion — the specific details below will help you decide which is a better fit for your personal interests and preferences!
Heads up: Many of the activities notated below won't make sense in winter. Don't worry…there are TONS of skiing options along the northern route that you can potentially add in instead.
The North Route on I-70 from Denver to Telluride
Starting in Denver, here's a sampling of the places you'll pass on your way to Telluride.
Idaho Springs
Leaving Denver, the first notable place along the way is Idaho Springs. Here, you can tour the Argo Gold Mine and Mill, walk historic Miner Street, detour up scenic "Oh My Gawd" Road (Virginia Canyon Road), go rafting on Clear Creek, or tackle a hike (St. Mary's Glacier is a popular short trail).
Although there are definitely things to do here, it's so close to Denver that it's easy to skip and plan a separate visit later if you're short on time.
Frisco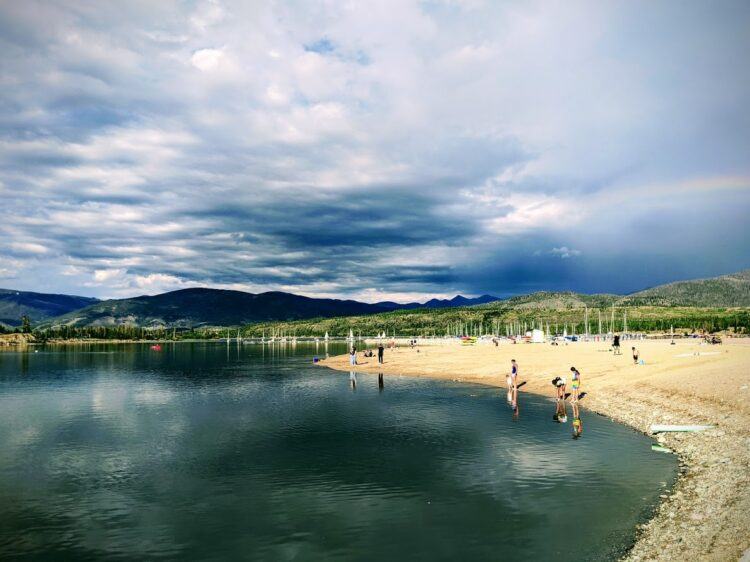 Frisco was an unexpected find along my journey — I thought it would be just another mountain town, but I ended up really enjoying it! Right in town, you can walk to "Frisco Bay" in the Dillon Reservoir for a little bit of a beach experience or you can rent boats to head on the water or rent bikes to circumnavigate it. Afterward, sample game-meat sausages and German beer at Ein Prosit.
Frisco is also an awesome base if you want to spend several nights in the area. From Frisco, you can reach Breckenridge, Vail, and Leadville within about half an hour (and at a fraction of the cost of more popular resort towns).
Vail
Vail gets a lot of name recognition and is worth a stop even outside of ski season. The area has outdoor activities galore — as you'd expect from somewhere surrounded by mountains — so it's a natural fit for hikers, bikers, rafters, and off-roaders.
For a shorter stop, limit yourself to Vail Village. The pedestrian-friendly core of Vail looks like a European village which makes it a great change of pace from the rest of Colorado. Take a stroll through the cobblestone streets to find shopping and dining. Not your style? Try the Betty Ford Alpine Gardens, which are the world's highest botanical gardens.
Glenwood Springs
After Vail, the next notable stop along the drive from Denver to Telluride is Glenwood Springs. While the town is named after the hot springs (there are two you can soak in), I thought the highlight here was the gorgeous Glenwood Canyon. You'll drive right through it on I-70, so have your camera ready.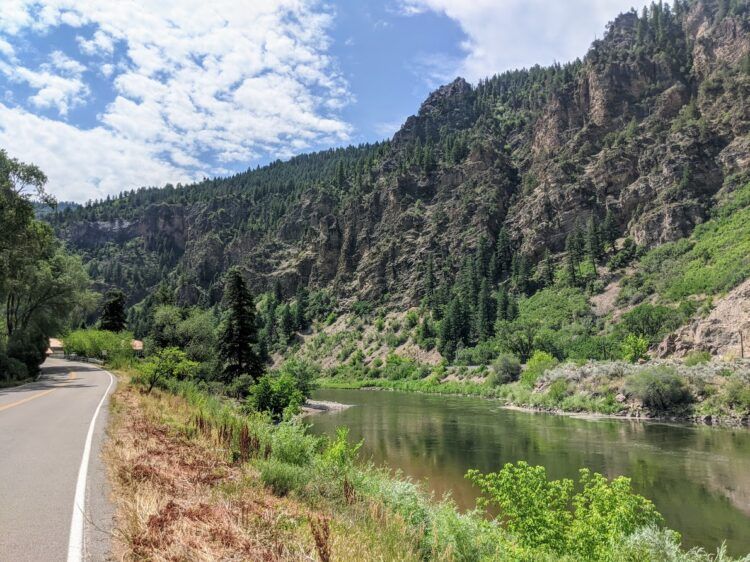 If you've got the time to stop in town, both biking and rafting the canyon are popular ways to get up close to the scenery. And, in stark contrast to the rocky canyon, you can also hike Hanging Lake. This blue-green pool feels straight out of the "Land Before Time" and nothing like the arid canyon around it.
Detour: Colorado National Monument
The drive leaves I-70 just before Grand Junction, where you'll head south to make your way to Montrose. However, if you've got a half-day to spare, you can detour from the main route to see Colorado National Monument. Yes, it's out of the way, but it's home to some impressive scenery.
Ridgway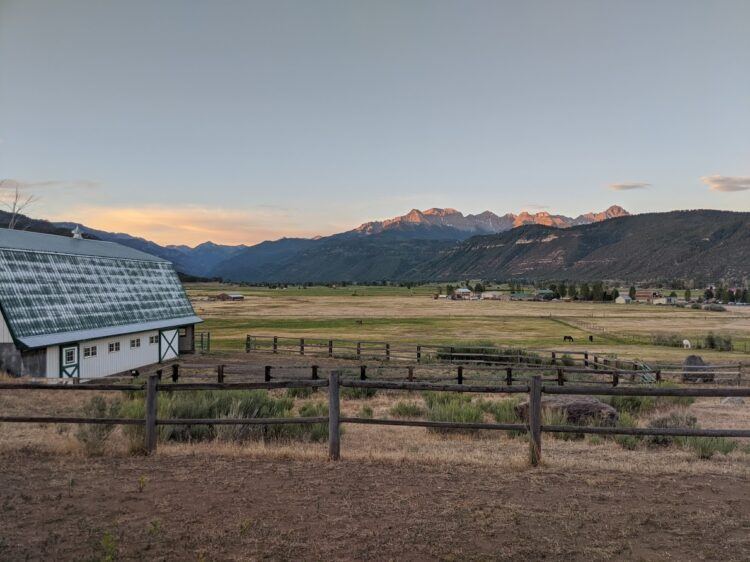 About an hour before you hit Telluride, you'll pass right through the town of Ridgway. We had the pleasure of spending a few nights in this small town and loved the views of the mountains from here.
The best activity in town is Ridgway State Park, which features a large reservoir great for swimming or boating. This is the last stop before Telluride, so if you want to stretch your legs, do it here!
The South Route from Denver to Telluride, Starting on Hwy-285
Unlike the northern route, there are fewer stops along the way if you go this way — but the scenery ranges from lovely to outstanding and there are a few chances to see wildlife, too!
Be aware that this route does have some sections where it's only one lane in each direction so there's no guarantee you'll make good time. Then again, it's not nearly as heavily-trafficked as I-70.
Monarch Pass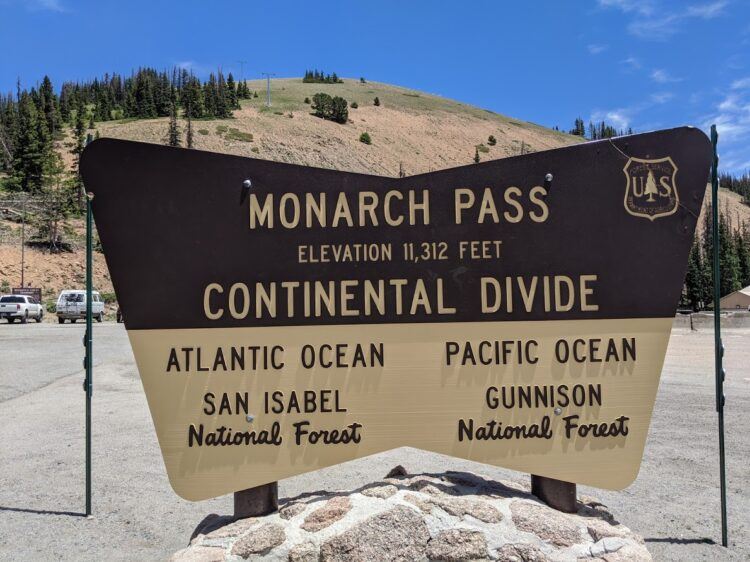 The first major point of interest along your route is about halfway through, at Monarch Pass. There's a large parking lot here (you can't miss it) with a gift shop and restrooms, but it's also a great place to stretch your legs.
In the summer, there's a lift that runs to the top to provide scenic views. There are also a few hiking trails here, though at 11,312 feet it's a strenuous place to hike unless you're already well-acclimated to the elevation.
West of Monarch Pass, in and around Sargents, keep your eyes peeled for elk up in the woods.
Curecanti National Recreation Area
As you continue along US-50, you'll parallel the water for quite awhile. This area is the Curecanti NRA and you'll find spots lovely for picnics, wading, or just enjoying the views.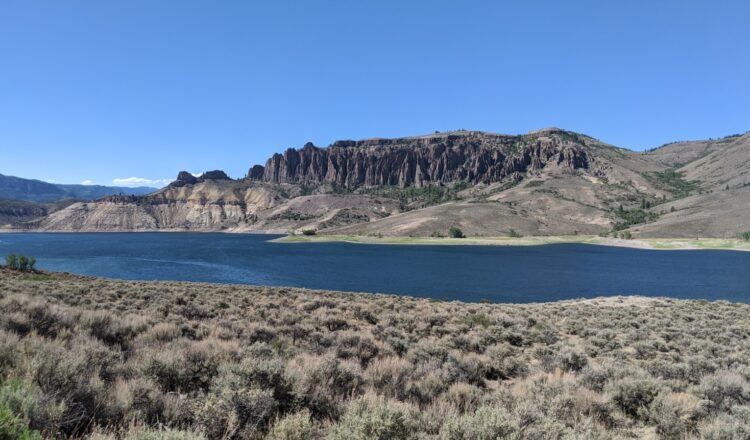 Narrowing down where to stop can be difficult, but in general try:
Wilson's Landing on the Gunnison River, if you want a scenic picnic spot (with a bathroom)
Dillon Pinnacles, if you want an easy trail (allow 1.5-2 hours)
Blue Mesa Reservoir, if you want to pop in for a swim (it was cold, but bearable, when I went in mid-July)
Black Canyon of the Gunnison National Park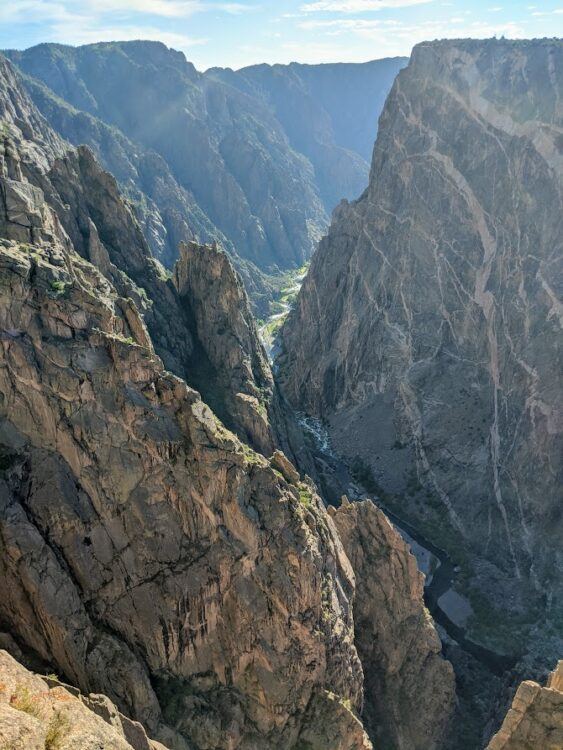 This route to Telluride takes you right near the southern entrance to Black Canyon of the Gunnison, one of Colorado's quieter national parks. Although you could spend all day exploring — especially if you intend to hike to the canyon floor — you can also get a good feel for it in about two hours.
The scenic drive along the rim will take you to several viewpoints. The Warner Point Nature Trail (1.5 miles round-trip) is a good one if you want to walk through the juniper trees to even more views.
Ridgway (Again)
Once you hit Montrose, the rest of the drive to Telluride is the same as the northen route, which means the last notable stop is Ridgway as I described above.
The Road Trip from Denver to Telluride is Just the Beginning
Once you're in Telluride, you won't have a hard time filling your vacation. This mountain town has a little of everything and is spitting distance to other fabulous day trips as well. Just don't spend all your time here…the stops between Denver and Telluride are equally worthwhile and well worth allowing plenty of time.
Read More About Colorado