This post may contain affiliate links. As an Amazon Associate I earn from qualifying purchases.
* * *
I've never been one for scenic drives. Give me my own two feet and I'll hike to soak up the views — I love catching my breath while my quads burn from a climb. But my husband convinced me to head from Ouray to Telluride over Imogene Pass, a 17.5 mile journey via Ouray's jeep trails.
The fact that we didn't have a jeep wasn't important to him: we'd rent one, he said. And so I found myself along for the ride, on one of Colorado's most scenic drives. After all, Ouray is the "Jeep Capital of America".
What is Imogene Pass?
Imogene Pass is the high point of a high-clearance, four wheel drive "shortcut" from Ouray to Telluride. I say "shortcut" because the trip is quite a bit shorter, but since you can't travel anywhere near highway speeds, it won't save you any time.
Below, you'll see the standard roads highlighted in blue. The jeep route is shown in red and travels through Uncompahgre National Forest. The actual route is much curvier, but this will help you get the idea of where it goes.
Standard two-wheel drives will not be able to make this drive. You MUST have a vehicle specifically built for off-roading (and you need to know what you're doing!).
If you have the means to make this drive, I will admit…it's absolutely gorgeous.
Ouray Jeep Rentals versus an ATV
Although we have a 4WD truck at home that my husband has taken off-road on many occasions, we didn't have it with us in Colorado. Thankfully, there are Ouray jeep rentals in town and these companies allow and assume you'll be traveling over rough roads. (Standard rental cars, like you'd pick up at the airport, usually forbid this type of travel even if the vehicle can handle it).
We ended up choosing an ATV instead. Why? Because you know they're fully focused on going off-road: they have high ground clearance, aggressive tires, a shorter wheel base, advanced suspension, and a higher bumper. Plus, they're plastic. In short, we didn't have to worry about babying a rental a little to avoid scratches on the body or accidentally hitting something on the undercarriage.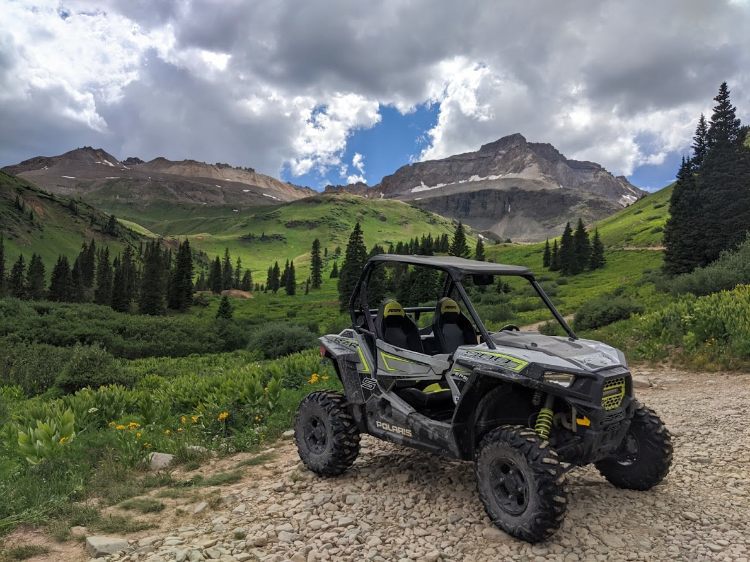 Besides…a jeep still feels like a car, even if it's souped up.
Our Polaris RZR — now that's an adventure.
We rented from Ride-N Adventures (right on the main drag of Ouray, CO). They had well-maintained vehicles and fair prices, and I'd recommend them. You can read more reviews here.
Our Journey from Ouray to Telluride (and Back)
The trip begins just outside town on a gravel road leading past Camp Bird Mine. At first, the drive is straightforward. There are steep drop-offs, but it's a well-graded road that anyone can drive.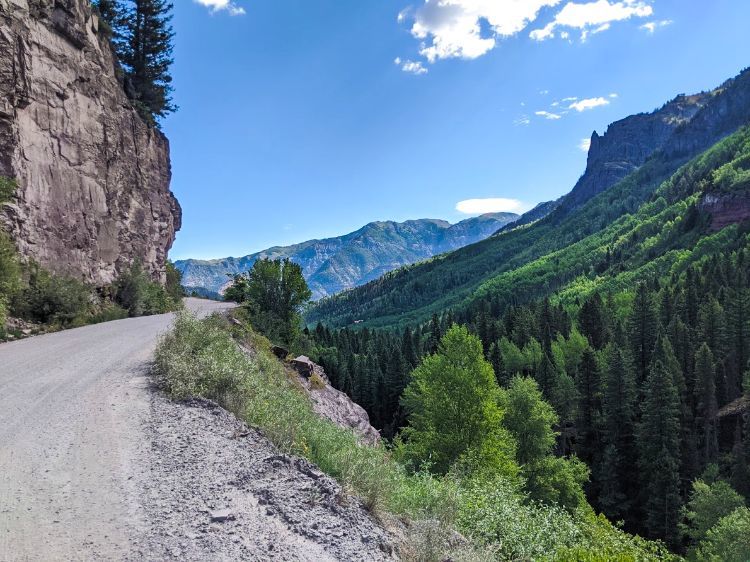 Eventually, the road turns off and becomes more of the off-road trail you expect though it remains quite manageable while you're in the forest. You'll need to keep an eye out for a few ruts or tree roots, but if you're going slow there should be no problem. Besides, the scenery is gorgeous and you'll want to go by at slow-motion to soak it all in!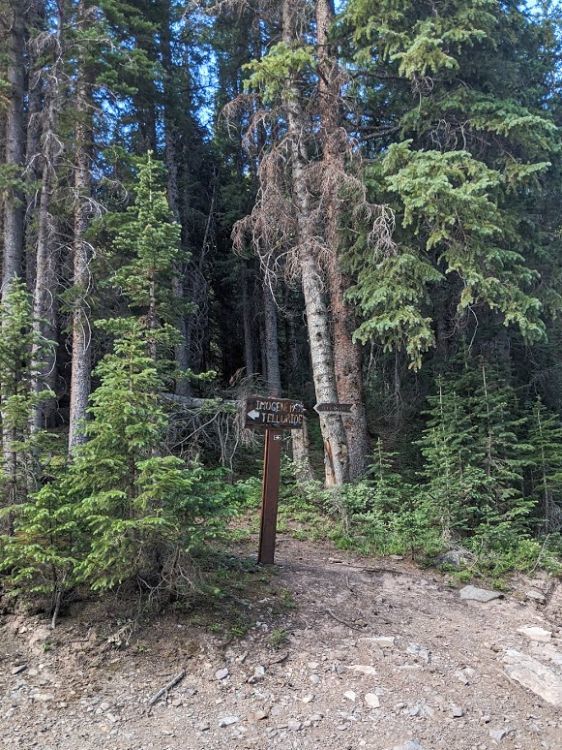 As you begin traveling uphill, the drive becomes moderately difficult. There are several switchbacks leading you through the San Juan range, but as you get higher and higher the panoramas become more and more stunning.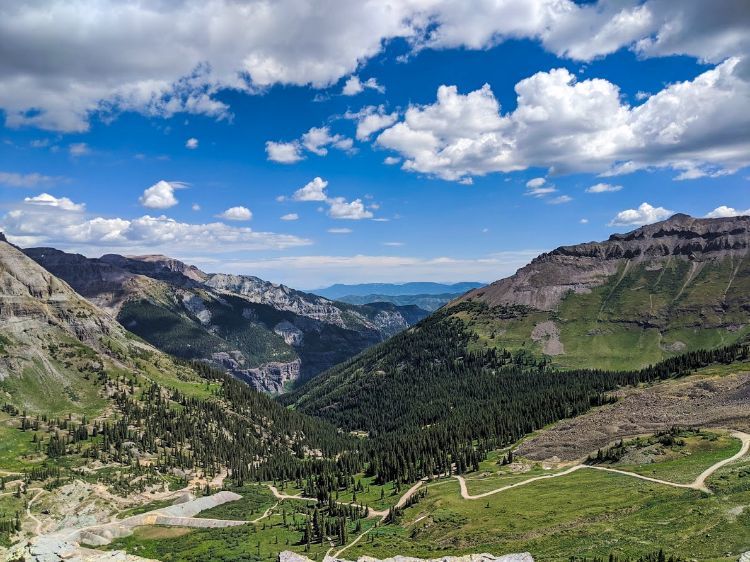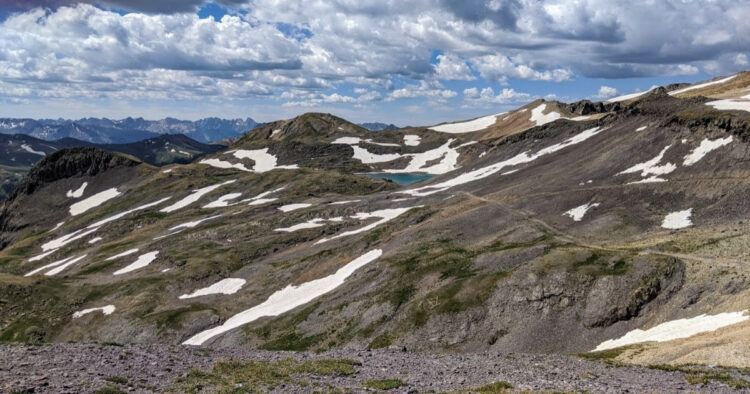 Eventually, you'll make it to Imogene Pass, at 13,114 feet.
This is the highest mountain pass in the San Juan Mountain range, which will make you feel like you're on top of the world. It's important to note that if you're not acclimated, you won't want to stay up here too long. The oxygen is thin and some people get headaches or other symptoms of altitude sickness even if you're not physically exherting yourself.
We were relatively adjusted, from staying a few nights in Ridgway prior to our adventure, but we still didn't stay long. Although it was warm and sunny when we started in Ouray, it was cool and windy on the pass!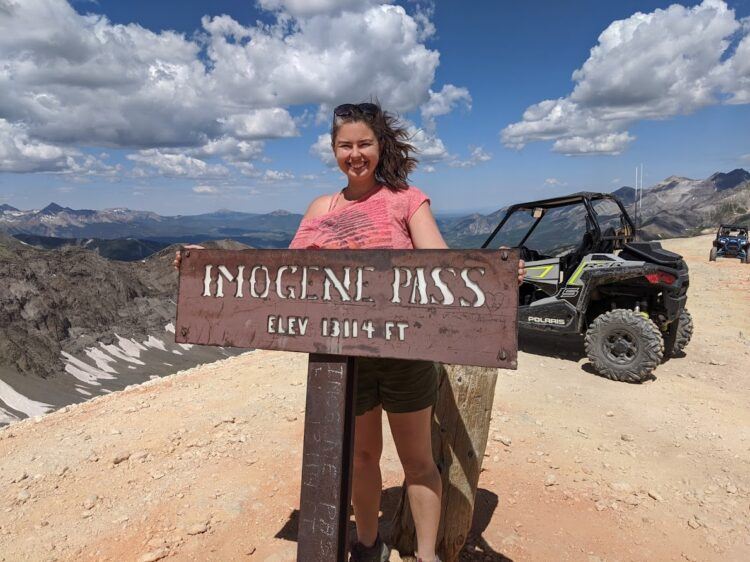 The backside of the pass, heading downhill to Telluride, has a few technically tricky sections due to the incline. You can also expect tight switchbacks and several narrow sections where you may need to be patient as other cars come through. As you head downward, you'll also pass some old mining ruins, which you can carefully explore if you like.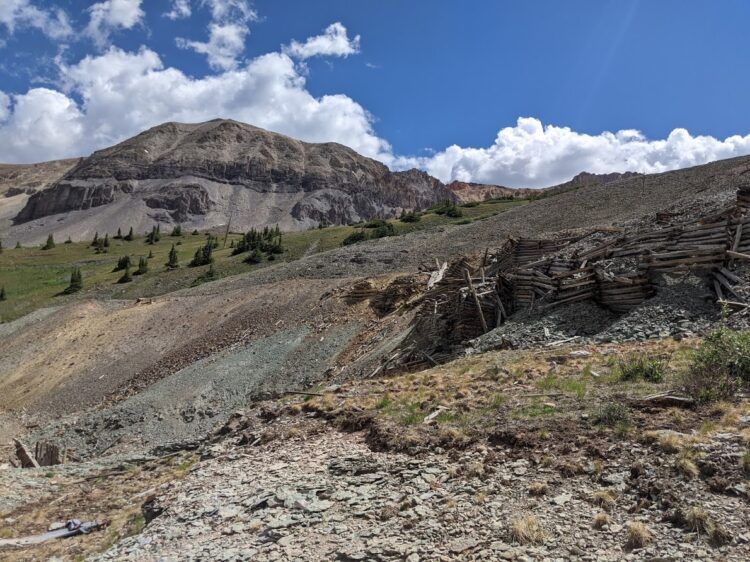 The second half of this road, from Imogene Pass to Telluride, gets much easier once you're at the bottom of the mountain. The trail continues through aspen forests (probably stunning in fall) and eventually leads to views of Telluride's center and the 4×4 Black Bear Pass in the distance. Unique to this half of the trail are also red rock views.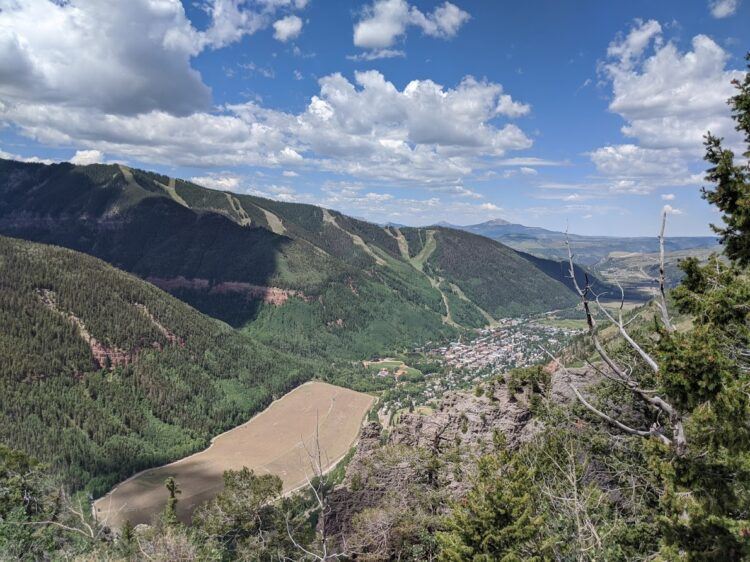 If you have time, you can park your car outside of town and walk a few blocks into Telluride's center. There are several restaurants right on the main drag through town (including some with outdoor seating) so a lunch stop would be easy. You can also take the free gondola to get up to Mountain Village.
We hiked the 4.5-mile round-trip Bear Creek Trail in Telluride, which is gorgeous trip through mountains and forests to a tall waterfall. Unfortunately, it's very heavily-trafficked.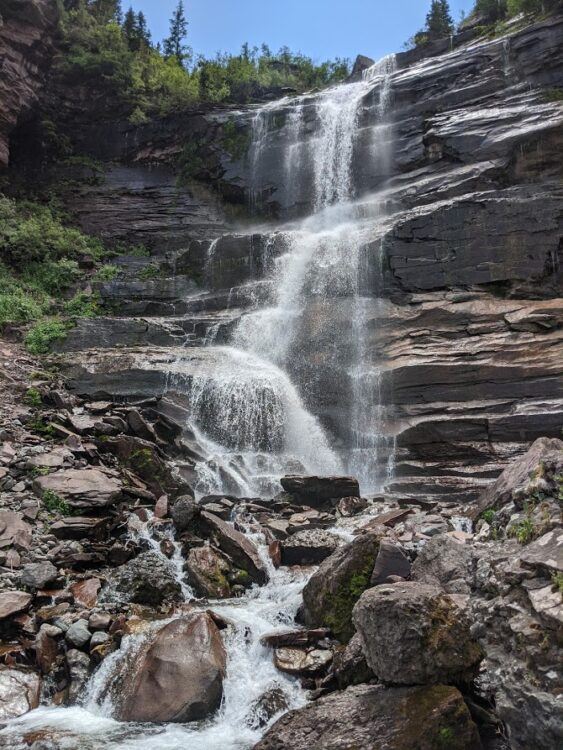 For what it's worth, if you only have time to do one-half of Imogene or the other (for example, on a half-day rental), I recommend the half from Ouray to Imogene. Although the trip is only 17 miles each way, it will take several hours, not including stops. It took us about three and a half hours from Ouray to Telluride, and about two and a half hours back since we didn't stop as much and I was a more experienced spotter by that point.
This side of the jeep trail has a better variety of experiences. You'll see sweeping mountain vistas, creeks, wildflower fields, and forests. The road itself also offers a variety of trail conditions which makes for fun driving.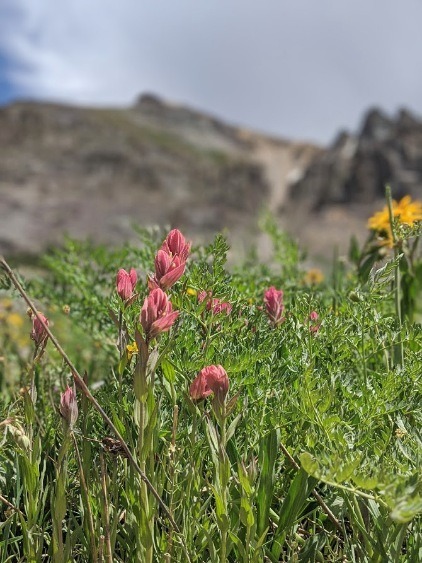 Other Ouray Jeep Trails
If Imogene Pass doesn't sound like your cup of tea (or if you're looking for a second or third option!), you'll find plenty of other Ouray jeep trails in the area.
Yankee Boy Basin
We had so much fun on our first trip that we made a second trip into Yankee Boy Basin. This area has a wide variety of roads to fit all skill levels — you'll start on easy, gravel roads wide enough for passing, though it gets more rugged from there. There are a few pull-offs designed for parking, which makes it great for someone who may want to stop if the trails are beyond their comfort level.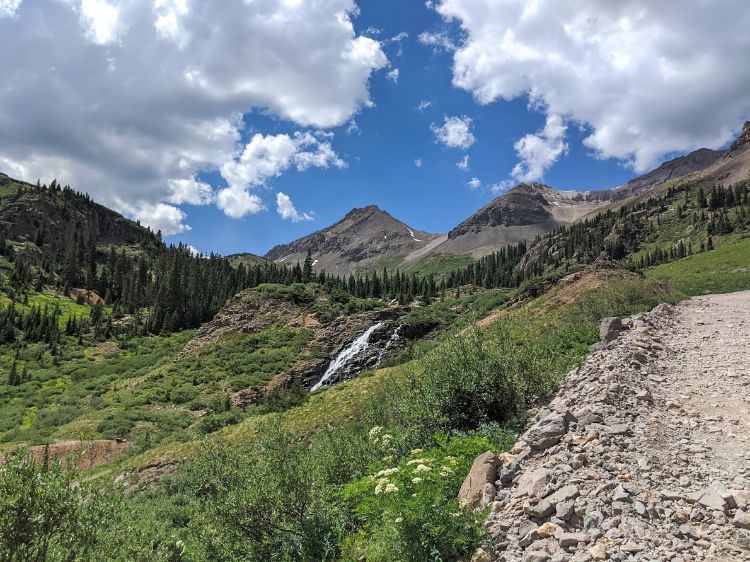 For a challenge, there are more difficult offshoots to Wrights Lake and Governor Basin. There are also some hiking trails (like Blue Lakes), so there's tons to explore.
The whole area has lovely panoramas. In early summer, it's full of wildflowers.
Corkscrew Gulch
There's a whole separate section of trails in the Corkscrew Gulch area. The trip to Corkscrew Pass, Hurricane Pass, and California Pass looks beautiful in photos and is known for being less technical than Imogene (especially if you skip California Pass). Expect scary-narrow roads, but no crazy inclines or crawls.
In theory, from here you can drive all the way to Silverton, although due to the distance it would be tight to do a round-trip in a single day unless you have a street-legal vehicle that can take Hwy 550 (the "Million Dollar Highway") back to town.
Relax and Enjoy the Ride with Jeep Tours in Ouray
If you're not comfortable driving off-road, I urge you to choose a tour (with driver) rather than a rental. This would've been me, if I had been traveling solo. My husband is experienced; I'm not.
There are jeep tours from Ouray as well as some leaving from Telluride. I'd strongly encourage you to go in an actual jeep – some tours convert truck beds to include bench seating and then pass it off as a bonus "open air" ride for photographs. In reality, I think you'll bounce too much for this to be worthwhile and you'll end up rather uncomfortable for several hours.
Switzerland of America Jeep Tours in Ouray (reviews here) offers quite a few different routes but the one I'd choose is to Black Bear Pass. Their full-day adventure takes the main road to Telluride where you'll then do the difficult and dramatic off-road to Black Bear Pass before returning Telluride to Ouray via Imogene Pass.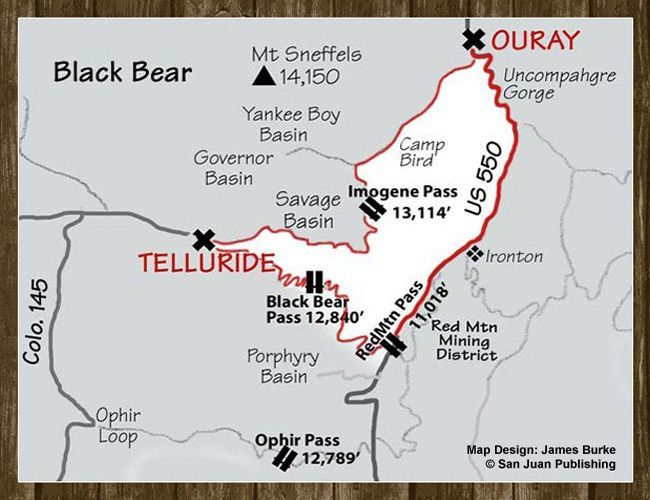 Would I Do It Again? Heck yes!
I didn't expect to enjoy our time driving from Ouray to Telluride as much as I did. The Imogene Pass trail has stunning views all the way which made this a great day out. It's worth doing, especially if you have the skills and desire to rent your own vehicle.
Plan Your Trip to Colorado