This post may contain affiliate links. As an Amazon Associate I earn from qualifying purchases.
* * *
Frisco was an unexpected find on our Colorado roadtrip. We never had plans of going there — never even gave it a second look — but when bad weather struck in Leadville and cancelled our hiking plans, we followed the radar to a dry patch of sky. It led us to Frisco, a small town with an adventurous heart. Turns out, it was right up our alley.
Surrounded by mountains, skiing and snowboarding dominate the scene in winter. In fact, I can envision just how busy it gets considering how many big name slopes are nearby. But there are also a bunch of fun things to do in Frisco during the summer, when crowds are light and prices are low.
That's my kind of vacation.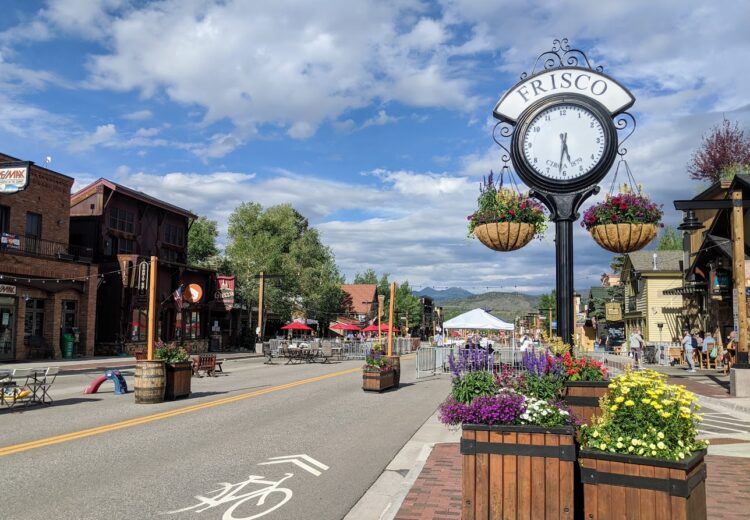 Summer Fun: 6 Things to Do in Frisco, CO
Frisco Bay Marina and the Dillon Reservoir
The Dillon Reservoir is pretty unique for Colorado. As large as a lake, it was created in the 1960s by damming a river to flood and fill the reservoir. Today it's not only used for water supply, but also as a major recreational draw for boating, fishing, and swimming.
You can access the reservoir from a bunch of places, but the Frisco Bay Marina is one of the easiest. You'll find an entrance right on the east end of Main Street, easily walkable from the center of town, and it's the place to be from June to August.
We saw families enjoying the beach, building sandcastles, wading in a few spots, and renting paddleboards and kayaks to head out on the water. There are also fishing and sailing charters on tap if you don't have your own watercraft, so there's really no excuse not to enjoy Lake Dillon in some form or another.
Don't like being on the water? There's also a paved recreation path that heads around the reservoir. The most popular section is a 6.5-mile (one-way) ride from Frisco Marina to Dillon Marina, although you can do the full loop in about 18 miles.
Bike Vail Pass
Despite the name, Vail Pass isn't in Vail at all…it's about halfway between Vail and Frisco and the downhill ride from the top of the pass back into downtown Frisco is a famous (and fun) trail in the area.
Renting bikes is super easy to do and shops often include a free shuttle so that you can cruise the trail in only one direction. From the top, it's a leisurely 14-mile trip through Copper Mountain and Ten Mile Canyon, with views abounding the entire time. In summer, you may also be treated to wildflowers along the path. Plus, the whole thing is a gentle descent so you don't need any special skills to complete the trip.
Frisco Adventure Park
For more summer fun, head to Frisco Adventure Park. It's tucked in the mountains just a quick drive away from Main Street and offers all sorts of activities. There are perpetual favorites, like hiking and biking, but there's also a skate park, disc golf, and chuckwagon rides that include dinner and a Wild West show.
We unfortunately didn't have time to check it out, but the vistas look beautiful in photographs. It would be a great spot to pack a picnic and spend the afternoon.
Frisco Historic Park and Museum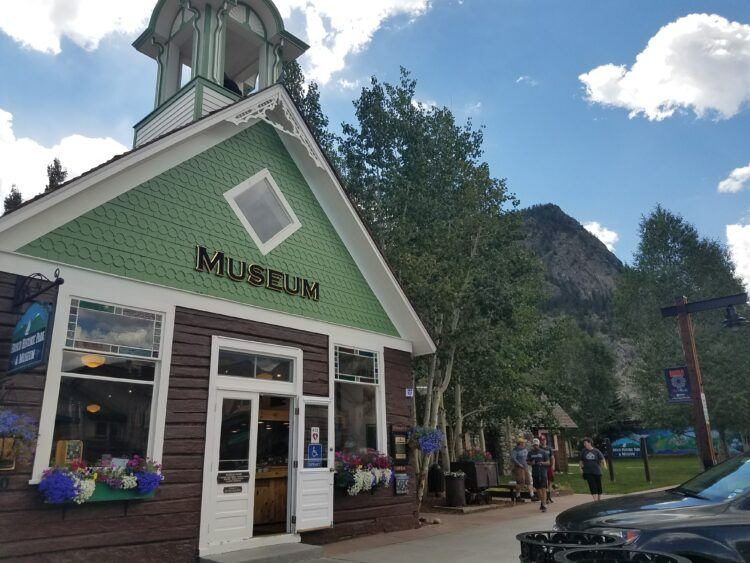 Like a lot of Colorado, Frisco activities lean heavily toward the great outdoors. However, the Frisco Historic Park and Museum is a total change of pace. It's a collection of historical buildings that you can enter and explore, making it more interactive than traditional static exhibits. Walk around the park — it's free! — and head in to the buildings to check out artifacts, photographs, and informational exhibits.
For many visitors, the highlight of a visit is a diorama of what Frisco looked like in the 1890s. There's an impressive model train that runs loops through the diorama (you'll need quarters to get it started).
Day Trip to Nearby Ski Resorts
Ski resorts turn into summer wonderlands once all the snow is melted. With six resorts to choose from (in no particular order, you'll find Copper Mountain, Silverthorne, Breckenridge, Keystone, Vail, and Arapahoe Basin in easy driving distance), that's a lot of gorgeous outdoor settings to choose from. You'll find chairlifts to scenic views, hiking, and all sorts of tourist amenities in town.
If you're having trouble deciding, try Copper Mountain. Ten miles of heart-pounding action, Copper Mountain's Coaster is a summertime favorite in Frisco. The track is 5,800 feet — one of the country's longest alpine coasters — and carts reach speeds of up to 25 miles per hour! But if it's raining, make other plans. It simply isn't safe.
Eat and Drink on the Main Drag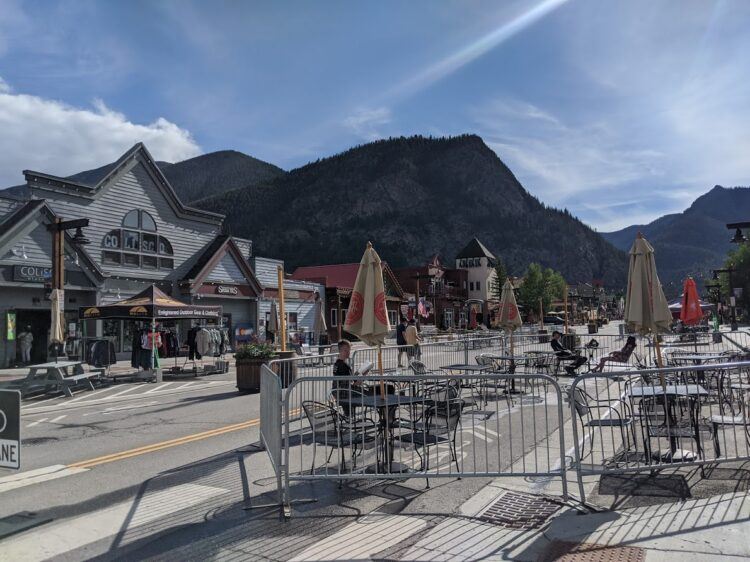 Beyond the Frisco activities above, the Frisco CO downtown corridor is postcard-perfect. Walking down Main Street is a pleasant way to start or end your day and there are a bunch of boutique shops, cafes, and restaurants to pop into.
We didn't get a chance to eat everywhere in town (not surprising, giving our limited time), but I can vouch for breakfast at Bread & Salt and great beers at Ein Prosit.
Where to Stay in Frisco
Since Frisco is close to everywhere without actually being on a ski resort, prices are way more manageable that staying in Breckenridge or Vail, for example. We actually stayed in Leadville (30 minutes south) and commuted into Frisco but in the future, I'd do it the reverse way. Frisco has such a pleasant appeal and a central location.
Here's where I'd stay: the Hotel Frisco, right on Main Street. You can walk everywhere and then head back to your quiet, comfy room for a good night's rest.
Bottom line: Frisco is a lovely town in which to spend a few summer days.
Read More About Colorado