This post may contain affiliate links. As an Amazon Associate I earn from qualifying purchases.
* * *
Ouray sits in a valley within the San Juan Mountains, so beautiful it's sometimes referred to as "the Switzerland of America". It's a small town that still manages to encompass everything a mountain trip needs. There are a few good restaurants on Main Street, some breweries, gorgeous scenery, outdoor activities, and even hot springs to soak in if you pushed a little too hard.
If you only have a day or two, you'll stay busy with what the town has to offer, like Box Canyon and Yankee Boy Basin. But if you have time, consider spending longer. It's a fun town to base yourself in for an area where it doesn't necessarily make sense to pack up and move every night. These day trips from Ouray, CO are a great way to round out your trip so it's not just hiking and jeeping day in and day out. Although, on second thought, I'd be happy with that trip, too!
Ouray Day Trips
Telluride
Distance from Ouray: 49 miles, or about a 1 hour drive each way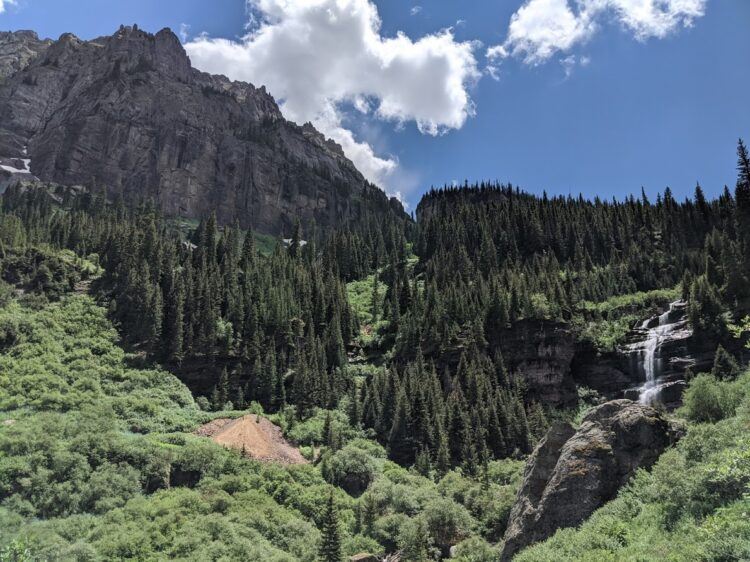 Another mining town in a setting too exquisite to ignore, Telluride is surrounded by snow covered mountains even in summer. The town sits at the base of a world-class ski and golf resort (take the free gondola up to Mountain Village for views overlooking town) and because of that, Telluride feels like the complete opposite of Ouray. It's polished with upscale shops and restaurants and a pedestrian-friendly main street heading past Victorian architecture and sidewalk cafes.
My two personal favorite activities in the area were the jeep trail over Imogene Pass from Ouray to Telluride and hiking to Bear Creek Falls. Like just about everywhere in Colorado, there's also biking, horseback riding, and river floats.
Durango & Silverton Narrow Gauge Railroad
Distance from Ouray: 70 miles, or about a 1 hour 40 minute drive to the train depot in Durango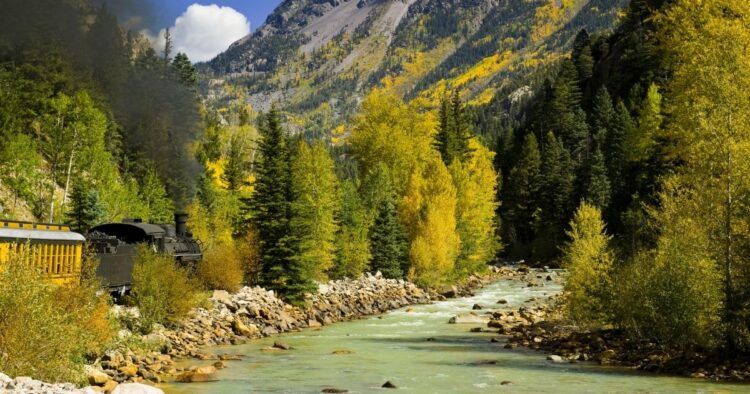 Durango isn't one of my favorite places but it is the starting point of a narrow gauge railroad that takes you through some of the most dramatic and breathtaking scenery in the country. Book tickets in advance for a steam-powered journey (yes, it's worth changing your schedule to pick the steam train instead of the diesel one) and enjoy the views as you head up to Silverton.
All aboard a train excursion that will take you through some of the most dramatic and breathtaking scenery in the country! Most trains only give you a small amount of time to have lunch and shop a bit, though if you can swing it, there's a ghost town about 12 miles up the road in the mountains.
Getting to Durango is a bit of a haul, but it's along the "Million Dollar Highway". Some say it cost too much to build, others that the road is built on gold ore, and still others say it is named for the spectacular views you can see with each turn of the road. Who cares where the name came from? You'll love it.
Black Canyon of the Gunnison National Park
Distance from Ouray: 55 miles, or about a 1 hour 20 minute drive to the southern rim (which includes some scenic park roads)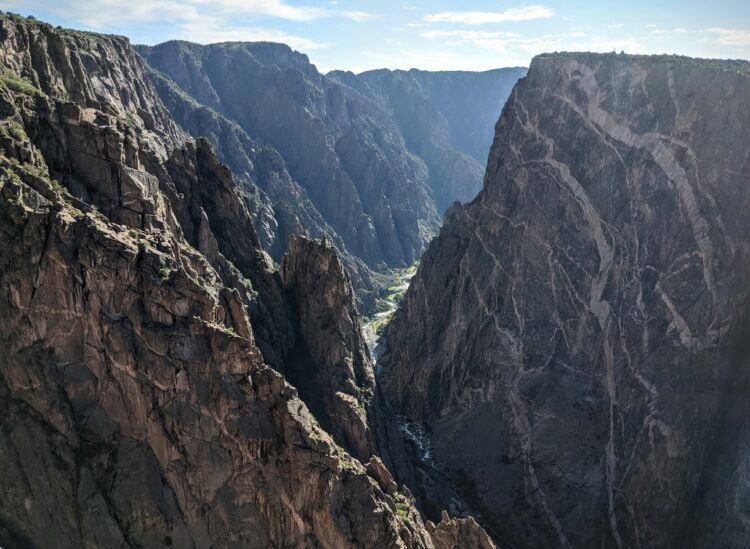 The Black Canyon of the Gunnison isn't a well-known national park but it's impressive just the same. Two tablelands are sliced by a dark, jagged chasm that the sunlight cannot penetrate. Nearly 3,000 feet at its deepest point with canyon walls sheered off into a straight drop, the gorge is dark — a black canyon, if you will.
The scenery is awe-inspiring, but admittedly looks similar along the length of the canyon rim. I was originally disappointed that there was no convenient way to get to the north rim but in retrospect, one rim or the other is fine: you'll still get a great feel for this vertical wilderness.
Ridgway
Distance from Ouray: 10 miles, or about 15 minutes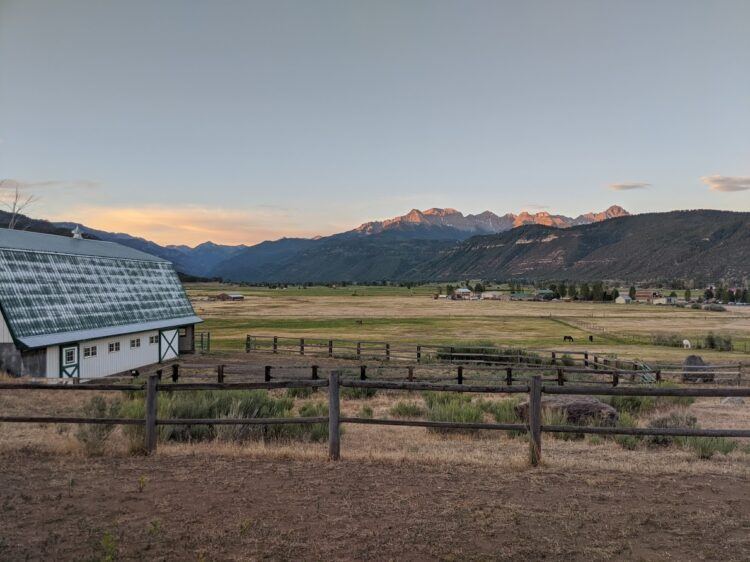 Ridgway is so close to Ouray that it barely even counts as a day trip. It's close enough you could pop in for dinner or for a stroll down the main drag. Since it sits in the foothills of the Uncompahgre River Valley, though, it looks entirely different than Ouray which is surrounded by peaks.
The main draw here is Ridgway State Park and its gigantic reservoir. You'll see boats and fishers as well as a few people out at the beach or swimming in the water.
Ridgway is also home to the Orvis Hot Springs. Unlike Ouray's Olympic sized hot-pool, Orvis is a more manicured setup with natural boulders, small cascades, and several pools of varying temperatures (and atmospheres). However, it's a clothing-optional site so keep that in mind when choosing which hot springs you prefer.
Curecanti National Recreation Area
Distance from Ouray: 80 miles, or about a 1 hour 40 minute drive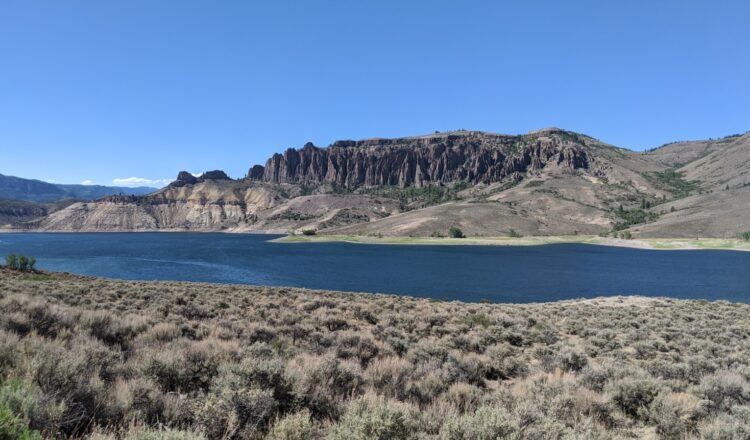 We stumbled upon the Curecanti National Recreation Area on accident, driving by on our drive from Denver to Telluride and deciding to make an impromptu stop. It ended up being a really fun day out and one that can definitely make sense to incorporate into your Ouray, CO trip.
The park sits on the banks of the Gunnison River and thus stretches over a long area that you could spend all day exploring. I recommend setting your GPS to Dillon Pinnacles, though — this is a scenic spot with gorgeous views, a pebbly beach, swimming (or boating) areas, some hiking paths, and lots of opportunities to picnic. In short, it's a great day out.
We jumped in and swam around. The water in July was indisputably brisk but not unbearable!
Lizard Head Pass
Distance from Ouray: 60 miles, or about a 1 hour 15 minute drive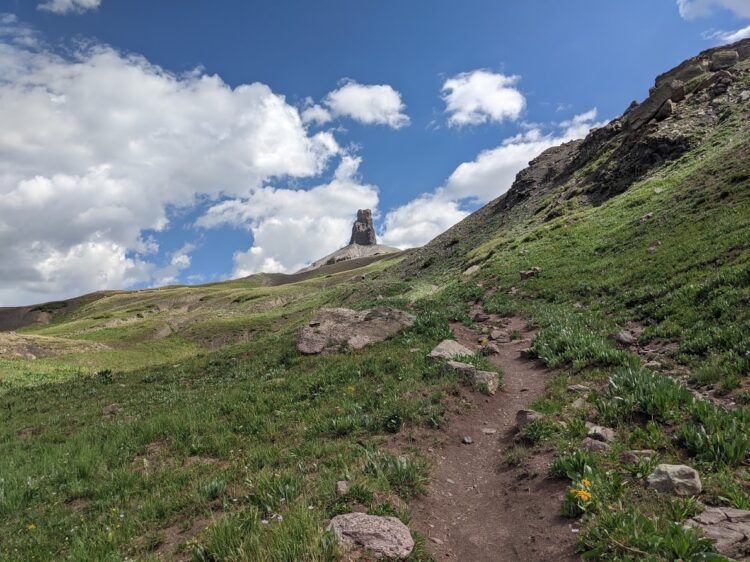 Of all the hikes I've done in Colorado, I think Lizard Head Pass in Uncompahgre National Forest is my favorite. It was certainly my favorite near Ouray. In about eight miles round-trip, you pass through meadows, past wildflowers, into forests and eventually to wide-sweeping views of the mountains around you.
Although it's "only" eight miles, this isn't an easy hike. There are steep switchbacks, windy jaunts above the treeline, and an altitude you won't want to mess around with. You start at 10,250 feet above sea level and go up from there so if you haven't acclimated, it can be a challenging trek.
The drive to and from here on the San Juan Skyway is really nice, so don't let the far distance put you off.
Colorado National Monument
Distance from Ouray: 100 miles, or about a 2 hour drive
The farthest option on this list of day trips from Ouray, Colorado National Monument is also the one place I haven't been. I'm including it anyway because it looks spectacular. It's an unearthly landscape with towering monoliths and fanciful stone formations carved by wind and water, and home to hawks, golden eagles, bighorn sheep, and omnipresent coyotes.
Since you're out of the mountain range here, there's a good chance the weather system is different. Even if it's cold and wet in Ouray, by the time you get out of the mountains to Colorado National Monument, it could be dry and sunny — the perfect back-up plan. Plan on hiking, biking, or just enjoying the scenic drive. The views look amazing year-round (please tell me if it's true in the comments!).
I Loved Ouray
It can be tempting to squeeze Ouray into just a few days — after all, it's a small town — but as my favorite part of Colorado, I'd urge you not to do that. Outdoor lovers can find several days worth of activities right in town but these Ouray day trips could easily extend it to a week or more. Time is always tight when traveling, but in this case, spend as much as you can.
Read More About Colorado