This post may contain affiliate links. As an Amazon Associate I earn from qualifying purchases.
* * *
Even if Newfoundland wasn't on your bucket list before, hear me out. Its Viking history dates back to 1000 A.D. and John Cabot arrived with the Brits in 1497. Yet, somehow, this part of Canada is still unknown by most modern travelers. In a world where overtourism is creeping into dozens of destinations, it was refreshing to visit Newfoundland and feel like I had it all to myself.
That's not to say that Newfoundland is outrageously remote or entirely off-the-beaten track. There are certainly spots that depend on tourism and even a tour bus or two in the town of Trinity. But crowded is a relative term, and even the busiest towns I visited were nothing compared to hot spots in the US or Europe… and there are plenty of hidden corners if you're just feeling recluse.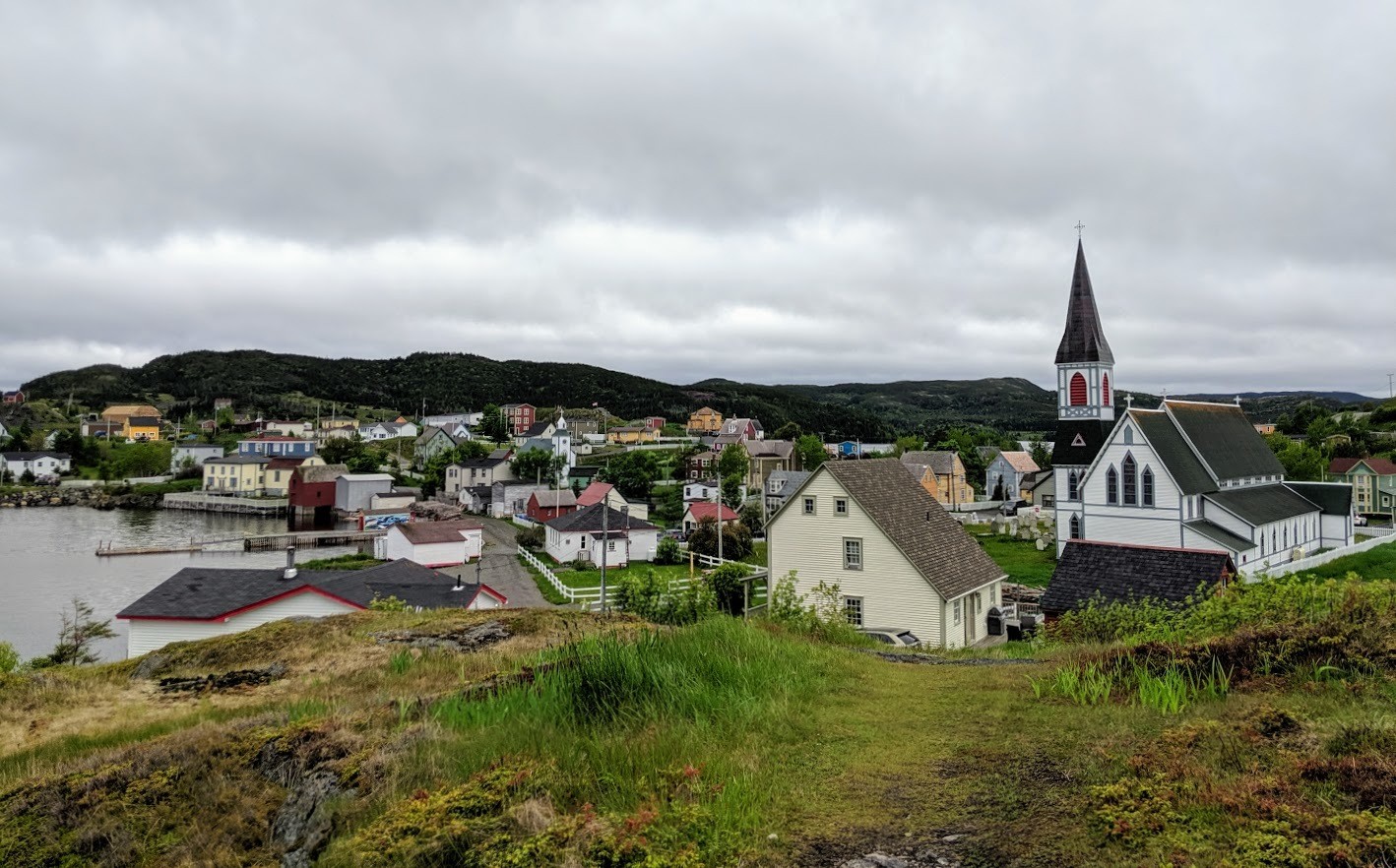 So if you've ever wanted to feel like you discovered somewhere before everyone else does, you should visit Newfoundland Canada. Besides, once you're there, you'll also find coastal, mountain, and countryside scenery.
Just the Basics on Newfoundland

The province of Newfoundland and Labrador is, like it sounds, comprised of two sections. The Labrador section borders Quebec on the Canadian mainland, while Newfoundland is an island northeast of the other maritime provinces. It feels quite independent from other areas of Canada I've visited, probably due to its remoteness and also possibly because it was an independent country from 1907 to 1949.

For the sake of this article, we're only talking about Newfoundland island, and not the Labrador section of the province.
11 Reasons to Visit Newfoundland Canada at Least Once
The Scenery is Tremendous (and easy to reach)
This rugged Canadian island — remote enough to be exciting, not so remote you should worry — is a gorgeous corner of the earth. Without too much effort, you can visit seaside villages, craggy islands, coastal paths, and forests everywhere.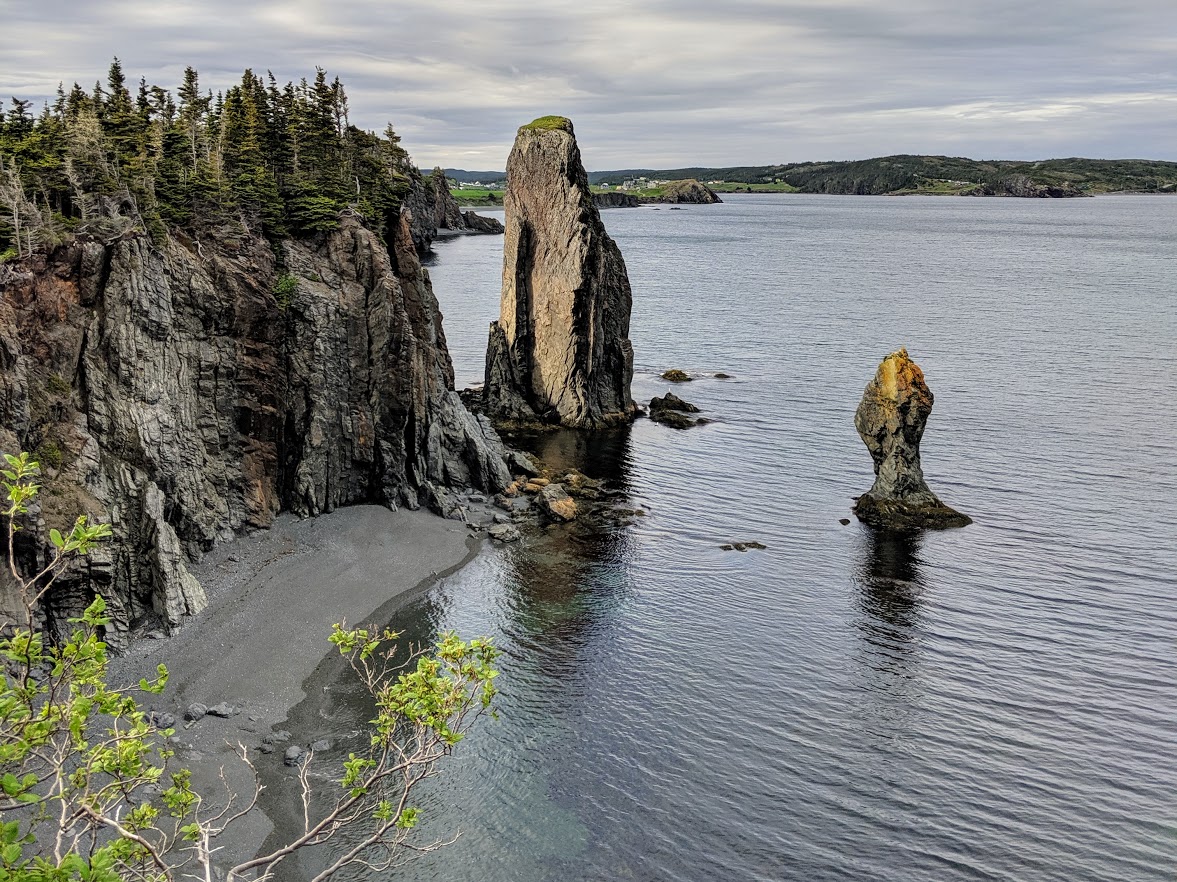 The scenery here isn't 100% unique; I've seen variations of it in Sweden, Maine, and Alaska (and I'm told it resembles Ireland in some ways as well). What makes Newfoundland a winner is that you'll see lovely views right from the main highway and on short, accessible paths. High rewards for low effort make Newfoundland travel rewarding for everyone.
Puffins, puffins everywhere!
Honestly I think puffins are just as cute, and probably sillier, than everyone's favorite penguin and frankly, it doesn't get easier to see them than in Newfoundland. Just south of St. John's, you can head by boat to Witless Bay, so there's really no excuse not to see them!
But if you have the time, I loved seeing puffins in Elliston, a small town on the Bonavista peninsula. Here, you'll take a short walk to get up close to the islands and cliffs they nest on in spring and summer. Since you're on solid ground, it's much easier to focus binoculars or cameras on these goofy-looking birds.
Small Communities, Some of Which are Absolutely Adorable
All of Newfoundland is dotted with small communities — lively, close-knit towns and villages where everyone is willing to take a minute to chat with you or tell you what makes their town special.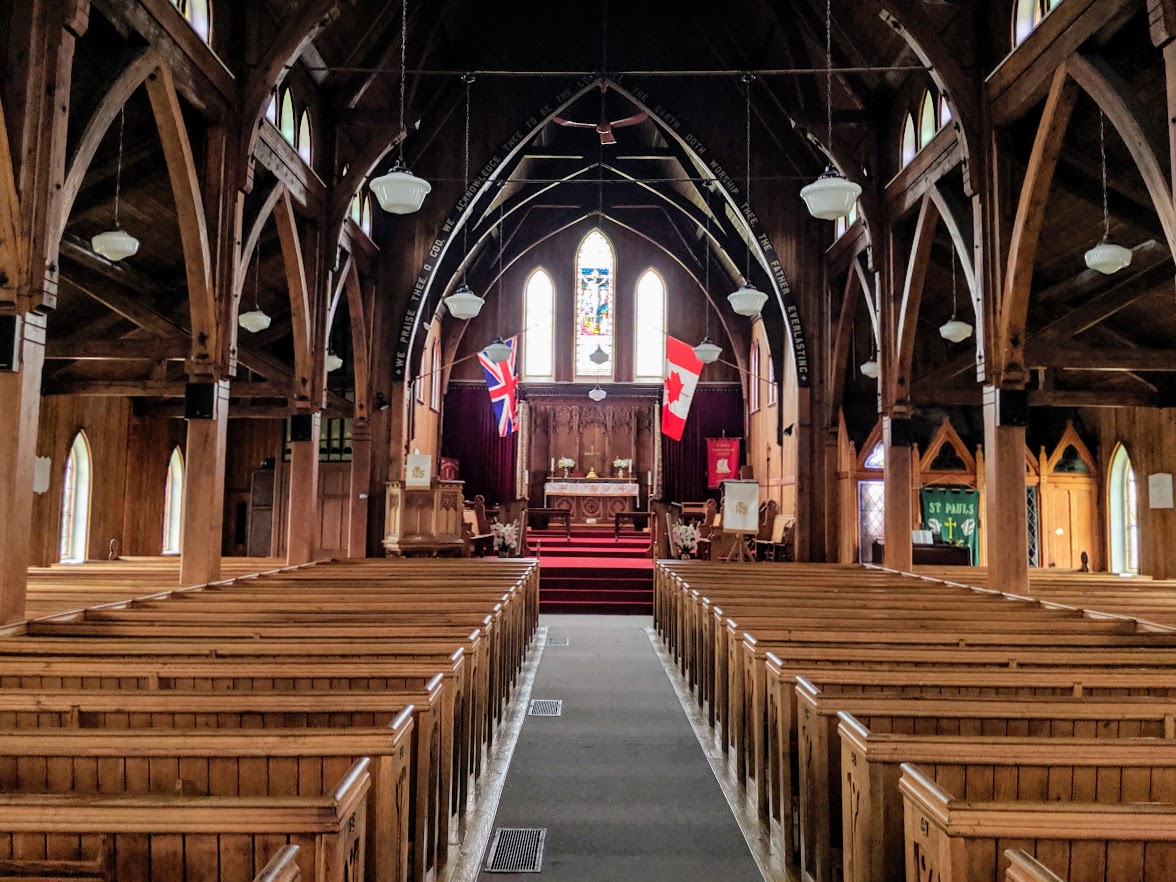 Many of these towns are historic fishing villages with incredible stories. We joined a walking tour of Trinity, and I'll be honest, at the beginning I wasn't sure how they could possibly fill three hours covering five or six blocks, but sure enough, there are tales galore.
You Have Seven Different Excuses to Explore
Locals claim there are seven seasons on Newfoundland, something I was totally unaware of before arriving. I think I experienced three of them on my trip alone… and weather was just the first of many things I was schooled about throughout my trip.
As you might expect, each of the seven seasons has a different highlight and reason to visit Newfoundland Canada.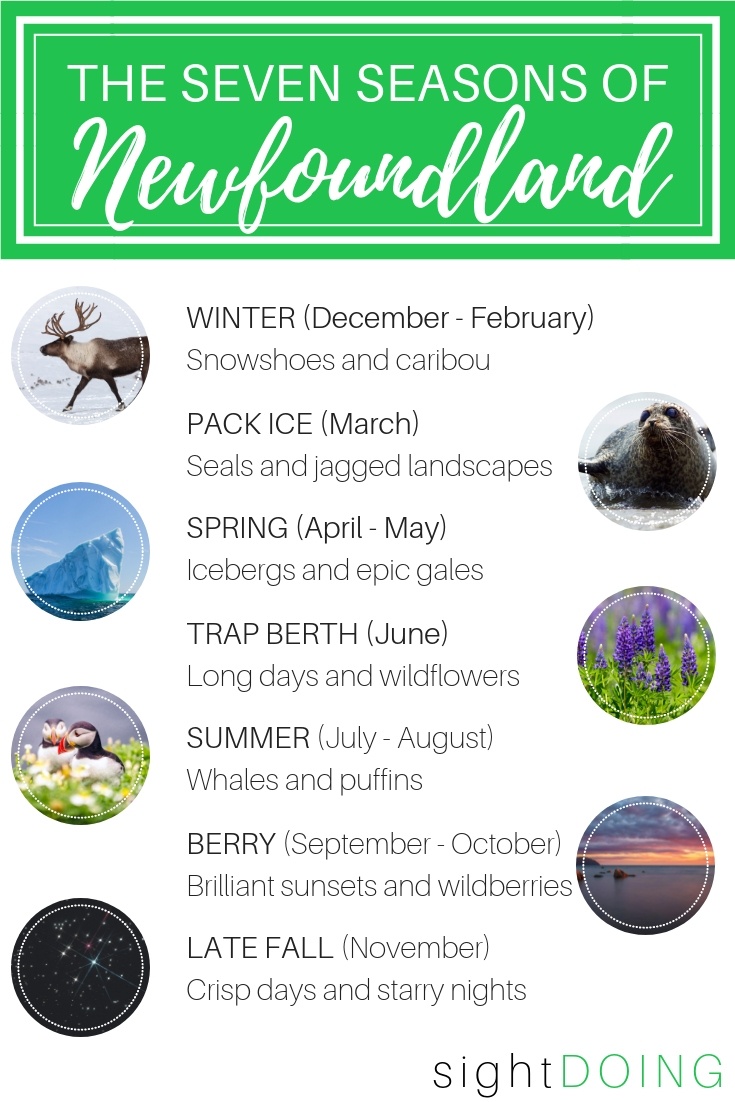 Best Time to Visit Newfoundland

Given such varied selling points, there's no single time that is perfect for all travelers.

However, my vote for the best time to visit Newfoundland is early to mid-June because you'll still encounter plenty of icebergs and puffins, the two biggest selling points to the area (in my opinion). This time of year is likely to have bearable weather — maybe even a few nice days! — plus lots of daylight.

I honestly thought our trip in early July tried to do too much… really too late for icebergs and too early for whales, plus the weather was still far from "summery". If you want a summertime visit, try late July or August, instead.
You Might See Whales from Shore
Newfoundland has 21 species of whales and dolphins, including a whopping 10,000 migratory humpbacks that come in the summer to feed on capelin and krill. Your odds of seeing a whale, in season, are pretty darn high.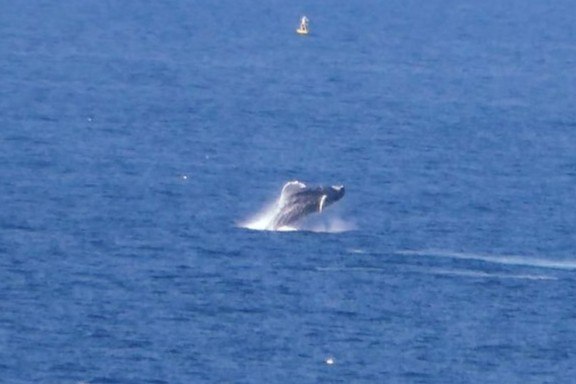 The best part, though, is that you can see them from coastal paths and lookouts, with no boat tour necessary (although obviously a boat will get you closer). Being able to watch them on your own schedule, on dry land, was a highlight of my visit — and saved me a good chunk of cash, too.
If you've got your heart set on traditional whale watching, don't worry: it's easy to book!
There are Lots of Land Animals, Too
For a province with lots of undeveloped land, there's less wildlife than I expected, but there's still a chance of seeing moose, caribou, black bear, otter, muskrat, fox, or even lynx.
Of these, the only one I saw was a moose — and interestingly enough, moose aren't even native to Newfoundland! They were introduced to the island in the late 1800s and they are still thriving today with conservative population estimates being more than 110,000+.
You Can Cool Off in Summer (or anytime, really)
Even in the heart of summer, Newfoundland has mild temperatures: about 61°F (16°C). It was actually cooler than that for my visit in the first week of July, though we were also told it can get a bit warmer than that on particularly nice July and August days.
While you might think that's a deterrent, it was really nice to get a cool night for sleeping without air conditioning and to enjoy day hikes without having to worry about the heat. Just be sure to pack some layers — when the wind comes through, it can be bitter.
Newfoundland Hiking is for Everyone
Over the course of my visit, we tackled strenuous trails as well as easy walks along the seaside. After attempting multiple levels, I can assure you, some of the most reasonable walks are just as beautiful as the others.
My favorite hike of the whole trip was the Fox Island Trail — 5.5 kilometers if you make the round-trip loop, and shorter if you have someone pick you up partway through at the aquarium (by that point, you've seen the best parts). It was mostly flat and on level terrain.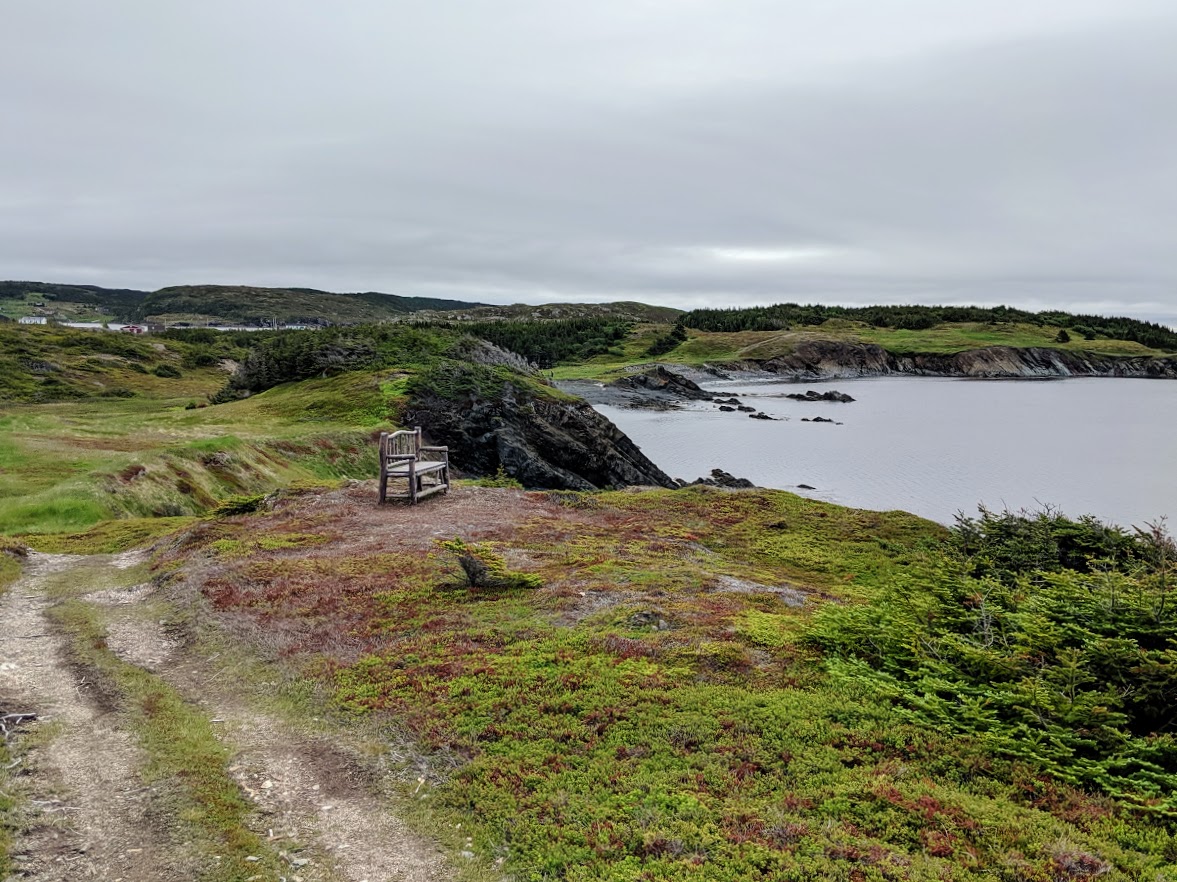 If you want more of a challenge, no problem: you can trek for days on end throughout Newfoundland's best scenery, like on the ECT Thru Hike (300 kilometers!).
Iceberg Alley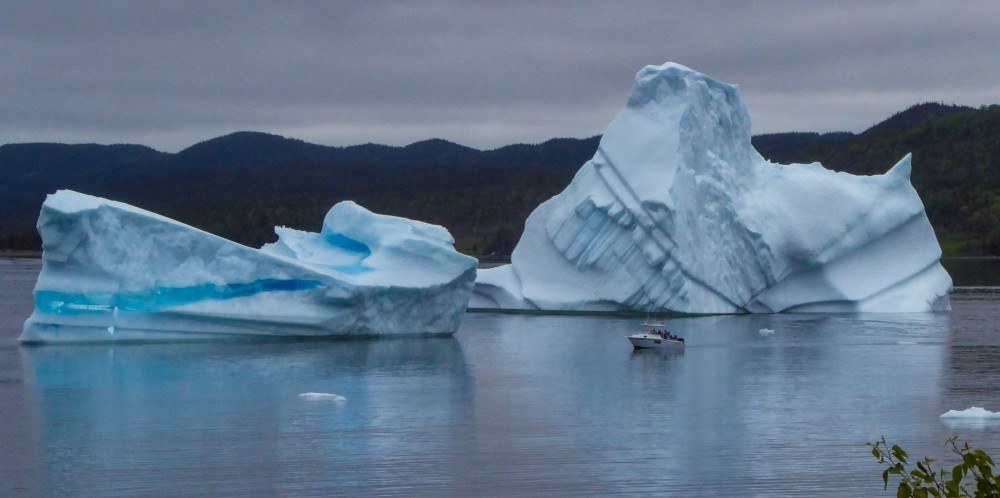 Have I mentioned icebergs yet? Yes, if you time it right, Newfoundland's iceberg alley has to be one of the easiest and most consistent places to view giant bergs that have floated hundreds of miles across the ocean.
Like the whales, you can see icebergs from shore or by boat and you never know what you might come across.
There's Plenty of Unspoiled Wilderness
I actually didn't go to Newfoundland's crown jewel, Gros Morne National Park (although the rest of my family did earlier in the road trip and had nothing but great things to say).
Regardless, you'll still find acres and acres of wilderness across the island even though most of it isn't officially protected lands. Opportunity abounds to find your own perch to watch the sea or to simply get lost.
And Don't Forget the Seafood!
Not surprisingly, much of Newfoundland's heritage (dating all the way back to Vikings) was based on fishing. Although they placed a moratorium on commercial cod fishing back in 1992, there's still plenty of other seafood in the sea.
From scallops, halibut, snow crab, shrimp, salmon, and plenty more, this is a seafood lover's paradise. My only regret is not eating more of it.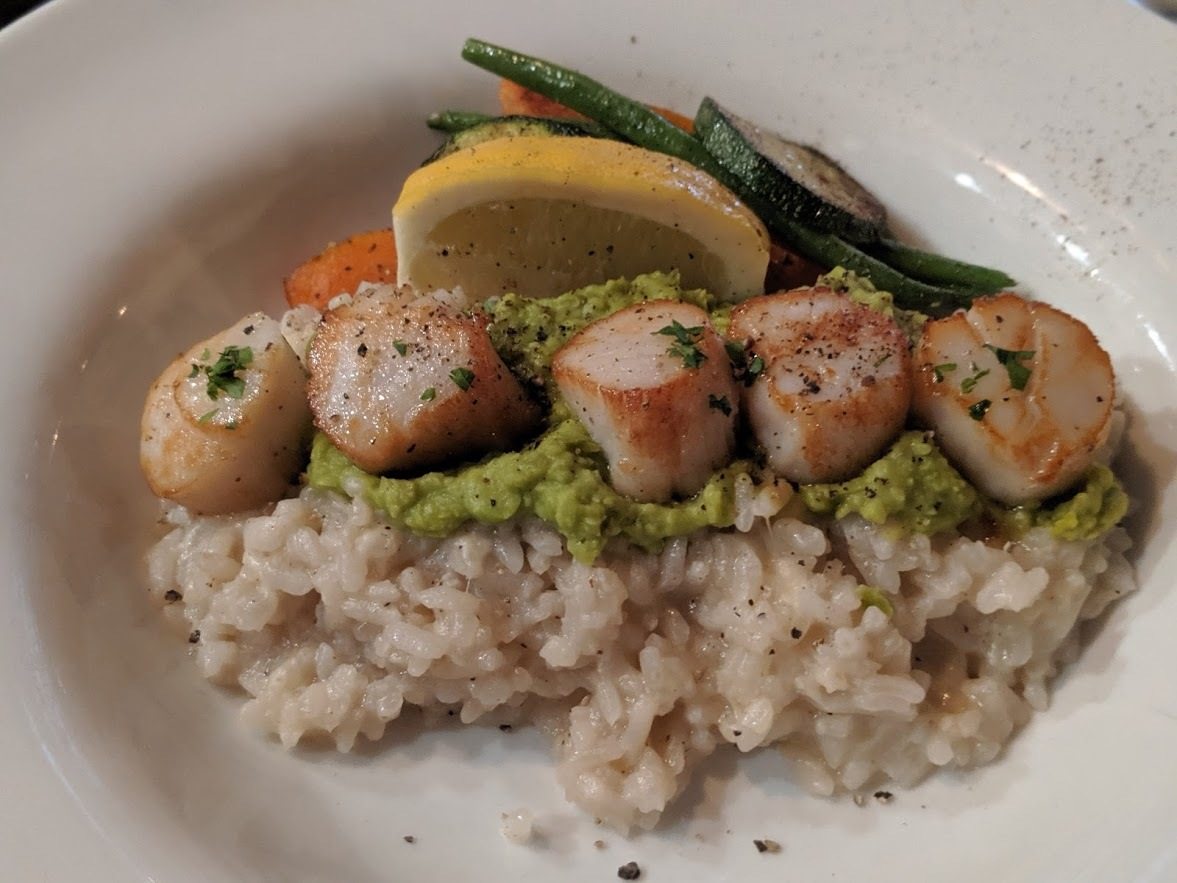 If I've Convinced You to Visit Newfoundland, Here's What You Should Know
Newfoundland travel is (mostly) easy, but it does have a few things to keep in mind:
1. Distances are Vast.
From L'Anse aux Meadows National Historic Site (Vikings) to St. John's is an 11+ hour drive. You cannot see the whole island on a short trip.
If your time is limited, plan on:
2 days near Trinity to see the Skerwink Trail, Elliston puffins, and the Bonavista Peninsula
2 days near St. John's for good restaurants, Cape Spear, Signal Hill, Quidi Vidi, The Rooms, and a day trip to Witless Bay
2. Book Your Accommodations in Advance
The tourism season is short and towns are small; hotels DO sell out in advance. Also, places can be really, really quirky.
I very much liked our Airbnb at the Skerwink trailhead (15 minutes from Trinity). If I return, in St. John's I'd stay in walking distance of the Quidi Vidi district and Signal Hill because downtown was very underwhelming; try The Inn by Mallard Cottage.
3. Pack Rain and Wind Gear
Otherwise you'll end up spending part of your vacation shopping at the local Salvation Army for new gear, like my parents did.
Keep Reading:
There are 600,000 Puffins in Newfoundland. Here's Where to See Them
How to See Icebergs in Newfoundland
The Waterproof Backpack That Protects Your Stuff in Constant Newfoundland Rain
* * *
Who wants to visit Newfoundland Canada now?