This post may contain affiliate links. As an Amazon Associate I earn from qualifying purchases.
* * *
Hollywood seemed like a convenient base for exploring the greater Fort Lauderdale area, but I didn't expect much from the city itself. It's just sun and sand, right? How little I knew.
This itinerary is short and sweet, making it perfect before or after a cruise or as part of a longer Fort Lauderdale vacation. Without factoring in time for swimming, lounging, or heading to downtown, here's how to spend 24 hours on Hollywood Beach Florida.
What to Do in Hollywood Florida in Just One Day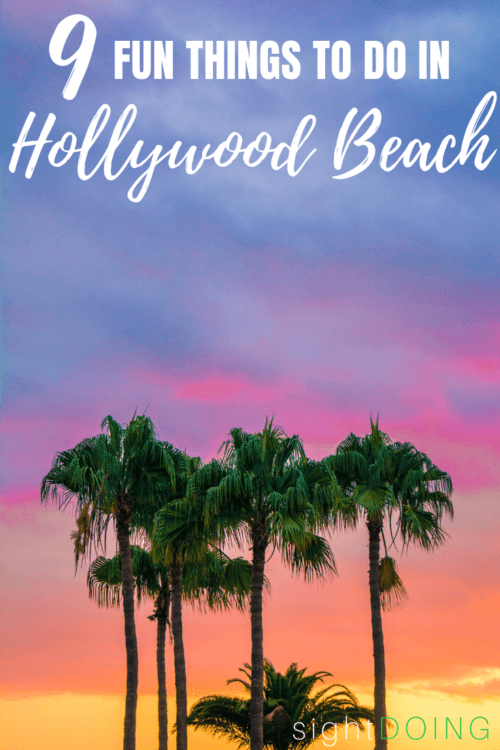 4:00 p.m.: Ride the Waves at Margaritaville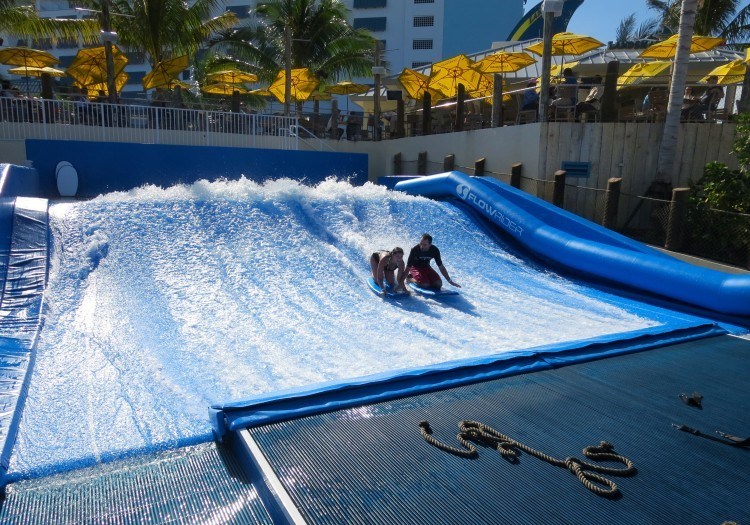 After surfing in Nicaragua and Southern California, I thought surfing in a Flowrider would be a piece of cake. But with constant 35mph "waves", this surf simulator is harder than it looks. Sessions start with bodyboarding (on your belly) and kneeboarding, both of which were simple and a ton of fun. As soon as it came to standing up, though, I lost my balance.
Unlike traditional surfing, the wave is at full speed the whole time, and I found it really hard to maintain my balance. Luckily it's fun even when you fly backward…after all, it's like a reverse waterslide!
Try it Out: Book a 1-hour session at Margaritaville (you don't have to be a guest to try the Flowrider). You'll likely have a crowd watching from the adjacent Broadwalk and in the bar upstairs, so ladies a one-piece suit or quick-dry top will keep you proper! (Need other ideas for things to do near Margaritaville? See this post!).
5:30 p.m.: Toast to Your New Skills at Taco Spot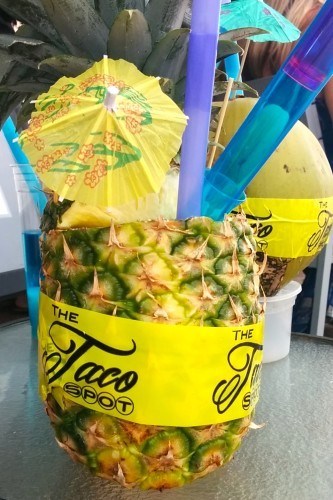 Nothing says vacation like a frozen drink served directly in a pineapple. The Taco Spot serves up your choice of icy cocktail (my vote: Miami Vice, a layered version of pina colada and strawberry daiquiri) in an extra large serving size. Sound too sweet? The coco loco is coconut water and rum in…you guessed it…a coconut!
The other huge draw to this restaurant and bar is its location right on the Hollywood Beach Broadwalk. While you're sipping away on your drink, you're treated to great people-watching and a lovely view of the waves rolling into the beach.
Order Up: The tacos here were perfectly fine but not noteworthy. Instead, order the grilled corn on the cob, which comes brushed with cilantro pesto and parmesan cheese or the nachos, which looked great.
7:30 p.m.: Take a Seat at the Hollywood Beach Theatre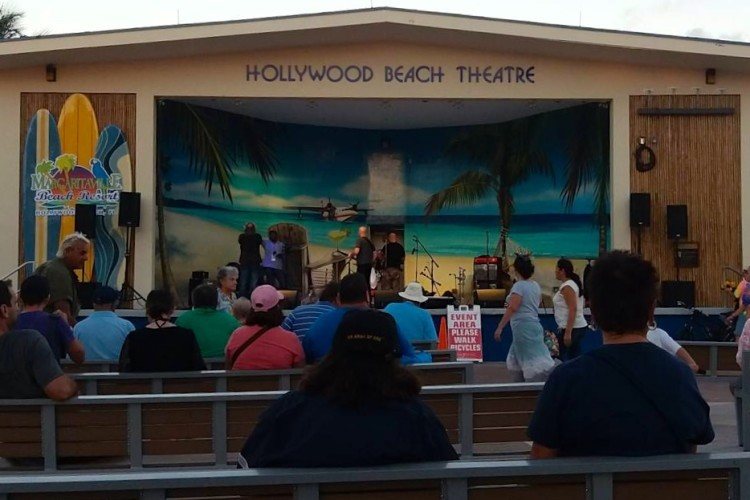 I'm not one for concerts, but when they're free, I start to get more interested. Almost every night, there's live music at the outdoor Hollywood Beach Theatre right on the Hollywood Beach Broadwalk. Music styles vary throughout the week, giving everyone a taste of something they'll like.
Many spectators stumble upon the music as they're walking along the beach and just stay for a song or two, standing in the back. Others watch from the Landshark Bar above, where there are great views from the tables along the rail.
TIP: Concerts are typically 7:30-9:00; if you plan on staying for the whole show, arrive early to claim a seat on one of the benches.
9:00 p.m.: Settle Into Your Room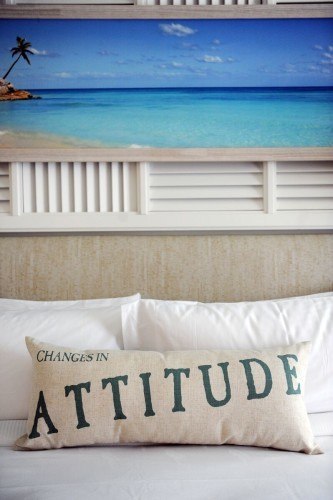 Margaritaville has a tremendously convenient location, great breakfasts at their signature restaurant, and three awesome pools.
That said, if you're looking for somewhere quieter to stay, check out the Diplomat Resort & Spa. I didn't spend the night, but the property is beautiful and service was great at dinner (and in the lobby bar). It's about three miles south of the action, but it's still oceanfront and it's right on the Hollywood trolley route so you don't have to worry about driving.
7:00 a.m.: Wake Up for Sunrise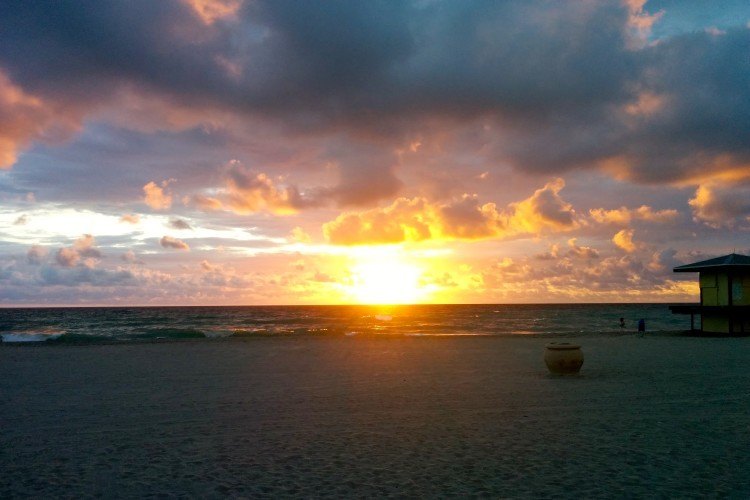 Florida is the sunshine state, but Hollywood is the best place I've found for watching the sun rise. The colors were phenomenal, day after day. In fact, after accidentally seeing sunrise one day, I made an effort to get up early each day after that to see it again.
Don't believe me? Sunrise on the beach was my most-liked Instagram ever, so I'm not the only one who thought so.
Sleep in (sorta): If you're not a morning person, visit at the end of October when sunrise is at its latest. The rest of the year, you'll have to get up a little earlier.
7:30 a.m.: Practice Yoga on the Beach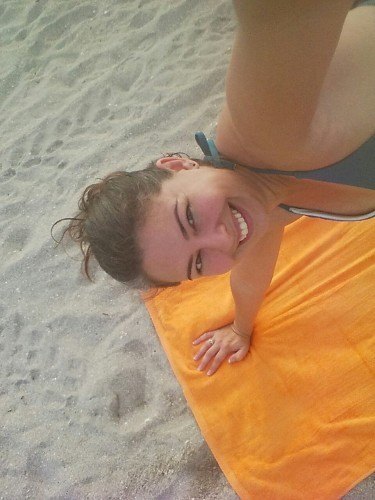 Several yoga studios in Hollywood offer classes on the beach, but days and times vary with each instructor. If the schedule doesn't work for you, there's no reason you can't practice on your own. With the waves as your soundtrack, it's easy to slip into a relaxing
If you prefer some guidance with your workout, I love Yoga with Adriene videos (free!). Experienced yogis can just slip some headphones and follow along, and beginners should place the video somewhere you can see it throughout your practice.
Accessorize: Keep your phone close at hand in a waterproof phone case.
9:00 a.m.: Stop for Breakfast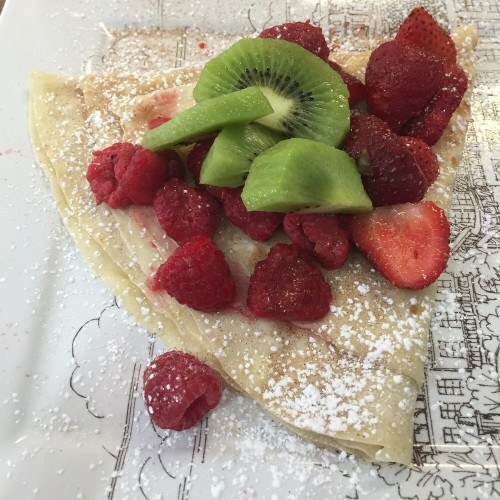 I was drawn to Les Artistes Cafe for their veggie juices, since I desperately crave a way to add greens back into my diet while traveling. But, realistically, it didn't hurt that you can get crepes and cappuccinos on the side!
This small crepe shop is on a side street rather than the main drag, so you won't accidentally stumble upon it while looking for restaurants.
Free Wi-Fi: There are no Starbucks on the Broadwalk, but this is a good option for iced coffee and a connection, if you need it.
10:30 a.m.: Cover Some Ground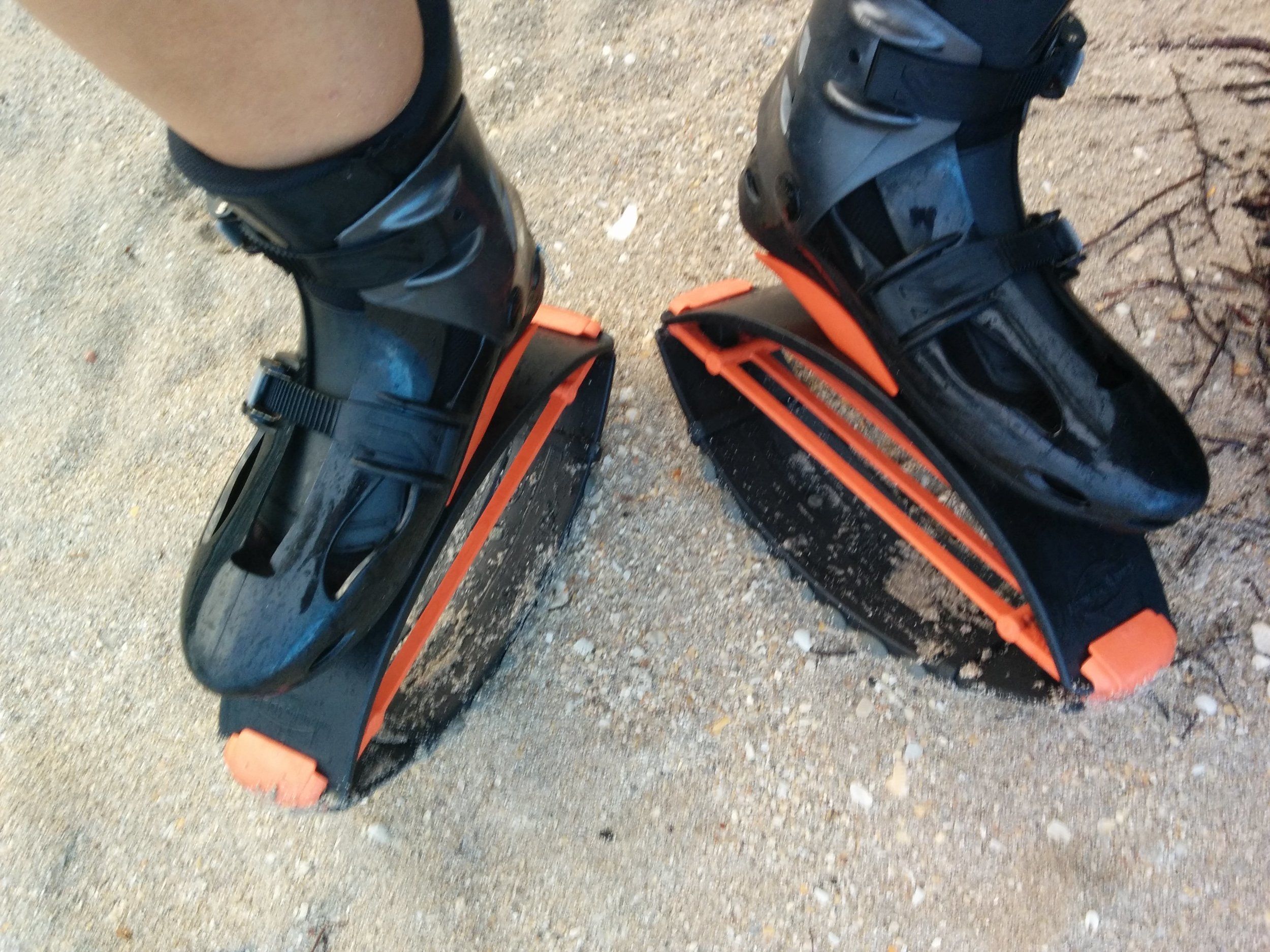 The Hollywood Beach Broadwalk is 2.5 miles long, so just about anyone can cover the full length of it if you wish to. Rent a bike or surrey or walk in the designated pedestrian area…or get a little crazy if you dare.
Hollywood Beach Trikke offers strange rentals, like the three-wheeled trikke, ground-level mobos, and more. Since it was wet and slippery during my visit, I slapped on Kangoo Jumps. These weird jump boots are the fastest way to bounce along the Broadwalk and get some funny looks along the way.
12:30 p.m.: Shop Til You Drop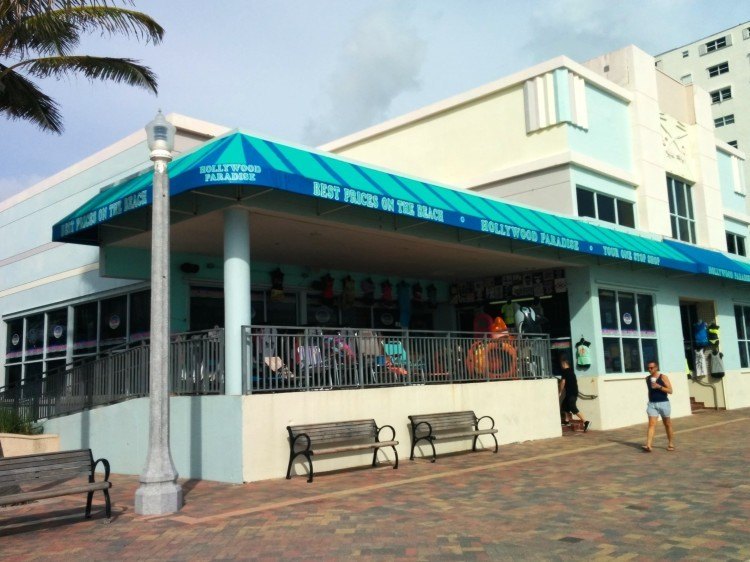 There are 30+ stores along the Hollywood Broadwalk, most of which have an assortment of t-shirts, beach toys, and other souvenirs. Even though I'm not a shopper, I just feel like it wouldn't be a beach trip without popping into a few of these stores to try on funky sunglasses and look for seashell magnets.
Keep an eye out for a cute jewelry store, which I can't remember the name of for the life of me. Just means you'll have to look for your own discoveries!
Save Your Money: The Broadwalk shops are fun, but if you need sunscreen and other essentials, head into town to visit a standard drugstore instead of paying premium prices.
2:00 p.m.: Feed Your Growling Belly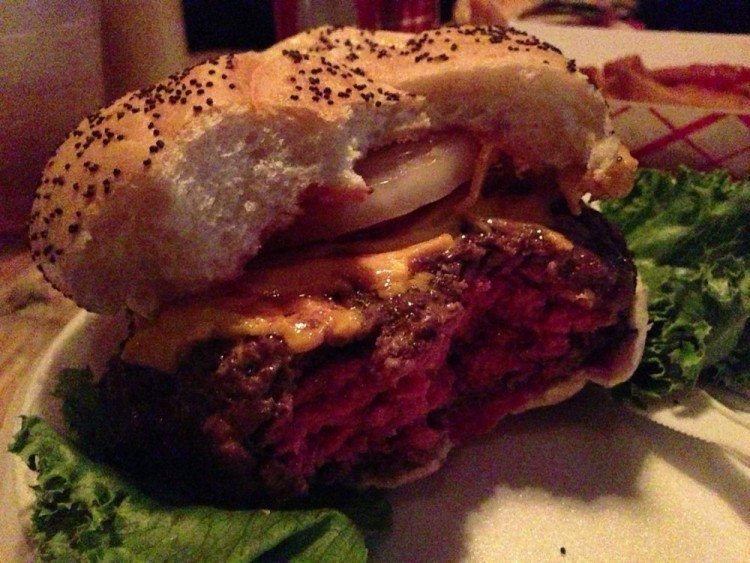 Le Tub is a former gas station now decorated with bathtubs and toilet seats. In short, it's not the type of place you'd normally go to for lunch, and that's precisely why it's interesting. This place is a dive in the best of ways, though it's right on the Intracoastal Waterway for lovely views.
I never got the chance to eat a full meal there, but my new companions at the bar were raving over the burgers as I was stealing a few thick-cut fries (crispy on the outside, soft on the inside) and enjoying a midnight snack of key lime pie (also excellent). Next time, I'll order a burger, too.
Plan accordingly: No kids allowed after 8pm due to the bar-like atmosphere. If it's important to you one way or the other, plan ahead.
* * *
Do you have time for more Hollywood Beach Florida things to do?
With more time, plan a day at the beach for swimming and wave jumping (but watch for jellyfish), take a side trip to kayak at Whiskey Creek Hideout, or head into Greater Fort Lauderdale for water sports and action-packed fun! Check out some fun things to do in Fort Lauderdale that you've never heard of!
* * *
Many thanks to The Greater Fort Lauderdale Convention & Visitors Bureau for hosting part of my visit. I blended the best of my independent visit and my hosted visit to create a perfect itinerary, just for you. As always, all opinions are my own.
Read More About Florida