This post may contain affiliate links. As an Amazon Associate I earn from qualifying purchases.
* * *
Choosing the best time to visit Niagara Falls requires more than looking at the weather. Each season has a different atmosphere, a different look, and different advantages. As a local, I've experienced them all and have a few preferences for sure. The good news is that most of the year is a totally fine time to visit, but some months are better than others.
The Absolute Best Month to Visit Niagara Falls: September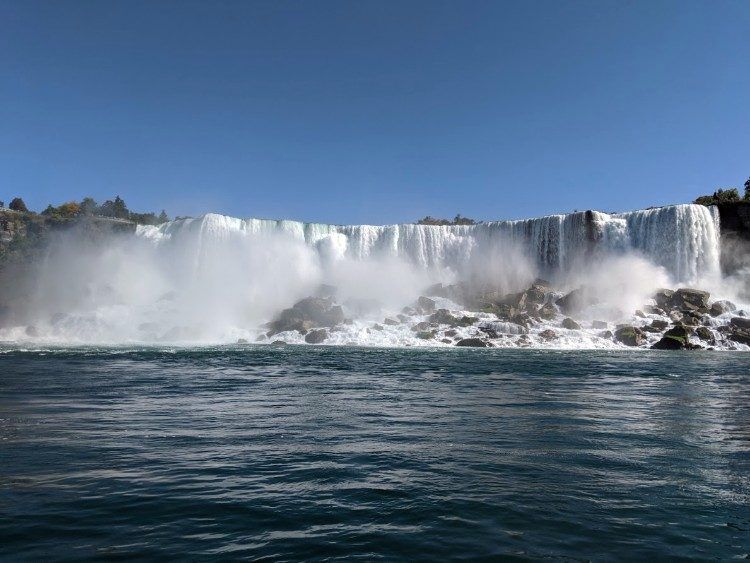 If you want clear skies, warm days, fully operating attractions, and reasonable crowds, September is the best time to visit Niagara Falls. Come after Labor Day (Labour Day in Canada) to make sure it's officially transitioned into shoulder season rather than the busy summer season.
Rain is minimal in September, so you can get those postcard-perfect photos of the falls under big blue skies. It's warm enough that you won't mind the spray of the waterfalls while enjoying boat tours or other attractions that get you close to the cascades. You can hike if you like or dine al fresco. The evenings are still pleasant for re-visiting after dark to see the waterfalls lit up at night, too!
Since students are back in school after Labor Day, the crowds lessen compared to summer months. Hotel rates drop a little, but they still aren't dirt cheap.
Most Popular Time to Visit Niagara Falls: June through August
Summer officially kicks off with Memorial Day weekend (USA) and Victoria Day (Canada), both in late May. From June to August, Niagara Falls is in full swing. Like much of the US and Canada, Niagara Falls is busiest in the summer when families have time to roadtrip.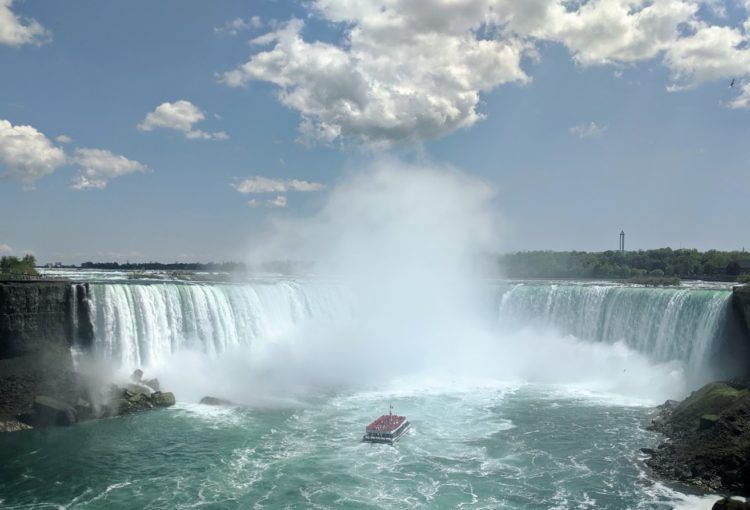 On the bright side, you'll have lots of daylight for sightseeing and attractions will be open all day, every day. There are festivals and special events in neighboring cities like Buffalo, NY or Niagara-on-the-Lake, ON. And if you have swimming or other water activities on your itinerary, this is when nearby beaches will obviously be the warmest.
Despite its popularity (or perhaps because of it!), I don't love Niagara Falls in the summer. It's very crowded, so you'll need to get to the waterfalls early or late to get photographs without strangers in your shot. Hotel prices are high and lines are long for don't-miss activities like boat cruises…and especially for crossing the border. And you wouldn't expect it, but summer days can get steamy hot — the area is riddled with high humidity and 2020 in particular had a lot of 90+ degree days (32+°C).
If you really want to come in summer, the second half of August is your best bet to avoid crowds and muggy days.
Visiting Niagara Falls in Autumn
Of the two shoulder seasons, fall is a better bet on when to come to Niagara Falls. September is mostly reminicient of summer, but October is distinctly autumnal. The air is crisp and cool in the mornings and evenings, but prime sightseeing hours in the daytime are usually comfortable and sunny. Just be aware: November usually falls into the "winter" category unless you get lucky!
Coming in the fall affords you the chance of seeing fall colors. Our hardwood trees blaze up in reds, oranges, and yellows. When that contrasts against the blue Niagara River gorge, it's stunning. Most attractions operate normally through mid-October with some reducing hours in the second half of the month. Even though they're open fewer hours, you shouldn't have trouble fitting it all in: the crowds thin out considerably so you won't have to wait in line.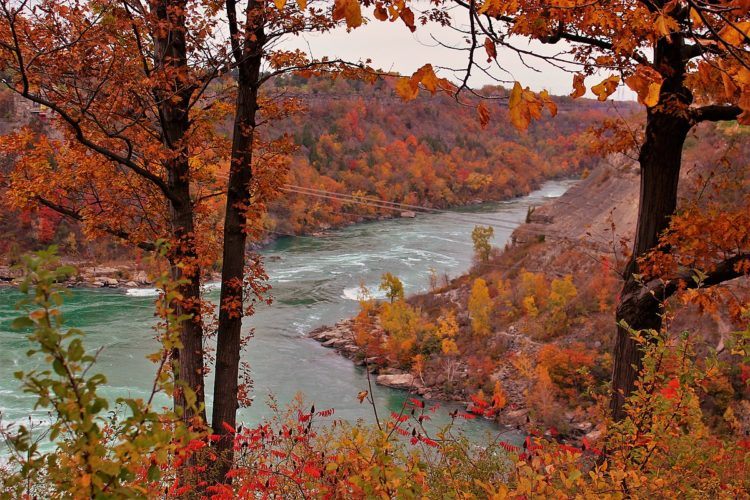 This is a particularly great time to come if you're more interested in the natural attraction of Niagara Falls versus the commercial tours or activities. The later in fall you visit, the lower hotel rates will go, especially if you can time your visit to a weekday.
Visiting Niagara Falls in Winter
Winter in Niagara Falls can start as early as November and linger well into April. In fact, those bookending months are often the worst because you'll be doused in freezing rain and wind instead of snow. All winter long, you can almost guarantee below-freezing temperatures. Snow comes and goes — sometimes you're bombarded, but most times it's quite manageable — and you'll definitely need to bundle up.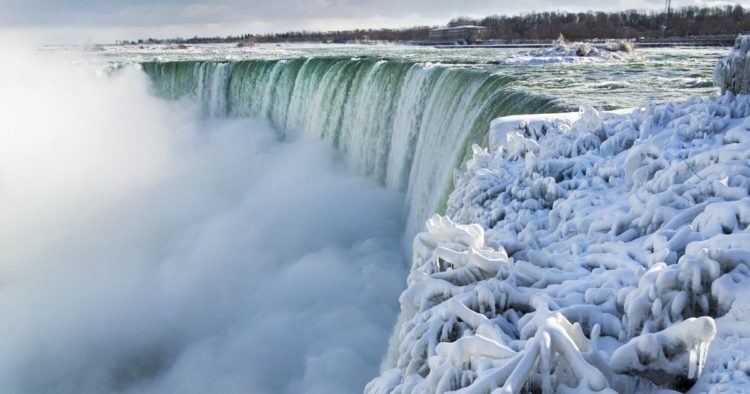 So why visit Niagara Falls in winter? Well, it can be quite beautiful in the snow! It's magical when you get that perfect snowfall framing your view of the cascades. When you get cold, you can head indoors for a steamy hot cocoa or a glass of ice wine, a dessert wine that local wineries excel at.
Christmas is wonderful here. The Canadian "Festival of Lights" is a twinkling wonderland and both sides of the border have special events on weekends throughout December. In particular, look for events in two atmospheric towns: Lewiston, NY (on the US side) and Niagara-on-the-Lake, ON (Canada). You'll find carolers, carriage rides, and more.
The rest of winter comes with zero crowds, cheap hotels, and easy parking. Niagara Falls in winter also makes a great day trip from Toronto — you can spend most of your trip enjoying a city life of indoor museums, theater, dining, and shopping.
If you're lucky, you'll see Niagara Falls partially frozen over, although not every year gets cold enough for that (January and February are your best bets).
Spring at Niagara Falls
Spring is my least favorite time to visit Niagara Falls. We get a lot of rain, although the later in May you come, the less likely that will be. Temperatures in spring swing wildly, with some days pleasantly warm and other days shockingly cool. As a local, I can choose which days to visit the waterfalls based on last-minute good weather opportunity, but that's hard for anyone planning a trip in advance.
If you do come in spring, you can enjoy the gardens (primarily on the Canadian side) in full bloom. It starts with daffodils, then tulips at Queen Victoria Park, right next to the waterfalls. However, my favorite is the Centennial Lilac Garden, which peaks mid-to-late May. On the American side, the Open Gardens guide points you to amazing gardens in the Buffalo Niagara region.
Spring is also the best time for fishing, something my husband could tell you more about than I can! With the Niagara River, Lake Erie, and Lake Ontario all here, you just might catch some salmon, trout, bass, or walleye.
You'll also get some shoulder season benefits in spring, like lighter crowds and more reasonable hotel rates. A few local festivals also start to pick up — Dyngus Day in Buffalo is one of a kind, but you'll find plenty of events scheduled as area residents look for excuses to get outside!
Visiting Niagara Falls
In order of preference, I'd choose September, then October, then August for when to visit Niagara Falls. December is also lovely, assuming you bundle up and want a winter experience. Of course, it all depends on what you'd like to do.
November, March, and April are probably my least favorite months. There are still a few advantages to visiting then, but I think the cons outweigh the pros.
Regardless of when you come, I hope you enjoy your visit to Niagara Falls. Keep in mind the waterfalls themselves are just the beginning…our region has a lot to offer!
Read More About Niagara Falls