This post may contain affiliate links. As an Amazon Associate I earn from qualifying purchases.
* * *
Buffalo's been in the travel news a lot this year — heck, it even made Lonely Planet's "Best in Travel" list for 2020. But every guide I've read has been exactly the same, as if the city only has a handful of great activities. Well, sometimes it takes a local's perspective since unlike visitors I have more than a few days to explore… and I've got 14 unique things to do in Buffalo, NY to share with you.
In a world where it seems like every city is up-and-coming with the same collection of craft brews and street art, these are the things that make Buffalo really stand out on its own.
Unique Things to Do in Buffalo NY as Determined by a Local Buffalonian
Take a Spin on an Ice Bike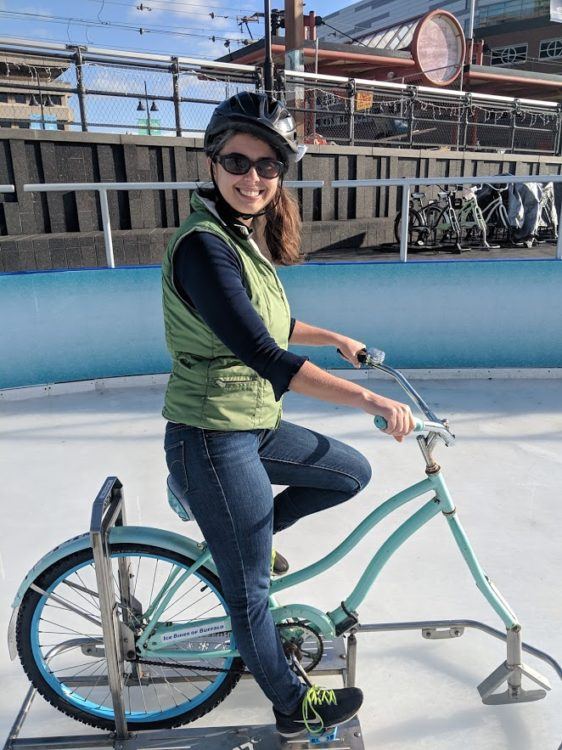 Yes, I had to start with a winter activity. This is Buffalo, after all. We get an average of 100 inches of snow per year and were the "champs" for snowiest city last winter.
But back to the activity at hand: ice biking. Put a bicycle on a stand and swap out the front wheel for an ice skate and you've got a whole new sport that's surprisingly fun (and a whole lot more stable than a regular bike in the snow).
The best place to try ice biking is at Buffalo Canalside, in the heart of downtown. You can rent ice bikes to ride around their rink from roughly mid-November through mid-March. And while you're there, don't forget to try out the ice bumper cars, too.
Go on America's Longest Underground Boat Ride
Um, what?
Buffalo is pretty much surrounded by water, what with a great lake and two rivers and some canals, but it's the underground boat ride at Lockport Cave that's the most fun of all.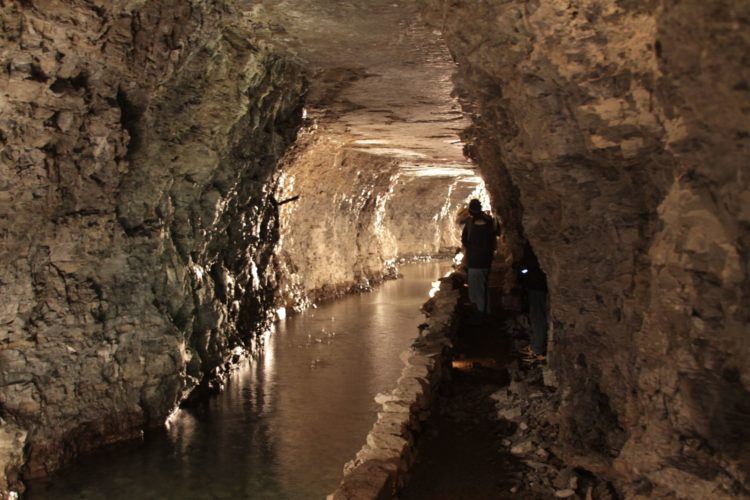 Tours of the "cave" (which is totally man-made) lead you past two Erie Canal locks and take you through the water tunnel next to the canal, which was blasted out of solid rock in a not-so-safe fashion. The tour ends with an underground boat ride through the tunnel with a few more chances to learn about industrial history in western New York.
Lockport is about 40 minutes from downtown, but it's not like you can do this just anywhere.
Kayak through Silo City
Once upon a time, Buffalo was the world's largest grain port. Even today, General Mills still makes its cereal right in the city (yes, sometimes the air smells like Cheerios). The grain silos, though, are mostly unused these days — except for recreation.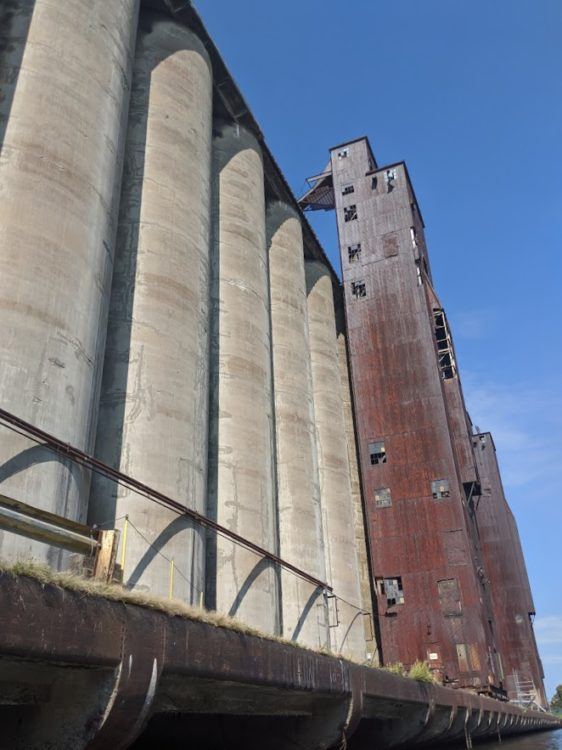 On a summer day, there's nothing better than renting a kayak to paddle up and down the Buffalo River, in-between towering grain silos. Rentals are available at Riverworks and it's basically impossible to get lost.
If kayaking's not your thing, you can totally zipline between the silos or rock climb up one (both also at Riverworks). For a less adventurous approach, take a historical walking tour.
Sample a Krupnik (or two)
There's a few things you should know about Buffalonians:
Many of them are Polish (Buffalo is home to the second-largest Polish colony in America, after Chicago)
Buffalonians, Polish or not, love to drink
Put those things together and you have a prime opportunity to sample Krupnik, a honey-flavored Polish vodka. It tastes sweet, like a liqueur, but it's high proof, like a liquor. Watch yourself — it goes down easy.
Buffalo Distilling makes a local Krupnik, which you can taste for yourself at their distillery. Don't forget to ask about their Barreled Krupnik; it's the world's only krupnik that's finished in their bourbon and apple brandy barrels for a richer flavor.
Dig for Fossils
South of the city, one of the country's best fossil parks lets you dig for fossils! It's the world's greatest excuse to play with shovels and you have the potential to find quite the spectacular souvenir.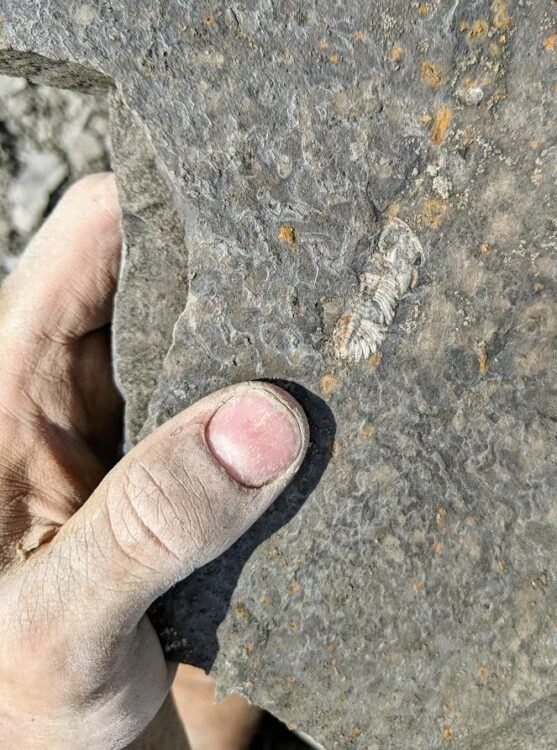 Don't expect dinosaur bones at Penn Dixie Park: this area is notorious for trilobites (the New York state fossil) as well as corals, seashells, brachiopods, and other cool signs of life from the Devonian era. Yup, some of these fossils are 380 million years old!
You'll need a few basic tools, but if you're traveling you can simply rent some on-site.
Search for an Eternal Flame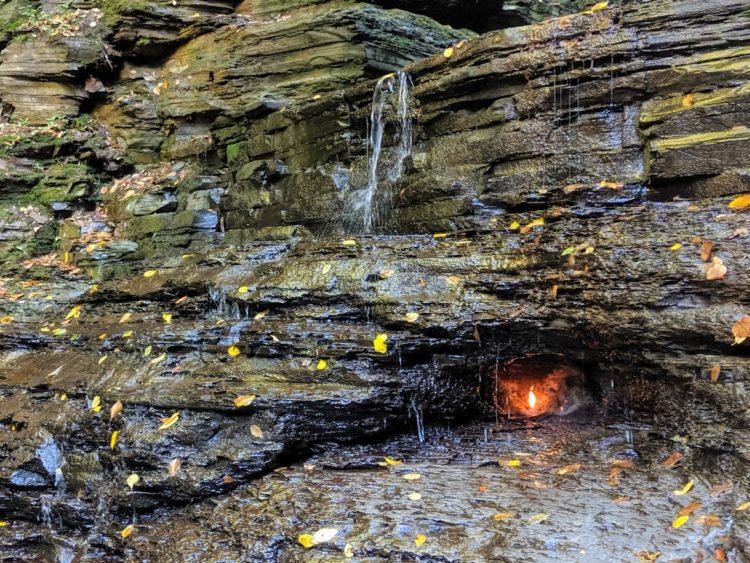 South of the city, there's a trail that leads to a small grotto with a natural gas seep. Sounds romantic, right? (Don't worry, it gets better). The emissions lead to a flame that's eternally lit, a small flame behind a small waterfall — all at the end of a very nice hiking trail, flame or not.
This place is so unusual it's been studied by geologists and featured in books. And you can see it for yourself; all you have to do is come to Buffalo and walk for about 45 minutes round-trip in part of Chestnut Ridge Park.
For the best waterfall views, go in spring. For fall colors, go in October.
Hike Behind One of the World's Most Powerful Waterfalls
Speaking of waterfalls…there's this sorta-famous one called Niagara Falls, thirty minutes north of the city.
I'll be brutally honest here and admit that Canada has the better view of the falls, but the New York side has something that they don't: Cave of the Winds. And Cave of the Winds is the best way to experience the falls, period (and you can do it year-round!).
First, you'll take an elevator 175 foot down into the gorge, and then you'll walk out to a series of boardwalks and steps leading to up close and personal views of the falls. It's honestly a little weird to be underneath them, looking up! Keep going to "Hurricane Deck" if you dare — you'll be right next to the crashing Bridal Veil falls and you will get wet. Really wet.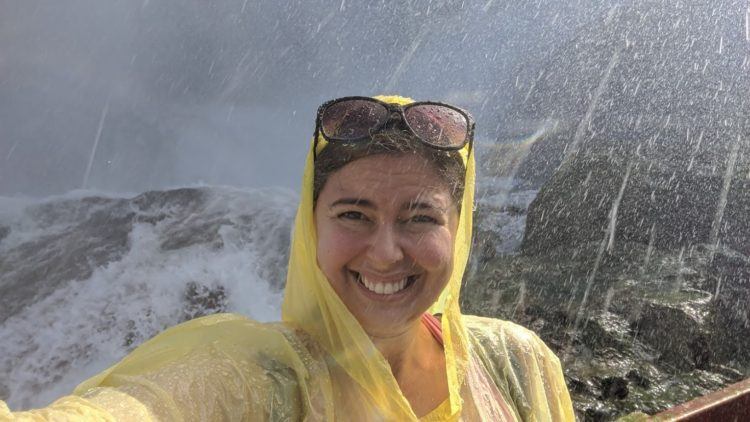 Hang Out with Teddy Roosevelt
A lot of people don't realize that Teddy Roosevelt was inaugurated in Buffalo (after the death of President McKinley, who was shot at the Pan-American Exposition in Buffalo). You can visit the inaugural site, which is now part of the National Park Service and home to a surprisingly interesting set of tours and exhibits.
The best time to visit is after hours, on Tuesday nights to be precise. The site hosts special events, like their TR-ivia nights, and in general, it's a more relaxed atmosphere.
I recently went for one of their game nights where we learned and played Victorian card and board games — a fun way to really bring history to life and something you don't find at just any history museum.
Go for a Ride in the Neighborhood
During good weather months, the city organizes one of the most unique things to do in Buffalo (or anywhere, really). The Slow Roll bike ride is a group ride of literally hundreds of riders, shutting down streets with a police motorcade every Monday night. Although the movement was founded in Detroit, Buffalo is one of the largest worldwide.
The point of these rides is to bring the community together, show off routes through Buffalo's many neighborhoods, and then have people stick around to socialize afterward near the ending point.
You can grab a cheap rental through our Reddy Bikeshare and then find the start point to join in. It's free (other than the bike rental). It's easy enough that pretty much everyone can do it, with most rides about 10 miles long.
Listen to What Shakespeare Has to Say
Head to Buffalo's Delaware Park — designed by Olmstead himself — with a picnic blanket and some snacks and find yourself a seat for Shakespeare in the Park.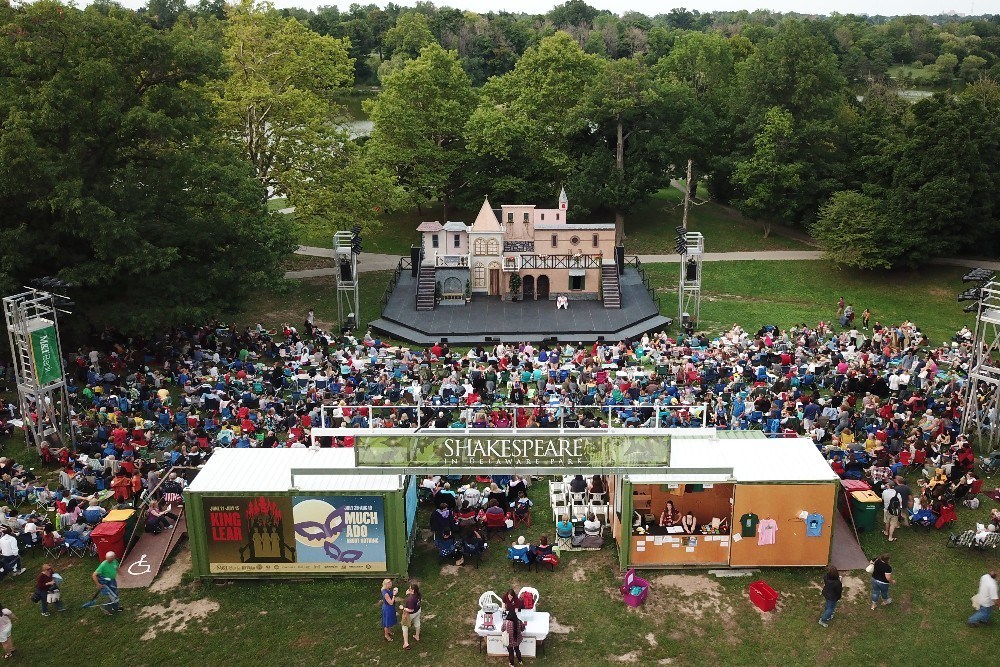 Each summer, local actors put on productions of two different Shakespeare plays and it's FREE to watch these outdoor performances. This makes the perfect date night…take a walk through the park and then settle in under a willow tree to watch the show and the views over Hoyt Lake.
If you need good picnic food ideas, head to Wegmans to grab local Bison chip dip and a cold Loganberry, two very portable Buffalo favorites.
Search for Ghosts (They Might Be Real)
Buffalo has a shockingly high number of sites with reported paranormal activity, some of which allow you to join in for ghost hunts. And this isn't just a Halloween thing — the spirits are active all year.
For the creepiest one, you'll have to head east of town to Rolling Hills Asylum in the town of East Bethany. After you sign your life away in waivers, you have practically free reign to explore as you wish, as late as 4am! Even if you don't believe in ghosts, walking through that old building in the middle of the night is sure to have some frightening moments.
If you want to stay within the city itself, Iron Island Museum has very positive reviews for their ghost hunts. And, I have a cousin that swears the Hotel Henry is haunted.
Watch the Sunset from a Tiki Hut
We're totally in denial that Buffalo has bad weather, possibly because our summers are just so darn magical. So next time you visit, pretend you're in Hawaii and head to the floating tiki hut with Buffalo Tiki Tours.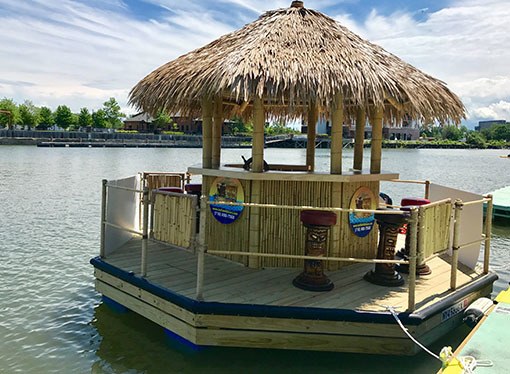 I'll admit, this is one thing in Buffalo I haven't done yet, but it's on my to-do list and I think 2020 is the year.
For an hour, you'll slowly sail down the river with your choice of food and drinks in a very tropical looking boat. Although they run during the daytime, I have to imagine that sunset would be the best time of day.
Come for One-of-a-Kind Festivals
Most travelers swing by whenever it's convenient for them and that's totally cool — obviously there are plenty of things to do in Buffalo NY no matter what time of year.
But if you schedule your visit for one of Buffalo's most epic parties, you'll probably go home with a pretty unique experience. The city tourism bureau keeps a good events calendar (it's almost overwhelming, there's so much going on), but here are two you should keep in mind:
First, Dyngus Day, a Polish-American holiday held the day after Easter (ironically, Poland itself doesn't celebrate much). You'll find Dyngus Day in several Polish communities in the USA, but none as large as Buffalo's. There's a big parade plus tons of venues with live music, great food, and lots of beer. Bring a pussy willow and watergun; you'll catch on quickly.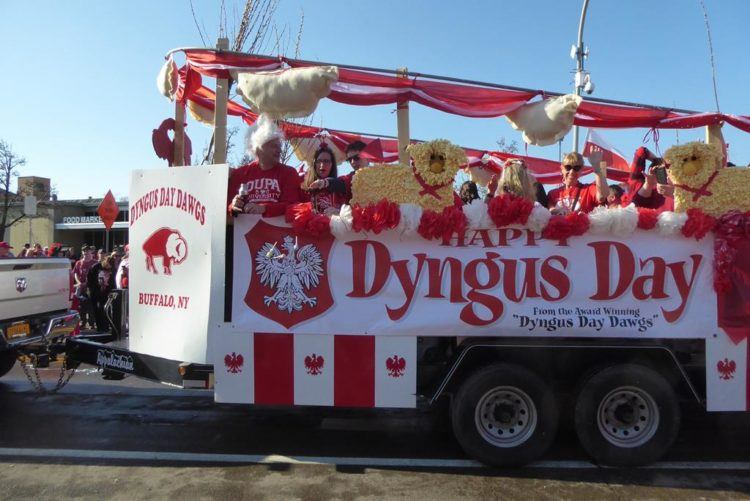 Next, is the World's Largest Disco Party, the Saturday of Thanksgiving weekend. For retro music, dancing, and dress-up, this is where to be (if only for people-watching…). Tickets sell out months in advance, so you'll need to plan ahead if you want to join in.
Eat in an Igloo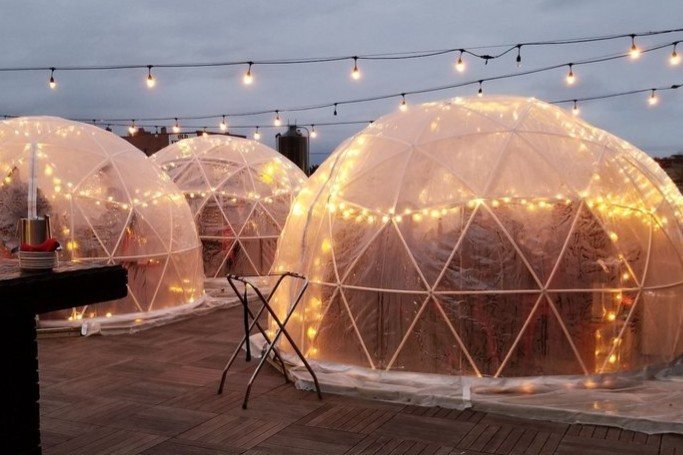 I started with winter, so now I need to end with winter. This one's super cozy and I think just about anyone can agree that eating is one of the things to do in Buffalo that everyone enjoys.
In the winter, Tappo sets up igloos on its rooftop and lights them up with twinkly lights for an extra atmospheric evening out. For this one, you'll need to bring a group of friends — you reserve and pay for the whole igloo — but if you're coming with your whole family, it's a definitely an unusual dining twist!
Meals are served family style and you definitely won't leave hungry. Go right at 5pm if you want a pre-theatre meal; Shea's Theatre is walking distance and has a stunning interior.
Other Things to Do in Buffalo NY
If you're not looking for the one-of-a-kind, here are a few of my other favorite things to do in Buffalo:
Tour City Hall (the stained glass is amazing!)
Chill at Remedy House (I'm at this cafe a lot)
Day trip to East Aurora (a super cute village to explore)
Listen to Jazz at the Colored Musician's Club (Sundays)
Walk down Little Summer Street (the cheery cottages always make me smile)
Coming to Buffalo? Keep Reading!