This post may contain affiliate links. As an Amazon Associate I earn from qualifying purchases.
* * *
Dyngus Day is a holiday like no other and Buffalo is the absolute best place to celebrate it. No, that's not me being biased — this really is the best place to celebrate (sorry Cleveland).
For one day after the Lenten season, Polish-American communities get together for all-out revelry. There's food, music, dancing, drinking, and general joking around. The holiday takes place on Easter Monday and includes plenty of formal events as well as unofficial after parties, all of which you can attend as a visitor to our friendly city.
Think of Dyngus Day as a Polish version of St. Patrick's Day…with pussy willows and squirt guns instead of leprechauns and pots of gold. If you're even more confused now, stick with me. We'll get to that.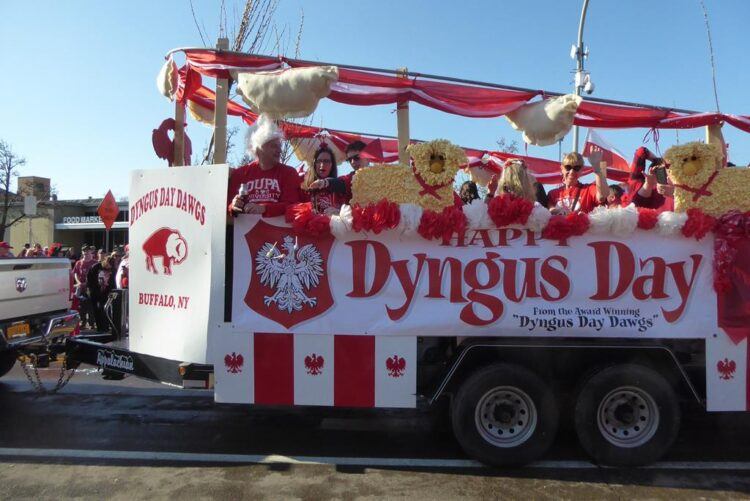 The History of Dyngus Day
Like many traditions, there are a few origin stories to Dyngus Day. The most popular story claims the holiday began with sprinkling water as a nod to Prince Mieszko I's baptism on Easter Monday of the year 966. He'd later become the first ruler of Poland and made Catholocism the widespread religion.
Somehow the sprinkling of water transformed to farm boys flirtatiously chasing girls to throw water on them and tap them with twigs. Apparently, even a thousand years ago adolescents had weird ways to attract attention. (Don't feel bad for the girls…they got their revenge on Tuesday by throwing dishes and crocks at the boys).
Although Dyngus Day has its roots in the Polish motherland, today it's more widely celebrated in the USA, at least in Polish-American communities. And, over the years, it's become just as much about Polish pride as it is about the end of Lent.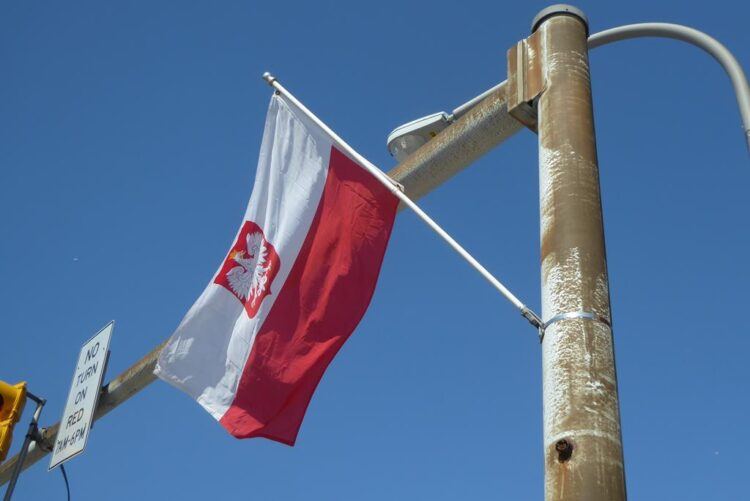 Dyngus Day in Buffalo
The self-proclaimed "Dyngus Day Capital of the World", you can bet that Buffalo goes all out. The city, while getting more diverse each year, still has a proud and thriving Polish population. Estimates put the city at about 10% Polish and it jumps up to 25% in several eastern suburbs. Both my husband and I are of Polish heritage so of course we love joining in on traditions and festivities.
The main event of the day is the Dyngus Day parade, spanning through the Old Polonia district of Buffalo. You'll find bands, firetrucks, and plenty of floats tossing candy or beads into a sea of people dressed in red and white (the colors of the Polish flag). On the sidelines, spectators aren't merely watching — men and women are chasing after each other with squirt guns and pussywillows. Trust me, you will get wet in the crossfire. This is definitely the quirkiest part of Dyngus Day and more interactive than your generic parade.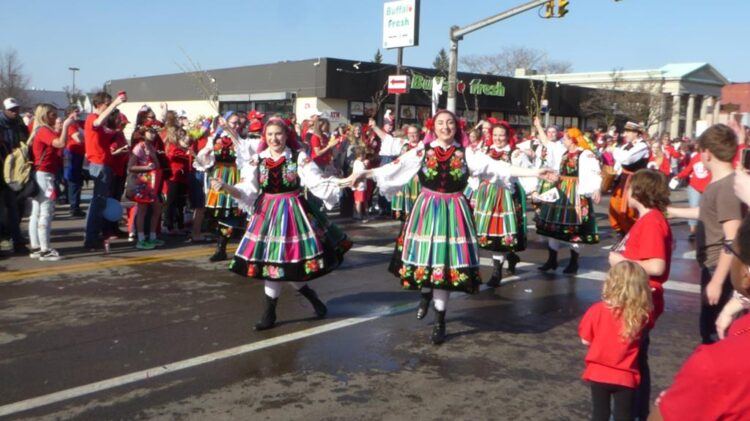 The day continues with a feast, as all good holidays do. Churches, social halls, restaurants, and bars put out gigantic buffets of Polish favorites. It's usually the classics: kielbasa, pierogi, sauerkraut, potatoes, rye bread, etc. The cost of your meal is often included with your cover/admission, so you may as well eat up!
And then, of course, there's the drinking. Buffalo never shies away from a few beers — bars are open til 4am — but breaking the Lenten fast means a few more rounds than normal. Any drink will do, but especially Polish beers, Sobieski vodka, and Krupnik (if you've never had it, you should really try).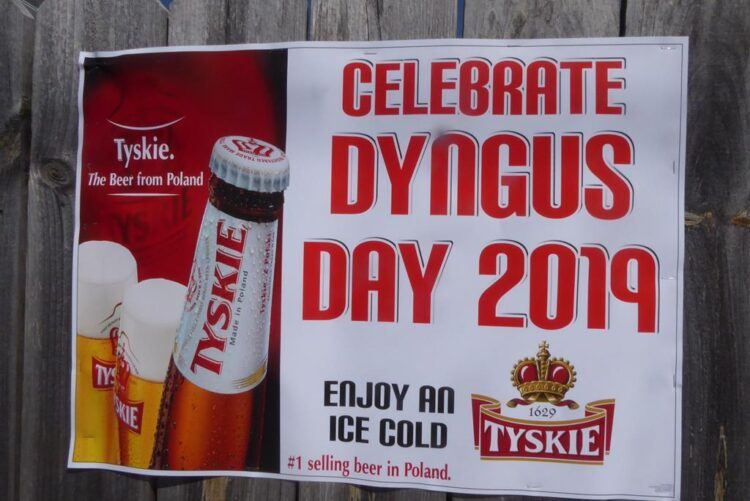 Festivities range the gamut from family-friendly to binge-drinking. The parade is family-friendly and should be on everyone's list. The daytime celebrations at St. Stan's and Corpus Christi are good options for all ages, too.

For a 21+ outing, check out the Buffalo Central Terminal or head to Corpus Christi in the evening. Polish old-school bars are also busy on Dyngus Day and there are several to choose from. One of them is bound to have the atmosphere you're looking for!
While you're eating and drinking, you can expect plenty of music and dancing. There are live bands at the biggest events for polkas and other songs. Everyone joins in. Both the melodies and dance steps are easy to catch onto, I promise. If you'd rather observe, there are usually folk dancers at the Broadway Market and other venues.
Pro Tip: If you intend to bar hop, buy a "Pussy Willow Pass" in advance, which includes admission to nearly all venues and events. Otherwise, you'll pay covers at the door. DyngusDay.com is a great source for planning.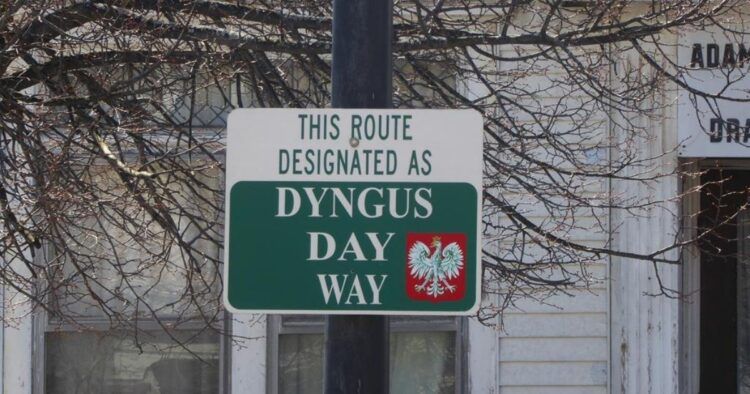 Polish Culture in Buffalo the Rest of the Year
Coming on Dyngus Day is a lot of fun, but early spring isn't otherwise prime time to visit Buffalo. As a traveler myself, I also know that it can be a hassle to book a trip around a very specific day…work schedules and other parts of reality get in the way too often.
So, if you want to experience a little Polish culture on the other 364 days a year, here's where to start:
Polish Food in Buffalo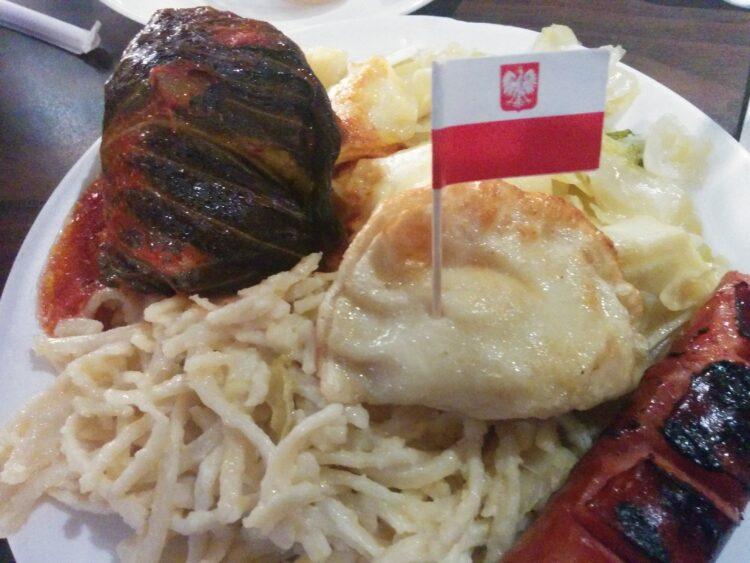 Try Mazurek's Bakery for Polish-style rye bread, placek (sweet bread), and pączki (glazed, filled donuts on weekends only).
The Polish Villa is my personal favorite for classic Polish dinners. I mostly get the gołąbki (because cabbage rolls are a pain in the butt to make at home), but the bigos (stew) is good too.
For super casual Polish food without a side of dive bar, head out into the suburbs. Simply Pierogi is a build-your-own-pierogi-bowl…like Chipotle for Polish food. It's perfect for kids and picky eaters because everyone can get exactly what they want.
For food to take home with you, go to Redlinski Meats. We like their smoked kielbasa, plus you'll find other Polish sausages, czarnina, pierogi, gołąbki, placek, chrusciki, and more.
I'd be remiss not to mention the Broadway Market, but frankly it's pretty quiet unless you're there around a holiday.
Polish Bars and Other Drinks
There are a ton of Polish bars on Buffalo's East Side: R&L Lounge, Happy Swallow, and Arty's Grill just to get you started (at Arty's, they stock church bulletins by the door so you can prove to your partner that you were "out to mass"). This is by no means an exhaustive list! Order a Polish beer to make it a true Polish experience. Okocim is my favorite if you can find it, but Żywiec and Tyskie are more common.
On weekend nights, the Adam Mickiewic Library (more simply known as the Polish Library) is a great experience. In addition to being a library, there's a bar stocked with Polish beers and spirits and a friendly crew of regulars who will show you the ropes.
You'll find Polish bars and restaurants outside of the Polonia district as well…us Poles are everywhere. Back in the day, I even got married at the Polish Falcons Club in Depew 🙂 These places usually have super friendly atmospheres and low prices.
If you're not into the old-school bar vibe, head to Buffalo Distilling Co for Krupnik-based cocktails. Local craft breweries use Polish influences in some of their rotating beers, too, like the current Polonia Pils at Flying Bison in Larkinville or Krupnik Barrel-Aged Quad at 42 North in East Aurora.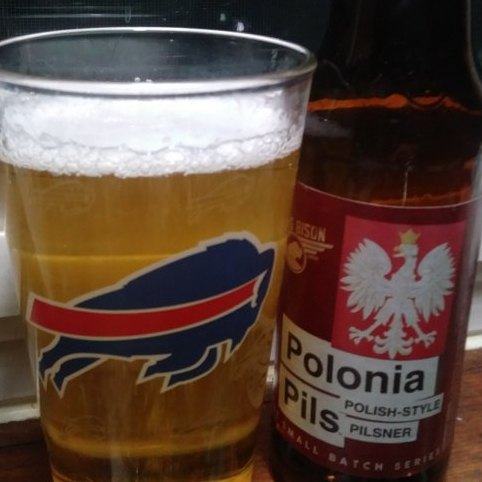 Check Your Calendars
For more insight into Buffalo's current and historical Polish communities, Forgotten Buffalo runs sporadic tours through the Polonia District. You'll need to sign up for the email list to get announcements on tour dates.
The Polish Happy Hour meets once a month or so for social events, always with tons of food and drinks. Thanks to this group, I've met some cool people and found some spots I'd otherwise know about.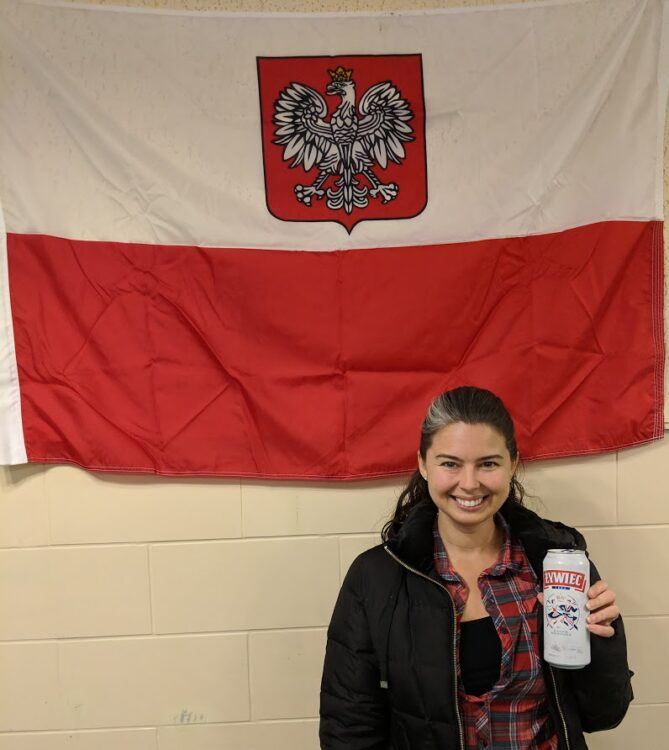 The Am-Pol Eagle also usually posts a calendar of Western NY events you may be interested in.
If nothing lines up with your visit, you can create a self-guided tour of local and/or historical sites on the WNY Polonia Trail.
Your Dyngus Day Bucket List
Dress in red and white — or maybe rock a Polish pride t-shirt.
Attend the parade (and pack your super soaker)!
Pop into at least one Polish church to see them decorated for Easter.
Flirt with pussy willows and see where it leads.
Stuff yourself silly with Polish food you can't pronounce.
Drink a piwo (beer) or two. Remember, if you can't find Polish beer, Labatt's is the next best thing.
Learn the words to at least one classic polka, like the "Beer Barrel Polka", "Who Stole the Kishka", or "In Heaven There is No Beer".
Get out on the dance floor because the best part about Dyngus Day is that no one cares how good or bad you are.
Take Tuesday off from work because there's a good chance you stay out too late with your new friends.
Mark your calendar for Dyngus Day 2024 if you can't make it this year.
Na zdrowie and Happy Dyngus Day my friends!
Read More About New York