This post may contain affiliate links. As an Amazon Associate I earn from qualifying purchases.
* * *
Stepping off the bus in New York City and into the metro station, I thought I found gold. Deep in my pocket was a metro ticket with $8 already loaded on it. Too bad that didn't even last my first evening so I ended up buying a 7-day metro pass anyway.
Before I knew it, I was buying a $6 latte in Korea Town just to warm up. Then I was buying a $12 cocktail in the East Village, a $30 entree at a terrible restaurant, and $1 for a single round of skeeball to go with my $7 craft beer. That first night in New York City was expensive.
I'm not afraid of spending money, but I hate wasting money.
Starting on day 2, I was in full swing budget mode. I needed to scope out cheap eats, free attractions, and discount transportation. Thankfully, New York City doesn't have to be expensive if you don't let it.

Save Money on Attractions
Unless you're vacationing for weeks, there are enough free things to do in New York City to fill your entire trip.
Free Admission to Museums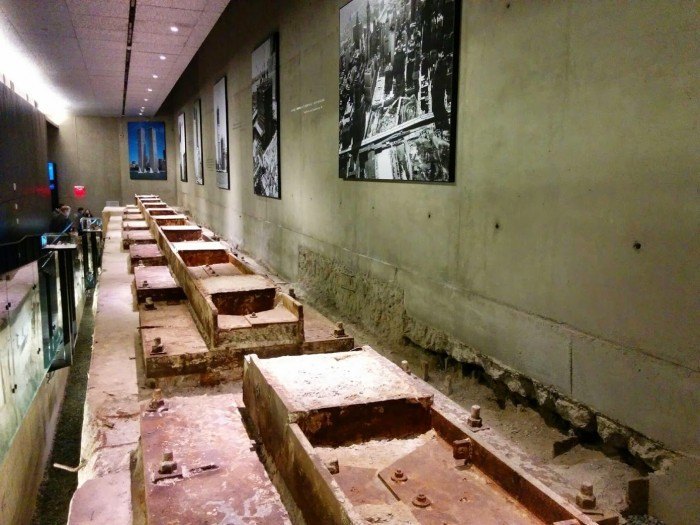 Believe it or not, you can get into most New York museums for free if you plan ahead. Many museums offer free admission during select hours or certain days of the week. Others, like the Metropolitan Museum of Art, are always "pay what you wish" donations. Check out this guide for a list of free admission hours.
Head Into the Community
New York City is a vibrant community with lots of activities you won't find at home. Join in with the people who live there and see what might be different from your own city.
One of the coolest things I did during my visit was head into Harlem for a gospel service, but you can also head to Flushing's Chinatown, Chassidic Jewish communities in Brooklyn, or look for street art in the south Bronx.
Take Advantage of Events
There's something going on every weekend in New York and lots of other special events on city calendars. You'll find everything from parades to festivals. More mellow activities include free juggling classes at Bryant Park or gallery showings (sometimes even with free wine and hor d'oeuvres).
Keep an Eye Out for Free Tours and Activities
I stayed at the HI-NYC during my trip to New York, which is host to a large amount of free activities. The hostel offers free comedy shows, live music, welcome parties, and special events.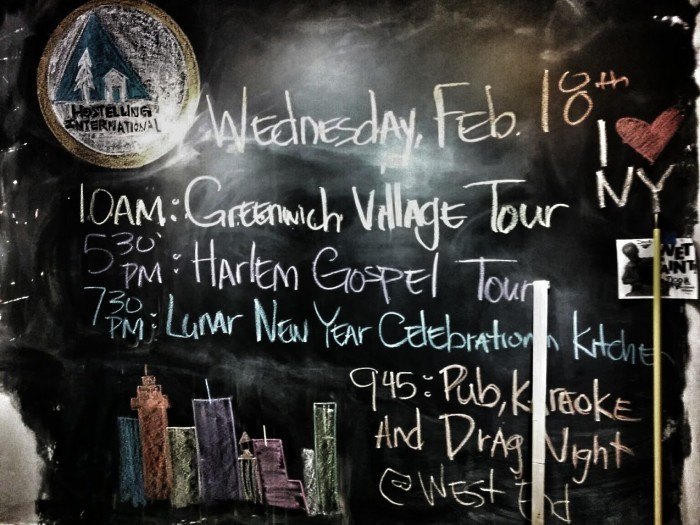 Even if you're not a hostel guest, you'll find touring opportunities. Free Tours by Foot has daily walking tours that are donation-based. Choose from themes like Central Park at Sunset or Greenwich Village and bring cash for a tip. For something more specific, request a FREE personalized tour by Big Apple Greeter in advance.
Know When to Buy in Advance — and When to Wait for Last Minute
Websites like Goldstar, Groupon, Living Social, and Travelzoo sell half-price activity vouchers, but you'll need to buy and schedule things in advance. Additionally, buying tickets online to some museums, tours, and activities can be cheaper than buying them in person.
Alternatively, you can often take advantage of last-minute discounts to theatre productions on or off Broadway as well as buying rush tickets to concerts at Lincoln Center and Carnegie Hall or things like dance productions throughout the city.
When I was a student, I made out like a bandit with discounts to the New York Philharmonic and Broadway performances. Don't have a student ID? Find high-quality performances at places like the Juilliard School.
Save Money on Food
Keep Meals Casual
New York has a TON of great food, ranging from street meat to fine dining. Luckily, many of New York's iconic foods are relatively affordable: look for bagels, pastrami sandwiches, pizza, hot dogs, and the infamous Shake Shack burger — all of which can feed you for $10 or less.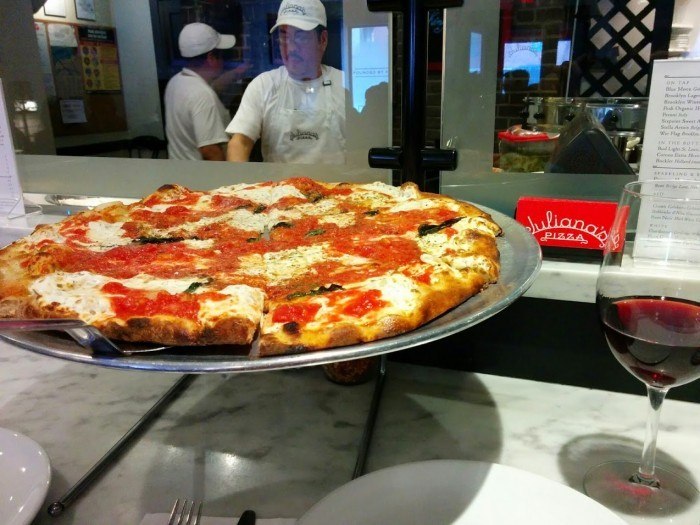 For something different, look for food trucks, some of which can offer tremendous value and equivalent quality to mid-range restaurants.
Focus on Lunch
It would be a shame to miss out on New York's great restaurants entirely, but make your reservation at noon. Lunch prices can be half the cost of dinner entrees, so you'll get a chance to sample your favorite chefs without breaking the bank. Portions are smaller, but I doubt you'll leave hungry.
Choose Ethnic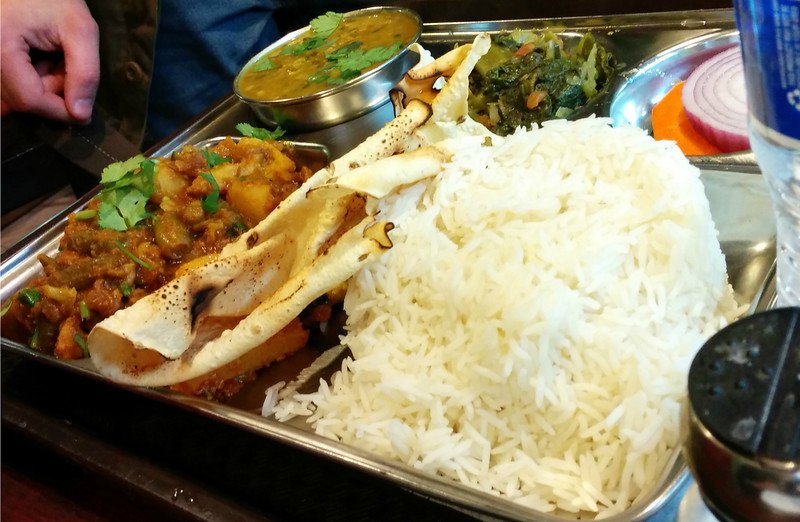 Ethnic cuisine tends to be quite affordable and it can be a fun way to try new flavors. Almost everything I tasted on a food tour in Queens was just $3-10 per serving. Other bargains were a Brazilian meal in Astoria ($7) and an Ethiopian sampler for two ($20). Compared to a chain restaurant in Times Square, ethnic food is an absolute steal.
Eat In
New Yorkers don't have to cook for themselves since take-out and delivery is common. Order your meal "to go" and skip the temptation of rounds of drinks and extra courses like appetizers and desserts. As a bonus, you'll probably spend less tipping on delivery than a full-service meal.
HINT: To save even more, grab sandwiches and salads and dine al fresco in Central Park or while watching street performers throughout the city. Supplement with sodas from grocery stores and fresh goodies from the bakeries that seem to be everywhere.
Save Money on Accommodations
Travel Off-Season
Visiting in winter can help you score discounts on hotel rooms, especially on weekends when business travelers vacate the city. January's "hotel week" has huge discounts, but savings continue through winter and coincide with deals like restaurant week or Broadway week.
Hostels Aren't Just for Broke, Partying College Students
I stay at hostels for the social scene, but they are an excellent way to save money! I love that Hostelling International has a set of standards for their brand, including clean rooms, lots of lounges and common areas, plus an assortment of sponsored activities. The HI-NYC offers dorms with 4-12 beds just one block from the subway on the Upper West Side.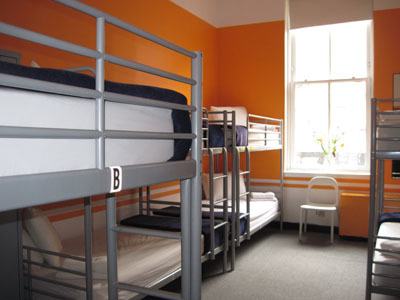 Name Your Own Price
I love using Priceline because it can result in 4-star hotel stays at 2-star hotel rates. You'll need to research suggested bid amounts and bidding strategies. If you're willing to invest the time, you might save $100+ per night.
Remember that Priceline only guarantees one bed and NYC hotel rooms are microscopic. Families that need space might not find this a viable solution.
Save Money on Transportation
Getting To and From the City
As an experiment, I took Greyhound Express from my home in Richmond to New York. Maybe I'm insane, but it was cheap and a nonstop ride. The verdict? It was clean, safe, on time, and void of crazy people, but certainly not something to write home about.
When traveling by bus, I prefer Chinatown buses. Their tickets are affordable and I've never had any safety or comfort complaints. Better yet, you can reschedule tickets bought through
GotoBus
for just $1. I've ridden Megabus and Bolt Bus before as well, which are adequate. All these — except Greyhound — offer wi-fi onboard.
If you're looking for a more comfortable trip, Amtrak is a great bet (especially Acela within the northeast). I flew home from LaGuardia, which was quick but did require an hour-long bus ride from where I was staying and another hour for getting through security so be sure to factor that in when deciding how to travel.
Getting Around the City
Buy a metro card. Chances are, you'll be best off buying an unlimited ride pass (such as 7 days for $30), but using NYC subways and buses is much cheaper than taxis.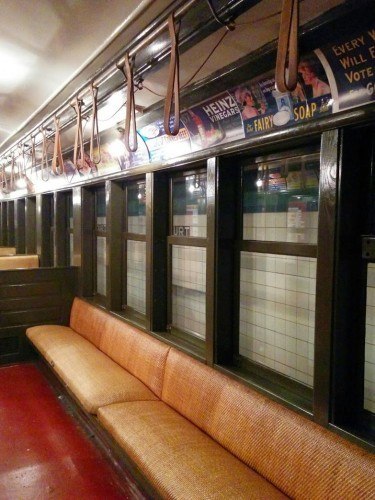 Subway maps are easy to figure out and even bus routes are manageable for tourists. Public transportation runs 24 hours a day, but be aware some schedules and routes change for off-peak hours in the middle of the night.
Use man power. Walking is a great way to get around in New York because it slows you down so you get a chance to take the city in. In some places, biking is also a great option (watch out for highly trafficked areas). If you're traveling in winter like I was, layer up your clothing!
Download car service apps: Taxis are available in NYC, but mobile apps like Uber and Lyft let you hail a car on demand, along with adding in options like paying by credit card, splitting fares, and letting you follow along by map so you don't get taken along for a ride. However, the real advantage to Uber and Lyft are the bonuses for first-time users, like free rides!
Related Post: Earn $308 in Free Travel Credits
New York City Doesn't Have to Be an Expensive Destination!
For a quick guide to New York City on a budget, share this infographic!

* * *
Special thanks to Hostelling International USA for helping to support this trip. As always, the tips and opinions are my own!
* * *
Have you visited New York City on a budget? Do you have other tips to share?
* * *
Related Posts: