This post may contain affiliate links. As an Amazon Associate I earn from qualifying purchases.
* * *
I don't like to talk smack about my city, but Richmond can be superficial sometimes. Not everyone — far from it — and not all the time…but occasionally, you'll find conversation never moves beyond a few polite pleasantries.
That is, unless you have a guaranteed conversation starter.
After seven years in Richmond, I finally found one. I got my hands on a Richmond Beer Trail map, a simple piece of paper listing local breweries (most of which I've been to before).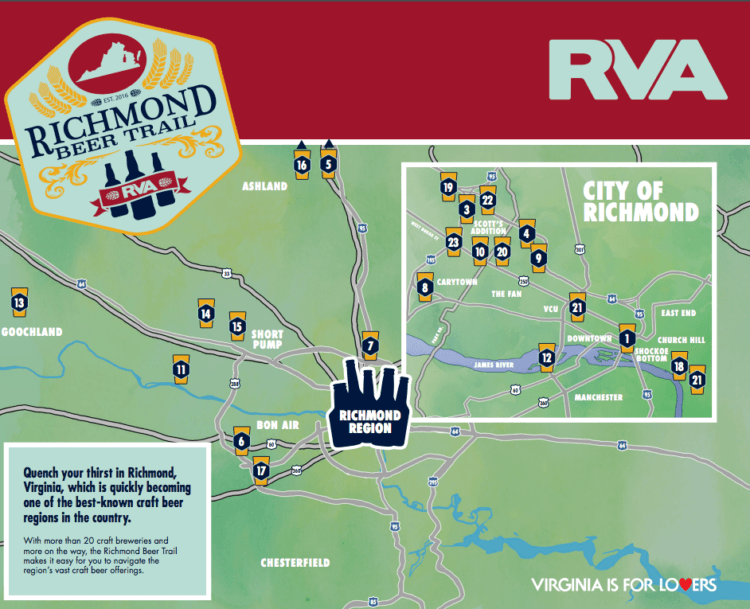 What is the Richmond Beer Trail?
The concept is simple: make your way to participating craft breweries in the Richmond region to collect stamps. Then, after five delicious visits, redeem your stamps for free gear, sponsored by Virginia tourism.
I can't say I needed another t-shirt, but it sounded like a fun quest. Besides, my friend Jeff and I were upset about Trump's inauguration and that seemed like good enough reason to have a beer. So off we went, to a few favorite Richmond breweries and a few new ones.
That's when the magic started. Every time we went to a brewery, we'd order a beer and pull out our map. Instantly, the bartender's eyes would light up. We weren't just drinking…we were beer connoisseurs.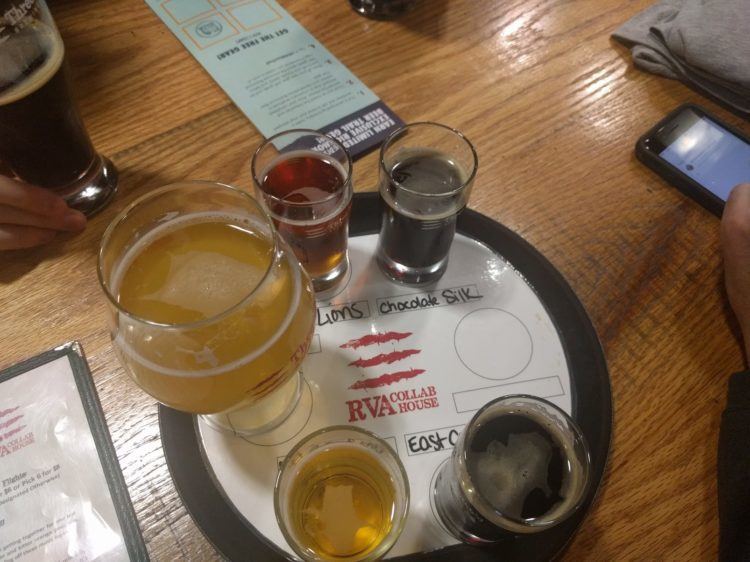 Next thing you know, we had free samples of beers not officially released to the public yet, insight into the best and worst-performing brews, and recommendations on other beers to try (both there and from other breweries) based on what we liked.
But it wasn't just bartenders: wave a Richmond beer trail map around and you'll catch the attention of other patrons, as well. "What is that?" they wanted to know and, "Which breweries in Richmond have you been to so far?"
Beer is just the gateway topic. Before you knew it, we'd be talking about local hot spots, travel, sports, politics — just about anything. It's the way bars used to be before smartphones were invented.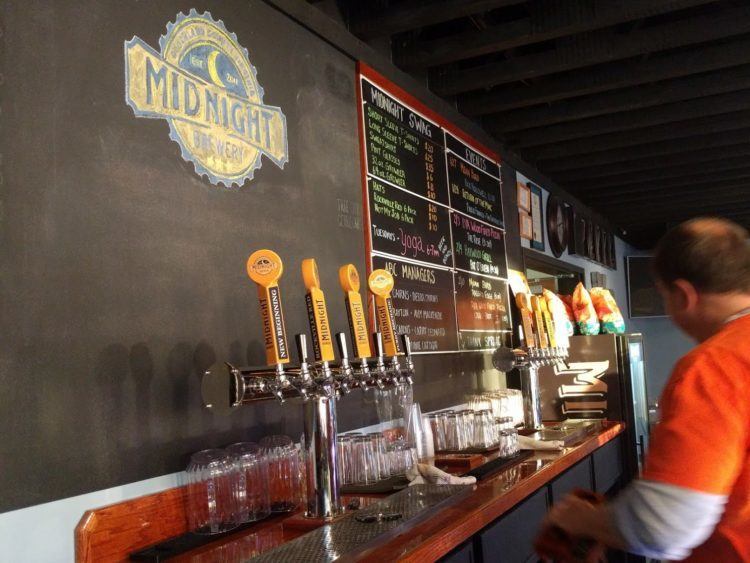 Even though our quest started out as a chance to get free gear, it turned into a fun excuse to meet new people.
Since then, I've gone out a few more times to work my way through the whole list, sometimes with my husband and sometimes with other friends. Every time, without fail, pulling out the Richmond beer trail map sets the tone for the whole visit.
What I originally thought was a silly marketing gimmick turned the Richmond beer scene into a fun and interesting activity, where it's easy to meet new people along the way.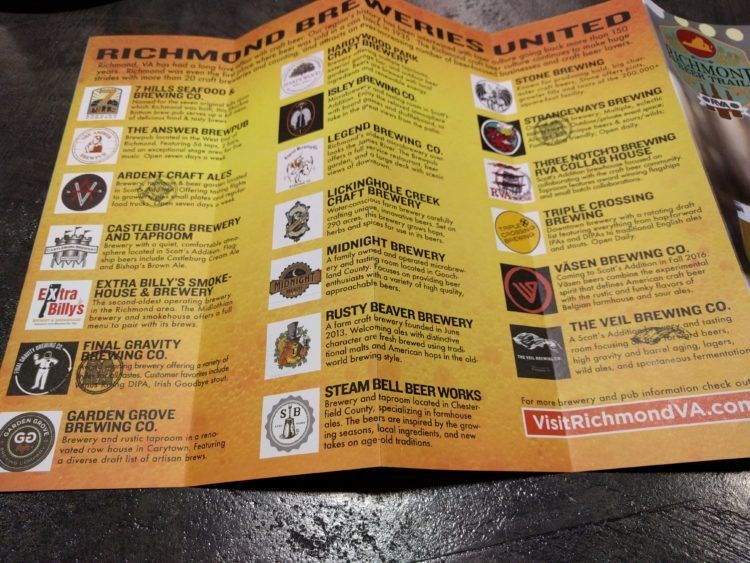 If you want to complete the Richmond Beer Trail…
You just need five stamps, which is super easy!
If you're visiting and want to finish in a single afternoon/evening: try Ardent, Hardywood, Isley, Three Notch'd, and The Veil since they are all within walking distance of each other.
If you want to hit my favorite breweries in Richmond: try Ardent, Legend, Midnight, Hardywood, and The Veil. Also, check out my complete list of Richmond breweries (and wineries and cideries and more), including many that are not on the official Richmond beer trail.
* * *
What do you think: is it a treasure map or just a glorified checklist?