This post may contain affiliate links. As an Amazon Associate I earn from qualifying purchases.
* * *
Growing up, my hometown's tagline was "Rochester: Made for Living". And that described it perfectly: a wonderful place to live with lots of everyday amenities, even if it wasn't a tourism hotspot. Slowly but surely that's evolved, with more and more things to do in Rochester NY putting it solidly on the travel map.
Today, Rochester is still a fine place to live AND it's a fun place to vacation. They've got enough going on to easily fill a weekend getaway, if not more.
My favorite things to do in Rochester NY, in no particular order.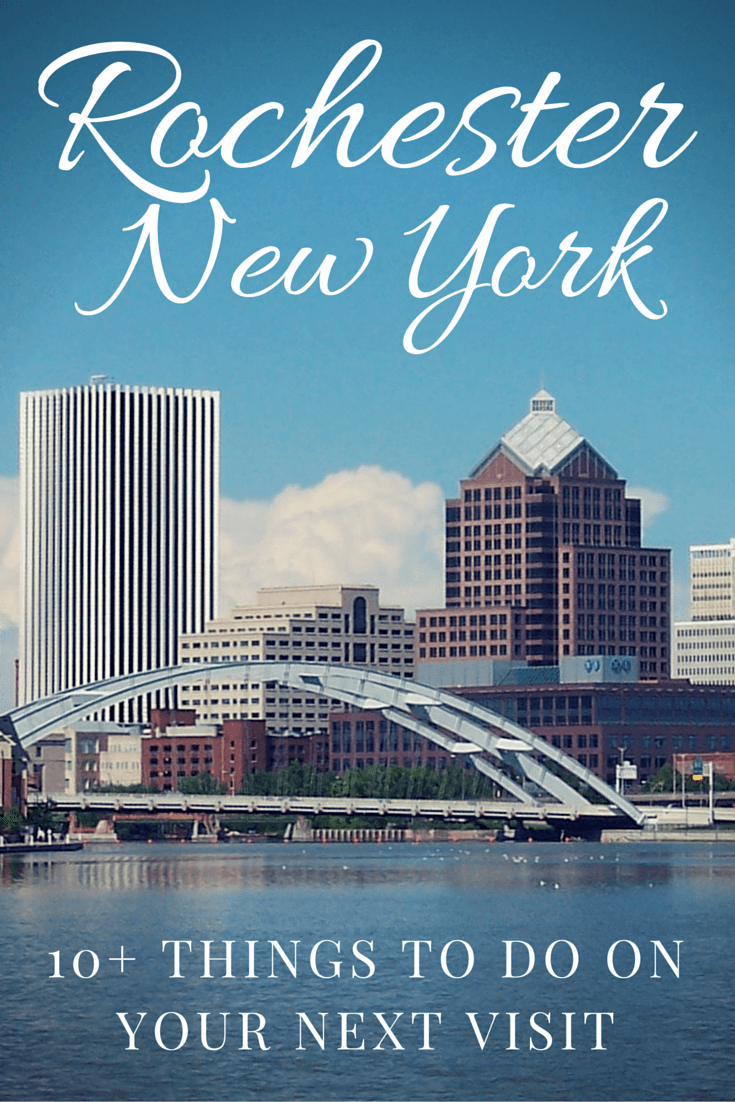 1. See a Show
When I think about what makes Rochester what it is, my mind goes instantly to Kodak. Maybe that's because I was born in the '80s, when Eastman Kodak was a corporate mega-power, but even now the history of film is perfectly showcased at the George Eastman house.
You can tour the museum, as you'd expect, but my preference is heading to the adjacent Dryden Theatre, a cinema featuring a ton of vintage and foreign films. There's something really cool about seeing old black and white movies in a theatre or taking the opportunity to see what a silent film is really like.
Other ways to see a show in Rochester: Geva Theatre (off-Broadway style), Water Street Music Hall (live music, including up-and-coming artists or mainstream concerts), or one of the many performances put on by the prestigious Eastman School of Music (some are free!).
2. Go Shopping
Anyone who reads my blog regularly knows that I'm not a shopper, but even still, there are three places you absolutely should go shopping if you are in Rochester:
Wegmans – Head to the flagship Wegmans at Pittsford Plaza; I promise you it's like no other grocery store you've ever been to and it's even different from other Wegmans. They test a lot of concepts here, like a raw bar and a chocolate truffle flight.
House of Guitars – Is this Irondequoit store actually the "world's largest guitar store"? I have no idea, but it's impressive either way. You'll find new and vintage guitars, keyboards, drums, and amplifiers in the front of the store and millions of albums (from vinyls to CDs) in the back. It's huge, it's got autographed guitars with great stories, and the people are cool. Check it out.
Artisan Works – Is it a museum or a gallery full of art for sale? Well, given that there's an admission charge, I suppose that makes it a museum, but it's pretty cool to realize you can actually walk out of the gallery with artwork you now own (some of it is even available for rent!). The place is gigantic, and that's an understatement and the rooms aren't set up like your standard gallery. You'll find artists at work, also, so you can see art at every step of creation. Super cool.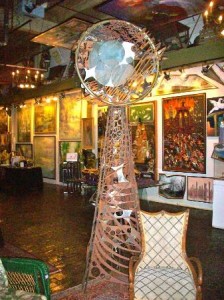 3. Attend a Game
Rochester doesn't have any major league teams, but there are plenty of minor leagues to support.
The Rochester Amerks are a good bet for hockey fans, but actually I think the RIT Tigers games are just as fun. The college crowd really gets into it! You'll find teams in all major sports, depending on what season you visit.
Come back in the spring for the LPGA or in late summer for Buffalo Bills training camp.
If you'd rather be sightDOING instead of playing spectator, try the open volleyball court times at Hot Shots or indoor climbing at RockVentures.
4. Let Out Your Inner Child
If you have children, heading to the Strong National Museum of Play is a no-brainer.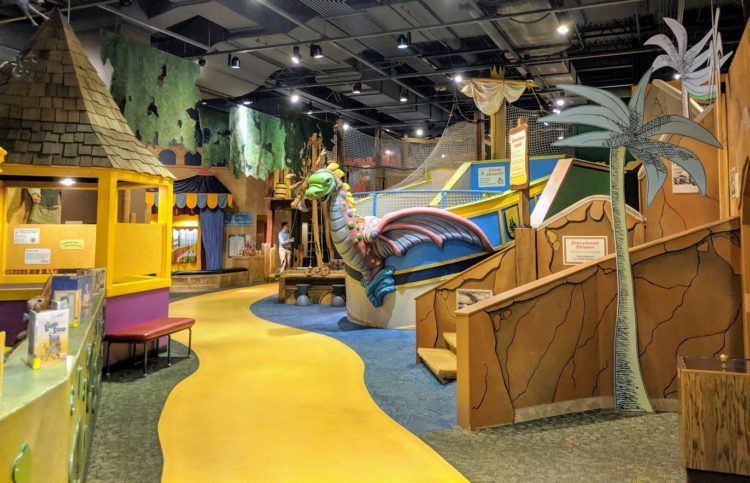 This is the coolest museum I've ever been to, with interactive exhibits on Sesame Street, the Berenstain Bears, a Wegmans your kids can "work" in, and a historical carousel.
However, it's great even if you're a kid at heart. Check out the butterfly garden, aquarium, play an oversized version of Battleship, learn about the history of card games and board games, spend time in the classic arcade playing Pacman, and challenge your friends to console games like Sonic the Hedgehog.
Kids under 10 will spend all day; adults will spend 2-3 hours.
5. Eat Until You're Stuffed
There are two foods that I think everyone visiting Rochester should try: garbage plates and frozen custard.
Admittedly, a garbage plate looks exactly how it sounds: your choice of two hot dogs or two hamburgers served over home fries and macaroni salad, then topped with a chili-like hot sauce, raw onions, and mustard.
I promise, it tastes better than it sounds (get it with white hots, a type of hot dog prevalent in Rochester that is literally white in color since it is made from uncured and unsmoked pork, beef, and veal). The original is at Nick Tahou's, but I actually prefer Henrietta Hots if you're more comfortable with a suburban location or Mark's Texas Hots for a late-night spectacle.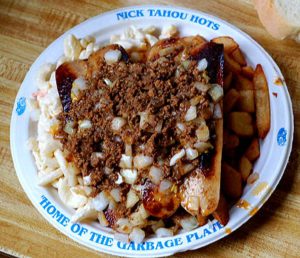 For dessert, you want Abbott's frozen custard, which is so good I cheat on my lactose intolerance in order to eat it. My pick is a vanilla almond custard served in a dipped waffle cone, but you can't go wrong no matter what you choose.
6. Sample a Few Brews
Dreary weather lends itself nicely to sitting indoors and drinking craft brews and Rochester has plenty of both.
My favorite brewery in town is Roc Brewing Co. Definitely order the sampler flight to start and then stay for a pint of your favorite. Round it out with a snack (soft pretzels or food truck offerings) and some killer sunset views through the floor-to-ceiling windows.
If you prefer to stay sober, go to Ugly Duck Coffee instead to get your brew fix. Better yet, visit both.
7. Drink Wine
Rochester is really close to the Finger Lakes wine region, which is completely underrated compared to west coast wines.
Rieslings and gewurtztraminers tend to be fantastic and their ice wines are spectacular (if you're into dessert wines), but other varietals are inconsistent depending on the grape and winery.
You don't have to drive far to sample these wines; Casa Larga is just twenty minutes from downtown and their wine and chocolate pairing is one of my favorite things to do in Rochester NY.
8. Play Tourist
If you're looking for more traditional vacation options, there's plenty of those as well and Rochester is putting their unique spin on the traditional museum experience. You'll find hands-on workshops at the Memorial Art Gallery, after-hours access complete with a full bar at the Rochester Museum and Science Center, and sleepovers at the Seneca Park Zoo.
Prefer the unusual? Me too. Head west to the Jell-O Gallery.
9. Head Out of Town
Anyone who has more time in Rochester should consider one of the dozens of day trips from the city. If you like to hike as much as I do, Letchworth State Park or Watkins Glen are both great options to get outdoors anytime of year. Niagara Falls is just two hours away and is worth seeing (bring a passport to get to the Canadian side as well). History buffs should make a point to go Seneca Falls for the Women's Rights National Historic Park and National Women's Hall of Fame.
For Mike and I, it has become a tradition to head to the greater Finger Lakes area each November for wine tasting and glass-blowing workshops at the Corning Museum of Glass.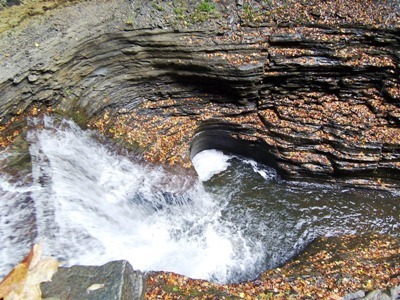 10. Plan a Return Trip for a Different Time of Year
Try an Erie Canal cruise, stroll through Sonnenberg Gardens, or check out one of the many festivals (my pick: International Jazz Fest in June). Come in early October for my favorite time of year: great weather, gorgeous fall colors, and awesome mazes, hay rides, and pumpkin picking. My hometown might not get a lot of travel press, but there are things to do in Rochester in every season.
The Logistics:
Rochester has a decent size airport, and while there aren't a ton of steals on airfare, it's not outrageously priced to fly in either. The airport is a quick drive from downtown and if you're staying elsewhere, the region is simple and quick to get around.
There's also Amtrak and Megabus service into Rochester as an alternative.
If you visit, a car is an absolute necessity for anyone planning on leaving the downtown core (and a convenience even if you're not). Parking is generally plentiful, though be prepared to pay in some downtown areas. If you're coming anytime between November and March, be prepared for snow or ice on the roads.
I can't personally vouch for any particular hotels since I always stay with family, but I've attended events at several. My first pick would be The Strathallan for its awesome downtown location, within walking distance to several museums and restaurants and an easy drive from just about anywhere. It's not cheap, so if it's out of your budget, you'll find every chain hotel possible within a 15-20 minute drive from downtown.
I still return to Rochester a few times a year and think it's definitely worth checking out. If you've got an excuse to head that way — or even if you don't — take some time to see my favorite spots in the city and let me know what you think.
* * *