This post may contain affiliate links. As an Amazon Associate I earn from qualifying purchases.
* * *
Morocco dazzles with incredible history, mesmerizing mountains, vibrant cities, and a desert that goes on as far as the eyes can see. There aren't many countries with that much variety, and you need two weeks in Morocco to see it all.
After suffering from information overload trying to plan my own trip to Morocco, I decided to summarize it into an easy-to-follow two week Morocco itinerary.
Not only is this based off hours and hours of research, but I also made a few adjustments from my on-the-ground experience so you don't waste time on second-tier attractions and you add more time to where it's worth it. Plus I paced it strategically, visiting a few spots as day trips rather than overnights so you don't constantly have to pack your bags and switch hotels.
If your goal is a comprehensive and easy visit, this Morocco itinerary includes all the best places to visit while maintaining a reasonable pace.
2 Weeks in Morocco at a Glance
Start in Marrakech, an easy place to get over your culture shock. From there, visit coastal Essaouira, head through natural wonders like the Dades Valley and Todra Gorge and spend a night at a Merzouga desert camp. Continue north to Fes for a bustling city experience, see history in Meknes, and enjoy peaceful Chefchaouen in the mountains and Asilah on the coast before a quick stop in Rabat. Fly home from Casablanca.
Does all this sound like a foreign language to you? No worries — go check out my Morocco city guide for an overview of some of these places, then come back to see how to piece it all together!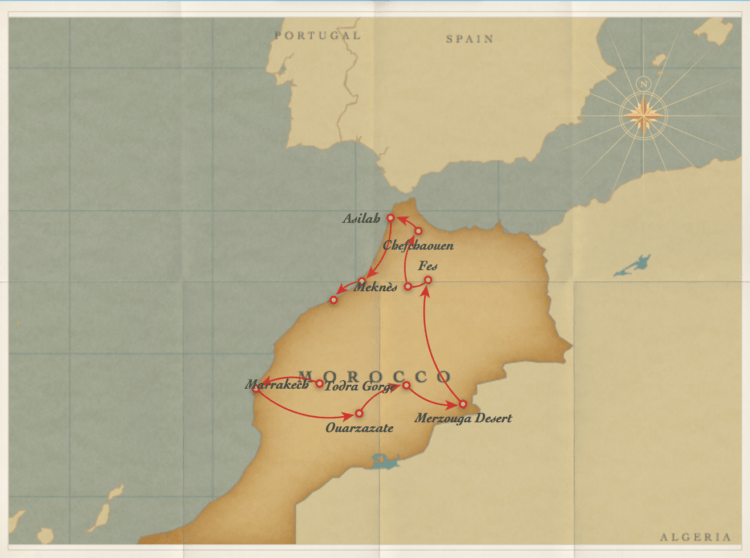 It sounds like a lot but this article makes it easy to follow!
What You Should Know Before You Go
This trip works better when you travel by car, which will cost you about $150-200 for a private car and driver. If you're on a budget, you can get away with just hiring a driver for the section between Marrakech and Fes (day 4-7, below). If even that's above your budget, you'll need to join a group tour for that section. Public transport isn't a particularly viable option. (We used Jalil @ Morocco Unplugged. Get in touch with him or read reviews).
The best time to visit is spring and fall for comfortable weather, but we went in early December. Temperatures were cool, but totally fine with a sweatshirt.
Morocco is very safe and an easy place to travel even though it doesn't feel like home.
Check out more of my travel tips for Morocco to plan for costs, weather, language barriers, and more.
A Detailed Two Week Morocco Itinerary
Hint: If you depart the USA on a Friday night (overnight), then Day 1 of this trip plan will be Saturday. It conveniently ends on a Sunday for the flight home so you can pack a lot into just two weeks off from work. If you're coming from Europe, fly to Marrakech on Saturday morning for essentially the same timing.
Day 1 – Arrive in Marrakech
Marrakech is my favorite city to start in because it feels fascinating and exotic while still offering tourist amenities that make it easier to adjust and get over jetlag.
I always advise not planning too much for your first day since you'll be tired (and maybe even overwhelmed), so do just one thing: visit the medina.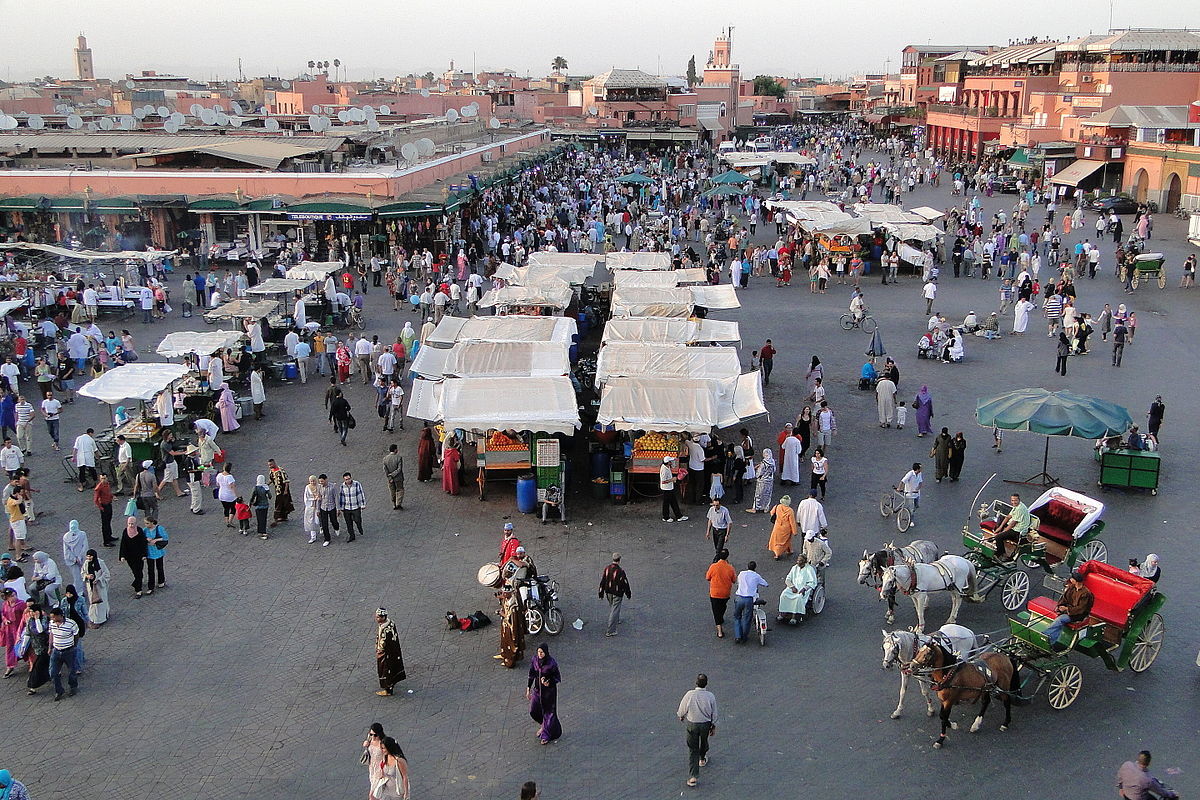 The Djemaa el Fna square is a collection of stalls and shops around the main square. It's very touristy near the center, but the farther you dive into the maze of alleys, the more authentic the market becomes.
Have dinner at one of the restaurants overlooking the square for a birds-eye view of the organized chaos below. After dark, be sure to get a glass of the spicy ginseng infusion sold from local carts and enjoy it while watching street performers and musicians.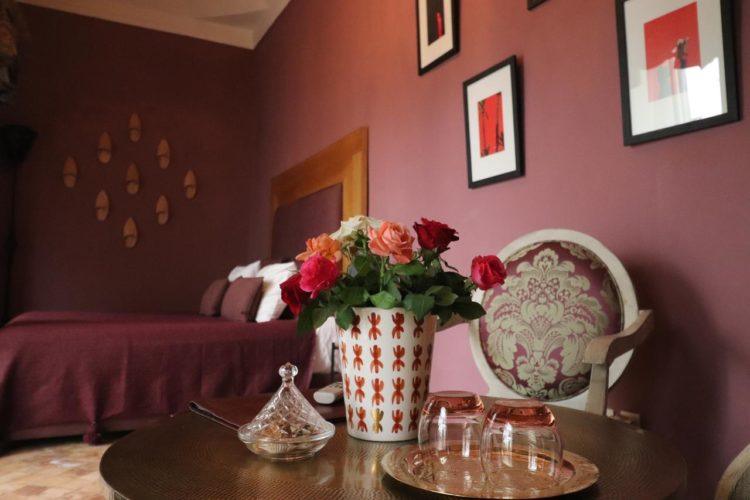 Where to Stay in Marrakech (3 nights)
Dar Al Assad
You'll love the private rooms that are a quick walk from the Marrakech medina. The price is right for air conditioning, wi-fi, a pool, and great hospitality.
Day 2 – Sightseeing in Marrakesh
There is more to Marrakech than a bustling square. The easiest way to start exploring is by joining a hop-on/hop-off sightseeing bus (so you can avoid constantly haggling with taxi drivers!). There are two different routes through the city, and I recommend taking the palmerie/oasis route first, as it provides more commentary.
Obviously you can get off wherever you'd like to and you'll have plenty of time to explore along the way. I particularly enjoyed the Jardin de la Menara, Saadian tombs, and El Bahia Palace.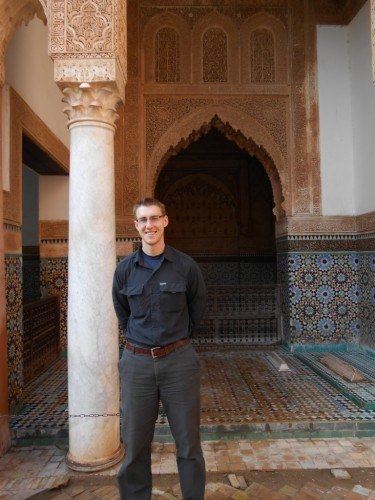 This evening, get a more interactive look at local cuisine by joining a food tour. Head through the souks to local cafes and street food stalls (that are safe to eat from!). You'll eat a lot of food while learning about the spices, flavors, and Moroccan recipes. Doing this early in your trip is a good way to sample things and see what you like so you can order on your own later in the trip.
Day 3 – Day Trip to Essaouira
Essaouira is a well-known town on the coast with a more relaxing atmosphere, making it a great way to decompress from the city. Hop on a Supratours bus for an easy, direct ride to Essaouira. From there, you can choose how you'd like to spend your day.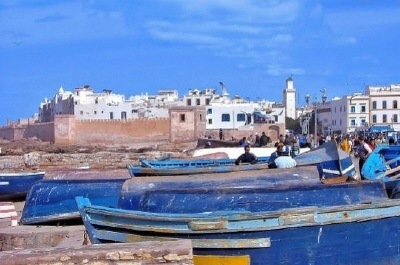 If the weather's nice, you'll find a large beach perfect for sunning and strolling, plus the city walls are great for another walk. It's also a great place for shopping; the shopkeepers are less assertive than in Marrakech which can make it more comfortable to negotiate! Be sure to enjoy a fresh seafood meal while you're in town as well!
Fun fact: The Astapor scenes from Game of Thrones (where Danerys meets the Unsullied) were filmed in Essaouira.
Day 4 - Roadtrip through Telouet, Ait ben Haddou, Ouarzazate, and Skoura Oasis
Meet up with your driver today to head into the High Atlas Mountains. This is a long, full day and you'll need an early start, but it's also one of my favorite days out of the entire Morocco itinerary. The scenery is fantastic, so I prefer this roadtrip over flying to Ouarzazate.
Leave Marrakech and head via the Tiz n Tichka Pass with several stops along the way:
Telouet, my favorite kasbah in Morocco for its beautiful views and an incredible interior
Ait ben Haddou, a UNESCO heritage site you'll recognize from Gladiator, Game of Thrones, and Kingdom of Heaven.
Ouarzazate, the biggest city in the region and a good place to stop for lunch. We also toured Atlas Studios, a fun stop if you're a movie junkie.
Route of 1000 Kasbahs, a drive past many old forts ending in the palm grove of Skoura.
Driving through the Atlas Mountains

The Beautiful Interior of Telouet

Ait Benhaddou

Touring movie sets at Atlas Studios in Ouarzazate
My husband and I were both a little disappointed by Ait ben Haddou, Morocco's only kasbah with UNESCO world heritage status. The setting is lovely and it is nice to look upon from the outside, but touring the interior was lackluster and we much preferred the underrated Kasbah Telouet.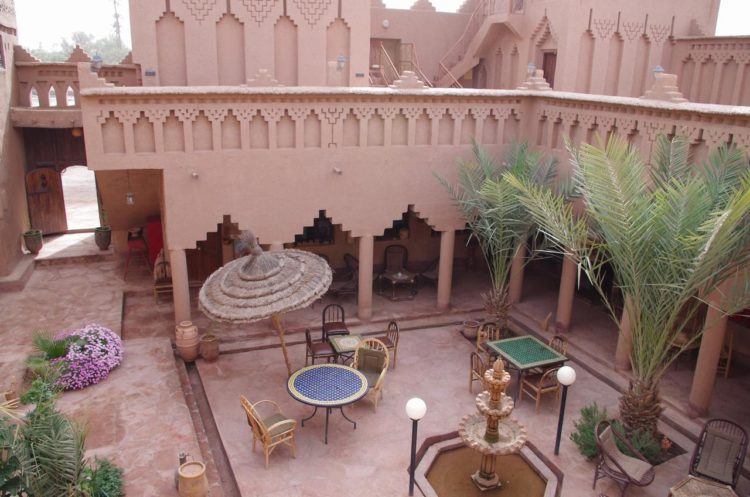 Where to Stay in Skoura (1 night)
Kasbah Amridil
Yes, it's worth pushing 40 minutes farther to stay in Skoura instead of Ouarzazate, which is just a transit town.
You'll find many kasbahs which have opened their doors to overnight guests, but the hosts at Kasbah Amridil are incredibly welcoming, making it my first choice.
Day 5 - Continue to the Dades Valley and Todra Gorge
After a long day yesterday, you'll enjoy a little more free time today. Ask your driver to stop at more kasbahs if you're interested or stop to smell the rosewater at any of the shops along the drive. Nature-lovers, like me, will instead prefer hiking through the fantastic setting of the Dades Valley. Your driver can set up the 10-kilometer loop through Dades Gorge and Monkey Fingers Canyon.
No matter how you decide to spend your day, everyone will enjoy the spectacular pink-gray walls of the Dades Gorge and the windy road seemingly designed just for Instagram. Drive just a bit farther to spend the night in the Todra Gorge.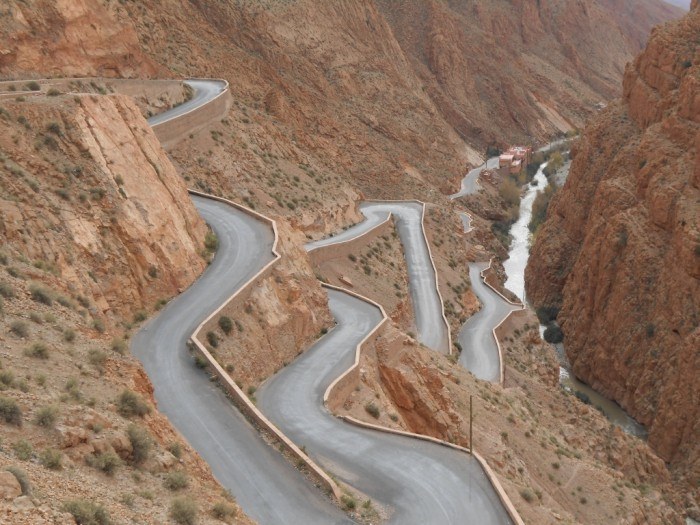 In all of Morocco, this is the area that surprised me the most. I thought it would just be a good place to break up a long drive, but if you love nature and hiking, it will WOW you!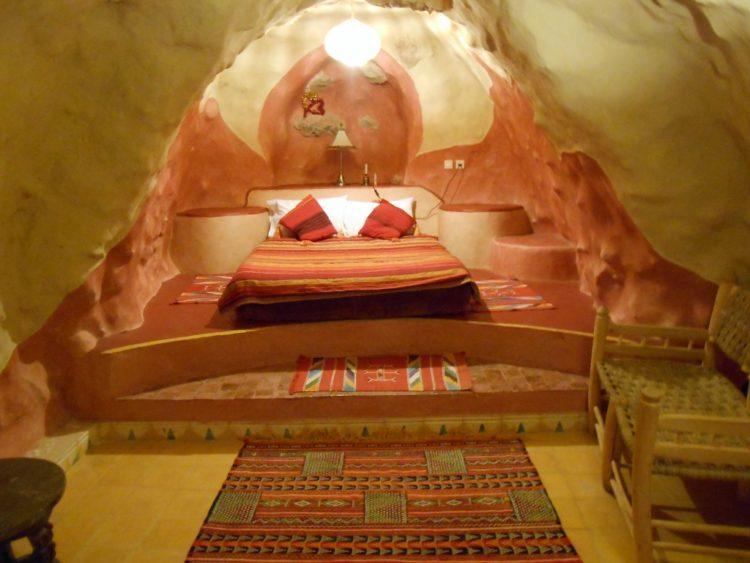 Where to Stay in Todra Gorge (2 nights)
Auberge le Festival
This hotel is built right into the cave which makes it really cool, but you'll also love the great food and friendly host.
Day 6 - Todra Gorge
You have no idea how good it will feel to spend the day exploring without having to spend hours in the car! Today is a quiet day to decompress and re-charge. The cave rooms are wonderful for reflection and it is incredibly relaxing to sit in the outdoor hot tub, play with the resident dog, read a book, or stargaze long into the night.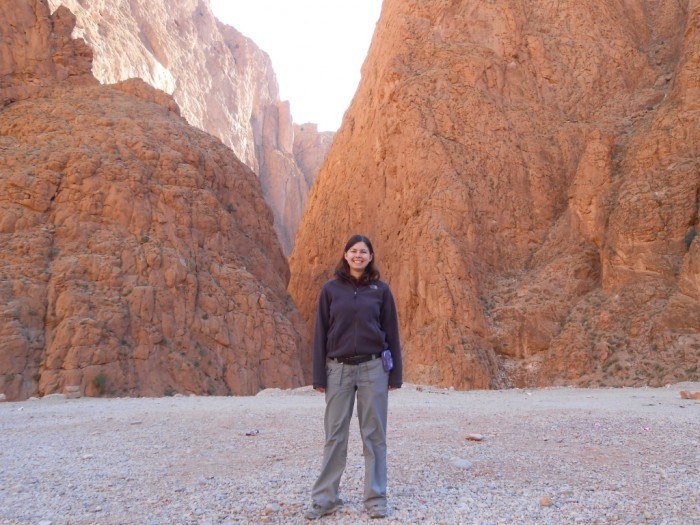 However, you don't have to take it easy if you don't want to. This is an outdoor paradise and a photographer's dream if you can spot nomadic tribes in the mountains. You can easily spend an entire day hiking, biking, or rock-climbing (guides are readily available). Ask your hotel about visiting local Berber villages or the nearby salt mines.
On a time crunch? Or just don't want to do it all yourself?

If you're looking for a package tour, the only one that seems to come close to an authentic, immersive experience is the 9-Day Morocco Adventure offered in conjunction with G Adventures National Geographic Journeys.

What I like about it:

Decent hotels with western amenities
Small group size (maximum 12)
Tons of historical/cultural context
Interactive sightDOING, like herbalist lessons and cooking classes
Enough free time to pursue your own interests

Obviously with 9 days, it's at a faster pace and it skips both coastal towns. However, you can add a day tour at the end of your trip from Marrakech to Essaouira. And obviously, it takes the stress out of organizing, communicating, and travel logistics.
Day 7 - Sahara Desert Tour
I think most travelers will agree that visiting the desert is a must-do experience in Morocco. You'll hear a lot of terms of where to go, but for simplicity's sake, you should know that the Erg Chebbi Dunes and Merzouga Desert both refer to the same place (and are a small, specific point within the greater Sahara).
On your drive, be sure to stop in Alnif, the "trilobite capital of the world". While the landscape looks quite barren, it's not difficult to stumble upon literally hundreds of fossils simply by stopping the car and taking a brief walk, proving that this was once a much more hospitable environment.
If you arrive early enough in Merzouga, you might have time for birdwatching at Dayet Srji, riding an ATV in the sand dunes, or burying yourself in the sand which supposedly helps with joint pain. I'd absolutely recommend a camel trek into the desert for sunset: a quiet way to experience just how vast these sand dunes are.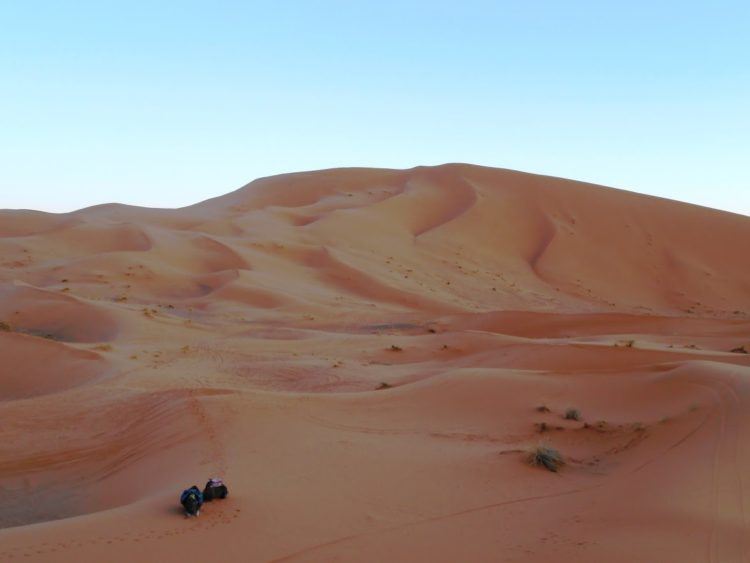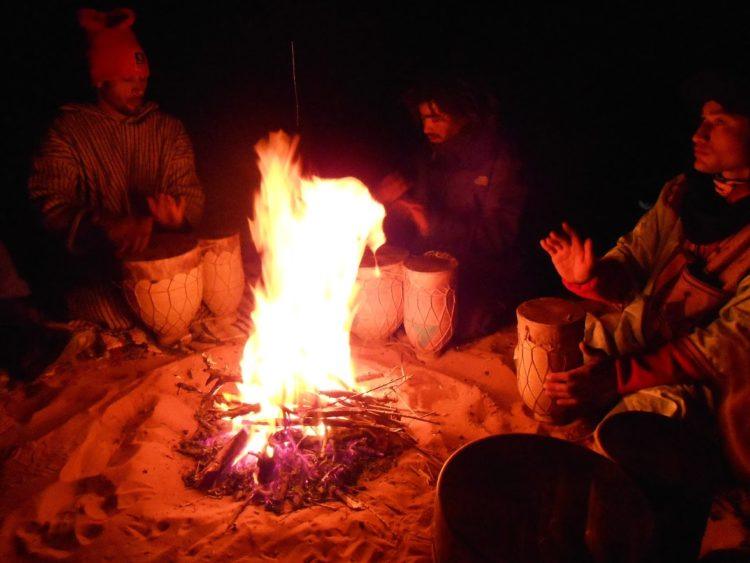 Where to Stay in Merzouga (1 night)
Bedouin Tent
If you're willing, spend a night in a Bedouin-style tent ("glamping"), dine al fresco, sit by the campfire with local music, and stargaze. Your driver (or any local hotel or tourist agency) can arrange this on the spot.
Not your style? Try the Hotel Riad Ali for air conditioning and a pool, if you prefer.
Day 8 - To the City of Fes
Assuming you spent the night in the desert, your day will start with an incredible sunrise over the sand dunes. Climbing up these dunes is quite a feat, so come prepared for the challenge!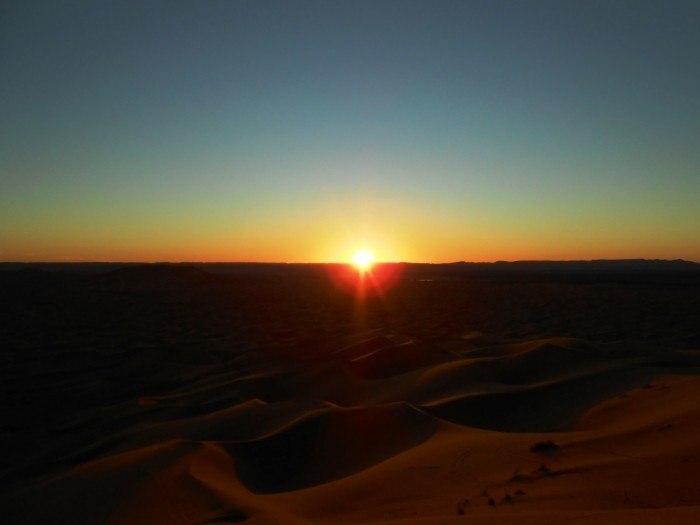 Another hour or two by camel will bring you back to Merzouga, where breakfast will be waiting and you can freshen up with a hot shower.
From this point forward, most of the day will be spent in the car. You'll drive past the town of Rissani and into Erfoud of the Ziz Valley. As of this writing, market day in Erfoud was on Saturdays, making the souks a perfect first stop for the day. These are far different from the touristy souks in Marrakech, and you'll see butchers, livestock markets, and flea market type sales crowded with locals. Consider a snack of mejoul dates, spicy olives, and an avocado milkshake before heading north into the Middle Atlas Mountains.
You'll continue through cedar pine forests, home to Barbary apes that can be curious and worth a quick visit. If you make just one stop, make it Ifrane, the "Switzerland of Morocco" due to its alpine scenery. You'll arrive in Fes before dusk.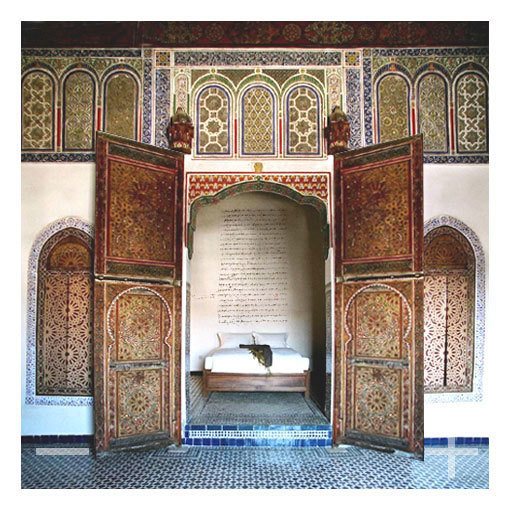 Where to Stay in Fes (4 nights)
Dar Seffarine
By all means, drop everything and stay at Dar Seffarine. It's gorgeous, welcoming, centrally located, and affordable. Since you're here for four nights, you might as well be comfortable!
Day 9 - Relaxation in Fes
Halfway through your trip, you've earned some relaxation! You'll find hammams, or bathhouses, scattered throughout Fes and you can choose your level of authenticity when it comes to scrubbing the sand off your body versus a spa-like massage.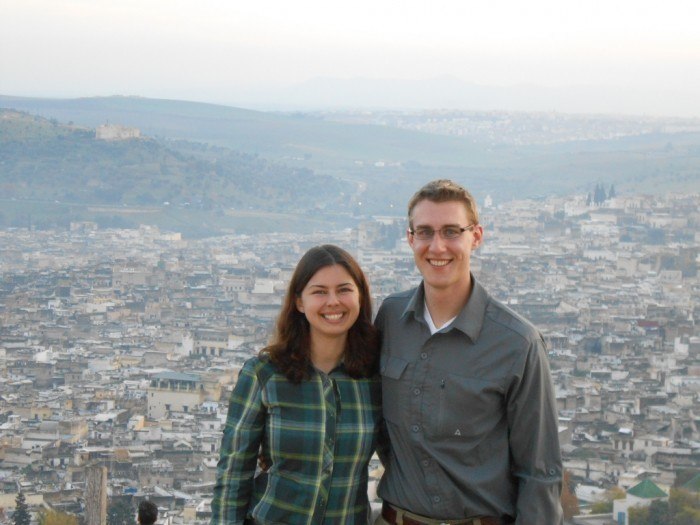 You'll find lots of other ways to relax for the day as well, including playing a round of golf, enjoying a day pass at the Sofitel's (or other hotel's) pool, or partaking in any interest of yours. In my case, that absolutely means a cooking class. There's nothing like being in a kitchen to take away all my stress.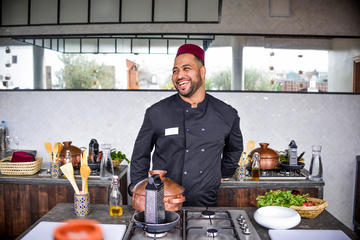 Fez Cooking School Experience
This half-day cooking class begins with a visit to a traditional souk in the medina to purchase ingredients and taste local treats. Return to Palais Amani for a rooftop cooking class and enjoy your lunch or dinner in the lush palace gardens.
Day 10 - Day Trip to Meknes
Trains ply the 1-hour route from Fes to Meknes frequently, making it an easy day trip even if you don't have a driver. Make your first goal of the day a visit to the Roman ruins of Volubilis before it gets too hot in the afternoon. Guides are available to explain the history or you can simply enjoy the beautiful mosaics on site.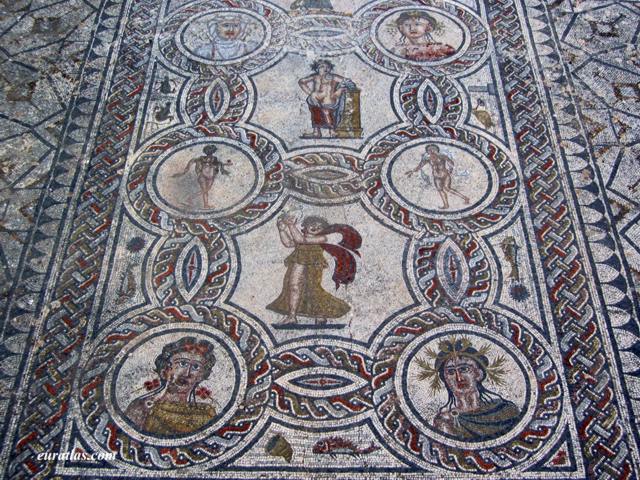 Next, stop in Moulay Idriss (a 45-minute walk or short taxi ride from Volubilis). This is an important pilgrimage site due to the tomb of Moulay Idriss, a prominent Moroccan saint in the late 8th century and a great-grandson of the prophet Mohammed.
Enjoy lunch in Meknes and spend a few hours to stop in the city's other historical sites, the central pedestrian square, or shop in the souks before returning by train to Fes.
Day 11 - Traditional Touring in Fez
Fes is a well-preserved medieval capital and a sprawling labyrinth that is amazing to get lost in. In fact, I'd suggest specifically not getting a guide for today because wandering is so enjoyable.
At some point, you'll likely stumble upon the tanneries, a great place to learn about one of the city's major industries as well as do some shopping. Also worth finding are the lovely architectural wonders of Bou Inania madersa (a fourteenth century college) and the exteriors of the Moulay Idriss II shrine, Qaraouyine library and the al-Tijani mosque.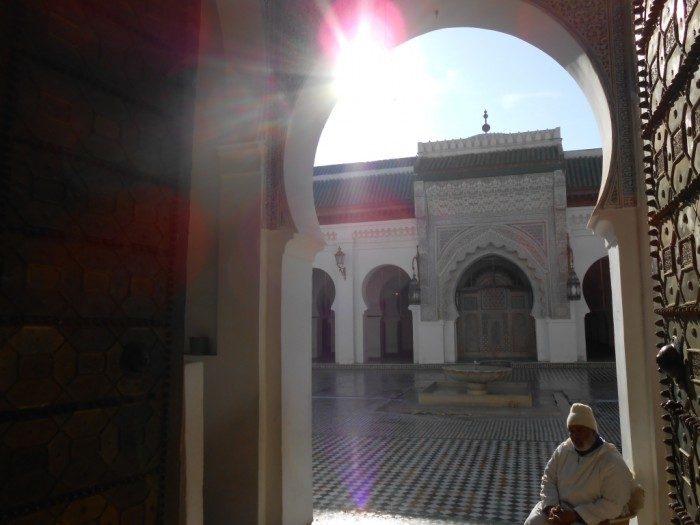 Should you still have time, head into the Jewish quarter for an entirely different feel of the city or to the Merenid Tombs for panoramic views of the city. Spend your evening in the new city for a more modern dinner and night out.
Day 12 - Northbound to Chefchaouen
Today, head north to the Rif mountains. There's not much to stop for along the way, but if you leave in the morning, you'll arrive in time for lunch in the lively Plaza Uta el Hammam.
The food -- and culture -- in Chefchaouen feels more European than anywhere else in Morocco, and the variety is a refreshing change of pace. Chefchaouen's gorgeous blue-washed alleys are calming, and it's easy to spend an entire afternoon walking through town and enjoying the ambiance. Consider a stop at the Hotel Atlas for mint tea at sunset.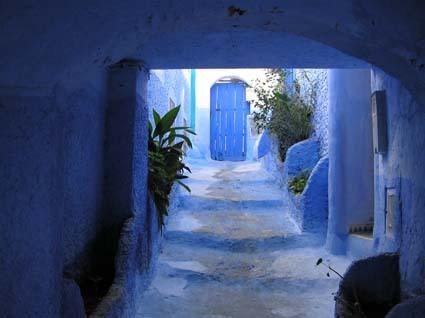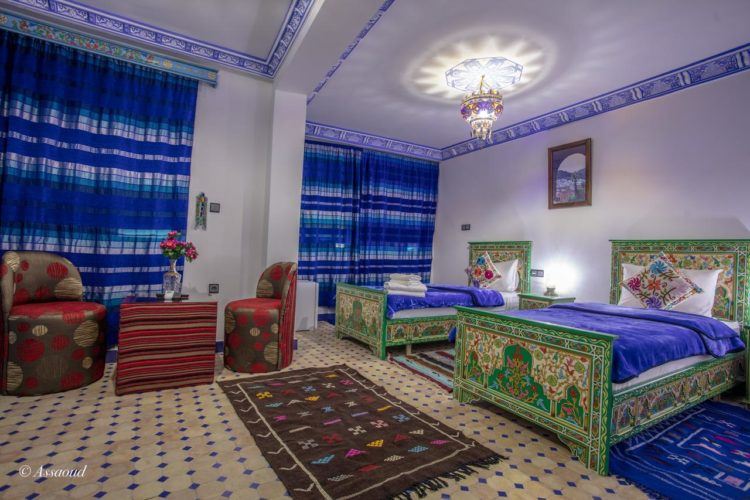 Where to Stay in Chefchaouen (2 nights)
Puerta Azul
For a peaceful stay in an excellent location with unbeatable decor and a wonderful breakfast, this is the place for you.
Day 13 - Explore the Rif Mountains
Another day in Chefchaouen provides the opportunity to explore the surrounding area. My choice is a hike through Talassemetane National Park for waterfalls and other hillside scenery on the outskirts of town.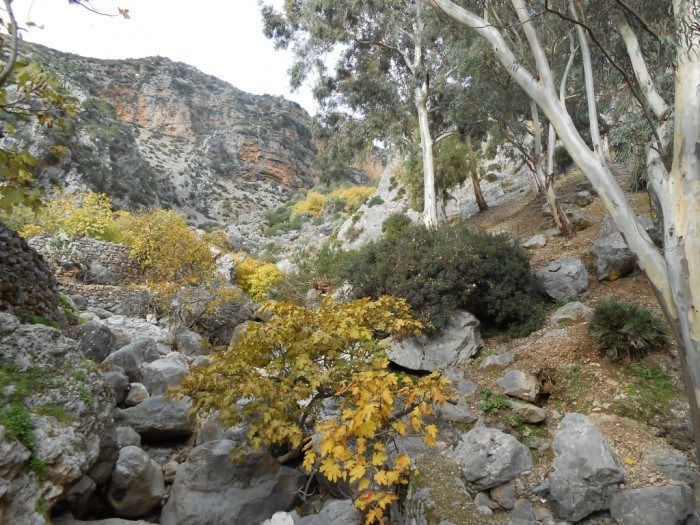 Another popular option is to travel by car about 30 minutes to God's Bridge (rock arc) and the Akchour waterfalls for a day of hiking. If you prefer a cultural visit to an outdoor one, head to local villages for tours of authentic markets or seeing potters at work.
Day 14 - to Asilah
Heading to Asilah is easiest done by private car, but can be done by bus or train with a transfer if you prefer to save money. As a contrast to Chefchaouen, Asilah is a white-washed village on the sea rather than a blue-washed town in the mountains. It has an Iberian feel and is small enough to see in one day.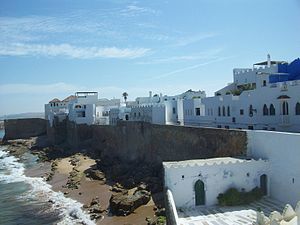 This is a particularly great place to spend a Friday in Morocco (a day of prayer for Muslims). You can take it easy on Paradise Beach, reachable by donkey cart. After an afternoon of soaking up the sunshine, walk along the ramparts for a stunning sunset.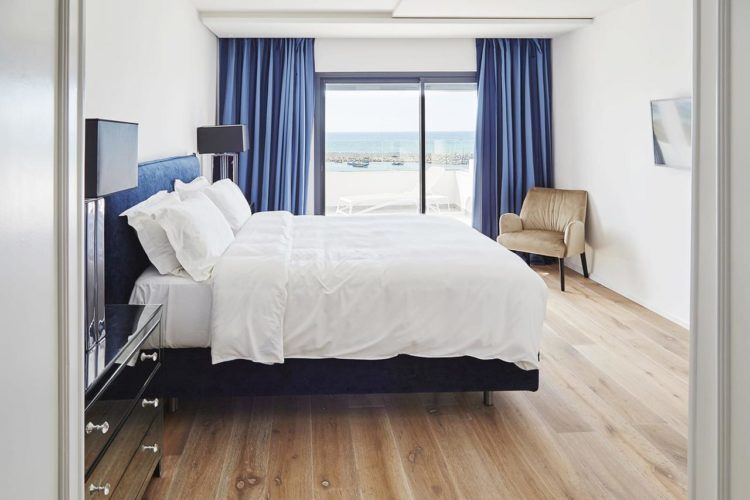 Where to Stay in Asilah (1 night)
Asilah 32
The condos here are likely more space than you'll need for one night, but it's under $100 so worth treating yourself for the sea view. You're also easy walking distance to town and the beach, giving you the best of both worlds.
Day 15 - Ride the Rails to Casablanca
After the sea breeze in Asilah, it's about a four hour drive south to Casablanca and ideally you'll arrive in time for the final tour of King Hassan II Mosque at 2:00pm. This mosque is the largest in Morocco, the third largest in the world, and the tallest minaret in the world.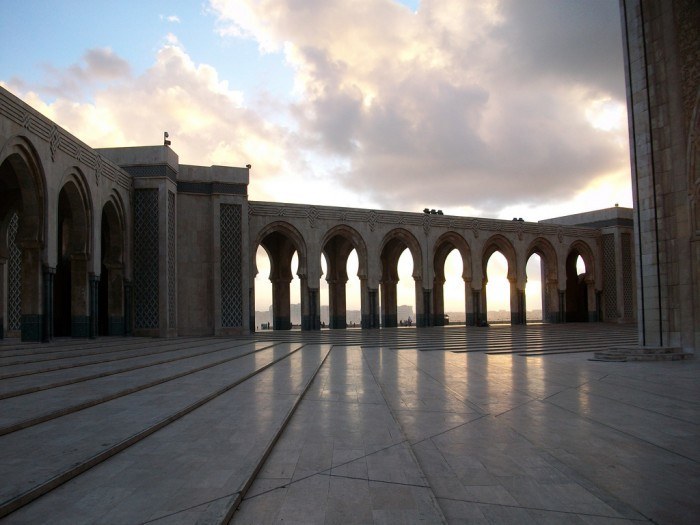 More interestingly, though, is that it is one of the few mosques in Morocco open to non-Muslims. Enjoy the beautiful interior as a way to return to Morocco's architecture and culture and then stroll the corniche in the late afternoon for a final glass of mint tea, some people-watching, and an insight into the busy imperial city of the country.
(If you have an afternoon flight on the last day, you can instead stop over in Rabat for the afternoon and save Casablanca's mosque for first thing the next morning).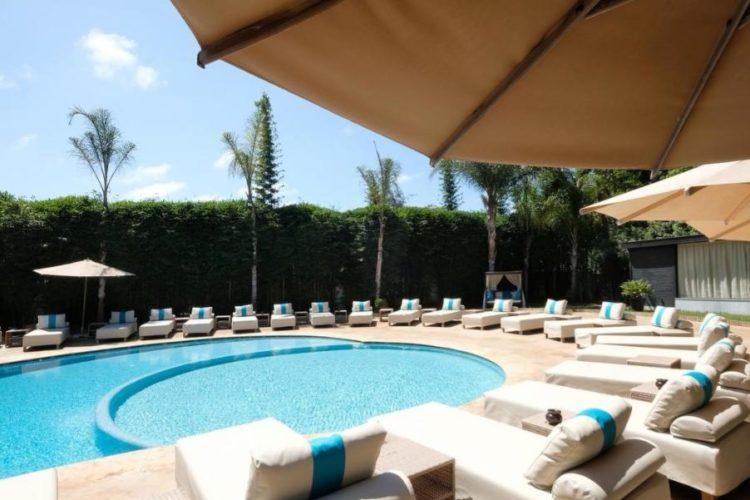 Where to Stay in Casablanca (1 night)
Le Sphinx Boutique Hotel
I don't know about you, but after two weeks in Morocco, I'm ready to be pampered a little bit. Instead of overpaying for one of the chain hotels in town, get a luxury stay at half the cost and enjoy the pool before heading out.
Day 16 - Fly home
Returning home is a breeze, with Casablanca airport well connected to the city.
By this point, hopefully you've enjoyed the many different sides of the country through this two week Morocco itinerary, with plenty of stories to share with family and friends.
Any last Morocco travel tips?
Bring your own toilet paper and hand sanitizer. Don't be surprised if you find yourself at a squat toilet needing both of these things and still being expected to pay for the privilege of using their bathroom.
Stay nimble. We arrived in Marrakech finding ourselves needing to cross a street that looked nearly impossible to accomplish while staying alive. Thank goodness we were traveling with sneakers and backpacks rather than heels and wheeled suitcases. Even when traffic isn't an issue, many riads (guesthouses) are only accessible on foot and have narrow, winding staircases so packing light is a good plan.
Be respectful. This should go without saying, but embrace their customs rather than insulting them. Know when you are allowed to take photographs and when you should create a memory instead. Respect certain sites which are not open to non-Muslims and instead seek out places you can visit without offending anyone. Dress modestly.
Plan "me time". There is a lot to soak in in Morocco and it can be mentally exhausting to be constantly stimulated. Taking thirty minutes a day to reflect on your experiences can be worth its weight in gold.
MORE INFO TO PLAN YOUR MOROCCO TRIP