This post may contain affiliate links. As an Amazon Associate I earn from qualifying purchases.
* * *
Picking a hotel should be a simple task, but I get lost in too many options. But when deciding where to stay in Fes, I didn't have to search hard because I got an awesome reader recommendation for Dar Seffarine.
Why You Should Stay in a Riad (or "Dar")
In Moroccan, a dar is a house and thus Dar Seffarine is a guesthouse. This is not a hotel, and you'll do best by picturing some of the comforts of a boutique hotel, crossing it with a B&B's communal atmosphere, and then adding in the personal touch of Moroccan hospitality. If you haven't tried anything like this, Dar Seffarine is the perfect place to start because it is a very laid-back and easy-going atmosphere.
This is exactly the type of accommodation I enjoy the most, but it is not for everyone. If you expect room service or even a TV, you'll want to look for other options. However, if you want a place where you exchange stories over breakfast with other guests and take tea and learn about hidden spots in the city with the owners, you'll love Dar Seffarine.
Dar Seffarine History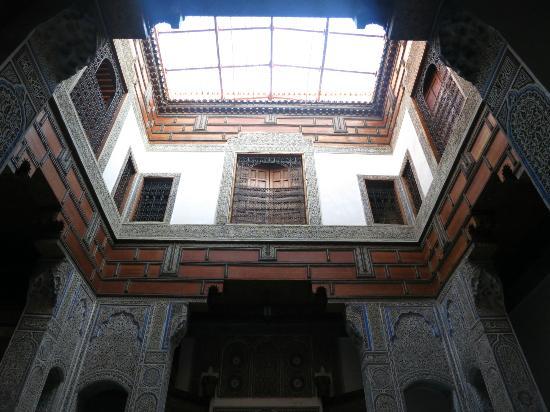 Dar Seffarine is over six hundred years old and after centuries of being lived in, it was in need of a little TLC. Nearly three years of careful, loving restoration has brought this building to true splendor. Like most buildings in Fes, the outside appearance is plain, and perhaps even run-down, but after stepping inside two sets of doors, you'll find yourself in a magnificent guesthouse.
This Fes Riad is Beautiful
Public Spaces: The entire guesthouse is intricately beautiful, with zellij mosaic tiled floors, carved plasterwork, tall columns and doors, and gorgeous woodwork juxtaposed against simple furnishings to balance it out. Walking through the guesthouse is like walking through a museum full of amazing decorations, so of course we spent time exploring our very own guesthouse as part of our Moroccan vacation. It truly is beautiful, and the staff are willing to let you tour any unoccupied rooms plus all public spaces as they tell you the history of this building, the nearby Seffarine Square, and the restoration.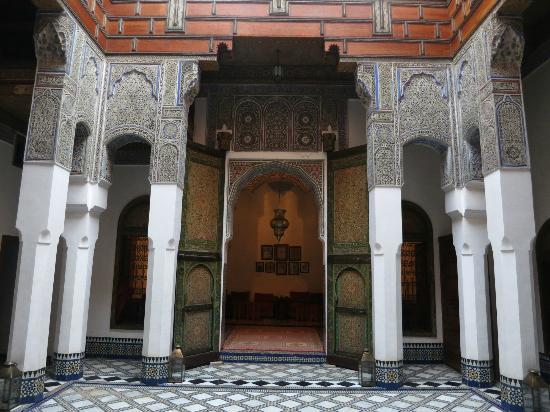 Because the guesthouse is so inviting, you'll likely want to spend time out of your room. The main room on the ground floor has two lovely alcoves which are perfect for sharing conversation over a pot of mint tea or for dining with fellow guests while listening to music. The other truly magical spot at the hotel is the rooftop terrace, with incredible panoramic views of the Fes medina. Since it was chilly during my visit, I enjoyed the view and listening to the call to prayer from up there, though I bet on warmer days, it would be a wonderful place to sit outside and soak up the sunshine until you're ready to head back into things.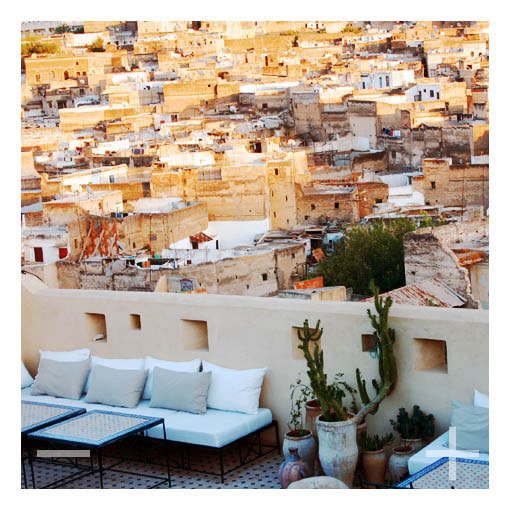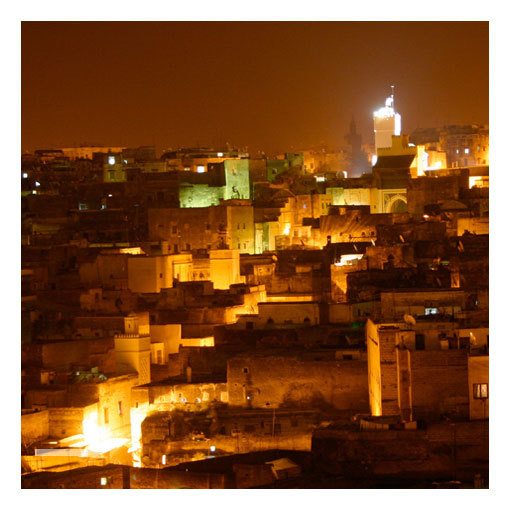 Room: There are only seven rooms at Dar Seffarine, which is a great size. It's small enough that you'll receive great service and see the same faces of other travelers frequently enough to develop a connection, but not so small that you feel like you're simply living in someone's house. We originally booked one of their basic rooms on the ground floor, but found we had been upgraded to a larger room upstairs. Space isn't something I usually need much of, but the upstairs rooms feel more private than the basic rooms which open up to the main 'courtyard'. For that reason alone, I'd recommend paying for the reasonable upgrade unless you have trouble with narrow, steep stairs. Thank goodness I have young knees!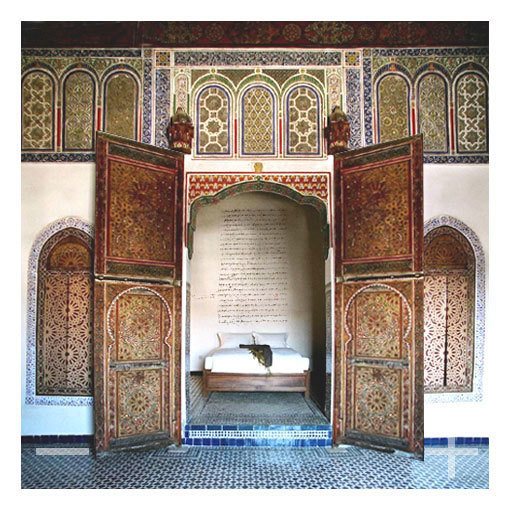 The main bedroom included a comfortable bed with high-end linens and armoire, and was outfitted with antique carpets, intricately-punched metal lamps, and of course, beautifully decorated wooden doorways and window shutters.
The sitting room had a desk, couch, coffeetable, and sitting cushion. When the lights were out in the evening, you can't even begin to imagine how relaxing it was – after the hustle and bustle of Fes – to sit in the peace and quiet with candlelight. Oh, and the glow of an iPad because the wi-fi worked perfectly in the sitting room, but was a bit intermittent in the bedroom area. 🙂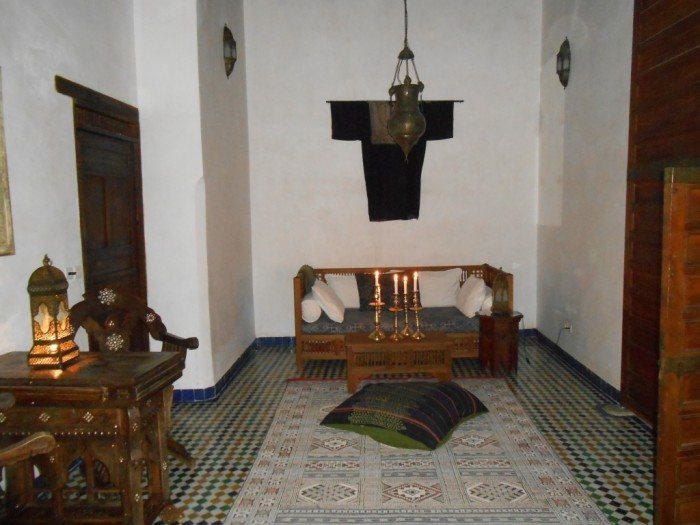 The bathroom was just large enough and came with a reliable source of hot water.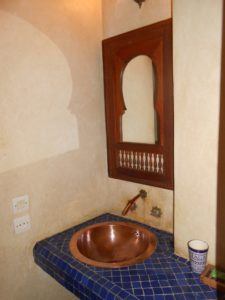 The Location Makes This One of the Best Riads in Fez
Dar Seffarine has an incredible location in the old medina near Seffarine Square and all of its copper-workshops. You can walk right into the souks — both touristy or authentic, depending on which direction you head — and walking to historical attractions and restaurants is a breeze.
Despite being a pedestrian-only zone, you can get to the Bab RCIF gate within 3-5 minutes walking, where you'll always find taxis if you want to venture further out for the new town, day trips, or to catch a ride to the train station. Word to the wise: it was easy finding the guesthouse once we knew where it was, but it's a good idea to give them a call as soon as you have arrived so they can show you the way the first time.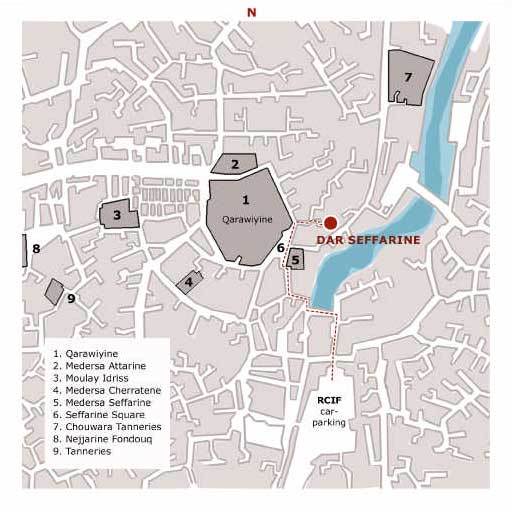 What Makes Dar Seffarine Special
Eeryone who works at this guesthouse has learned what great customer service is through the gracious owners, Kate and Alaa. They are warm people who genuinely want you to enjoy your stay and are happy to chat with you to ensure you have a great visit to the city they now call home. However, the hospitality doesn't stop there. Everyone working there was friendly and helpful. In the mornings, Mohammed was our go-to man and he started the day on the right foot with a smile, lots of laughter, and a great breakfast. Not only did he share delectable meals, but he took the time to show me how different meals were prepared and where I could find the same pastries in the (local, authentic) market. Zuhair was available in the evenings, and he also was a pleasure, sharing maps of the medina, information about Fes, and even taking the time to sit for tea and cookies with us.
And, Oh! The Food!
Breakfast is included in the rate, so it goes without saying that you'll be dining here at some point. Every day's breakfast was slightly different, which is a lovely change of pace from other hotels which offer the same thing over and over again. You'll find fresh juice daily along with breads or pastries from the market and dark, percolated coffee (the things you take for granted at home).
I highly recommend trying as many of the spreads as you can: the homemade jams are delightful, natural peanut butter a familiar treat after seeing it nowhere else in the country, honey just a little different from home, and butter that just doesn't get any fresher. I also loved the cooked eggs as a change of pace from Morocco's normally carbohydrate-heavy meals and a side of fruit helped balance the meal further. Only downside to breakfast? It's not served until 8:30, which might be too late if you have to catch an early bus.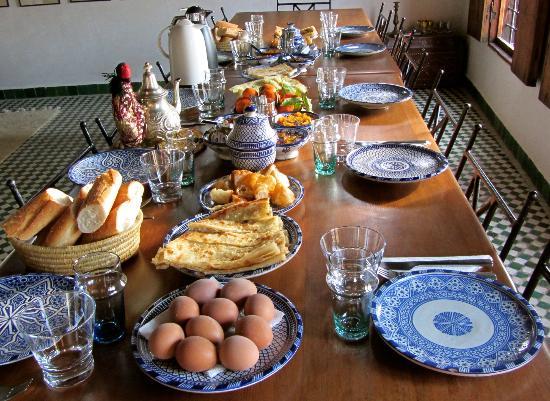 If breakfast is good, then dinner is spectacular. Yes, it's on the pricey side for Morocco, but it's convenient, relaxing, delicious, and plentiful. Your choices for dinner are vegetarian or non-vegetarian, and the kitchen will decide on the specifics. Expect breads, soup, salads, tagines or other entrees, roast vegetables, and dessert. Drinks are available at an upcharge so get cozy and settle in for the night with a bottle of wine if you're feeling deprived. Chances are, you'll eat with other guests, which leads to great conversation and a meal that hits the high points of being served family-style. I very much enjoyed the dinner we ate here for both the quality of food and interesting company.
A Local Touch
You won't find the same amenities here as you would at the Sofitel down the road, but we had everything we needed. There's a heater for the winter and ceiling fan for the summer. You're treated to mint tea at any time you want, often with little sweets on the side as if sweetened tea isn't enough.
Another great amenity is that they work with trusted local guides who can share the history, culture, or other things tailored specifically to your interests. By partnering with guides who work on a flat rate rather than tips or commissions, they can offer a quality, immersive experience. Best of all? No hard sells on getting a guide; we simply said "no, thank you" and went off to explore on our own although other guests raved about their experiences.
Have you decided where to stay in Fes? Book now!
I almost always book through Booking.com for easy details on pricing and reviews plus one-click cancellation if needed.
Bottom Line
I can't say it any better than the original recommendation I received: "It is the most incredible place I have ever stayed, in one of the most amazing cities I have ever visited."
* * *
I paid for my stay at Dar Seffarine in full and did not receive any compensation for this review. As a travel blogger I love sharing opportunities for you to travel the world affordably (and comfortably!) and felt that this hotel was worth a glowing recommendation. Some links in this review may provide commission if you book from my review.