This post may contain affiliate links. As an Amazon Associate I earn from qualifying purchases.
* * *
I wasn't born in Niagara Falls, but I may as well have been. My grandmother lived there — two miles from the infamous waterfalls — and I estimate I hit 100 visits by the age of 16.
When I moved to the region a few years ago, I spent my first summer leading hiking tours through the Niagara Gorge, showing our local wonders to visitors from all over the world. Suffice to say, I know more about things to do in Niagara Falls NY than most others.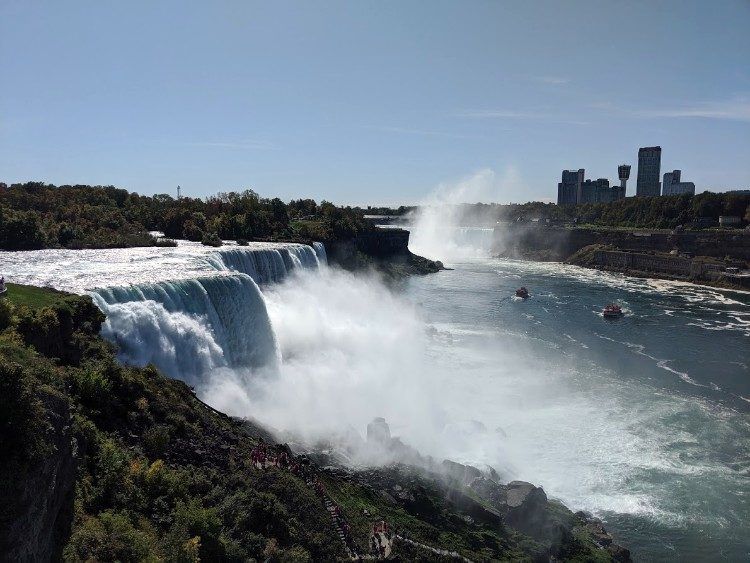 QUICK TIP: Niagara Falls is not in Buffalo, NY but they're only 20 miles apart. Buffalo is the closest major airport, the nearest large city, and you can easily see both destinations in a single trip.
Niagara Falls USA vs Canada
Which side of Niagara Falls is better? Without question, the Canadian side of Niagara Falls is more popular. There are more hotels (including some with views), it has a better angle for seeing Horseshoe Falls, and frankly, most of Niagara Falls USA is rundown.
But that doesn't mean you should skip the New York side. This is where you'll get up-close views of the American Falls. It's also the launch point for my absolute favorite local attraction (Cave of the Winds, more details below).
And, at least in 2021 while the Canadian border is closed, Niagara Falls USA might be your only option if you're an American citizen. Even after the border reopens, the New York side is often cheaper to fly into and will save you long border crossings (Rainbow Bridge in particular can be terrible in peak summer season).
In a perfect world, you'd visit both, but if you can only visit Niagara Falls NY, don't sweat it.
Niagara Falls Waterfalls
There are actually three Niagara Falls waterfalls: Horseshoe Falls, American Falls, and Bridal Veil Falls.
None of them are anywhere near the tallest waterfalls in the world. What makes them impressive is the insane amount of water that flows over them: the volume is roughly 700,000 gallons per second during peak season. Even in lower volume periods, it's still mighty impressive.
Horseshoe Falls
Horseshoe Falls are the largest of the three waterfalls and are named for their signature horseshoe shape. These are also known as the Canadian Falls, even though they technically straddle the international border.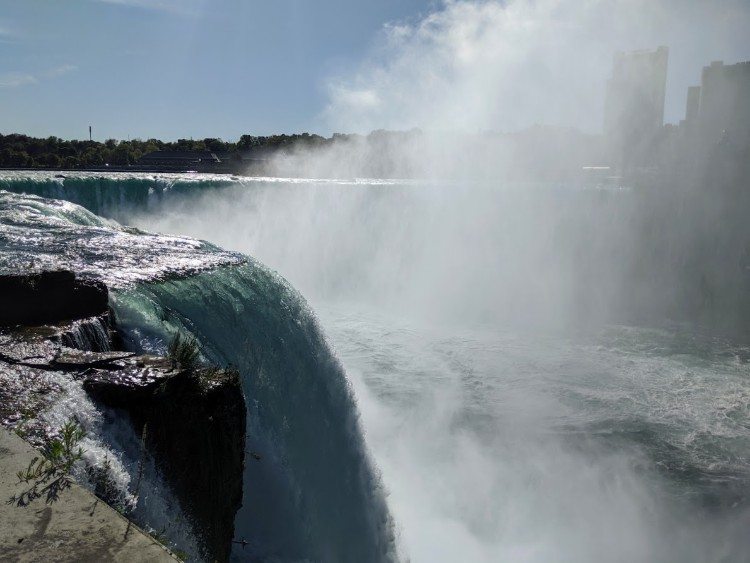 This is where the vast majority of the water plummets down 167 feet — something like 90% of the water flows over here.
American Falls
The next largest waterfalls are the American Falls, which lie entirely on the US side. They can be seen from both sides of the border.
Bridal Veil Falls
By far the smallest, the Bridal Veil Falls are still beautiful. These also lie entirely on the American side and are separated from the American Falls by Luna Island.
Things to Do in Niagara Falls (American Side)
Niagara Falls State Park (and Goat Island)
To see the waterfalls from solid ground, you'll want to head to Niagara Falls State Park. There's no admission although you'll have to pay $10 for parking (half price in winter). My favorite lot is "P2", which puts you on Goat Island close to viewpoints for the American Falls and Bridal Veil Falls. You can easily walk from here to Cave of the Winds and Maid of the Mist, as well.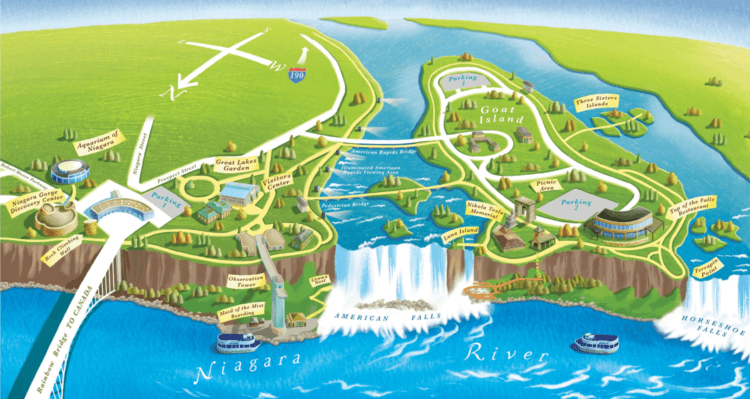 Goat Island itself sits in the Niagara River, separating Bridal Veil from Horseshoe Falls. There are paved paths taking you to several observation points on the rim of the falls, views of the river rapids above the falls, and places to spread out with a picnic. Keep an eye out for black squirrels (they're adorable!). For more views of the rapids, cross over to Three Sisters Islands.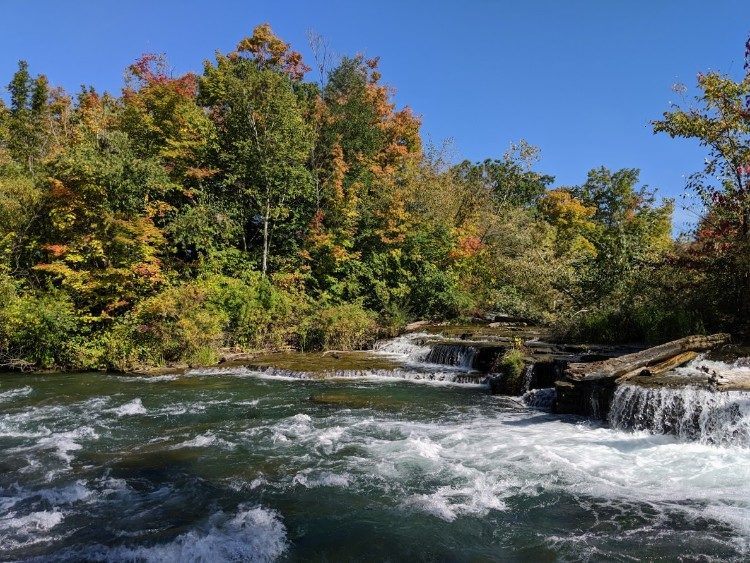 Most people will want to spend an hour or two walking to all the viewpoints, snapping a hundred photos, and taking in the scenery. It's worth going twice, once in the daylight and once after dark to see the falls lit up. There's also a self-guided walking tour that you can access from a free app for trivia and stories.
Cave of the Winds
Cave of the Winds is a series of wooden staircases and walkways that take you to the base of Bridal Veil Falls. Only a fraction of the water flows over these falls, but seeing them at the base is an incredible way to witness their power. You WILL get wet here and the boardwalks can get slippery, so watch your step!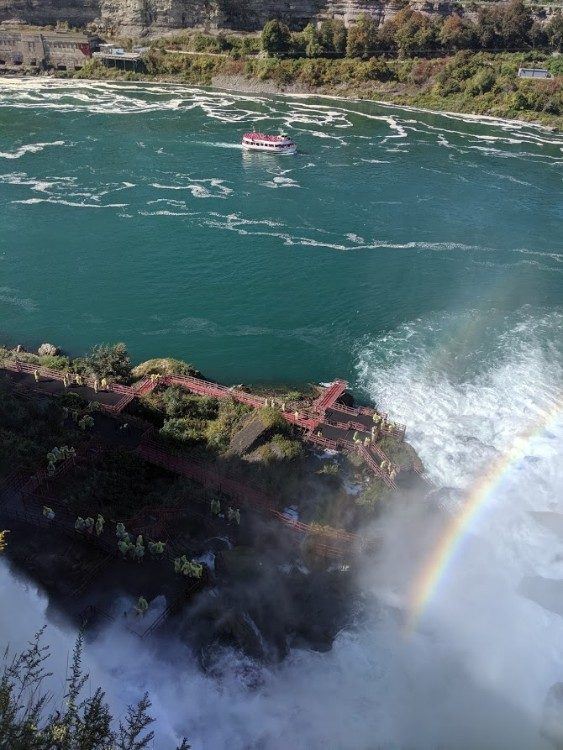 Hurricane Deck really does have crazy storm-like conditions (your poncho won't do much here, as the water flows down with such force it just blows the hood right off of you). You can avoid walking up to this platform if you want, but it's a blast if you don't mind getting soaked.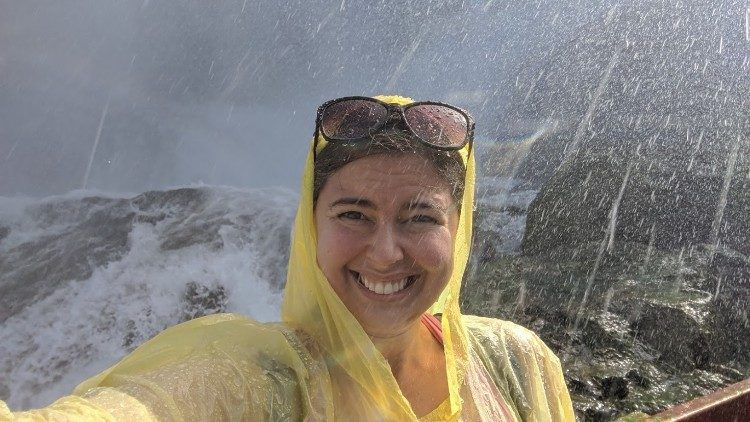 You can't buy tickets online and it does sell out. In my experience, it's best to get here early — you'll get a timed ticket and if it's a long wait, you can pass the time at the state park or other attractions.
Maid of the Mist
For the best view of the Horseshoe Falls without entering Canada, you'll need to book a ride on the Maid of the Mist. This Niagara Falls boat ride leaves from the American side to sail to the base of the falls, offering fantastic views along the way. Trust me, you get closer than you'd expect!
This trip is a classic; it's been running since 1848. And it's been around a long time for a reason — it's amazing to look up at Horseshoe Falls and feel the mist in your face. Okay, it's more like a spray than a mist!
If you can, find a spot in the front left for your ride. That way you'll get views of the American Falls as you sail toward Horseshoe Falls. (If you're on the right, you'll see them on the way back, but by then your camera might have water spots on the lens). At the end, you can walk toward the base of American Falls for another perspective, which is a "poor man's" version of Cave of the Winds.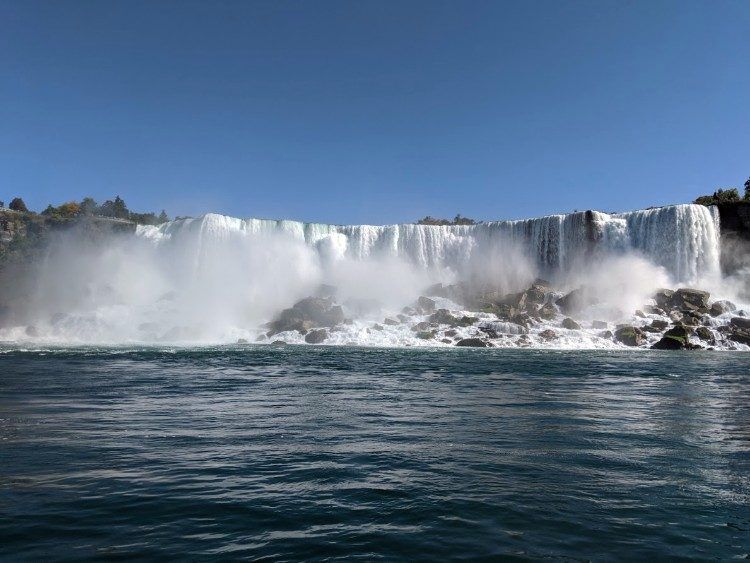 PRO TIP: If you're doing both Cave of the Winds and Maid of the Mist, save the poncho you get from the first one to reuse and save the planet a little. On a hot summer day, you might choose to forego it entirely.
Whirlpool State Park
A few miles from the falls, and accessible by trolley if you don't have a rental car, is Whirlpool State Park. This takes you away from the waterfalls and provides views of the rapids along the Niagara River. While you can see them from the upper part of the park, the real treat is heading down into the Niagara Gorge to get riverside.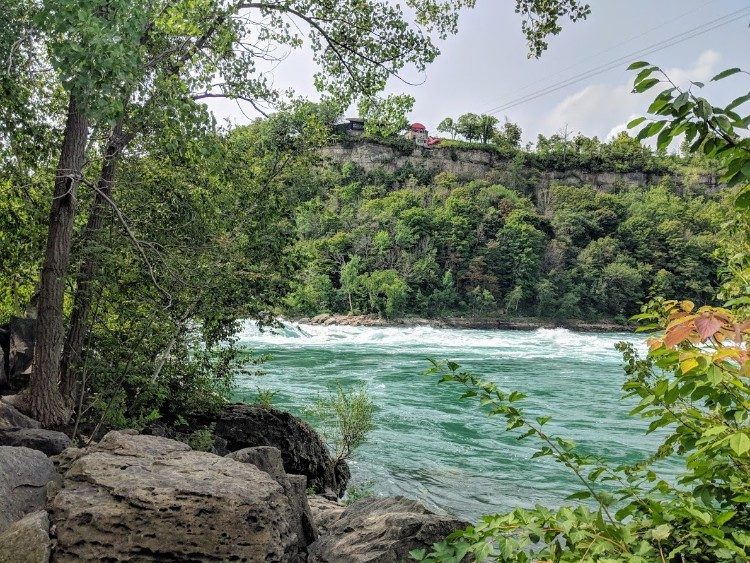 Of course, to do so means heading down stairs (about 500 of them) and later on, you'll have to climb up them all to return to the top. Still, this is a great way to get into nature. It's about two miles round-trip to do the Whirlpool Rapids trail.
For a longer hike, I like to start at Devil's Hole State Park and descend into the gorge from there. This trail isn't nearly as crowded, but gives you nice views of the gorge rocks as you go down. The trail heads upriver, eventually bringing you to the Whirlpool Rapids, where you'll head up, up, up the Whirlpool stairs and then return to your car via the upper rim (paved) path. Allow 2-3 hours.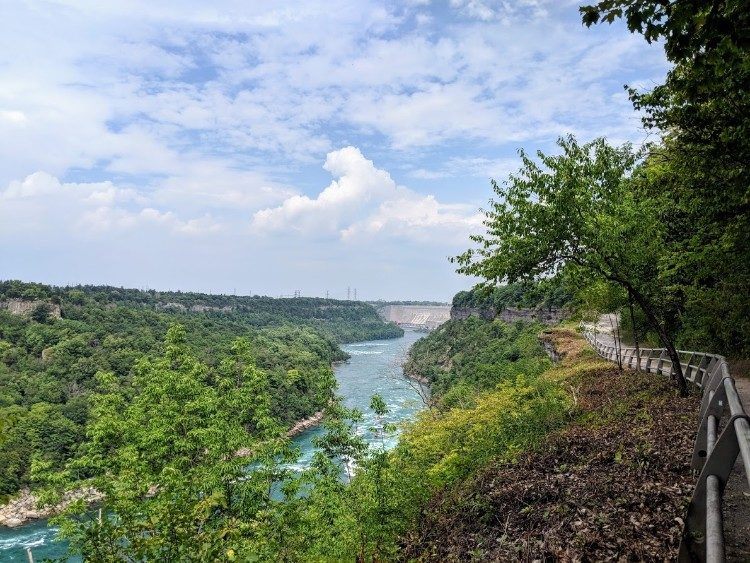 Whirlpool Jet Boat Ride
As you walk along the Whirlpool Rapids, you'll see a few boats zooming up the river, splashing in Class V rapids. That's the Whirlpool Jet Boat and it's every bit as fun as it looks. These boats leave from Lewiston, NY which is about a 20-minute drive from Niagara Falls State Park.
I didn't think I'd like this jetboat as much as I did — the route took me parallel to where I've hiked many times. The ride basically repeats itself three or four times, playing in the same rapids over and over. Plus, it's expensive. It gets your heart pumping though and it's nonstop spinning, splashing, and smashing into the rapids.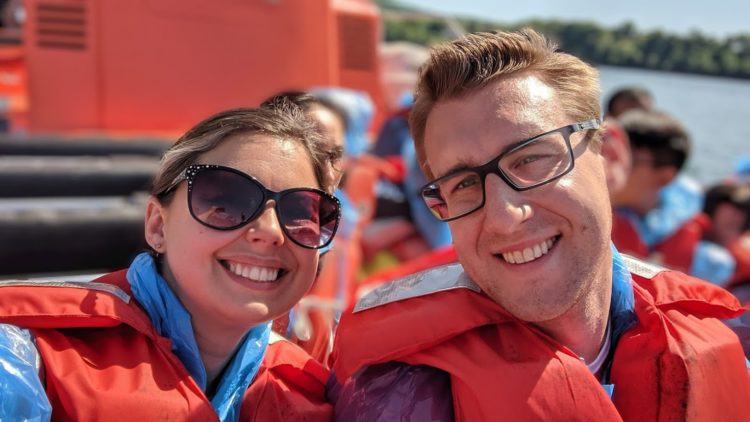 If you're going to shell out the money for this, go all-in with the "wet jet" boat. It's open-air, so you'll go home dripping wet, but it's the only way to get the full dose of exhilaration. The dry "jetdome" boats are enclosed, keeping you dry, but kind-of defeat the purpose.
PRO TIP: While you're in Lewiston, do yourself a favor and get a frozen custard at Hibbard's while you dry off in the sun. The place has zero atmosphere, but it has really good ice cream.
Bonus Activities in Niagara Falls New York
There are a few other things near Niagara Falls USA that have nothing to do with the waterfalls:
Old Fort Niagara: This fort was built in the late 1600s and saw action in the French & Indian War, Revolutionary War, and War of 1812. They've done a great job at restoring it. There are staff in period costumes as well as musket demonstrations in addition to touring the fort sites. On a clear day, you might be able to see Toronto as you look across Lake Ontario.
Niagara Wine Country: The US version of Niagara wine isn't as well known as Niagara-on-the-Lake, Ontario (Canada) but you could still spend a day or more visiting the 20+ vineyards. The wine trail is 30-60 minutes from the falls, so plan accordingly. If time is short, my two favorites are Arrowhead Springs and BlackBird Cider Works.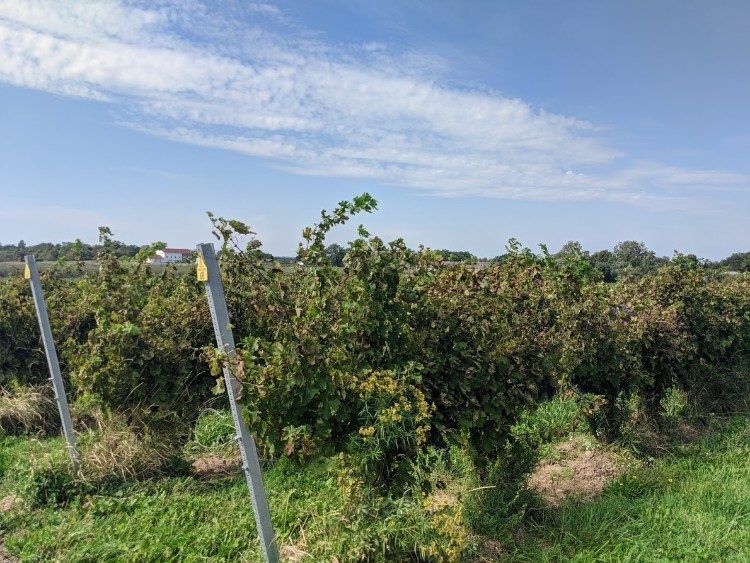 Art Alley: If you're into art, take twenty minutes to view the street art at Third & Niagara Streets.
Buffalo is only 20 miles from Niagara Falls, so you can get more ideas in my Buffalo travel guide as well.
Where to Eat in Niagara Falls NY (local style)
My favorite restaurants in Niagara Falls, NY are all hole-in-the-wall joints. If that's not your style, move on.
Michael's Restaurant: Michael's is Italian-ish (Western NY sauce has a distinct flavor) but whatever you want to call it, the food is good and portions are huge. Do not miss the beans and greens soup — seriously — and then it's a toss-up if you want the pillowy gnocchi or the overstuffed calzone. Actually, bring a friend and get both.
The Why: There's nothing unusual on the menu here, but this breakfast spot serves up meals fast, cheap, and early which is usually what I'm looking for if breakfast isn't included at my hotel. You can get two eggs, home fries, toast, and coffee for $5.
If you're into time warps, there are two places you shouldn't miss: Gadawski's (for Polish cabbage rolls, and don't miss Trinity Church next door) and Pizza Oven (don't expect "normal" pizza – this is sweet, lightly cheesed, and heavy on oregano). Both have insanely restrictive hours and are cash only, but will transport you back to a different era.
Suggested Itinerary for Niagara Falls (American Side)
If time is short, here's how I'd spend one day in Niagara Falls USA:
Head to Goat Island first thing in the morning, before the crowds arrive, and snap just 1-2 pictures without any strangers in your way!
Go to Cave of the Winds. You don't want it to sell out before you get a chance!
While you're still wet, head to Maid of the Mist. You'll probably spend longer waiting in line than on the boat itself, but it's worth it.
Finish up at Goat Island and Niagara Falls State Park. If you started your day early, it's probably time for a late lunch!
After your lunch, drive from the falls area for either the Jetboat Ride or the Whirlpool Rapids hike. I like both, but when time's short, you'll have to prioritize.
Head back toward the falls after dark to see them lit up. Most years also have fireworks, but they've been cancelled in 2020 until futher notice.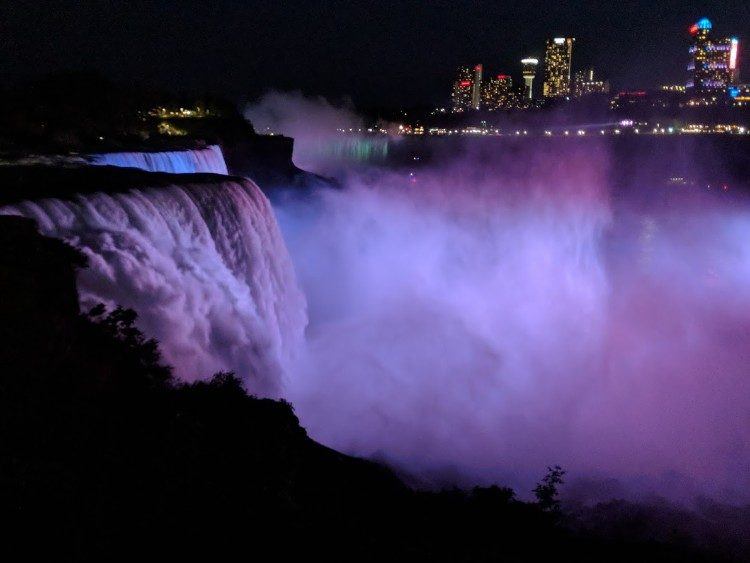 Where to Stay on the American Side of Niagara Falls
Well…I'd stay in Buffalo. There's not a whole lot of reasons to be in Niagara Falls late at night and it's easy to make the commute (30 minutes or less, depending on where you're staying).
The neighborhood in Niagara Falls USA gets sketchy if you get too far from the falls, so don't try to skimp on where you stay. My top vote goes to the Giacomo by Choice Hotels: walking distance to everywhere and a lounge with views of the Niagara river.
In Buffalo, I recommend Hotel Lafayette. It's chic, central, and rooms are large.
Any more questions about the American Side of Niagara Falls?
Hit me up in the comments below if you have other questions. I live twenty minutes away, have seen and done pretty much everything, and am always happy to help plan your trip.
Read More About Western New York