This post may contain affiliate links. As an Amazon Associate I earn from qualifying purchases.
* * *
I went to Chincoteague VA for the first time in 2010. I was a new Virginia resident, excited to explore the state and to search for wild ponies. I hadn't been back since, mainly because I did things the wrong way the first time.
You see, I spent all my time at the beach. I popped into a few souvenir shops and I walked through the exhibits at NASA's Wallops Island, but I didn't bother to do any sightDOING. My day trip to Chincoteague Island was good, not great.
Fast forward six years — exactly six years, based on my Facebook memories — and I returned to Chincoteague for two nights as a "do-over". And sure enough, when I sprinkled in more than the beach, I found Chincoteague was quite special.
How to Spend One Day in Chincoteague
In a perfect world, you'd spend a weekend here but I know that time doesn't always allow. So, if you only have one day in Chincoteague, here's how to make the most of it.
Breakfast in Chincoteague
When I'm on vacation, I waffle between indulgent and healthy. On a hot summer's day, I went straight for indulgent. Order a "chincochino" (basically a caramel frappucino) and pastry for breakfast from the Main Street Shop. Take it to go and eat at the Robert Reed Waterfront Park while watching boats go by.
TIP: If you're up early, like I was after a 5am rocket launch (!), grab breakfast at Mr. Baldy's as early as 6am. It's standard breakfast fare, but as far as I could tell, it was the only place open that early.
Look for Wild Ponies in Chincoteague!
It's pretty easy to spot ponies in Chincoteague, but a lot harder to see them up close. That's how Captain Dan's tours add value. You'll head out by boat and go around the island, looking primarily for wild ponies. You might also see dolphins, herons, egrets, ibises, and other wildlife if you're lucky.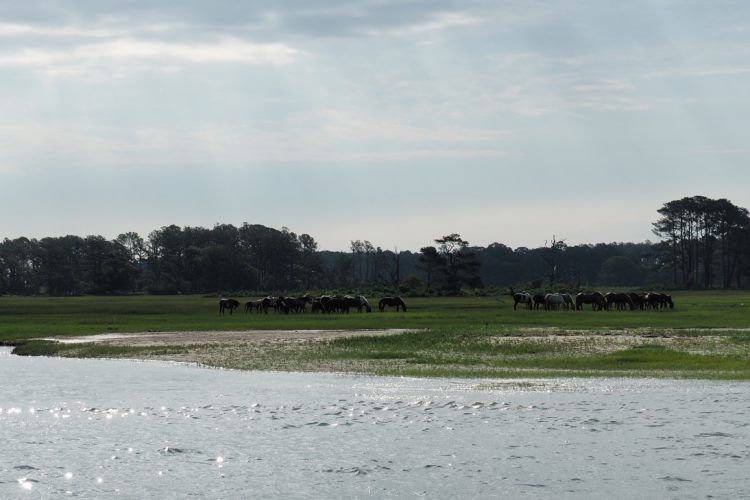 TIP: You can see ponies all day long, but if you go in summer, take the first morning trip just to avoid the strong sun! No matter when, I recommend packing a pair of binoculars. My favorites are Nikon Trailblazers, a good balance between quality and price.
Have a Picnic Lunch
There aren't a ton of good restaurants in Chincoteague, so I was thrilled to see some food trucks in town. I ate at two during my visit, and The Farmer's Daughter was my favorite.
Pick up a sandwich — like soft-shell crab stuffed with blue crab — and eat it on site while playing cornhole or pack it up to go for a picnic on your afternoon adventure.
Don't worry, non-seafood lovers can find Mom's meatloaf or jerk chicken sandwiches.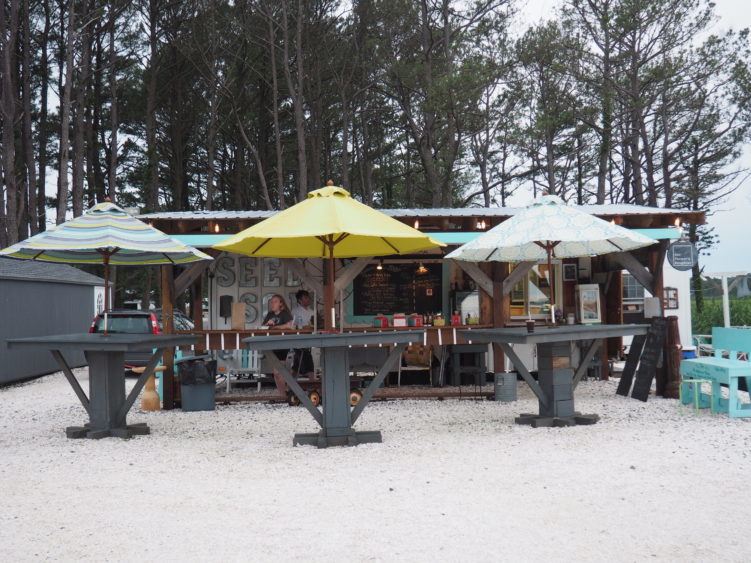 Create Your Own Adventure
Ready for some sightDOING? Pick up a rental bike from the Refuge Inn and make sure your backpack is loaded with lunch, water, sunscreen, a beach towel, and other must-have beach items.
From there, it's just up the street to the Chincoteague National Wildlife Refuge and Assateague Island National Seashore. Bikers can enter free (otherwise, pack your America the Beautiful pass).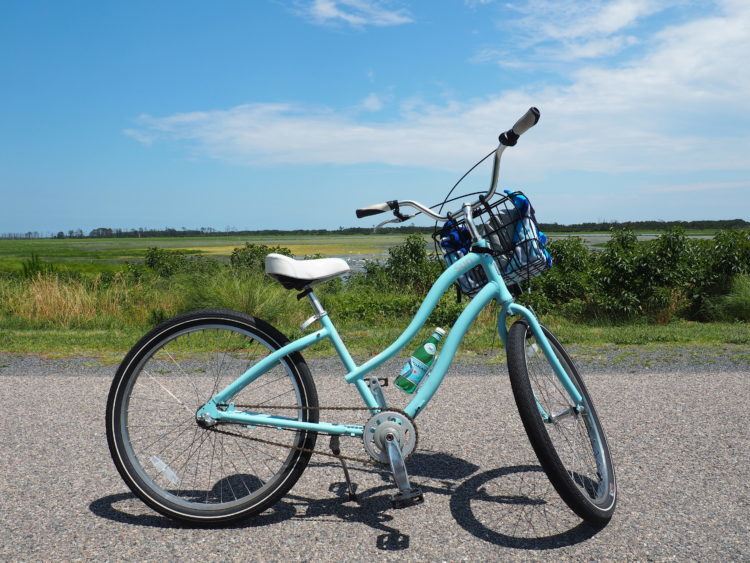 If you want to hike to the lighthouse, do that first, since it closes early. Otherwise, the main road through the park — the Wildlife Loop — is an easy bike ride that leads to a short walking trail to hit the beach. This is your chance to enjoy the ocean. The waves here are fun, but other than that, it's no frills.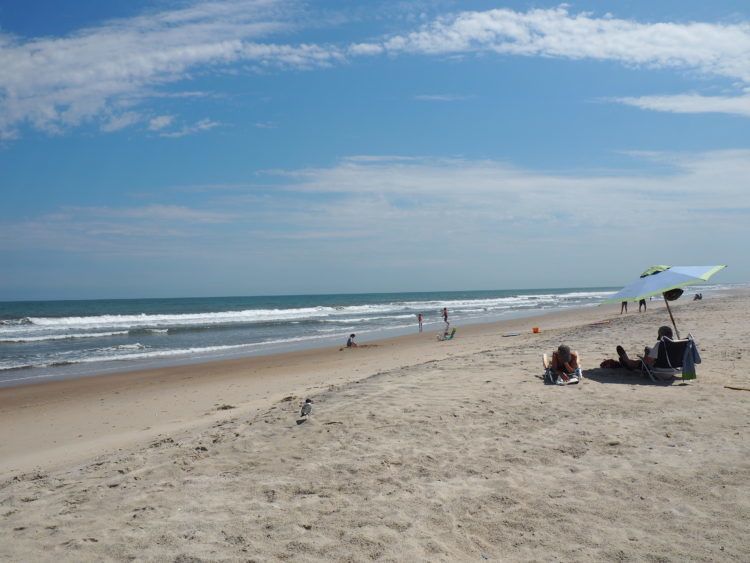 On the way out, take a detour down the Black Duck Trail to the Woodland Trail. The highlight here is a short hike to an observation platform to see the ponies, who are often in the distance.
TIP: Do yourself a favor and bring bug spray for the woodland trail. Since malaria and zika aren't an issue in Virginia, DEET isn't necessary and I love chemical-free Bugs Be Gone. On a budget? You can make your own mosquito repellant by combining witch hazel, citronella, and eucalyptus oil. Shake before every use.
All in all, the hiking and biking is just enough activity to be interesting but it's not so hard you can't finish. Seriously, I bet you can do it.
Choose Dessert First
Uh, it's vacation. No one will judge if you eat ice cream before dinner. There's a little bit of a friendly rivalry in town, with the Island Creamery serving up homemade scoops and Mister Whippy offering soft serves. The winner is more a matter of preference, in my opinion.
I chose Island Creamery and ventured beyond my normal flavor profile. The choice of the day? Birthday cake: cake batter ice cream with buttercream swirl and rainbow sprinkle. The first three bites were great and then I settled into a state of hyperglycemia. Holy sugar! What was I thinking?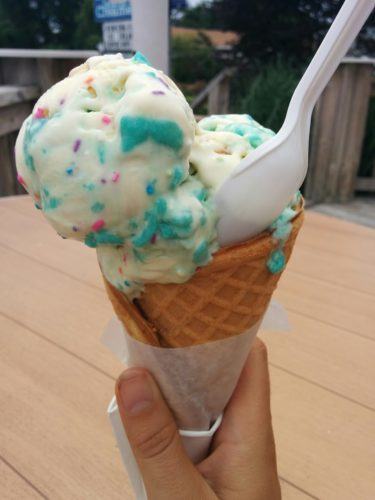 TIP: Lines get long at Island Creamery, but in general, are shorter in the afternoons compared to evenings. Another great reason to eat dessert first!
Eat Some Chincoteague Salts
I know you're not hungry after that ice cream, so we'll keep dinner light. When you're in Chincoteague, you have to try the local oysters.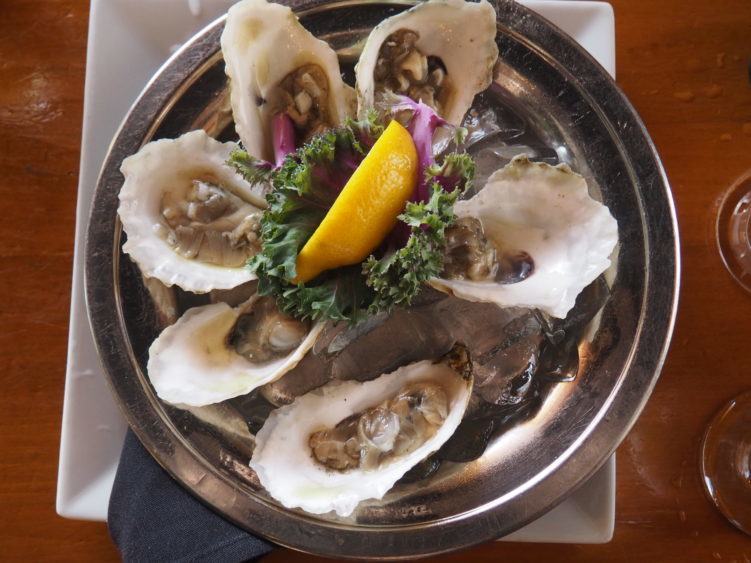 "Chincoteague Salts" are one of Virginia's 8 distinct oyster regions and are named for their bold briny flavor. You can get them straight from the watermen if you ask around, but it's a pain in the butt to shuck them. Order a plate at Bill's Prime Seafood and Steaks to keep things simple.
TIP: Now, here's the problem with Chincoteague. Everything closes early. Bill's is actually one of the restaurants open the latest, to a whopping 9pm. If you're the type of person who likes to eat late and linger over a glass of wine, book yourself a condo with a kitchen.
Drop Everything and Make Sure You're Outside at Sunset
Because let's face it, Chincoteague is the best kind of magic.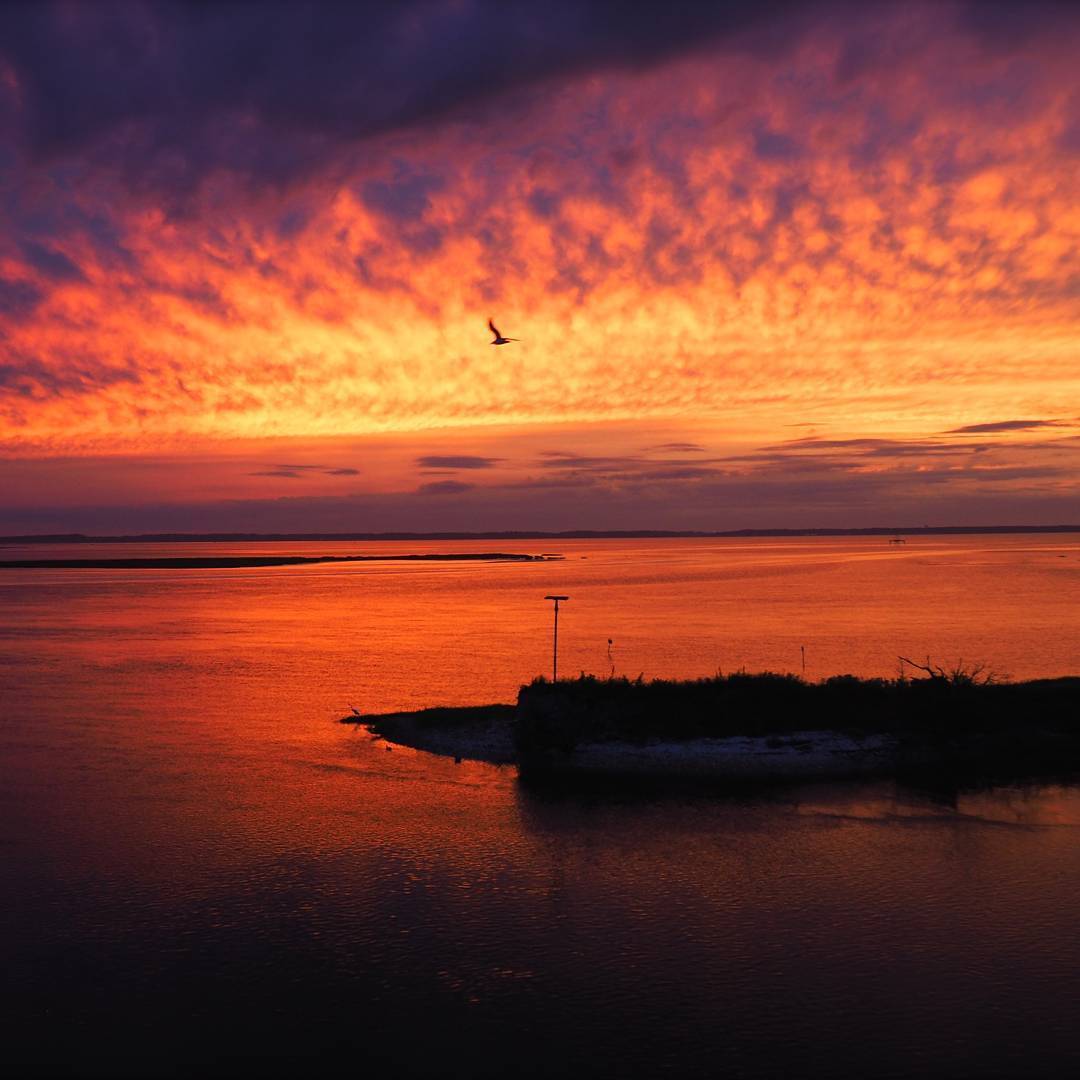 * * *
Chincoteague is at the far northern end of Virginia's Eastern Shore and in my opinion, two days is just about right. Longer stays are viable if you're planning on day-tripping to Saxis, mid-peninsula destinations like Onancock or Wachapreague, or the Maryland-side of Assateague. Or if you just like being on island time 🙂

I stayed at the Island Motor Inn Resort, which hasn't been re-decorated since the 1980s, but has great waterfront views from their balconies or the communal pier. Bonus points for being walking distance to town and offering a pool, grilling area, and laundry facilities.

Not sure that Chincoteague is for you? Get a feel for the other cities along the Eastern Shore and choose the one that's best for you.
If you're planning a trip to the Eastern Shore, check out my other stories!
* * *
This year's trip to Chincoteague was graciously hosted by the Eastern Shore of Virginia, who was insistent that I needed to see what I missed during my first visit.