This post may contain affiliate links. As an Amazon Associate I earn from qualifying purchases.
* * *
When I drove out to Bisti Badlands, I didn't exactly expect an epic experience. I was there for the scenery (and of course a good hike) but I assumed it would be a rather ordinary day. I certainly didn't expect that New Mexico's Badlands would live up to their name, but that's exactly what happened as a duststorm coated me so thickly that I was still cleaning sand out of my ears five days later. When we made it to my parents' house that evening — desperately in need of a shower — my mom took one look at me, my husband, and their previously-perfectly-new car and had nothing to say except, "Oh my." This was no ordinary day out.
Situated in the midst of Navajo lands, the Bisti Badlands and De-Na-Zin Wilderness aren't the type of places you stumble upon accidentally. In fact, they're not even on travelers' radar, mostly preferring to stay on the eastern half of the state where the "big name" locations are: Santa Fe, Albuquerque, Carlsbad, White Sands. But I've never gone to New Mexico for a normal vacation, instead adding side trips one at a time, each time I visit my parents in the Albuquerque area.
Unlike South Dakota's more famous Badlands National Parks, New Mexico's Badlands have both the rugged, layered and eroded buttes as well as the types of hoodoos you might be familiar with in Utah. It's a bizarre combination that makes you feel like you're on the surface of the moon (and all this time I thought the aliens were in Roswell).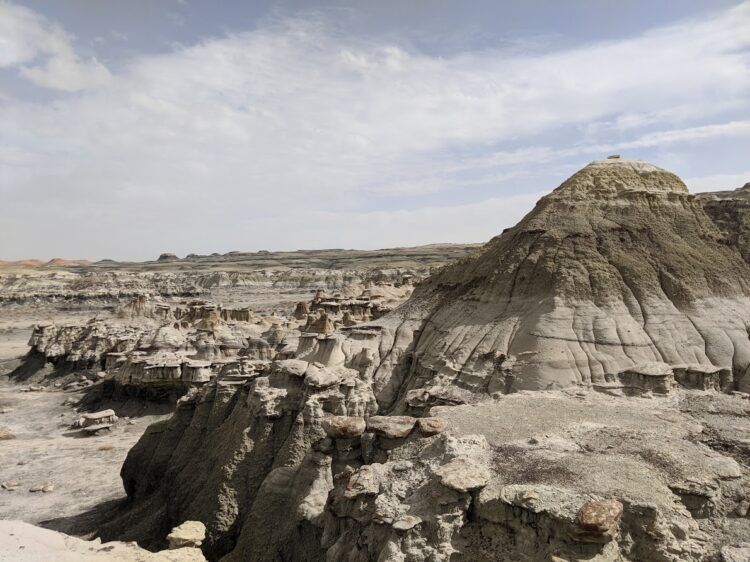 Hiking at Bisti Badlands isn't like a developed park: this is raw wilderness. There are no marked trails and no signs on the landmarks stating "you are here". Your best bet is to download a GPS track of the area and use your best deductive skills to determine if the rock formation waypoint in front of you is a Manta Wing or a Bisti Wing.
We set off on a blue sky day, intending to hike in the valley about four miles each way. In reality, we were distracted by every little thing and took no fewer than a dozen detours. We stumbled upon canyons and rock formations that begged for a closer look and so we zigzaged around, wondering how many other people ever saw our own little corner. Nothing failed to impress us.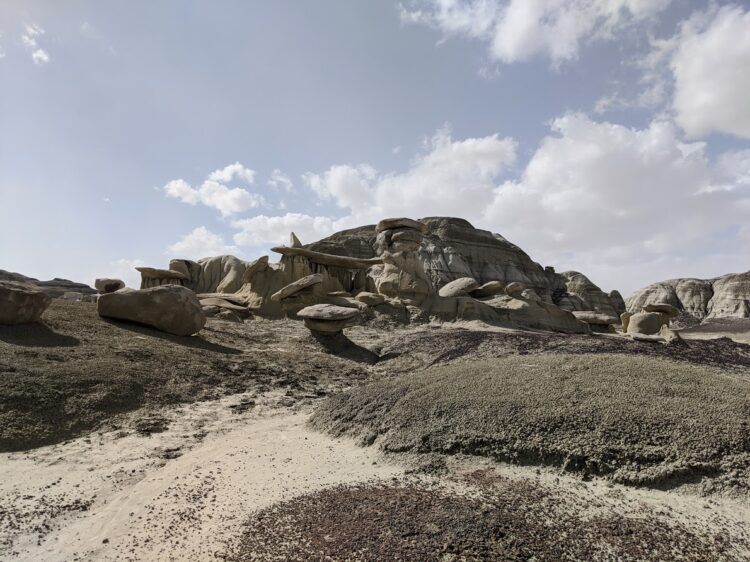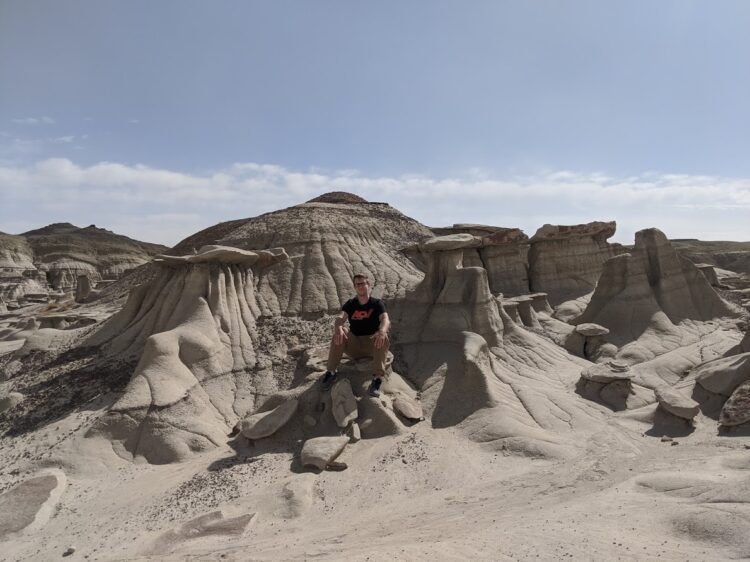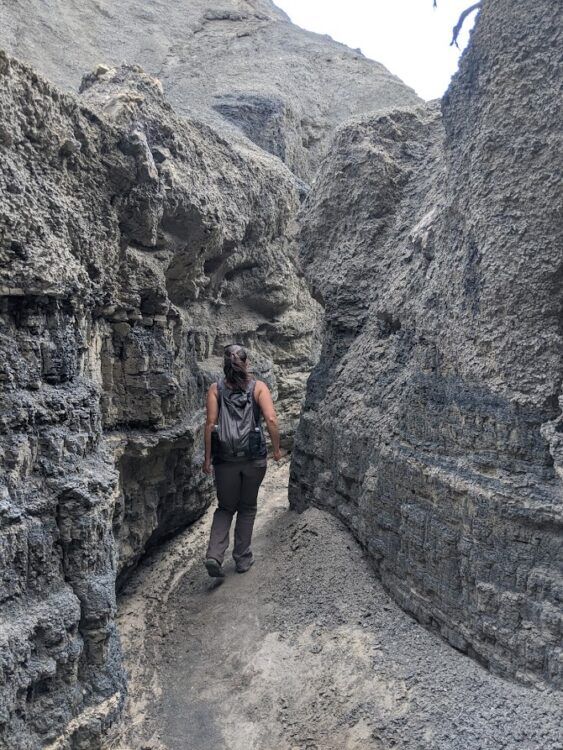 It was mid-afternoon when we decided to head back, still hoping to see the Alien Egg Hatchery — as someone else had described it — as we returned in the general direction of our car.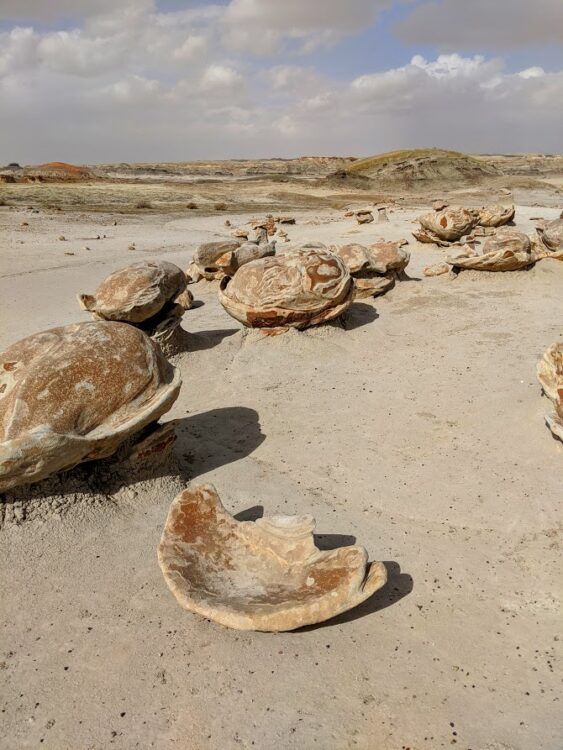 Shortly thereafter was when the weather turned. Out of absolutely nowhere, the wind picked up, going from zero to gusty in a matter of minutes. We trudged on, no longer able to see any landmarks in the distance. Soon 20mph gusts became sustained 30mph winds. It might've been more; it was the second-windiest hike I've ever taken (the honor going to a trail in Tasmania where I literally fought to make forward motion). But although not the windiest, this trek was the dirtiest: there was a full-on duststorm and visibility was nill.
Left foot, right foot. Left foot, right foot. I knew from before the wind picked up that we were in an empty, flat plain for the time being, nothing to block the oncoming gale. Eventually, we'd hit a dry riverbed so I kept my eyes focused on the ground to ensure I didn't stumble down a three-foot drop. We weren't quite there yet, but I kept looking and panning as much as I was able, my hands cupped around my sunglasses to keep sand from stinging my eyes. I kept my mouth shut for the most part, attempting to neither swallow nor inhale a plume of dust, every once in awhile calling "Marco" out to my husband who correctly responded "Polo". Every nasal exhale was forceful, blowing out the collection of dirt that tried to take sanctuary in my nostrils.
It's hikes like this that are a good reminder to never go out without a map and a plan (and in the case of the New Mexico desert, a whole lot of water and sunscreen). We eventually made it over the dried-up riverbed to a spot we could take cover behind a small cliff. Every once in awhile the wind eased up — just for a moment — and we could see our car in the distance. We estimated there was still a mile to go, and that assumed we could walk a straight line without seeing where we were going.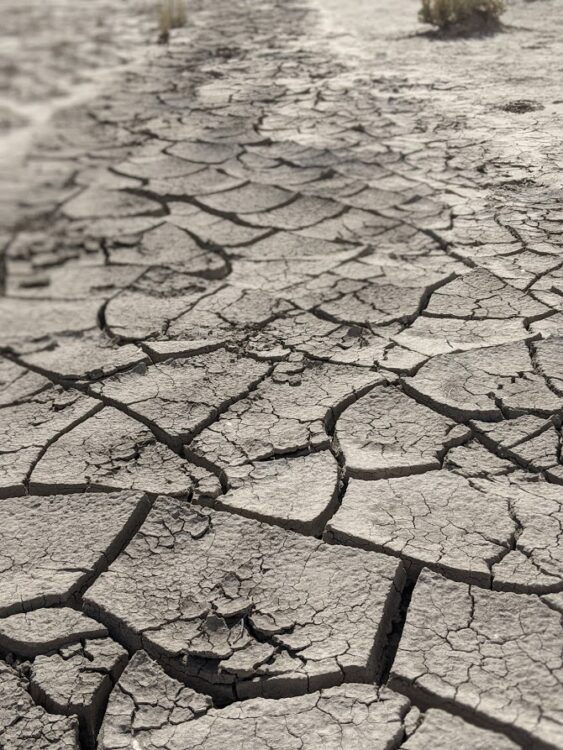 Neither of us have any meteorological knowledge but we've both spent enough time outside to know this didn't look like it was letting up. We could try and wait it out, but that felt like a longshot. Walking back in the dark didn't seem like a great idea either. Would a headlamp really help if the duststorm kept up?
And so we persevered, as fast as we were safely able. The last push felt a lot longer than it really was; all in all we couldn't have been out in the wind for more than 45 minutes but we were both spent when we reached the parking lot. It was torture waiting for a strategic second to open the car door without letting in a world of dust. But we made it, laughing hysterically when we could see each other's dirty faces while sheltered in the car. Finally able to break our silence, we both blurted out our amazement at the exact same time, talking over each other while waiting for the weather to clear enough to drive. These Badlands were nothing like the places I had been before.
Visting the Bisti Badlands and De-Na-Zin Wilderness
The main section of Bisti Badlands is easily accessible in any passenger car: 99% of the journey is paved road, with only the last two miles on a dirt road that a 2WD can handle as long as you go slowly. The BLM driving directions are accurate and easy to follow.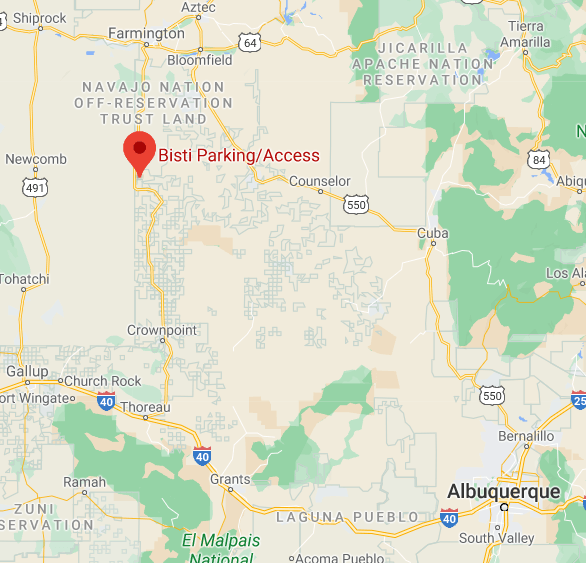 You can get a feel for the "hike" ahead of time by looking at a trail map but keep in mind that there are NO marked trails when you're actually on-site. Don't go unless you're prepared with a GPS or other navigational tools to make your way in and out even if the weather turns on you.
The only other tourist attraction in the immediate area is Chaco Canyon. I haven't been yet (it's on my wishlist, but the road is notoriously rough and I'm scared to try it without a high-clearance vehicle; if you go, approaching it from the east is supposed to be the easiest way). You'll find hotels north of Bisti in Farmington or south along I-40 between Grants and Gallup.
Despite a bit of bad luck on our visit, I had a blast exploring the New Mexico Badlands — and hope to return another time under better circumstances to watch the sunset.
Read More About New Mexico