This post may contain affiliate links. As an Amazon Associate I earn from qualifying purchases.
* * *
I've wanted to go to Meow Wolf in Santa Fe ever since I first heard of it. To be honest, I didn't even really understand what it was — I just need the photos were intriguing and the mystery made it even more enticing. But realistically, any attraction that's labeled as "immersive" piques my interest. That's sightDOING at it's finest.
Unfortunately, I've had three potential visits cancelled while Meow Wolf was closed over the past year. I'm sure I'll eventually get the chance to try again, but in the meantime my parents went to check it out since they're an easy day trip away. Not only did they report back to me, but I quizzed them on the finer details and my desire to visit is even stronger now. This weird-yet-exciting attraction checks all the boxes for fun, inspiring, and unique. If you're heading to one of their destinations, you should definitely add Meow Wolf to your plans!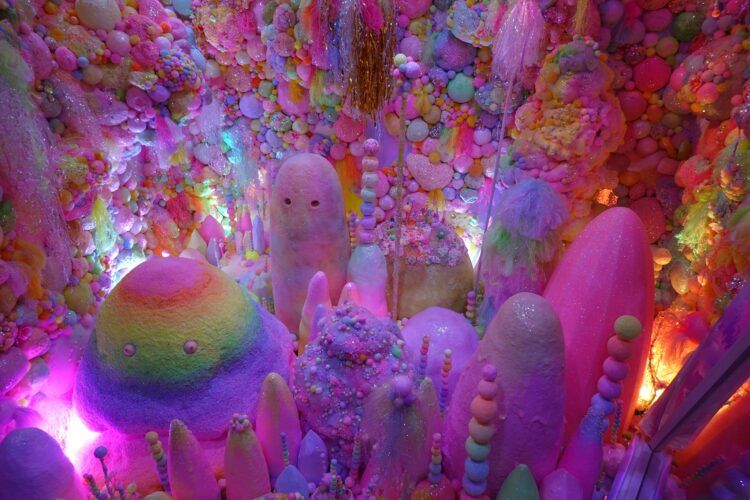 What is Meow Wolf?
Officially, Meow Wolf describes itself as a "mind-bending, explorable art experience". My dad described it as a fun house for adults. My mom described it as part escape room, part eclectic art museum.
Essentially, this is a series of rooms, each one impeccably designed to tell a story. They're built for exploration — you won't know where to look next and you could spend days checking out the intricate details. It's multi-dimensional, with secret passageways, music and video, and art galore.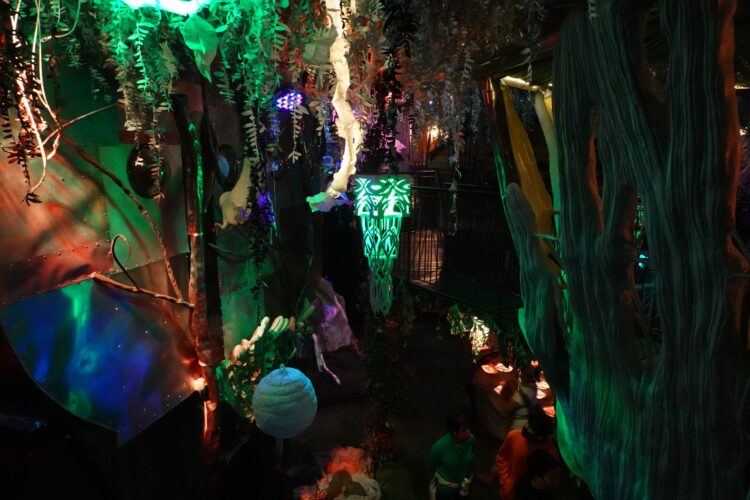 There are two ways to explore Meow Wolf, equally worthy but totally different:
You can attempt to figure out the storyline of the exhibit, keeping in mind that it's not told in a linear fashion. Expect to zigzag and re-visit a few times if you want to pull it all together since there are literally thousands of details along the way. (This reminds me a little of when I went to see Sleep No More in New York City).
You can go and ignore the story entirely and instead be mesmerized by the colors, light play, art, and abundance of other visual details. There's still plenty to explore and enjoy.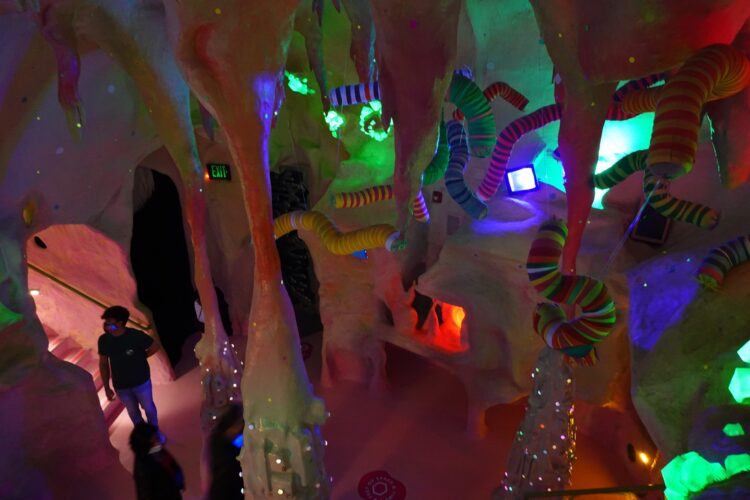 Meow Wolf Locations
Currently, there are two Meow Wolf locations and a third on the way.
The House of Eternal Return is in Santa Fe, New Mexico. This is the first permanent installation and the one my parents visited and described below.
Omega Mart is in Las Vegas and opened earlier in 2021. While the general concept of the experience is similar, it is an entirely different installation from Santa Fe. It does not look the same and features different artists and exhibits.
The third location is expected to open in Denver later this year. The official date has not been announced yet. In the meantime, there's a "Kaleidoscape" ride in Denver that's already open and from the photos, it looks like a roller coaster that focuses on a sensory thrill rather than an adrenaline rush.
Santa Fe Meow Wolf: House of Eternal Return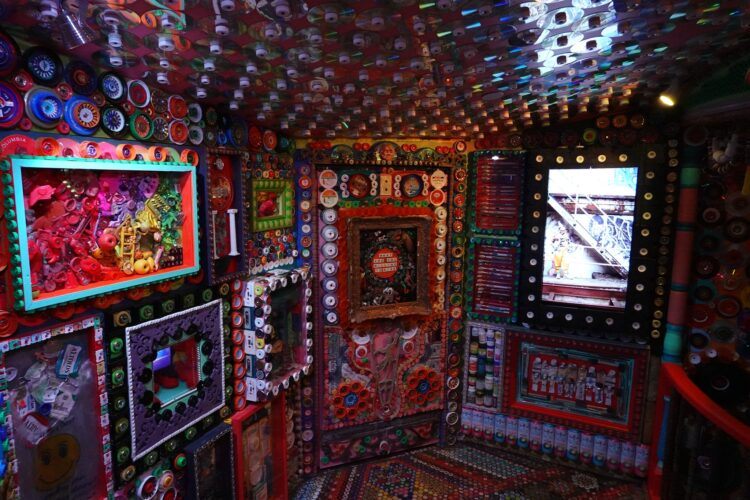 I know that some of these descriptions still feel a bit vague and confusing. That's kind-of the point: to arrive without specific expectations and let yourself be transported to somewhere weird and fantastical. The photos I've chosen are also specifically random so as not to give away the type of details you'll notice in person. But, for a little more context, let's dive into the Santa Fe MeowWolf a little more.
The House of Eternal Return (as the exhibit is more formally known) is a 20,000 square foot attraction with over 70 rooms to explore. You may not even find them all…it's a bit of a maze in and some areas are only accessed by secret passages. There is intentionally no map or guide to lead you through.
One thing joins these rooms together — the mystery of the Selig Family. Supposedly, they disappeared one night after conducting a forbidden experiment in their Victorian mansion. If you study the exhibits carefully, you may find clues that eventually tell the story of what happened to them.
More likely, you'll spend hours exploring the art. It's designed to be touched and very hands-on. Exhibits may change when you move (or interact with them) and they use light and music to help tell the story. As my mom said, "There is a mystery to solve if you want to, but we didn't do that; just coming around the next corner and seeing something surprising was enough for us."
After 2020 and a year full of monotony, I think escaping routine and letting your creativity and imagination run wild is precisely the right addition to vacation.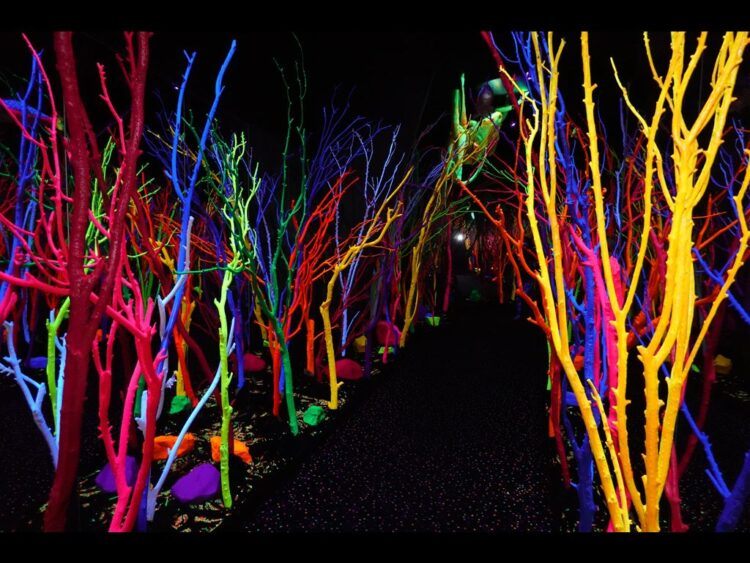 Meow Wolf Tickets
Tickets to Meow Wolf Santa Fe cost $30, with discounts for children, seniors, military, and New Mexico residents. All entrance is via timed ticket to keep people somewhat spaced out, although my parents noted that it still was far from empty. I recommend buying your tickets online so you can choose a time slot in advance.
Although your entrance is based on a set time, you're free to stay as long as you like once you're admitted. You'll need a minimum of 90 minutes to explore and my parents spent about two hours. If you are majorly into art or if you're hoping to solve the mystery, you should expect to spend even longer.
More About Santa Fe
Santa Fe is probably the most popular destination in New Mexico and you could easily spend a few days taking in the historical attractions, museums and art galleries, and surrounding nature. It's also known for it's food and drinks — you won't go hungry while you're here.
Meow Wolf is slightly outside the city (still an easy drive/Uber/bus ride away) but I'd recommend staying in downtown rather than closer to Meow Wolf itself. Honestly, you can't go wrong with any of the hotels in and around the Santa Fe Plaza, but I lean toward the Inn & Spa at Loretto or the Hilton Santa Fe Historic Plaza if you're looking to burn reward points.
Plan Your Trip to New Mexico