This post may contain affiliate links. As an Amazon Associate I earn from qualifying purchases.
* * *
The High Road to Taos is known as the most scenic way to travel from Santa Fe to Taos, but it's more than just a drive. The roadtrip takes you through the Sangre de Cristo Mountains, winding past small villages and cultural attractions with options to explore along the way. It's well worth the extra twenty minutes compared to taking the low road, though if you can spare a few extra hours for stops en-route, it'll be even more memorable.
HEADS UP for 2020: New Mexico has been particularly tough for travelers this year: anyone entering from high-risk states must quarantine for 14 days before doing any sightseeing. Additionally, out-of-state visitors are not allowed at state parks and even in-state residents have a stay-at-home order until the end of November 2020. Please check all regulations in advance (keeping in mind that Native American reservations may have different sets of restrictions) and comply as necessary. This article is only intended for inspiration and planning once it is safe and permissible to travel.
Of the two main routes from Santa Fe to Taos, the High Road is definitely more scenic. Along the way, you'll see beautiful views of hoodoos in the Badlands, mountains in the distance, and Carson National Forest. Not all of the trip is pretty (there are some rundown sections), but enough of it is to make it my preferred route if you're traveling between the two cities.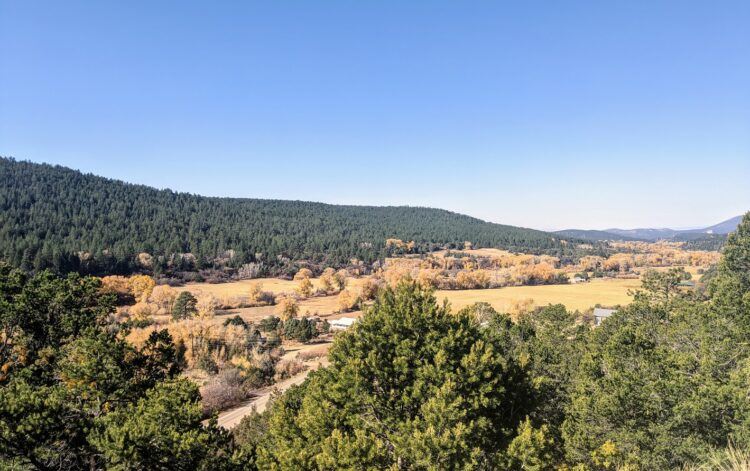 How Long is the High Road to Taos Scenic Byway?
Officially the High Road Scenic Byway is 56 miles, starting in Pojoaque, NM and ending in Taos, NM. The route takes you up State Road 503 to Roads 76, 75, and 518. However, once you add in the distance from Santa Fe to Pojoaque, the complete ride is approximately 75 miles one-way and takes about an hour and forty minutes (not including stops) due to lower speed limits.
In case you're wondering, the High Road got its name because it's much higher in elevation than the main route (or "Low Road to Taos", which heads up Highway 68 through the valleys).
In the map below, you'll see the high road shown on the right, with several possible stops designated in yellow.
What to See Along the High Road
Nambe Falls
If you're starting in Santa Fe, Nambé Pueblo is the first notable location you'll pass. This is a living Native American community with rich cultural traditions — not a tourism facade. As such, utmost respect is deserved if you visit (there are guidelines for village visits if you decide to go).
Most visitors actually spend their time outside of Nambe Pueblo, at the Nambe Falls and Lake Recreation area. There are short trails here leading to views of the waterfalls, one to see from above and one from below. Kayak rentals are also available to spend time on the lake. If you're looking for a scenic, outdoor spot between Santa Fe and Taos, this is a good one.
Chimayo
Located 25 miles north of Santa Fe, Chimayo is a quaint village with far more visitors than residents. Here you'll find the Santuario de Chimayo, a church built in 1816 and revered for its healing powers. The soil is believed to be holy and pilgrims travel from far and wide looking for a miracle. Inside, you'll find photos and personal affects (especially shoes) from those who've been healed after prayer here. Believe it or not, the sanctuary gets roughly 300,000 visitors a year, many of them arriving on Good Friday after walking barefoot for miles.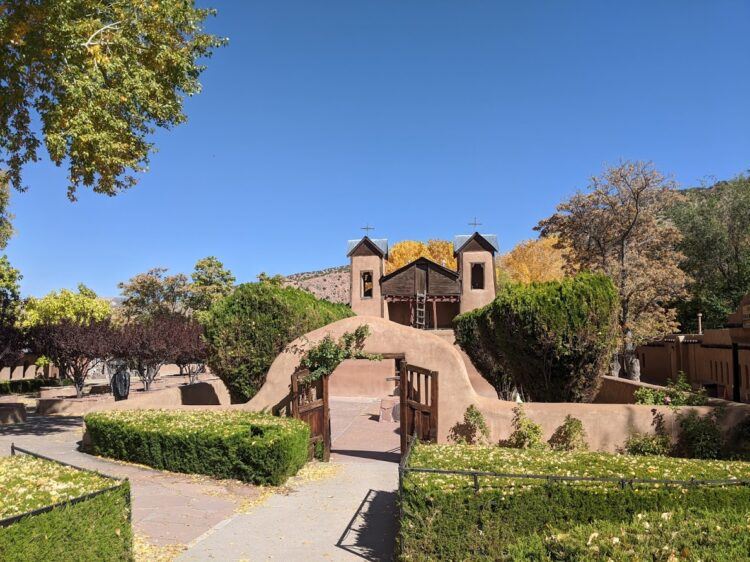 Visiting the sanctuaries — the main one and the separate children's chapel — won't take much time out of your roadtrip and is worth the quick stop. Entry is free, although donations are encouraged.
Peñasco
North of Chimayo, you'll find another small town with a great claim to fame. The Peñasco Theater hosts workshops and events ranging from music, dance, stilts, acrobatics, and more. There's no set schedule, so you'll need to check their events calendar in advance but it can be a great addition to your day trip if schedules align.
Where to Eat Between Santa Fe and Taos
There are great restaurants in both the starting and ending cities of the High Road, but if you'd prefer to support the local communities along the way, there are two main stops:
Rancho de Chimayo (five minutes from the sanctuary): This restaurant serves traditional New Mexican fare and is particularly known for their red chile sauce. I'll be honest, I thought the food was fine but there is often a wait for a table. With so many similar, fabulous restaurants in the state, this one isn't a must-do. If you go, be sure to get a prickly pear margarita or the non-alcoholic frozen prickly pear lemonade.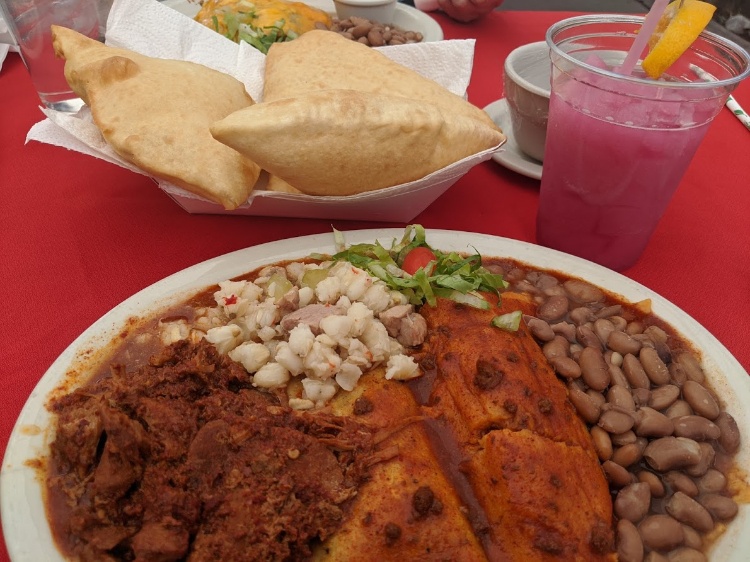 Sugar Nymphs Bistro (next to the Penasco Theater): The food here isn't exotic by any stretch, so what sets this bistro apart is it's high quality. If you're looking for soups, salads, and sandwiches prepared exceptionally well, and are visiting during their limited hours, this is a good lunch stop on the High Road.
Other Road Trips in the Area
If you love scenic byways, there are two other drives nearby that would link up nicely to this. The Turquoise Trail runs from Albuquerque to Santa Fe and the Enchanted Circle is a loop drive starting and ending in Taos. Of the three drives, the Enchanted Circle is my favorite. However, this one (the High Road) fits really well into most tourist itineraries since many visitors are heading between Santa Fe and Taos anyway and it's not a huge detour.
Regardless, don't try to do all the scenic drives in one day — you'll spend all your time behind the windshield and miss out on a bunch of wonderful stops. If time is short, just pick one and give it the time it deserves.
Read More About New Mexico